Apple will close repair support for MacBook Air (2011) and MacBook Pro (2011) on June 30, 2017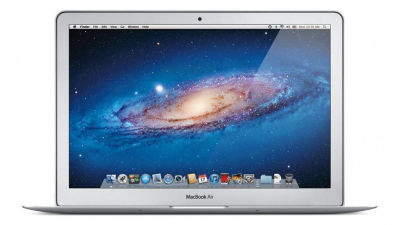 Support of Apple products will be discontinued in five years from manufacturing discontinuation except for some areas. 9to 5 Mac gets Apple's internal document and reveals that products such as MacBook Air (2011) and MacBook Pro (2011) will be discontinued on June 30, 2017 (Friday).

These MacBook Air / Pro, AirPort Express and iPhone models lose Apple repair support June 30 | 9to5Mac
https://9to5mac.com/2017/05/27/apple-moving-macbook-pro-air-and-iphone-to-obsolete/

Apple distinguishes repair support compliance by naming "vintage products" for products that are 5 to less than 7 years old after product discontinuation and "obsolete products" for products older than 7 years. Nonetheless, Apple does not accept any support, such as acquiring parts or repairing parts, and vintage products are handled in accordance with obsolescent products except for some areas. In other words, vintage products under manufacturing for less than 7 years will end support in most areas.

Vintage products and obsolete products - Apple support
https://support.apple.com/ja-jp/HT201624

In principle, Apple will not be accepted for parts arrangement and repair for products for 5 years from discontinuation of production and will be discontinued. However, in the states of California, USA, and Turkey, there are laws that oblige products to be supported for seven years after their manufacture, so the name "vintage products" was created for these exceptional areas. Basically, "Apple products are supposed to be discontinued after five years of discontinuation", and in principle Japan will be discontinued in five years after manufacturing.

Third-party parts that replace genuine parts are often available on the market even if Apple's support is canceled, but the quality of Apple genuine parts is quite high, so if support is aborted, Apple users " In the worst case, it will be impossible to repair. "The possibility comes out, and it can be said that the timing of support termination is extremely anxious information.

So far, Apple has published a list that lists of products that have been discontinued, but we have not made individual advance notifications for each product but have confirmed that it was posted on the list afterwards Was merely confirmation of "sad news" for the user.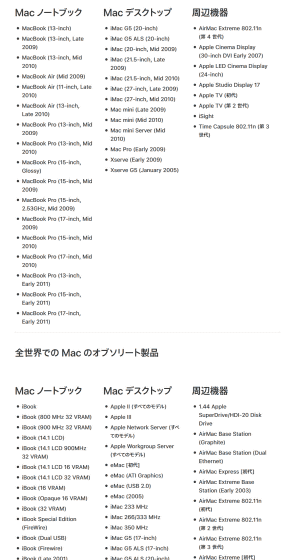 The internal materials obtained by 9to5mac are gathered as a list of products whose repair support is aborted soon, and it is useful information for users who use the target product.

According to this internal document, the MacBook Air's 11 inch (2011 middle model), the MacBook Air 13 inch (2011 middle model), the MacBook Pro 13 inch (late 2011 model), the MacBook Pro 15 inch (2011 Late model), MacBook Pro 17 inch (late 2011 model), AirPort Express (1st generation), MacBook Pro 17 inch (2009 middle model), iPhone 3GS (16 GB / 32 GB), iPhone 3 GS (Chinese version 16 GB / 32 GB), etc. It seems that support will be terminated on June 30, 2017 (Friday). In the above list, it seems that the 11-inch MacBook Air model (middle-year 2011 model) and so on in California and Turkey will move to vintage products rather than obsolete products.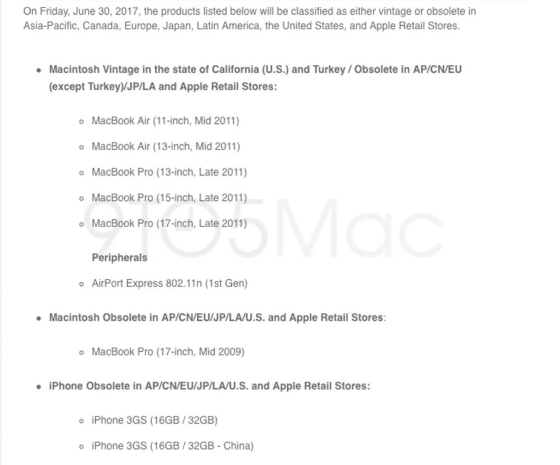 A user with a bad target product seems better to apply for repair as soon as possible before discontinuing support.