Information summary / event schedule list announced at "Azabu Asobi vol.18 Eve before the Festival"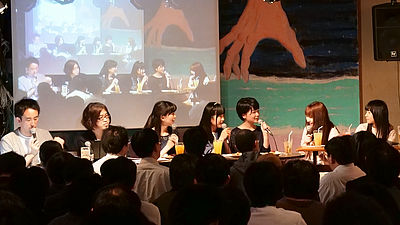 From May 5 th (Fri) to May 7 th (Sunday) 2017, an event with the theme of pop culture such as animation and games "Machi ★ Asobi vol.18Prior to being held in Tokushima, 'Ashidan Asobi vol.18 Eve before the Festival' was held at Asagaya Loft A on Thursday April 27 (Thursday). The event schedule has been announced one after another on the official website, but at the eve of the evening the information that this was the first show was released.

Machi ★ Asobi vol.18 Eve aged - LOFT PROJECT SCHEDULE
http://www.loft-prj.co.jp/schedule/lofta/62315

Asagaya Loft A. The preliminary announced speaker was only two people, "Moderator: Yuuma Takahashi Producer, Aniplex Producer, Cast: ufotable Kondo Hikari Producer", but as many customers as sold out tickets sold at advance tickets.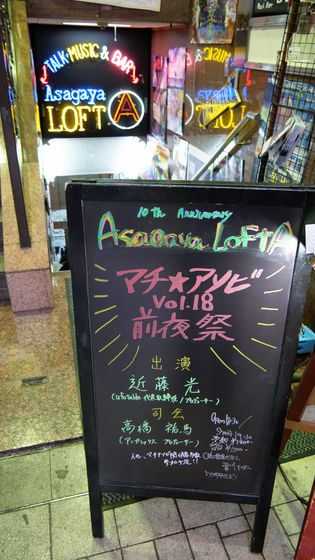 The event was also distributed on NicoNico Live Broadcasting, and Mr. Kondo, also a general producer of Machi ★ Associate Professor, tweeted the URL and started from the point where the customer retweets.


The Matthias soba nocturne festival is here.
We started broadcasting.
Thank you.https://t.co/KD47RzI5Ky

- Kondo Hikaru (ufotable) (@ hikaruufo)April 27, 2017

First of all, the voice actor unitNOW ON AIR(Misako Iino, Yonemi Suzuki, Yuki Tanaka), voice actorOhno Yuzuko, Voice actorYuji Enata, Studio Mouse RepresentativeShozo Naya, Creator's In Pack ·Hataka TachiMr. Ms. Takahashi attended, "Starting with the lowest average age in the history of Akira Aobi Night Festival". Also, the height of the "female rate" was also prominent.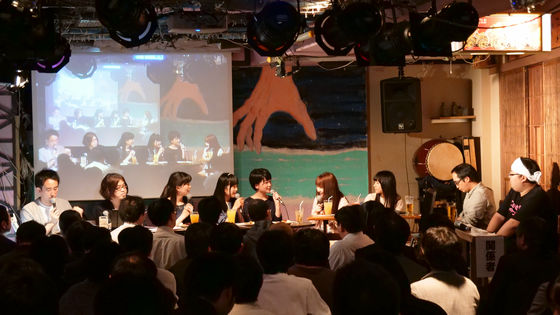 NOW ON AIR was made in 2016 "Kimikoe · Audition"The voice actor unit formed by six successful candidates, will be released in summer 2017"I want to give your voice"It is decided to serve as the main cast. In Machi ★ Asobi vol.18, six stage events are scheduled, and also participate in Machi ★ Asobi RUN on the last day, so it will be appearances through Three Days.

Mr. Egahara is planning an event at "Oharu." In addition, a talk event is also organized to train one's weak handwriting skill. Also, there seems to be an "announcement" at Machi ★ Asobi.

Ohno says "Angel's 3P!We will be on the event of. It is an animation that three elementary school students perform band activities, according to the work, casting is supposed to do a band activity, Ohno is practicing the guitar. It may be playing at Machi ★ Asobi in October? And the previous target was spoken.

In addition to Mr. Ayaka Shimizu, Mr. Chihaya Mori, Mr. Takao Mori, Mr. Taroro Nitoro Plus, KADOKAWA Masako Yuoka, Good Smile Company Takaruno Aki, and many other events that I could not completely memorize were announced.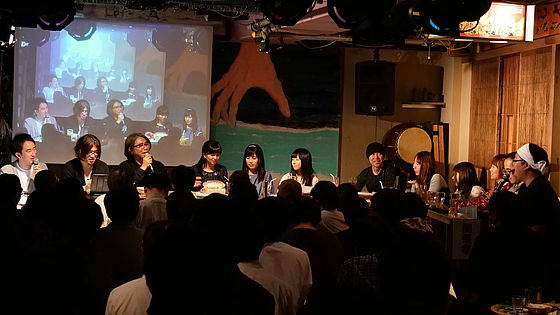 ◆May 4 th (Thu)
· Others
14: 00 ~ 16: 00 @ Tokushima Civic Center 4F Hall: Machi ★ Asobi vol.18 Official the previous day event 2nd · Saki eve "Talk & Recitation" (Nojima Kenji, Noto Mamiko) * All seats specified · Tickets on the day

◆Friday May 5th
· Shinmachi River East Park
11: 00 ~ 11: 30: Opening ceremony
11: 30-12: 00: Charity auction
12: 00 ~ 13: 00: Haruna Rina Mini Live
13: 00 ~ 14: 00: Anime "Ero manga sensei" Recently (the closest) animation is made by everyone 10th @ Machi ★ Association (Akane Fujita (role of Izumi Sagame), Miki Ichima (Dengeki Bunko Editor), Shinichiro Kashida (Aniplex Co., Ltd.))
14: 00 ~ 14: 30: Travel ASOBI BOOK presentation (temporary)
14: 30 ~ 15: 30: Awa Dance Poster Presentation
15: 30 ~ 16: 00: I want to keep your voice
16: 00 ~ 17: 00: Yuho Ueno Special Live in Machi ★ Assoby
17: 00 ~ 18: 00: "Live Revolt" Producer & Voice Acting Roundtable Discussion (Producer) Seijima Haruki (Producer), Haruose Hiroshi (Sound Director), Taguchi Taguchi (Akane Fujiwara), Yuri Akihi (Noda Komemi))
18: 00 ~ 19: 00: Gimi P and a chillin meeting.
19: 00 ~ 20: 00: Mouse shop live (ACRYLICSTAB, Nozaki Shinpei, Kuwabara Yui, Takai Maika)

· Binji Bridge Nishikoen (Binji Bridge South Park)
11: 00-12: 00: "NOW ON AIR!" × "Purely Monster" Newcomer Voice Actor Unit Collaboration Stage
12: 00 ~ 13: 00: Sakura
13: 00 ~ 14: 00:FullMooN
14: 00 ~ 15: 00: "Prisma ☆ Ilya in theatrical version vows under the snow" public anniversary - 7 major announcements of spring / gore ★ oath of Asobi! ~ (Mai Kadowaki, Kaneko Producer (SILVER LINK.), Kato Producer (KADOKAWA))
15: 00 ~ 16: 00: Internet radio station New program tokuri (Takada Mori, Tomita Miho, Fujita Akane)
16: 00 ~ 17: 00: "Maid in Abys" talk show ~ Maid in "Machi ★ Assobee" ~ (Miharu Tomita (Rico role, Yamashita Shipei (Producer), Miki Mayumi (KADOKAWA))
17: 00 ~ 17: 30: Charity auction
17: 30 ~ 18: 30: Morimichi Hospital - Tokushima visit is ongoing! ~ (Yu Doi (doctor), Mori Chihaya (nurse))
18: 30 ~ 20: 00: "Animation making award" recognition commendation event (Makoto Takano, Taro Maki (movie "Producer in the corner of this world"), Naoshi Aratoshi (journalist), Matsumoto Atsushi (researcher · journalist), forest Ryutaro (Garigari editor))

· Ufotable CINEMA
10: 00-11: 00 @ Theater 1: Business trip NED Taku no Tan Our seminar & talk show (CV: Mari Karuyoshi, CV: Kei Musha (Shareare), Matsumoto Atsushi (Anime Busiens))
11: 00-12: 00 @ Theater 2: "Mr. Bernard says" Total screening & talk show
11: 00-12: 30 @ 2nd Floor: Business VR Experience Meeting in ufotable CINEMA 2F front
11: 30-12: 30 @ Theater 1: "Urgent agenda! All animations become CG?" Kansai Ahatsuki 2017 Spring "Hiroaki Matsuura (Representative Sandjigen), Shinya Sugai (Director of Sublimation), Tomoya Nara (Director of Larks Entertainment CG), now Yoshikazu (Sanzgen "ID-0" CG supervisor))
13: 00 ~ 14: 00 @ Theater 1: Theater version "Fate / stay night [Heaven's Feel]" latest PV preview & latest visual presentation 01 (ufotable), Yuuma Takahashi (Aniplex)
13: 00 ~ 14: 00 @ Theater 2: Animonomukuri workshop (Mari Takano, Ryutaro Hayashi (editor in charge), Yasuyuki Mori (Editorial department of Garigari))
13: 00 ~ 13: 30 @ Entrance: I want to return your voice (temporary)
14: 00 ~ 14: 30 @ Entrance: Idle unit of only new voice actor "Purely Monster" talk event
14: 30 ~ 16: 00 @ Theater 1: COCOLORS completion memorial screening (Yoshima Toshihisa (Kamikaze video), Mizusaki Junpei (Kamikaze video))
15: 15 ~ 15: 45 @ Theater 2: Mouse animal all 36 episodes screened with audio audio commentary
16: 00 ~ 17: 00 @ entrance: Amezari Hirai × CC 2 "Super Picopico Club" Matsuyama's cyber! In Machi ★ Asobi (American crayfish Yoshiyuki Hirai, Hiroshi Matsuyama (Representative Director of CyberConnect 2))
16: 00 ~ 17: 30 @ Theater 2: Tokushima VR image festival full dive theater ~ VR animation festival ~
16: 30 ~ 17: 00 @ Theater 1: Theater version "Fate / stay night [Heaven's Feel]" latest PV preview & latest visual presentation 02 (Koishi Kondo (ufotable), Yuumi Takahashi (Aniplex))
17: 00 ~ @ entrance: Toshihiro Kawamoto signing party 【Participation ticket required】
17: 30 ~ 18: 30 @ Theater 1: "Attraction of CG production talked by" ID-0 "CG supervisor" (now Yoshikazu ("ID-0" CG supervisor), Naoto Hirasawa (producer), Hiroki Matsuura (Sangjigen representative))
18: 00 ~ 19: 00 @ Theater 2: Manabi Straight! × ス ー ー ー そ そ そ そ 子 子 コ ラ ボ 予 定 Anime Select Screening Manabi Straight! 1 episode & 1 anniversary story
18: 00 ~ 19: 30 @ Entrance: ACTF Machiasobi business trip lecture (Hatano Tachi (Creator 's In Pack), Hideyuki Otsubo (ACTF secretariat))
19: 00 ~ 20: 30 @ Theater 1: TV animation "Bloodfront Frontline" Blu-ray BOX release memorial 12th screening event (Kawamoto Toshihiro (Character Design), Okamura Wakana (Toho Producer))
19: 30 ~ 20: 00 @ Theater 2: Theater version "Fate / stay night [Heaven's Feel]" latest PV preview & latest visual presentation 03 (ufotable), Yuuma Takahashi (Aniplex)
20: 30 ~ 21: 30 @ Theater 2: Manabi Straight! × ス ー ー ー そ そ そ そ 子 子 コ ラ ボ 予 定 Anime Select Screening Manabi Straight! 2 episodes & two episodes
22: 00 ~ 23: 00 @ Theater 2: Fate / Zero Cafe screening (temporary)
24: 00 ~: "Tales of Zestilia the Cross" First Stage Full Story (1 st epis to 13 th Stage) Screened at a Time
All day @ Entrance: "Fate / Apocrypha" Character setting First public exhibition
All day @ Entrance: ANIPLEX + NEW Figure display
All day @ Entrance: Machi ★ Asobi personal sponsor receptionist

· Higashi Shinmachi shopping district
9: 30 ~ 12: 00/13: 00 ~ 16: 30 @ Blood donation bus: Machi ★ Asobi regular volunteer blood donation
10: 00 ~ 17: 00 @ BANDAI NAMCO Entertainment x Cyber ​​Connect to Booth: Cyber ​​Connect to Two "NARUTO - Naruto Shippuden Narutimate Storm 4 ROAD TO BORUTOExperience meeting
10: 00 ~ 17: 00 @ VEE Building 202 · 203: Anime "overloadOriginal painting exhibition
13: 00 ~ 13: 30 @ Nitroplus tea house (former scramble cafe): "Touken Ranbu - ONLINE -" Otokonkonso Sukumukai 【Required ticket】
16: 00 ~ 16: 30 @ Nitroplus tea house (former scramble cafe): "Touken Ranbu - ONLINE -" Otokonkonso Sukumukai [Required tickets required]
All-day @ Nitroplus tea house (former scramble cafe): "Thunderbolt Fantasy Eastern swordsmith" East photo spot
All-day @ Nitroplus tea house (former scramble cafe): "Thunderbolt Fantasy Eastern swordsmith" cloth bag doll exhibition (Dan Jade, Erotic Mukuro)
All day @ Animate Tokushimae front: "Super Sonico" x "Gakuen Yu Pia A Manabi Straight!" 10th Anniversary Collaboration Planning in Machi ★ Assortment vol.18 Commemorative Photographing Corner
All day @ Shuttle Garden: "Sakurada Reset" Original Original Exhibition
All-day: Nippon Ichi Software "Nidhogg" Fighting Experience Meeting
All day: pain car exhibition event

· Others
9: 00 ~ 11: 00 @ JR Tokushima Station: One day the station manager
9: 30 ~ 13: 00/14: 00 ~ 17: 00 @ Donation Room Amiko: Machi ★ Asobi ancient volunteer blood donation
10: 00-16: 00 @ Boardwalk YAMASA umbrella booth: Machine of "Win chan" ★ Associa
10: 00 ~ 16: 00: Cosplay Event
10: 00 ~ 17: 00 @ Awaodori Kaikan: Fate / Grand Order VR feat. Mash Kyrie Light Prior Experience Society in Machi ★ Assoby
10: 00 ~ 17: 00: Orange. 88 stamp stamp rallies
10: 00 ~ 18: 00 @ Poppo Street 2F: Pretty girl game art collection
10: 00 ~ 18: 00 @ Board walk sound fountain umbrella booth and others: sound fountain stamp rally ("erotic manga SENSATION on radio" with special message / Akane Fujita (role of Izumi Sayumi), Mami Takahashi (role of Yamada Elf) )
13: 00 ~ @ Boardwalk Animate Tokushima Booth: Harunaru sign sign 【participation ticket required】
14: 00 ~ @ Boardwalk Animate Tokushima Booth: Kaya Okuno Autograph session ("ERUA Okuno Kaya 1st Photo Album"Purchaser object)
14: 00 ~ @ Board walk mouse parasol booth "Hana HanaSignature stakeholders
14: 00 ~ @ Awashin Hall: Healing · Anison Concert in Tokushima Nakaosuke with Etsuki Toshiko & NAOTO
15: 00 ~ @ Poppo street special venue: "Today's rice of Sanemi-san" TA a teacher's signature 【Ticket required】
16: 00 ~ @ Boardwalk DeNA umbrella booth: Hakka doll appearance I will give you a handout by voice actor っ! (Takagi Miyuu (role of Hacka Doll No. 1), Okuno Kaya (role of Hacka Dole No. 2))
16: 10 ~ @ Boardwalk sound fountain parasol booth: sticker handed out party (Akane Fujita)
17: 10 ~ @ Boardwalk sound fountain parasol booth: sticker handed-out party (Miharu Tomita)
18: 00 ~ @ Poppo Street: Norilyn no bigger Nico live broadcast in Oku Shima
18: 30 ~ 19: 30 @ Awaodori Kaikan: Daki interest confrontation Tonight - Kamikaze video VS CC 2 - (Mizusaki Junpei (Representative Director of Kamikaze Movie), Daisuke Arashiki (Kamikaze Movie), Hiroshi Matsuyama (Representative Director of CyberConnect - 2), Chisaoka Yasuhiko (Cyber ​​Connect to Two))
19: 00 ~ @ Awaodori Kaikan: Kiyosaka in Machi ★ Assoby talk & drinking party
All day: Yuri !!! on ICE × Animate Cafe in Machi ★ Assobi Business trip edition
All day @ Boardwalk Gift booth: "Super Sonico" x "Gokuen Youtube Pia Manabi Straight!" 10th anniversary collaboration project in Machi ★ Asobi vol.18 collaboration goods sale
All day @ Boardwalk ufotable business trip Cafe umbrell booth: Activation sword sword dance collaboration cafe (Machi ★ Assobi vol.18 business cafe)
All day @ Boardwalk Good Smile Company Parasol booth: Distribution of booklet "Time ruler" booklet
All day @TOHO animation umbrella booth: Sakura Quest Between the Noyama Tourist Association Large Lottery & Chupacabra Photographer
All-day @ Poppo Street: Square Enix's Original Drawing Exhibition ("Vanitas's Note" "Royal High School Teacher Heine" "Mr. Yakumo wants to feed")
All-day @ Poppo street: Akio Watanabe Anime Art Works exhibition in Machi ★ Assoby
All-day @ Poppo street: "Today's rice with Sanni-san" TAa masterpiece original painting exhibition
All day @ Poppo Street: "Super Sonico" x "Gakuen Yu Pia A Manabi Straight!" 10th Anniversary Collaboration Planning in Machi ★ Asobi vol.18 Commemorative Photographing Corner
All-day @ Poppo Street: Cast & Staff Sign Colored Paper Exhibition (Fukuyama Jun (Victorian), Ishikawa Toshin (Kiri), Kugimiya Rie (Mina role), Akabane Kenji (Braid's role), Ito Shizuka (Ice Tadakazu Sugita (role of snake), Peng Jie (original work), Matsato Masato (director), Sharakasei (assistant director), Hiroya Iijima (character design))
@ Gourd Ship Pleasure Boat: Bridge under the Bridge
Tokushima VR Video Festival(Permanent VR Screening Studio / Tokushima VR Video Festival Full Dive Theater ~ VR Animation Festival ~)
Bizan Ropeway Guide Announcement (Uplift: Ryuhei Izumi (Ryohei Kimura) / Downhill: Yoshiyuki Mutsuke (Baniya))

◆May 6 (Sat)
· Shinmachi River East Park
10: 00 ~ 11: 00: Tokyo 7th Sisters talk show
11: 00-12: 00: Alternative Girls stage (Yurika Endo, Mari Takano, Yuzu Ohno)
12: 00 ~ 13: 00: Idolmaster Cinderella Theater Special Talk Show in Machi ★ Assobe 2017
13: 00-15: 00: Avex Pictures Special Talk Show GW2017 ("Romance Tyrant" Aoyama Yoshikane (Guri), Amumakura Ami (Mr. Hikaru Akane), Nagano Yuki (Yellow Butterfly Yuuki), Yumemi Hara (Role playing Shiramine) ___ ___ ___ ___ ___ ___ ___ ___ 0 Misuyuki Takagi (Masayuki Okamoto) "Eska Krone" Tomoka Ezeki (Esca role), Yasuno Anno (role of Clon) Director Hiroki Yamaguchi, Shinji Mizushima coach)
15: 00 ~ 15: 30: "Armed girls Machiavellism" Machi ★ I will straighten up the Assobi!
15: 30 ~ 16: 30: ACRYLICSTAB Live
16: 30 ~ 17: 00: ufotable talk show
17: 00 ~ 18: 00: "Fate / Apocrypha" Kickoff stage in Machi ★ Assobi (Uchiyama Kohki (role of silo / cotomine))
18: 00 ~ 18: 30: Charity auction
18: 30 ~ 19: 00: Naomi Naotani live
19: 00 ~ 20: 00: Orange.

· Binji Bridge Nishikoen (Binji Bridge South Park)
9: 00 ~ 9: 30: Charity auction
9: 30 ~ 10: 30: Animation Book author event (Journalist Masashi Arashi (Animation researcher), Tsuyuki Nobuyuki (Animation researcher), Naoto Hirasawa (Ultra Super Pictures), Matsumoto Atsushi (Anime busiens))
10: 30 ~ 11: 30: Akatsuki WORKS Talk Show & Ayumi. Mini Live (Ayumi., Hino Wataru, Ken yuki)
11: 30 ~ 12: 30: Hacka Doll Machi ★ Asobi vol.18 Special Stage & Live (Takagi Miyuu (Hacka Doll No. 1), Okuno Kaya (Hacka Doll No. 2 role), Yamashita Nanami (Hacka Doll No. 3 role) , Naoya Okamura (DeNA))
12: 30 ~ 13: 30: Game Creator Talk Live (Yoko Sakagami, Producer, Bandai Namco Entertainment), Yusuke Tomizawa (producer of Bandai Namco Entertainment), Motohiro Suganuma (Software Producer, Japan), Hiroshi Matsuyama (Representative Director of Cyber ​​Connect 2) American crayfish Yoshiyuki Hirai)
)
13: 30 ~ 14: 00: "Tales of Zestilia the Cross" Talk stage (Ryohei Kimura (role of Sulei, Hiromi Igarashi (role of Simon))
14: 00 ~ 14: 30: Rhythmic Tortoise Ranbu Talk Stage
14: 30 ~ 15: 00: I want to keep your voice
15: 00 ~ 16: 00: TV anime "The trouble of Centaur" Talk & live
16: 00 ~ 17: 00: Tenghwa Hundred Swordswear Machi ★ Asobi Special Stage (Castle Izumi Masamune role), Kuwabara Yui (Kaito Kaoru), Takai Maika (Izumi Mamoru) (Mouse promotion), Okamura Naoya (DeNA))
17: 00 ~ 18: 00: Creators in Pack talk show ~ 2017 Spring's new animation presentation ~
18: 00 ~ 19: 00:AnimationDJ Live
19: 00 ~ 20: 00: Tami Neck & amp; Akira Special Live

· Ufotable CINEMA
10: 00-11: 00 @ Theater 1: Fate / kaleid liner Prisma ☆ Ilya Dry! Selection Screening & Staff Commentary (Kadokawa Mai, KADOKAWA Kato Producer)
10: 30 ~ 11: 00 @ Theater 2: Theater version "Fate / stay night [Heaven's Feel]" latest PV preview & latest visual presentation 04 (ufotable), Yuuma Takahashi (Aniplex)
10: 30 ~ 11: 00 @ Entrance: "NOW ON AIR!" × "Purely Monster" New Voice Actor Unit Collaboration Talk
11: 30-12: 20 @ Theater 1: Rhythmic Tortoise Ranbu first episode screening (Ryohei Kimura (Mamoru Kozumi), Norihito Bambari (Yoshiyuki Mutsu)
12: 00-12: 30 @ Theater 2: I want to keep your voice
12: 40 ~ 13: 40 @ Theater 1: Avex Pictures Special screening "Escutcheon"Completed showcase screening (Toshikazu Ezeki (role of Esca), Yasuno Anno (role of Clon) Director Hiroki Yamaguchi, Shuji Mizushima general manager)
13: 00 ~ 14: 30 @ Theater 2: Taro Odor Taro young boy's youkai picture diary screening and talk show
13: 30 ~ 14: 00 @ Entrance: Yui Ena's one-person talk event
14: 30 ~ 15: 30 @ Theater 1:Correct answer Cad6th fastest precedent screening & talk event (Koichi Noguchi (Toei Animation), Yuma Takahashi (Aniplex))
15: 00 ~ 16: 00 @ Entrance: Toshihiro Kawamoto signing party 【Participating ticket required】
15: 00 ~ 17: 00 @ Theater 2: Manabi Straight! × ス ー ー ー そ そ そ そ 子 子 コ ラ ボ 予 定 Anime Select Screening Manabi Straight! 6 episodes & 6 th episode
16: 00 ~ 17: 00 @ Theater 1: "Gabriel dropoutAfter Talk Show (Professor Wakami (Original), Yamashita P (KADOKAWA), Motohashi P (Movie Studio), Masako Kawabata (KADOKAWA))
16: 30 ~ 17: 00 @ Entrance: I want to keep your voice
16: 30 ~ 17: 30 @ Theater 2: Manabi Straight! × ス ー ー ー そ そ そ そ 子 子 コ ラ ボ 予 定 Anime Select Screening Manabi Straight! Episode 11 & Animation 10 episodes
17: 30 ~ 19: 00 @ Theater 1: Avex Pictures Special Screening "Trinity Seven" (Yumami Hara (role as Asami Lilith), Professor Saito Kenzi)
18: 30 ~ 19: 30 @ Theater 2: Livelihood Touken Ranbu 1st episode screening
18: 30 ~ 19: 00 @ Entrance: Aniplex public disclosure welcome party
19: 30 ~ 20: 30 @ Theater 1: "Fate / Grand Order" staff roundtable discussion in Machi ★ Asobi vol.18 (Fate / Grand Order staff) 【Required numbered ticket】
20: 00 ~ 22: 00 @ Theater 2: secret industry association vol.8 vol.8 (Misako Ochiai (Skype participation), Masako Yumioka (KADOKAWA Animation publicity), Nakahiro (Nitroplus producer), Maika Takai (voice actor) , Kuwabara Yui (voice actor), Takada Maki (voice actor))
20: 00 ~ 22: 00 @ 2F entrance: industry stakeholder talk event
21: 30 ~ 23: 00 @ Theater 1: "How to make Kaomono Friends Producer listen to Yao Yorozu type CG animation" (Keioi Fukuhara (Representative of Yao Yorozu), Hiroaki Matsuura (Representative of Sandigen), Shinya Sugai (Director of Sublimation) Now Yoshikazu (Sanzingen CG Supervisor))
24: 00 ~ @ Theater 1: "Tales of Zestilia the Cross" Second Phase (Stories 14 - 26) All the story screening at once
All day @ Entrance: "Fate / Apocrypha" Character setting First public exhibition
All day @ Entrance: ANIPLEX + NEW Figure display
All day @ Entrance: Machi ★ Asobi personal sponsor receptionist

· Higashi Shinmachi shopping district
9: 30 ~ 16: 30 @ Blood donation bus: Machi ★ Asobi regular volunteer blood donation
10: 00 ~ 17: 00 @ BANDAI NAMCO Entertainment x Cyber ​​Connect to Booth: Cyber ​​Connect to Two "NARUTO - Naruto Shippuden Narutimate Storm 4 ROAD TO BORUTOExperience meeting
10: 00 ~ 17: 00 @ VEE Building 202 · 203: Anime "overloadOriginal painting exhibition
12: 00-12: 30 @ Nitroplus tea house (former scramble cafe): "Touken Ranbu - ONLINE -" Otokonkonso Sukumukai [Required tickets required]
15: 00 ~ 15: 30 @ Nitroplus tea house (former scramble cafe): "Touken Ranbu - ONLINE -" Otokonkonso Sukumukai 【Required ticket】
All-day @ Nitroplus tea house (former scramble cafe): "Thunderbolt Fantasy Eastern swordsmith" East photo spot
All-day @ Nitroplus tea house (former scramble cafe): "Thunderbolt Fantasy Eastern swordsmith" cloth bag doll exhibition (Dan Jade, Erotic Mukuro)
All day @ Animate Tokushimae front: "Super Sonico" x "Gakuen Yu Pia A Manabi Straight!" 10th Anniversary Collaboration Planning in Machi ★ Assortment vol.18 Commemorative Photographing Corner
All day @ Shuttle Garden: "Sakurada Reset" Original Original Exhibition
All-day: Nippon Ichi Software "Nidhogg" Fighting Experience Meeting
All day: pain car exhibition event

· Others
9: 00 ~ 11: 00 @ JR Tokushima Station: One day the station manager
9: 30 ~ 13: 00/14: 00 ~ 17: 00 @ Donation Room Amiko: Machi ★ Asobi ancient volunteer blood donation
10: 00-16: 00 @ Boardwalk YAMASA umbrella booth: Machine of "Win chan" ★ Associa
10: 00 ~ 16: 00: Cosplay Event
10: 00 ~ 17: 00 @ Awaodori Kaikan: Fate / Grand Order VR feat. Mash Kyrie Light Prior Experience Society in Machi ★ Assoby
10: 00 ~ 17: 00: Orange. 88 stamp stamp rallies
10: 00 ~ 18: 00 @ Poppo Street 2F: Pretty girl game art collection
10: 00 ~ 18: 00 @ Board walk sound fountain umbrella booth and others: sound fountain stamp rally ("erotic manga SENSATION on radio" with special message / Akane Fujita (role of Izumi Sayumi), Mami Takahashi (role of Yamada Elf) )
15: 00 ~ @ Boardwalk Avex Parasol Booth: "Movie Trinity Seven - Eternal Library and Alchemy Girl -" Signing Party (Guest: Yumemi Hara (role as Asami Lilith), Professor Saito Kenzi (original writer)) 【Required ticket】
16: 00 ~ @ Boardwalk Avex Parasol booth: "Romance tyrant" cast casting party (Guest: Yoshiaki Aoyama (role of Guri), Ai Miwakura (role of Mr. Akashi Akane), Yuki Nagano 【Required ticket】
17: 00 ~ @ Boardwalk Avex Parasol booth: Wake Up, Girls! Delivery meeting (Guest: Yoshiaki Aoyama, Mihama Tanaka, Miusuke Takagi) 【Required ticket】
18: 00 ~ @ Boardwalk DeNA umbrella booth: Hakka doll appearance I will do a transfer with a voice actor っ っ っ っ っ! (Guest: Miyuusu Takagi (role of Hacka Doll 1), Kaya Okuno (role of Hacka Doll 2), Nanami Yamashita (role of Hacka Dole 3))
19: 00 ~ @ Awaodori Kaikan: Kiyosaka in Machi ★ Assoby talk & drinking party
All-day @ Poppo Street: Square Enix's Original Drawing Exhibition ("Vanitas's Note" "Royal High School Teacher Heine" "Mr. Yakumo wants to feed")
All-day @ Poppo street: Akio Watanabe Anime Art Works exhibition in Machi ★ Assoby
All-day @ Poppo street: "Today's rice with Sanni-san" TAa masterpiece original painting exhibition
All day @ Poppo Street: "Super Sonico" x "Gakuen Yu Pia A Manabi Straight!" 10th Anniversary Collaboration Planning in Machi ★ Asobi vol.18 Commemorative Photographing Corner
All-day @ Poppo Street: Cast & Staff Sign Colored Paper Exhibition (Fukuyama Jun (Victorian), Ishikawa Toshin (Kiri), Kugimiya Rie (Mina role), Akabane Kenji (Braid's role), Ito Shizuka (Ice Tadakazu Sugita (role of snake), Peng Jie (original work), Matsato Masato (director), Sharakasei (assistant director), Hiroya Iijima (character design))
All day @ Boardwalk Gift booth: "Super Sonico" x "Gokuen Youtube Pia Manabi Straight!" 10th anniversary collaboration project in Machi ★ Asobi vol.18 collaboration goods sale
All day @ Boardwalk ufotable business trip Cafe umbrell booth: Activation sword sword dance collaboration cafe (Machi ★ Assobi vol.18 business cafe)
All day @ Boardwalk Good Smile Company Parasol booth: Distribution of booklet "Time ruler" booklet
All day @TOHO animation umbrella booth: Sakura Quest Between the Noyama Tourist Association Large Lottery & Chupacabra Photographer
@ Gourd Ship Pleasure Boat: Bridge under the Bridge
Tokushima VR Video Festival(Permanent VR Screening Studio / Tokushima VR Video Festival Full Dive Theater ~ VR Animation Festival ~)
Bizan Ropeway Guide Announcement (Uplift: Ryuhei Izumi (Ryohei Kimura) / Downhill: Yoshiyuki Mutsuke (Baniya))

◆May 7 th (Sun)
· Shinmachi River East Park
9: 30 ~ 10: 00: Charity auction
10: 00 ~ 11: 00: "Fate / Grand Order" Caldea · Radio Talk in Machi ★ Asobi vol.18 (Maschi Killieright, Michael Tanaka (Nitokurisu))
11: 00 ~ 12: 00: "Animegatalize" Fastest talk event "Do not do it in Tokushima! Is it? Honori Kaede (role as Asagaya Masayo), Sengoki Ayaka (Ueikusugi Arimoto), Dongcheng Nishisako (Koji Koenji), Takahashi Yi (role role), Morii Kenshiro, Hiroshi Uchiumi (DMM.futureworks ))
12: 00 ~ 13: 00: Angel's 3P! Talk & Mini LIVE (Ohno Yuzuko, Endo Yurika, Koga Aoi)
13: 00 ~ 14: 00: Re: CREATORS talk show
14: 00 ~ 15: 00: Uma daughter Pretty Derby Paca rack! Public recording in Tokushima (role as Special Wake), Mari Takano (role as Silence Suzuka), Machico (role as Touchai), Yuuka Aizaka (role of Narita Buran), Masami Takahashi (El Condor Pasa))
15: 00 ~ 16: 00: AD-LIVE presents "I came back! Let's do ad-lib flight talk with Kenichi Suzumura!"
16: 00 ~ 17: 00: Serasas
17: 00 ~ 18: 00: Closing ceremony

· Binji Bridge Nishikoen (Binji Bridge South Park)
11: 00 ~: Machi ★ Asobi RUN Final Party (tamu (MIXBOMB / BunGree ☆), Futanari DJ Tachibana, Rutan (CAOFF WEST / Rainbow ♪ Idol), Togetherd ((D :) Drive / BunGree ☆) , Faiz (Night ★ Asobi / "Victory"), Falconer (Night ★ Asobi / Anison Forest)

· Ufotable CINEMA
10: 00-11: 00 @ Theater 1: Creators in Pack talk show ~ 2017 Spring Fun meeting ~
11: 30-12: 30 @ Theater 2: Manabi Straight! × ス ー ー ー そ そ そ そ 子 子 コ ラ ボ 予 定 Anime Select Screening Manabi Straight! 12 episodes & 12 episodes
11: 30 ~ 13: 00 @ Theater 1: "Twin Angel BREAK" latest story pre-screening
12: 00-13: 00 @ entrance: young producer talk event
13: 30 ~ 14: 30 @ Theater 1: "Sakurada reset" Retrospective Retrospective (1 st story to 2 th story)
15: 00 ~ 16: 00 @ Theater 1: Re: CREATORS Episode 6 Preliminary screening & talk
16: 30 ~ 17: 00 @ Theater 1: Livelihood Touken Ranbu 1st episode screening
16: 30 ~ 17: 30 @ Theater 2: Fate / zero cafe screening
All day @ Entrance: "Fate / Apocrypha" Character setting First public exhibition
All day @ Entrance: ANIPLEX + NEW Figure display
All day @ Entrance: Machi ★ Asobi personal sponsor receptionist

· Higashi Shinmachi shopping district
9: 30 ~ 12: 00/13: 00 ~ 16: 30 @ Blood donation bus: Machi ★ Asobi regular volunteer blood donation
10: 00 ~ 14: 30 @ BANDAI NAMCO Entertainment x Cyber ​​Connect to Booth: Cyber ​​Connect to Two "NARUTO - Naruto Shippuden Narutimate Storm 4 ROAD TO BORUTOExperience meeting
10: 00 ~ 17: 00 @ VEE Building 202 · 203: Anime "overloadOriginal painting exhibition
All-day @ Nitroplus tea house (former scramble cafe): "Thunderbolt Fantasy Eastern swordsmith" East photo spot
All-day @ Nitroplus tea house (former scramble cafe): "Thunderbolt Fantasy Eastern swordsmith" cloth bag doll exhibition (Dan Jade, Erotic Mukuro)
All day @ Animate Tokushimae front: "Super Sonico" x "Gakuen Yu Pia A Manabi Straight!" 10th Anniversary Collaboration Planning in Machi ★ Assortment vol.18 Commemorative Photographing Corner
All day @ Shuttle Garden: "Sakurada Reset" Original Original Exhibition
All-day: Nippon Ichi Software "Nidhogg" Fighting Experience Meeting
All day: pain car exhibition event

· Others
9: 30 ~ 13: 00/14: 00 ~ 17: 00 @ Donation Room Amiko: Machi ★ Asobi ancient volunteer blood donation
10: 00 ~ @ Tokushima Children Transportation Park (Starting point): Machi ★ Asobi RUN (Participation:Atsuo Otsuka)
10: 00-12: 00 @ Board walk YAMASA umbrella booth: Machi of "Win chan" ★ Assoby
10: 00 ~ 16: 00: Cosplay Event
10: 00 ~ 17: 00 @ Awaodori Kaikan: Fate / Grand Order VR feat. Mash Kyrie Light Prior Experience Society in Machi ★ Assoby
10: 00 ~ 17: 00: Orange. 88 stamp stamp rallies
10: 00 ~ 18: 00 @ Poppo Street 2F: Pretty girl game art collection
10: 00 ~ 18: 00 @ Board walk sound fountain umbrella booth and others: sound fountain stamp rally ("erotic manga SENSATION on radio" with special message / Akane Fujita (role of Izumi Sayumi), Mami Takahashi (role of Yamada Elf) )
15: 00 ~ 15: 30 @ Cygames booth: Umama daughter CD bonus autographed autograph signed ceremony 【required ticket】
All-day @ Poppo Street: Square Enix's Original Drawing Exhibition ("Vanitas's Note" "Royal High School Teacher Heine" "Mr. Yakumo wants to feed")
All-day @ Poppo street: Akio Watanabe Anime Art Works exhibition in Machi ★ Assoby
All-day @ Poppo street: "Today's rice with Sanni-san" TAa masterpiece original painting exhibition
All day @ Poppo Street: "Super Sonico" x "Gakuen Yu Pia A Manabi Straight!" 10th Anniversary Collaboration Planning in Machi ★ Asobi vol.18 Commemorative Photographing Corner
All-day @ Poppo Street: Cast & Staff Sign Colored Paper Exhibition (Fukuyama Jun (Victorian), Ishikawa Toshin (Kiri), Kugimiya Rie (Mina role), Akabane Kenji (Braid's role), Ito Shizuka (Ice Tadakazu Sugita (role of snake), Peng Jie (original work), Matsato Masato (director), Sharakasei (assistant director), Hiroya Iijima (character design))
All day @ Boardwalk Gift booth: "Super Sonico" x "Gokuen Youtube Pia Manabi Straight!" 10th anniversary collaboration project in Machi ★ Asobi vol.18 collaboration goods sale
All day @ Boardwalk ufotable business trip Cafe umbrell booth: Activation sword sword dance collaboration cafe (Machi ★ Assobi vol.18 business cafe)
All day @ Boardwalk Good Smile Company Parasol booth: Distribution of booklet "Time ruler" booklet
All day @TOHO animation umbrella booth: Sakura Quest Between the Noyama Tourist Association Large Lottery & Chupacabra Photographer
@ Gourd Ship Pleasure Boat: Bridge under the Bridge
Fate / stay night Heaven's Feel Cherry blossoming tree planting
Tokushima VR Video Festival(Permanent VR Screening Studio / Tokushima VR Video Festival Full Dive Theater ~ VR Animation Festival ~)
Bizan Ropeway Guide Announcement (Uplift: Ryuhei Izumi (Ryohei Kimura) / Downhill: Yoshiyuki Mutsuke (Baniya))

◆ Other
Nozzle system noise stamp rally
Movie Studio
Exhibition of Hakusensha duplicate original picture
Rhythmic swords swords diss
@ Gourd island cruising Destination parking place: Kitchen car collaboration crepe sale ("Tales of" Drago-style wind crepe, pumpkin moose style crepe, Mabe Calais Manga crepe, "God Eater" Oden pan-style crepe)
@ Ufotable CINEMA: ScreeningWhat is your name?
@ Ufotable CINEMA: ScreeningIn one corner of this world
@ Ufotable CINEMA: ScreeningTake a short walk in the evening Maiden
@ Ufotable CINEMA: ScreeningFairy Tale theatrical version - DRAGON CRY ~
@ Ufotable CINEMA: ScreeningFate / Zero Cafe