Samsung's New Flag Ships Maho "Galaxy S8" Continued from Users Reporting a Burning Screen Red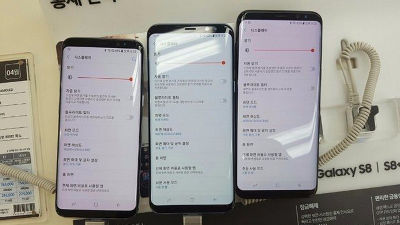 A new flagship plane scheduled to be released worldwide with full Samsung on April 21 (Friday) 2017Galaxy S8"When"Galaxy S8 +The phenomenon that the display color of the screen is biased to red is crowded from the owner who obtained the actual machine a while before.

Samsung Galaxy S8 owners complain their screens are affected by red tint
https://thenextweb.com/mobile/2017/04/18/samsung-galaxy-s8-red-tint/#.tnw_sqQPSBrM

Galaxy S8 owners see red as phones ship with tinted screens - CNET
(With automatic video playback)https://www.cnet.com/news/some-samsung-galaxy-s8-phones-ship-with-red-tinted-screens/

This phenomenon is what the owner encountered when acquiring the terminal ahead of the release date through advance reservation. For SNS such as Instagram, it seems that the display color of the screen is on the red side with terminals called Galaxy S8 and Galaxy S8 + has been posted.


Like this user, users who appeal the redness of the screen by shooting pictures compared to the old model also. Moreover, it is Korean social mediaRULIWEBYaPPOMPPUThere are also contributions posted.


The Galaxy S8 series is the latest flagship machine which Samsung is not overstatement to say that it will be launching it as a company and it is a model against the next iPhone that is expected to appear even in autumn 2017. We have thoroughly launched a number of advanced features such as a curved bezelless design and iris authentication, but if it is a problem of OLED (organic EL display) which is one of the Uri, it will be affected unfavorably It is no mistake to become.

Samsung high-end smartphone "Galaxy S8 / S8 +" corresponding to bezeless design · virtual assistant · iris authentication · PC conversion dock appeared - GIGAZINE



Regarding Samsung, one case where the explosion and ignition of the battery of "Galaxy Note 7" occurred frequently in 2016, and Samsung Electronics Deputy Lee Jae-yong who was the de facto top group of the group in February 2017 A case where the president was arrested on suspicion of adhesion with the administration is a new place to memorize. Regarding the matter of this display, there is no safety problem at first,Huge lossIt is a flagship model that appears for the first time since it was posted, and if it is said that the disadvantage of the model that attracts attention even when it comes to response, adverse effects are unlikely to be avoided.

Samsung announces the cause of the explosion of "Galaxy Note 7" which has been discontinued due to too much explosion - GIGAZINE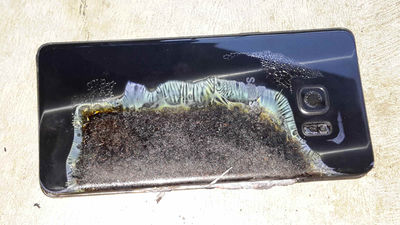 Neil Shah, an analyst with technology research firm Counterpoint Research, analyzes that the cause is "in the OLED display that white may appear more red than usual", and "analysis on the software side It is pointed out that it is a problem of ". There are also views that it is possible to make corrections at the software level, but Samsung does not respond to inquiries from CNET that was cast about this problem.