I asked Mr. Akiko Nakagawa, 84-year-old domestic Airbnb's oldest host, to lend a garden house with a gondola, "Can I even be a host?"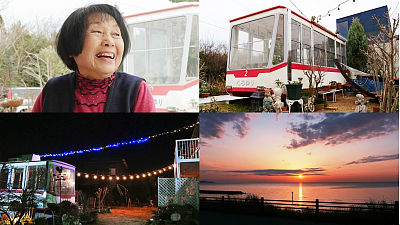 It is not the "go around the typical sightseeing spot written in the guidebook", but the experience of local people and the people of the locals can be experienced on the travel platform "Airbnb"is.Use Airbnb as a travelerEven though there are things, how can the host host an airbnb host as to how the host operates the inn? So that was a mystery, we used Airbnb in Japan to listen to Mr. Nakagawa Ms. Nakagawa who is the oldest host who lends out a garden house with a gondola in Awaji Island.

From Awajishima 1 person to charter OK! Exclusive garden of gondola-grass lawn - Borrowed house - Sumoto-shi
https://www.airbnb.jp/rooms/9174949

Since I started from Osaka this time, I took a high-speed bus from Kobe Sannomiya, and I got off at the Goshiki Bus Center in Awajishima.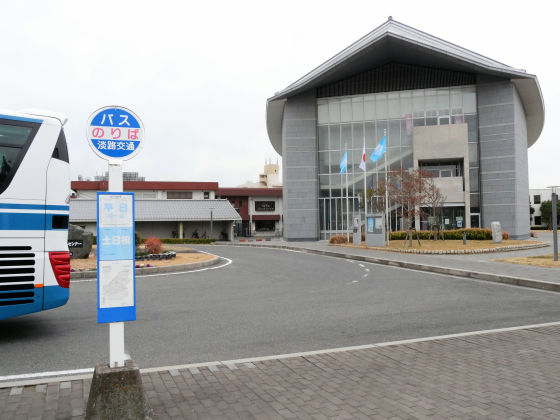 We picked up Mr. Yako Nakagawa to the bus stop and came to our house after we moved about 15 minutes by car.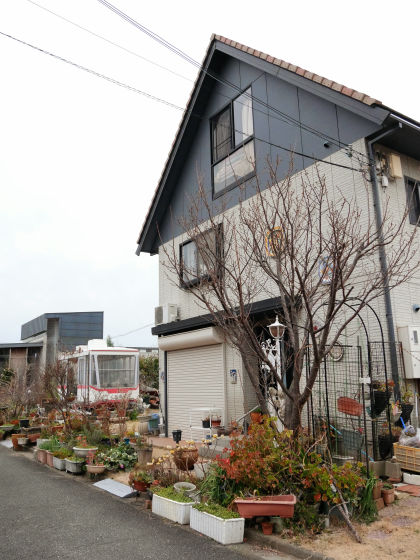 There is something like a train car in the garden of the house ... ...? It is! When surprised ... ...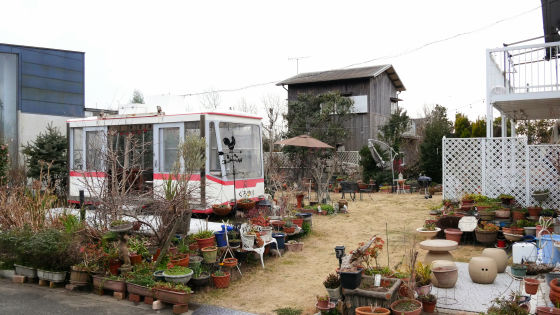 The car written "Kuroyuri" was a gondola used in a ropeway.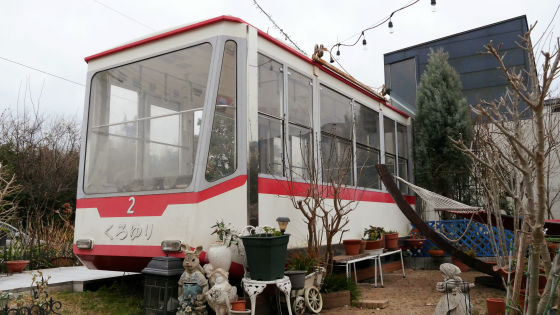 Hammocks in the garden ......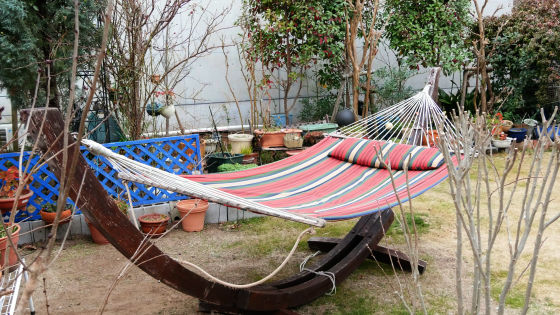 Terrace seat.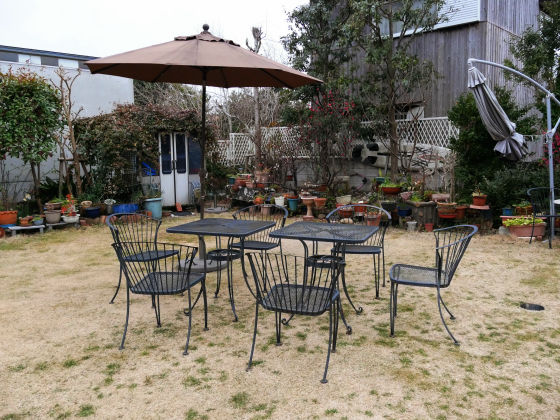 There was another gondola so as to be buried in the plant.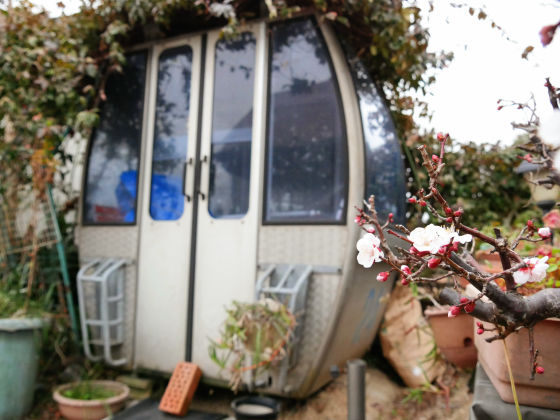 Also barbecue tools.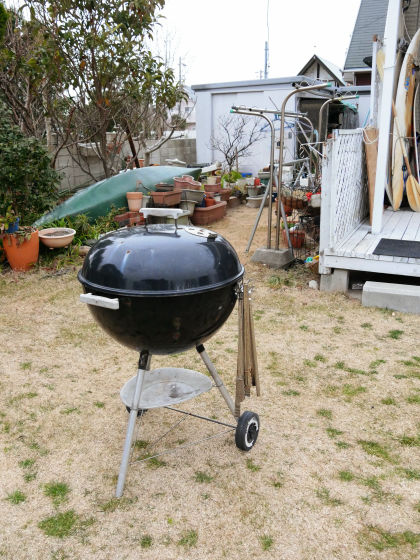 What is this? And while I was watching the holes in the ground ......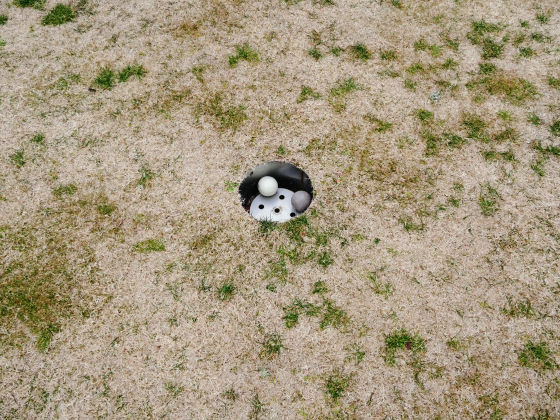 Park GolfIt turned out to be a cup of. Playing equipment is in the garden, not to mention being able to enjoy children, as well as adults feel like recovering their childhood.



The building looks like this.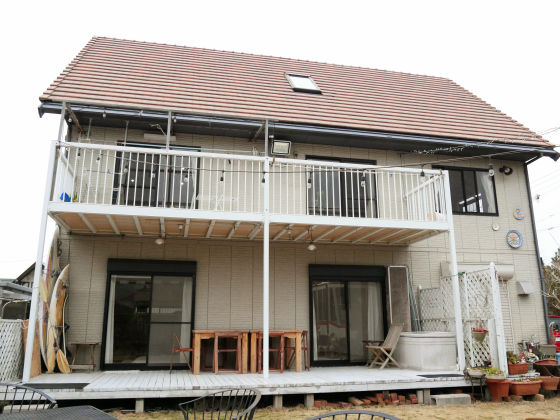 Tables and chairs are also set up in the pouch, and you can petit picnics outside on a fine day.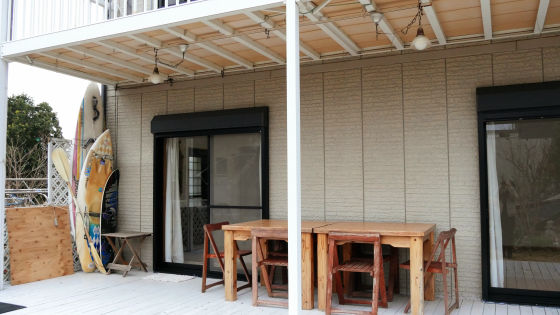 The person who is staying in is not a front entrance but rather that it comes in and out of a glass door on this pouch.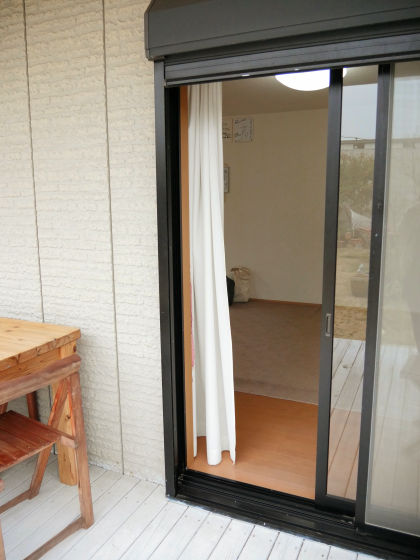 The inside is a spacious space, so if you lay a futon, 10 people will be able to stay.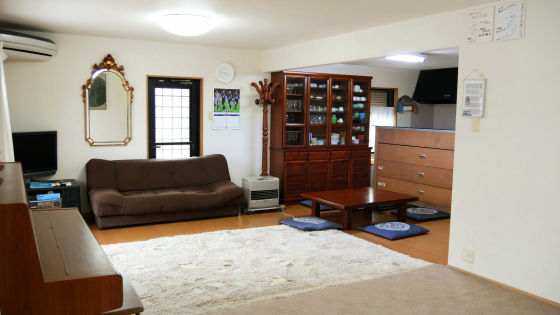 Television and sofa.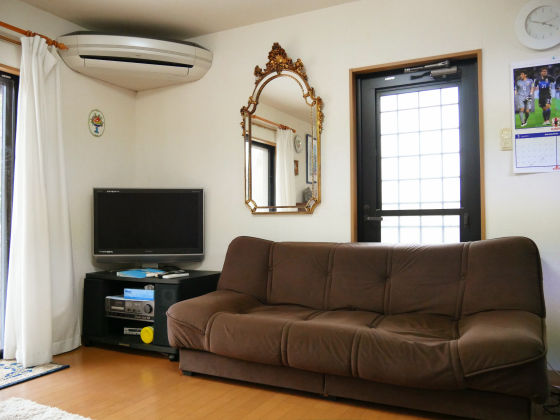 There is a kitchen counter next to the table.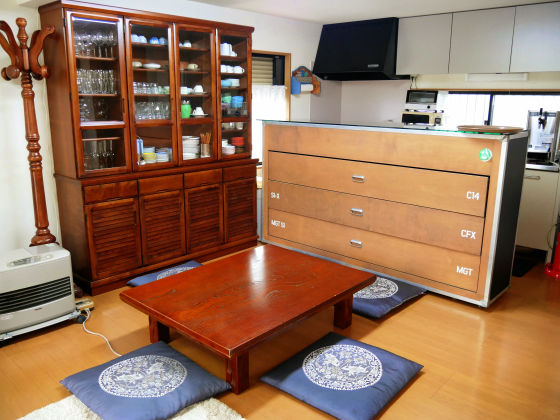 The kitchen is like this. In addition to the stove, there is a microwave oven, an oven toaster, a refrigerator, and it seems that cooking can be done all the way.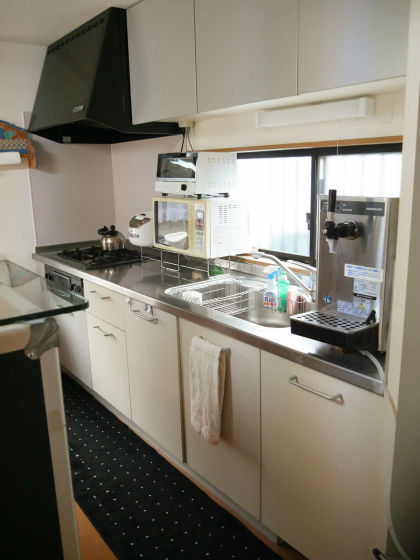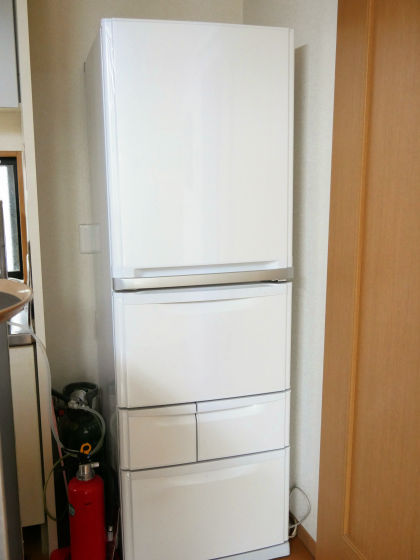 Furthermore, in the evening the garden looks like this. "Garden with gondolas" has too much impact, but the atmosphere changed steadily with the movement of the sun, so it was spectacular.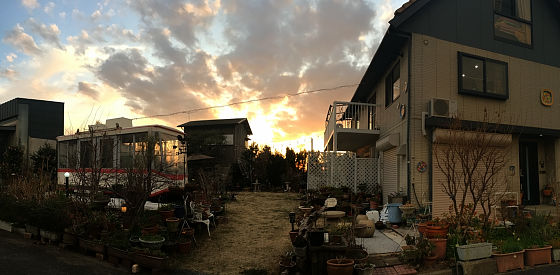 That is why I asked Mr. Akiko Nakagawa who is host of this house and Ms. Kinya Nakagawa of the son when I showed you all over the house.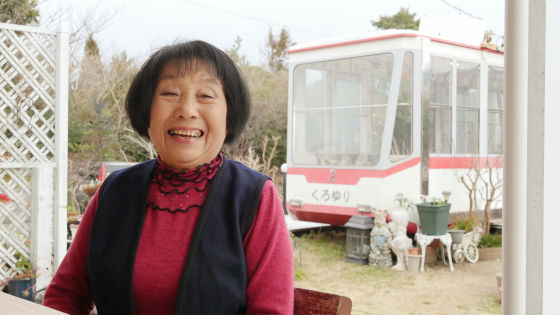 GIGAIZNE (hereinafter, G):
Mr. Masako is doing the management of the house of Awajishima alone and Kinya son's son is in charge of the communication with the guest from Osaka using Airbnb, but Mrs. Yoko himself is an application of Airbnb Or Web service does not touch it?

Mr. Kinya Nakagawa (Kinya):
Yes. I have not seen it at all.

G:
I see. So it is just Kinya's going to do exchanges with guests and lodging on the platform before staying.

Kinya:
I 'm just telling my mother the information "how many people, what kind of reservations have you entered in a day". Today I am present as an interview, but since I am not usually in Awaji Island, I am not touching about hosts.

G:
I see. So what does it mean to host on Airbnb? I think that it would be nice to hear about various interesting stories. Thank you.

Mr. Yuko Nakagawa (hereinafter referred to as "Sonoko"):
Nice to meet you, too.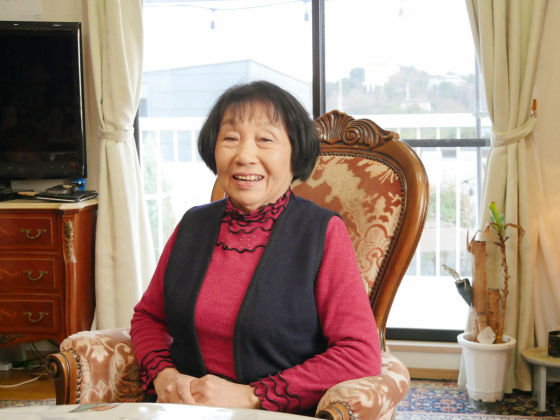 G:
First of all, I would like to ask about "what kind of airbnb's host is doing". When I myself use Airbnb, I often refer to reviews of people who actually stayed, so there are only one review, or 0 people do not have the courage to rent a room quite often . Although it seems to be difficult until the first few people stay after registering, what kind of flow did it flow for a while since I registered with Airbnb? Did you have a wave where people come or not?

Kinya:
There was no response at all after 3 months from registering.

G:
Does that mean that nobody's request for accommodation is sent?

Kinya:
I agree. As I told you now, I think there were problems with 0 reviews, how to put photos, and the verbal part on the page. But I had those parts changed in the middle.

G:
what do you mean?

Kinya:
At first it was trying to place an emphasis on "only foreigners come". Also, I think that the method of displaying the amount was the biggest. Our house is usually 3000 yen for 1 person and 5 or more people 15,000 yen in a way. At first it was putting out "15,000 yen" as a pon. In the case of Airbnb, the cleaning fee will cost plus 5000 yen or 4000 yen, so in the end people who thought that they wanted to come alone by two people got the impression that when they saw the page " I think that I had it.

When it was there, I consulted a child who is doing Airbnb in Osaka and received advice "I should not do a bit cheaper until one person two people review for the time being". Therefore, I wrote the expression "I can stay at 6000 yen from 1 person." It is now 6000 yen per night, and if it exceeds 2 people, the additional fee is 3000 yen per person, is not it?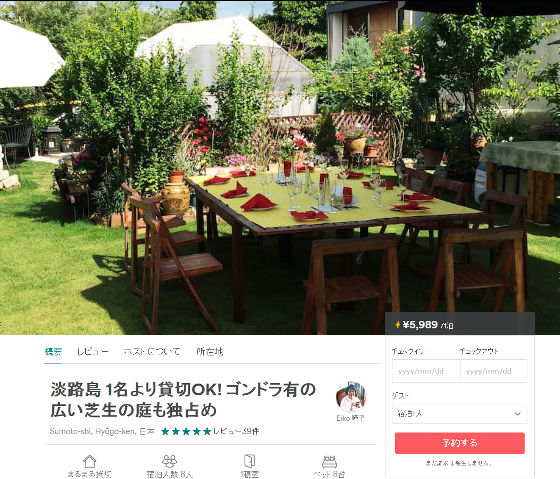 G:
I see.

Kinya:
"If it is double for two people, it is 12,000 yen, so maybe I should take a peek into it?" As I opened the lid, it was a graduation trip of seven or eight students, and OL of the company continued to come in association. So, as gradual reviews came along, even foreigners were relieved, Chinese and Indian families came to come. Foreigners were more families than friends.

Poison child:
The family of Singapore also came.

Kinya:
For example, it is not surprising that a group of two or three people are coming to Kyoto trips, and it is not surprising that three to five people can stay over when they travel with their children to their families.

G:
That's right. I feel that I do not see much.

Kinya:
Even if you look at the hotel thinking of going sightseeing in Awajishima, there is no place like a sweet where there are five or six people in one room. But I realized that we have 20,000 yen and 25,000 yen by 5 people in 6 people and it seems that foreign people have come to come with groups or families with confidence.

G:
I see.

Kinya:
That is around March - May 2016. It was exactly just a year ago that the first customer came. Students from Osaka University came by graduation trip or something. Registration itself was in October and November of 2015, but for 3 months there was no contact from anyone at all (lol)

G:
It was March last year that I had stayed via Airbnb for the first time.

Kinya:
I agree.

G:
Introduction It was that the Japanese people stayed and foreigners came later.

Kinya:
I agree. It came because foreigners wrote things like "I was good" in English.

G:
I certainly go back and I feel that there were also many English reviews.

Kinya:
I asked the child of Osaka University who came the very first, and I said something like "write in English" (lol)

G:
That is a good idea.

Poison child:
Yes Yes. I was saying it was a specialty in Italian. Everyone is a wise person.

Kinya:
To the children of Osaka University in the beginning, because it was a major in Italian, I was told in a joke "write in Italian", but please write in English. From that point onwards, inquiries came from foreigners as well.

G:
After all it is big whether there is a review of English.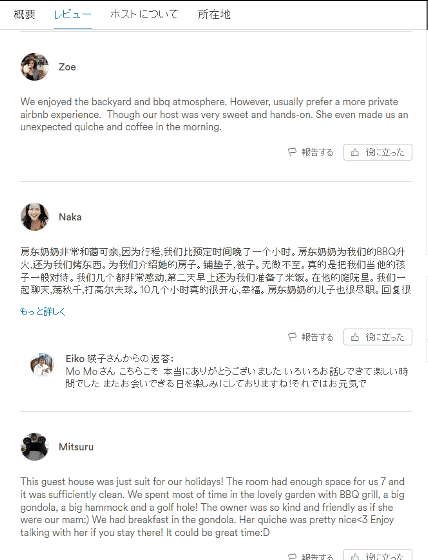 Kinya:
I agree.

Poison child:
Before this university student from Hong Kong came. Foreigners are also often come to my family with us, but Japanese can be understood if there are someone who is a daughter or son or studying abroad in Japan. However, the two who came from Hong Kong before this were all because they were college students over there. I can not communicate anything in English though ....

Kinya:
Chinese is totally.

Poison child:
Foreigners will talk to me in Japanese, but to some extent on mobile.

G:
It's a thing to communicate with smartphones.

Poison child:
Yes. That's right.

G:
Whether the language difference does not become a wall, I was very concerned. I wonder how to get in touch when a foreigner is coming.

Poison child:
Right. But everyone, even if I do not understand the words, "暎 子 さ ん 暎 子" says a voice (lol)

Kinya:
A Hong Kong student girl who came in with a pair of people was able to communicate Japanese with one word. They said "I like to learn Japanese because I like animation," he talked hard. There is a kitchen in the room and you can cook rice, so I bought some ingredients together, and after that we cook you a pot so you can eat me.

Poison child:
It is called. Barbecue and so on.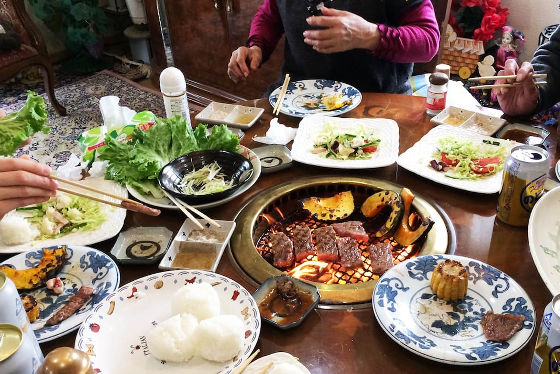 Kinya:
For Japanese people most people will barbecue. Bought Awaji beef and onion. But since foreigners do not have such an idea, my mother goes shopping with a car. People in China.

G:
It is active.

Kinya:
I also came by girls from Chinese, Korean, Taiwanese group studying at Kobe University alone. They were international students, they were able to speak Japanese though it was a word but my mother took all the people in the car and went to the supermarket and said "buy this, buy it", "cut it onions and taste like this" I did it.

I go back, but my mother had been doing a beauty salon for about 30 years in Suita and Takatsuki. Since that time I had a villa in this neighborhood, so when I came to a villa I called a person with a similar system and had a barbecue. Since I was doing such a thing from the time of my 40s to 50s I have been having a strange talk about barbecue for 40 years (lol)

G:
Such experience is really valuable because I think that it is a thing that I can not experience easily if it is something like a hotel that I stayed at a regular destination, not a camp.

Poison child:
Everyone will be pleased. Ordinarily, barbeques cut pepper or something, but I painted olive oil and baked as it is. Then saying "This is the first time. It is delicious".

Kinya:
It's like taking me to the supermarket by car. My mother likes that kind of thing, so "I will go here next" I guess like that (lol)

Poison child:
It is my life to live a car. I love it.

My eyes caught on February 1 this year as my license can be rewritten. So cure your eyes with surgery. I thought it was good.

Kinya:
I wonder if it will be OK for three more years.

Poison child:
Three years left. I am 87 years old. Ha ha ha (haha)

Kinya:
A bit of a question has gone again (laugh) Why did you?

G:
No no, the story I am talking about is very interesting. Because "I think that it is the best point of using Airbnb when traveling is" to make local experiences a strange experience that can not be done with stereotypical trips ".

Poison child:
I will be glad for you anymore. I am really happy. A young sister from Singapore something, help me when I carry heavy things. Even though I can not make myself understood. But please smile and bring me a pack. I do not understand the word, but maybe the older sister is saying "Please help early" does not it?

Kinya:
Not only "I will do something here", they are also feeling like they are coming to my friend's house, so I will help you.

G:
It is a feeling that "I will build something together."

Poison child:
That's right. Everyone will be like a family. Even after the trip, Hong Kong and other foreigners immediately got friends on Facebook.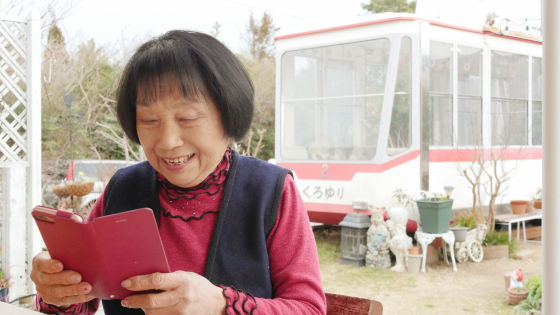 G:
It is a feeling that there is still connection now. How often will guests stay with us now?

Kinya:
It will be few in winter, but since there are 5 or 6 nights this month as well, it is about 1.5 a week.

G:
After all it is like "on weekends".

Kinya:
I agree. There are many weekends. There are many Japanese tourists in March.

That is also an interesting story. Last March, the Japanese came the first time, after that Israel, the group of the United States, Australia and Asia such as Singapore and Vietnam came to come.

Poison child:
India and so on.

Kinya:
Many Asian people say that everyone who can speak English is traveling to Japan, or working for NTT in Tokyo and coming to Awajishima.

After that, in July August, this time the elderly people like Japanese people say, "No one like this would use Airbnb" came to come with the family.

About the last March, I got negative news for Airbnb. Saying that, SNS etc. are mainstream now, so I thought, "Whatever you think, Airbnb is more entertaining than staying at an ordinary hotel" Japanese people who are effective and the college students I thought "Let's go", I finally came last summer (laugh)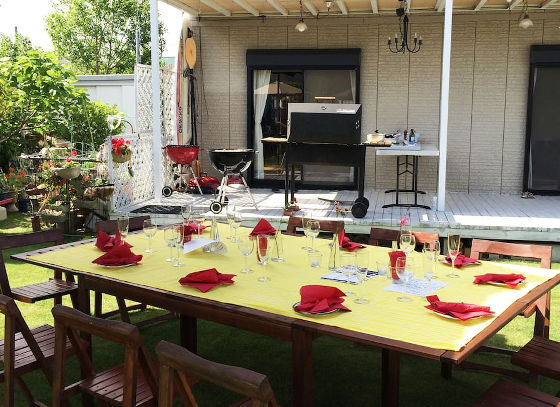 G:
Well then is it a sudden increase since last summer?

Kinya:
I agree. So if July or something went wrong, 15 cases. About 15 nights stayed in.

G:
It is a feeling that the flow of Airbnb and the periodic things like summer vacation overlap and it increased at a stretch.

Kinya:
Yes. It is not just a simple overseas tourist coming here. People who live in Japan will come and people who live in Osaka or Takarazuka will also come. Since there are various directions, it is a little surprise. Not only "foreigners" or "only Japanese people" but rather a reservation entered from various places in various places ... ....

G:
Before we start AirbnbRetreat · NakagawaAlthough it was said that the inn was being held as a inn, which was the center of Japan rather than that time?

Poison child:
Yes. Almost.

Kinya:
I agree. It was a little somewhere, like a ruffle. A person who searched and found it in such a thing and "internet interesting place in Awaji Island" on the Internet came. Because we can stay up to 10 people for a while.

G:
Ten people are awesome, are not they?

Kinya:
NowadaysGrand PingIs not it popular? We do not have anything at Grand Ping, but I will be pleased if you talk like "You can put your tent in the garden and sleep with your child and your father."

Poison child:
When going to the mountain and stretching a tent, it seems that the child says "the bottom hurts."

G:
The ground is hard. But this is a lawn.

Poison child:
That's why it's good here (laugh)

I will listen to the impression of my child. I love the outdoors and all the tools are gathered, bringing something like that and telling me in the garden "This is nice and it does not hurt" will be told. I thought so.

Kinya:
I feel like I'd like to camp in earnest, that I feel like I'm just staying in a hotel, just a mix (lol)

G:
I feel like I'm in the middle of various needs.

Kinya:
It was about spring or summer last year that words could be displayed on the table as Grandping. With that in mind, I put pictures that my children played with my children on my listing. I knew a friend who had a nice tent called "Please come for a moment" and have a tent stretched.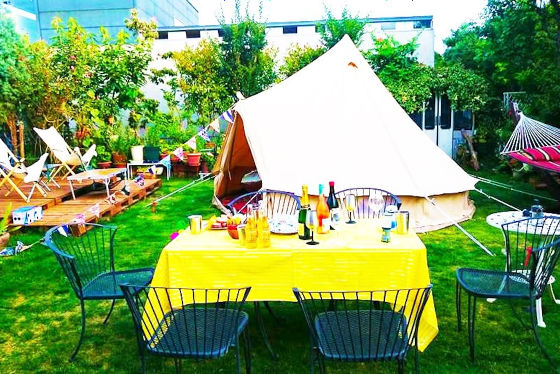 G:
I see.

Kinya:
By doing that, I made an image of the style that it is okay to stretch my tent.

G:
While drawing on the trends, I feel like using a variety of things on the listing page.

Kinya:
Oh yeah (laugh)

G:
It is interesting. On average, it is five or six nights a month, and in summer many times it is fifteen nights, but is that it is not hard to keep the room with Mr. Yoko?

Poison child:
Of course, cleaning will come to your assistant. If I check out at 10 o'clock, I will clean it by 12 o'clock, so I do the laundry.

G:
After all it's a bit difficult with one person.

Poison child:
I agree. That kind of assistant is also in this neighborhood and I have many young friends. I'm a person who works, but I am asking for those who like to come for a while in the morning, or come for lunch.

G:
I think that something like Airbnb 's alternate service has come out recently, but it is not such a thing, asking individuals.

Poison child:
That's right. To my friends.

Kinya:
Since my mother was doing a beauty salon in the beginning, I think that it is good to use people or "I only pay part-time jobs" (laughs) In the morning, people in the vicinity who brought me vegetables However, cleaning only for two hours, then going to work or something. It does that kind of thing.

G:
I feel that it is based on Mr. Masako's virtue.

Poison child:
In the neighborhood, many people come from Kyoto and Osaka who are retiring and stay permanently. Everyone is couple by married couple. Children also seem to be independent. Everyone is 60 or 70 years old, but he says, "I'm targeting Nakagawa-san" (laugh) So that's it. I thought that I should do my best.

Also, the park golf course is near my house ....

Kinya:
I am teaching, this person.

G:
Do you go to park golf with guests?

Poison child:
Yes. to go. It was not Airbnb yet who came to me at Retreat Nakagawa.

Kinya:
I did not put out a big page on the listing page that Park Golf could do as an activity here. I did not have confidence as to how much I can entertain. But I feel like I'm going to have fun together now, so I'm going to put that picture in Airbnb ... I feel like I'm starting this year.

Poison child:
Even if there are people for the first time, I teach them one by one in the garden.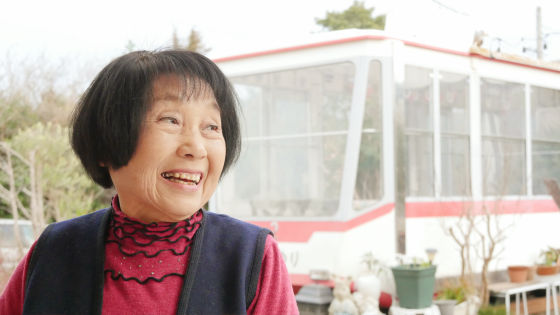 G:
As I listen to the current story, I think that new information is being added to Airbnb's listing page more and more, what kind of pictures were on the top of the list at the beginning?

Kinya:
I took photos of five families of guests that I took in the past, ... or.

G:
Oh, yeah, family photo.

Kinya:
It is a family photo taken before I started Airbnb. Or let me post photos of guests who saw Rubuku or something. It was about that. After that, for example, I started placing two-shot pictures of Chinese girls. If there is a picture of two-shot, it might be "Even if you go with two people".

G:
Surely the impression you receive from pictures is great.

The question will change slightly, but have you done Airbnb so far, did not any troubles happen?

Poison child:
There is nothing to date.

G:
Is not there anything?

Poison child:
Nothing in trouble.

Kinya:
If only once in that case ...... The address here is on Airbnb, so if you enter the navi of the car you are coming as usual, but in Hong Kong or somewhere, it seems that how to navigate was a bit strange, what "does not arrive" There were times when I got an e - mail. Because I exchange all of the e-mails, it can not be said that you make a phone call to the site, is not it Chinese or English as a person in Hong Kong? So, I got lost for more than an hour.

Poison child:
It took less than 5 minutes from here to reach the neighbors, but it was about an hour and a half from there.

Kinya:
That time was the most impatient. In the end, someone who stayed at our next-door condominium by chance told me that "Cantonese can be done". When someone told me that, she managed to come. I think that it would be something I could not find until that last one ... ....

I guess it is the wall of words after all. I can say it if I can communicate words, "Well then I will go to Lawson now, so stay there" but I can not say that either. So, from that time on, we carefully checked whether there is nothing wrong with the address but "I will not enter by car." From that point on, for the moment it is not hesitant or something like this, and it will come here in roughly a car navigation system.

Poison child:
Yes Yes. Almost everyone will come to it properly. Even foreigners.

Kinya:
Also, there are many foreigners who say "Let's go after you come." I think that there will be a restaurant where I will walk when I come, but there are not many near here.

So, "Come at 17 o'clock, I will be troubled if I do not know the way to the restaurant so I will arrive together", when I come, I accompany you by car and go there I'm doing something like sending it to a restaurant and returning.

G:
Does it feel like asking "something like dinner how do you do" in advance interaction?

Poison child:
That's pretty ... .... It does not come at that time even if I say "When I will go around." I can not help it because it does not make sense. But there are supermarkets open until around 23 o'clock, so if you go there to buy food there will be somehow.

G:
In other words, there may be something a bit troubling at the part of the meal and the part of the guidance of the journey, but it seems that the problem does not generally occur.

Poison child:
I agree. Almost anyhow.

G:
It's amazing that the problem will not occur at all in a year since I started Airbnb.

Poison child:
Even in Retreat Nakagawa before that, I have been doing it for 12 years, but nothing.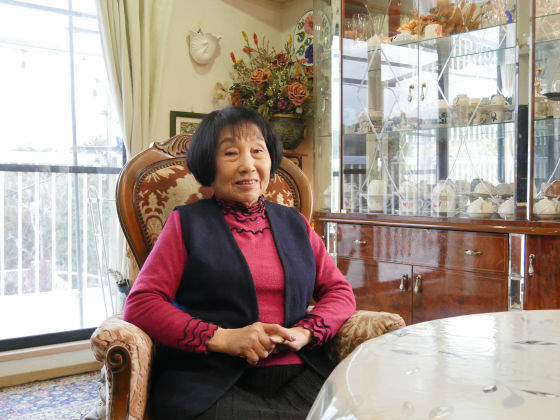 G:
Although retreat · Nakagawa has got a story, what kind of circumstances is it that you are doing that retreat · Nakagawa, and tried to register with Airbnb in October 2015?

Kinya:
With my father and two mothers playing Retreat / Nakagawa for 10 years with a couple of legs. There was a time when my mother could not get into it for a while or I could not put it in the next year when my father died. I came when a visitor came and it was only one person, was not it hard work?

By chance I told that at the time I had a system called "Airbnb, and that's exactly what we can do with a system that is required of those people perfectly" and we went to a party organized by Airbnb together That's right. However, at that time everyone, it was only a matter of what the apartment was like, so do not put it in the talk at all.

But, "I will do for us," and "I am OK with foreigners coming." At first my mother was talking about something like "yeah ~. Disgusting", but it seems that it was pretty much fun when opening the lid (laugh)

Poison child:
It is worth living. (Laugh) When a room becomes available for a moment, "Put someone in quickly" ~.

G:
Well then did not you feel lonely at first?

Poison child:
It is not a thing that does not get over it, but I did not know much about it. I was told that "foreigners stay overnight", it was like "such a thing ...".

G:
From there, what is the decisive factor, "Well then shall we try it?"

Poison child:
Because it was the same feeling as before until you try it. Just simply, it will be fun if the customer comes and I will be pleased to the other side. That is reason to live again.

Kinya:
With Airbnb, guests will come to know more about this person than ever before. In the past, it came from a word-of-mouth "where the inn is located", but now he says, "Mr. 暎 子 is not it?" Since I have posted detailed profiles on the listing page, "I am born in Abeno, I am actually coming from Abeno". Because there is such a story.

G:
It is certainly a big difference between what you do for an inn, simply pushing out individuals and doing Airbnb.

What is the best thing about doing airbnb as Mrs. Naka?

Poison child:
After all I am alone, so I feel lonely in reality. The night is lonesome. So, I'd be happy to think there is someone below.

G:
I must not miss when I hear a lively appearance. I am sure that I know it because I am living alone.

Poison child:
Yes (lol) Do you live alone?

G:
Yes. Even if I do not have any special exchange with you, it is nice to have a bustling atmosphere below.

Kinya:
Because this person is alive for a long time, there is only neta.

I was doing a beauty shop, I was doing a barbecue all the time, when I was young I worked and said it was such a thing.

Even the general public, you have a story only for that person. Until now, if you put too much out of such things, it seems like useless, because you can do it by doing Airbnb.

G:
What do you mean by feeling useless if you put it out?

Kinya:
If it was about us, we would like something in Gundam. In the past you did not say much about 'I like Gundam'. But now it is contrary to say "Do you like that person? Would you like to talk a little?" Does not it make friends?

That's why I feel like I can do Airbnb quite easily as long as I can sell such uncle, "Look like ah, it was this kind of thing" like this for sale in this era.

G:
I see. It is a feeling that pushes out the color of an individual rather than a facility.

Kinya:
I think that's exactly it. I think that it is a person first, not a layout or the like. First of all, it seems to me that it is happening that it is going to establish a situation where people can come and have it come and have it to come and enjoy.

G:
I think that I am watching Mr. Masako who is a story or a person.

Poison child:
That's why I can make friends soon. When I say "I friends with that person" to my friend, "Oh, I'm going back again".

G:
I feel that there is not much boundary between Mr. Yako's life and doing Airbnb. Is it one of lifestyle?

Poison child:
It is true if you say so. It's OK anything anymore (lol)

G:
Do you have the most impressive memories so far?

Poison child:
To say impressive, for example, this is the time of Retreat Nakagawa, but a child of a repeater comes here and says "I'm home". So my mom is surprised to say "What are you saying?"

G:
That's a little nice.

Poison child:
I'm happy. Mom is surprised. With the feeling that this child was done. Because I am a child, I usually forget if I did not come for about two years. But I have not forgotten.

Kinya:
After that. A junior high school boy, three people ....

Poison child:
Yes Yes. Three junior high school students came.

G:
With just three people?

Poison child:
Only boys going to school at a junior high school system. They cook. A boy who had never had a kitchen knife, shopping with three people. At that time I came by pick up by bus and went to pick up.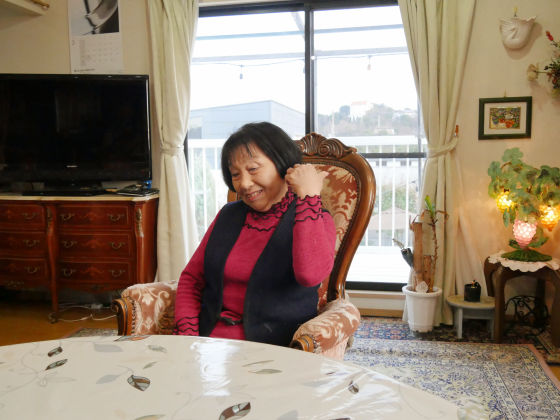 "When you ask me" How about meals? "Because you say" buy paella and stew materials, "tell me" Let's go shopping "then. They brought me a book of cooking, and while e-mails came from my mother, I cooked crazy and said, "Can not you eat it?" "Because I'm going out shopping for a while, put it as much as I can taste," honestly, I was just setting a bit. When I tasted it, I was doing well. One of them said to my mother, "You can not do it even though you have used kitchen knife?" (Laugh)

G:
How did the three people stay staying in the background?

Kinya:
It's time for Retreat Nakagawa, not Airbnb. They happen to be here when I came here by chance, "They are five people, are they free?" "I am free" "It is a junior high school student, is it okay? Okay. However, since parents are worried about whether they really know it, if you substitute, feel like "Please take care of me". Were they even took them to park golf after all?

Poison child:
Yes Yes.

G:
When I heard the current story I got the feeling that I would like to host Airbnb, though (laugh) I guess it is difficult to do it alone?

Kinya:
Well. It depends on what you want to do with the feeling. Where do you live?

G:
My parents house is in Hyogo prefecture, the countryside is very terrible, where there are cattle and monkeys. I think that there are visitors for sightseeing in Awaji Island, but not at all. I hope I can do Aibnb, but since the person does not come first ... ....

Kinya:
No, no, that is probably the opposite. Because there are things that people can not do because they are not here. For example, how do you see the view from here? It is important who is there. Landscape and people are enough. There are many people who are starting at such a level saying that the interior is to be partially refurbished.

By the way, it is a distance of 3 minutes by car from Mr. Masako 's house on the hill of Awajishima to the coast. It was a rain forecast on the day when I covered, but as the clouds broke off and the sunset seemed to be beautiful, Mrs. Yuko took me to the beach by driving.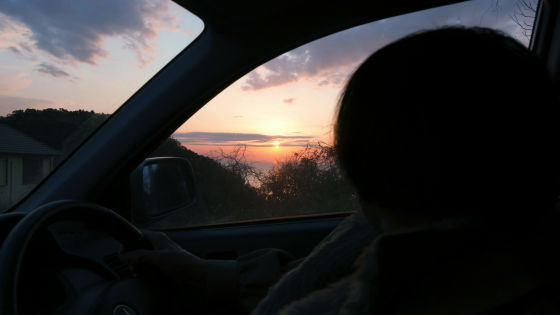 The sunset seen from the bottom of the hill looks like this. The sea on the west coast of Awajishima is surprisingly transparent, "Awaji waters are so transparent!", The beauty of the setting sun is exceptional.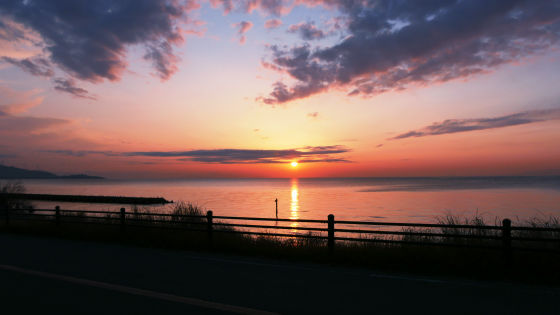 Kinya:
Even though it can be as it is, in the meaning of grabbing a knack after all, everyone is being told that the place and a bit of refurbishment.

Poison child:
How old are your father and mother?

G:
It is about 60 years old.

Poison child:
Just right.

G:
Just? (Laugh) Are there many people in their 50s and 60s who can start hosting Airbnb?

Kinya:
I feel a bit younger in my impression. People who are in their thirties and couple immigrating with a tiny child ... are so messed up. Until now I have worked as a company employee, but let's do agriculture. It seems like let 's go to the mountain back in Kochi, how the grant came out. Can you do it if people of such age try to attach Airbnb to agriculture on that extension line?

There may be a part that I do not know about feeling when I am too old, but there may be a part saying "I do not know what to do", but people in their thirties take advantage of the current trend, so they adopt what is going on now Seems like. Although it is not the story of Grand Ping just a little while ago, I feel like a person gathers up with the accumulation of small things like "like a little Grand Ping, triangular banner sticking".

I think that people in their thirties will surely be able to receive things in their thirties. So, people in their 50s and 60s are what they want to aim at then.

The story will come back a bit. My mother is in his 80's, is not there anymore? So, we can also do as many generations as we can in the 50s 60s, and in the thirties, twenties, I will go to the junior high school students who said earlier, so I feel like I'm getting a bit. Because it seems that everyone can correspond even if you do not match the target to anywhere.

G:
I agree. I certainly feel secure.

Poison child:
Sometimes we do cheese fondue and oil fondue in gondola here, we also do goggles (lol)

The garden with gondola is lit up at night, making it even more fantastic.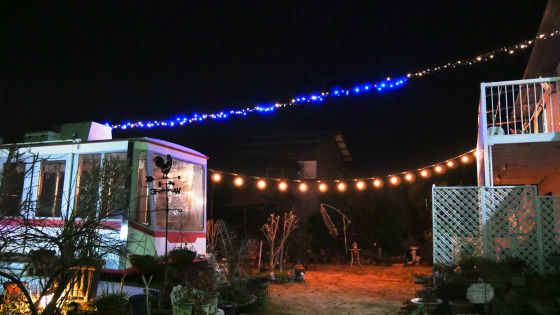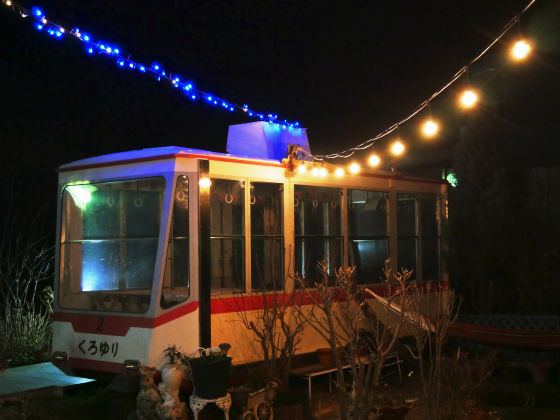 This is the inside of the bus. It certainly could have a home party.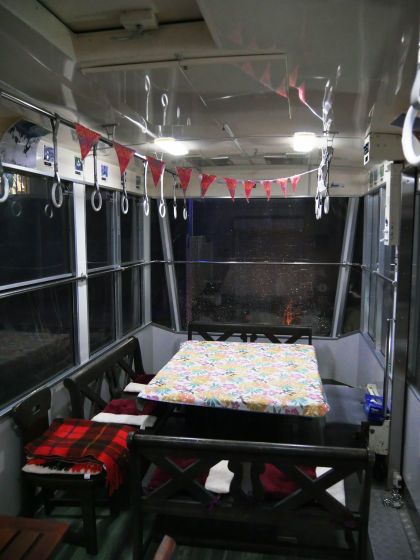 G:
So, the last question is, do you have anything you would like to tell about what kind of attitude you should attend to someone who is about to become a host now?

Poison child:
Well, I do not know because it is a natural body (haha)

G:
"Being a natural body" is that (laugh)

Poison child:
I am, but. Is not it a pain when it is not a natural body? I feel tired if I think "I must do this, I must do it." You can do it because it is natural?

Kinya:
I've written out everything from the beginning.

G:
(Lol)

Kinya:
Some may be interested because they are doing beauty salons, like talking with people, or taking care of themselves, because they are talking about it being a hobby.

So, that is the same story, but that person's person. It's not just about being "I want to fill a lot of guests", "I love this kind of things, let's talk with each other when these people come".

After all it is because in a situation where you can get it, people like us will come naturally. And, as my mother told me earlier, everyone has a welcome (laugh) Anyone came and it's written.

G:
Well, because the "people" part is important, some people are natural and interested there ... .... On top of that, I feel like doing something together and building up.

Thank you very much.