A skew pancake "PANBO" that embodies "Osaka's cute" after dyeing it to your liking with your favorite sauce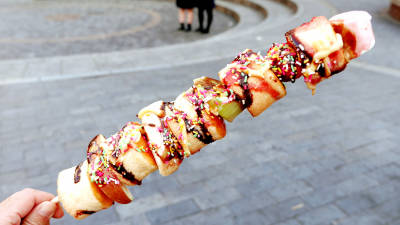 In February 2017, in the American village of Osaka / Shinsaibashi, take a pancake as a gigantic skewer as 40 cm or so and apply a favorite sauce to make an original "skew pancake" Takeout sweets shop "PANBO"Has opened. I tried going to PANBO to try out what sweet pancake is.

Osaka cute PANBO
https://www.facebook.com/OsakaKawaiiPANBO/

There is PANBO on the north side of the triangular park in the American village of Osaka · Shinsaibashi.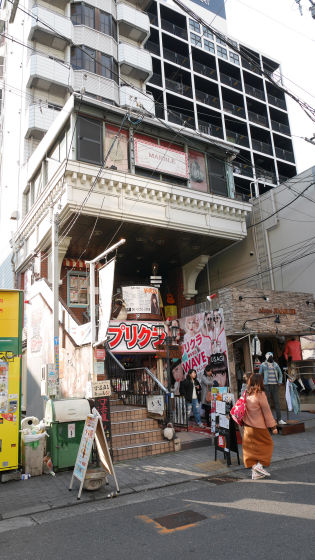 The address is "Osaka-fu Osaka-shi Chuo-ku Nishi-shinsaibashi 1 - chome 16 - 12"


A signboard was put in front of the store.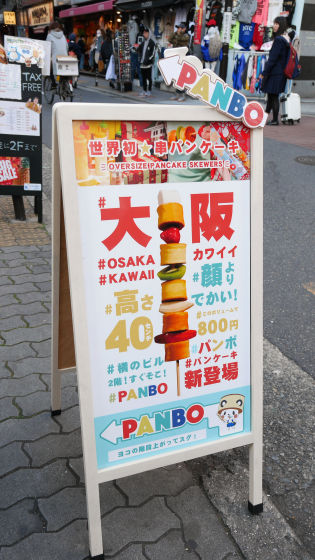 As I climb the stairs ......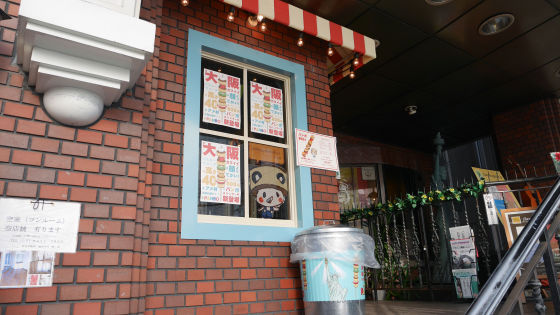 "Osaka" "Kawaii" "Poster than the face!" Poster. It's bigger than your face ... ....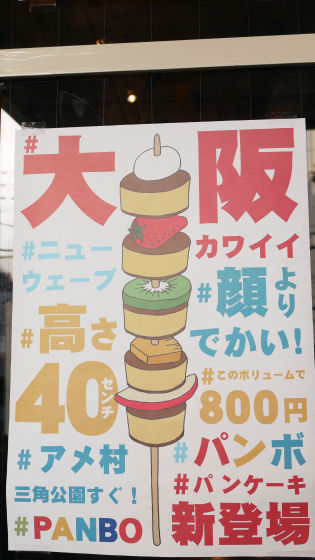 The shop was right upstairs on the second floor.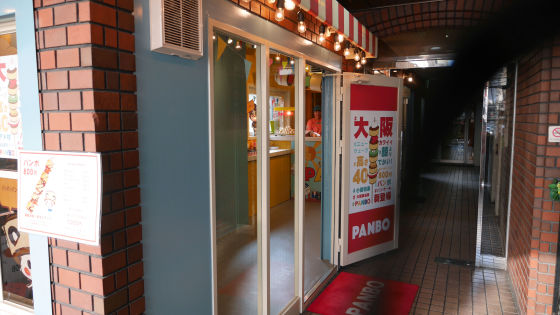 Illustration that condensed "stereotype Osaka" when entering the store.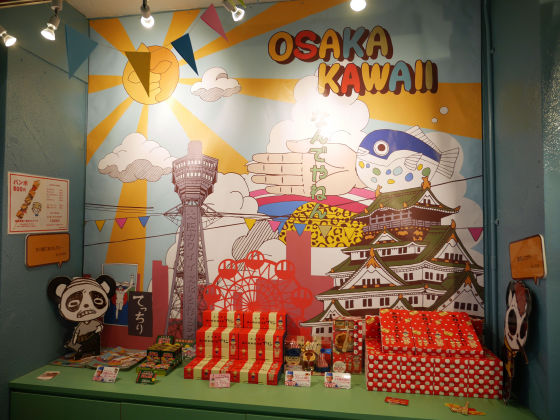 PANBO is a take-out style shop.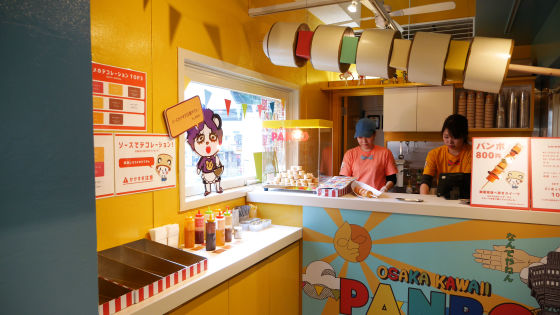 A huge skewer pancake on top of the cash register.



At the counter there was a sample of skewer pancake "Panba".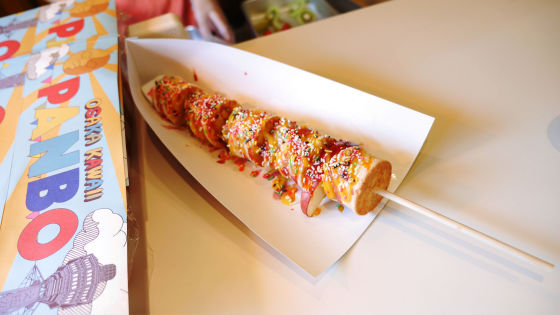 It seems to put this small pancake in the skewer.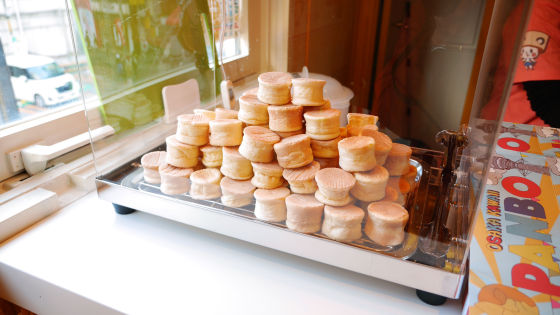 The product is only Panba (800 yen). The set with drink (250 yen) is 1000 yen.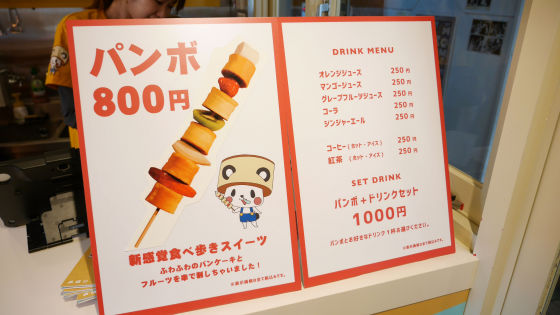 Pambo is a system that can make original skew pancakes by spending any amount of favorite sauce.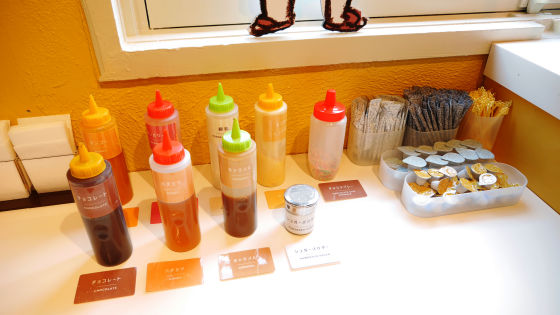 Today's sauces are chocolate, caramel, custard, honey, mango, flambooise, chocolate spray, condensed milk, sugar powder.



In addition, mysterious characters were everywhere in the store.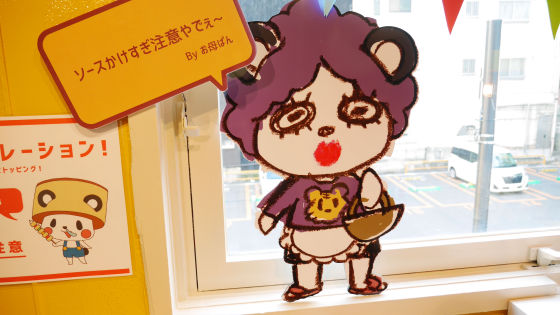 Recommended decoration TOP 3 below. In case you get lost for topping it is okay if you refer to this.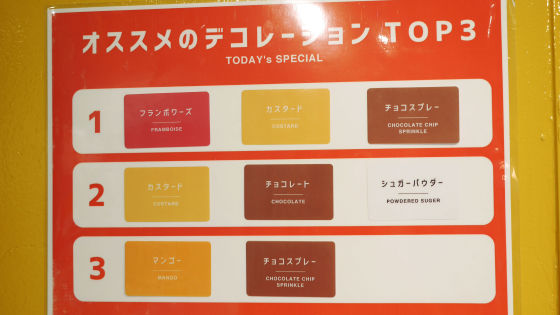 I ordered a drink set. Have a skewer insert a pancake and fruit ......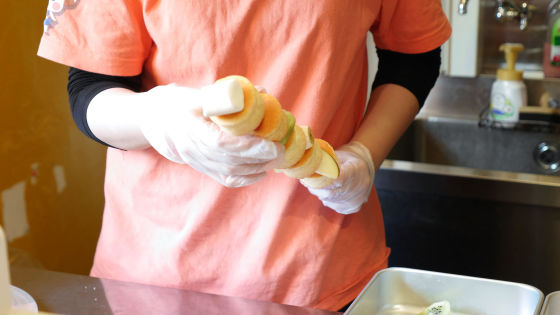 I will put it in such a paper package.



As it is, put it on the metal case on the counter table and apply the sauce.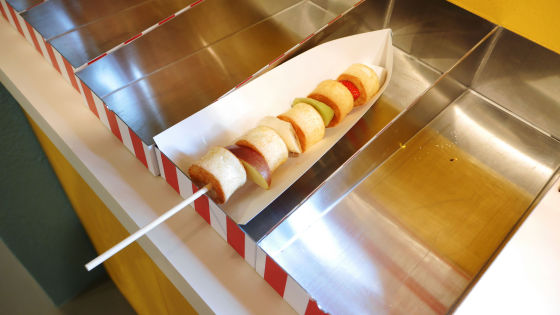 Since I have a lot of sources I got lost, but I decided to arrange a little with reference to recommendations.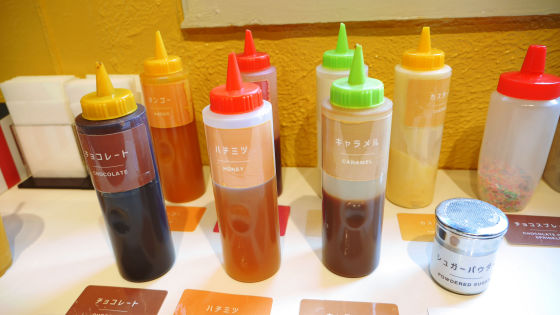 First of all, custard.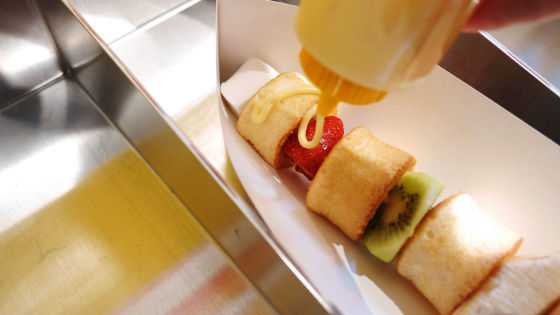 Then chocolate. Even in this state it looks tasty enough.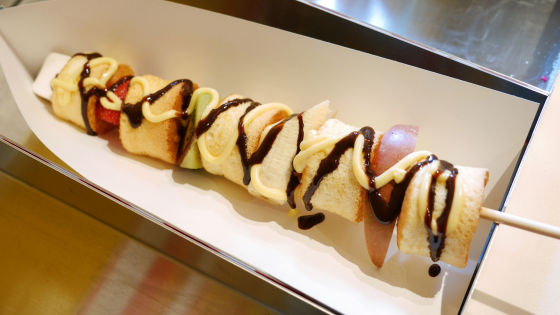 However, considering the coloring, you can not remove the red flambooise.



Finally plenty of chocolate spray ... ...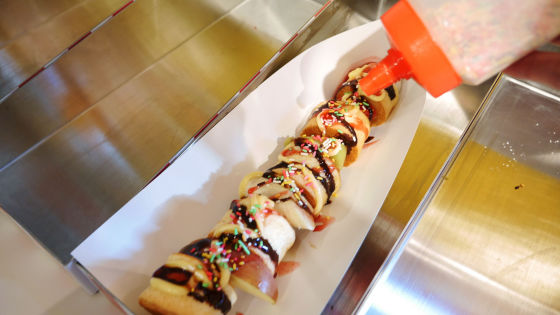 Completion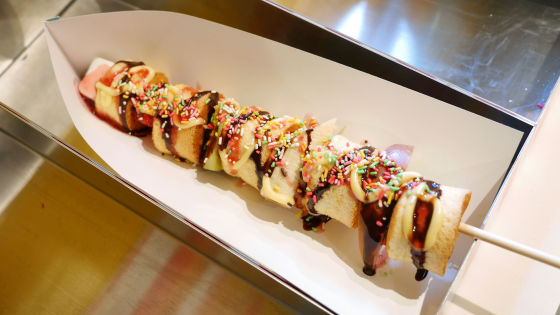 It's bigger than the face, so you do not have to compare the size with the iPhone 6s.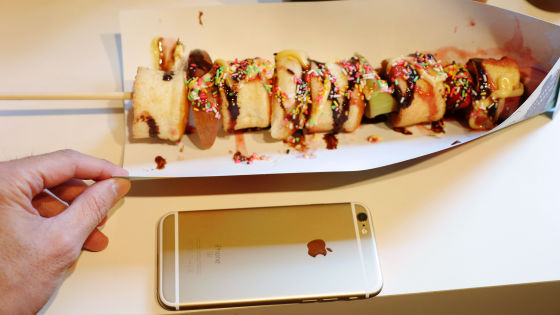 Lifting and overwhelming presence.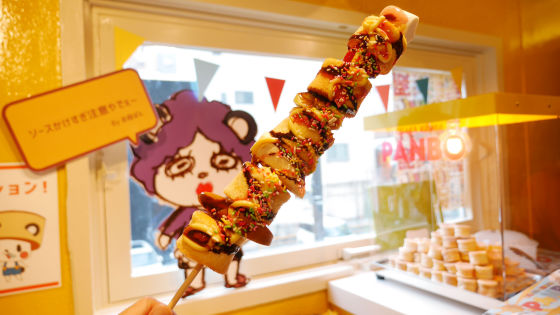 So, with a pan, we went to a nearby Triangle Park.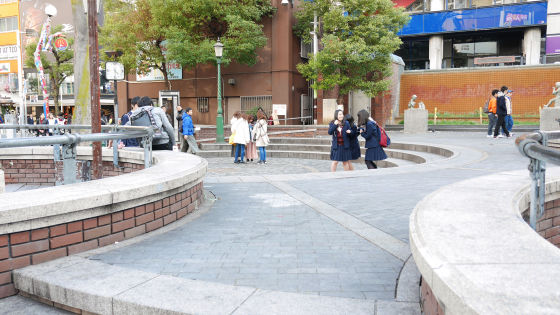 Drink set orange juice.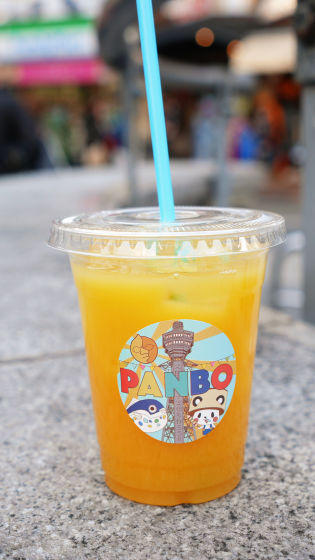 The paper package is such a design.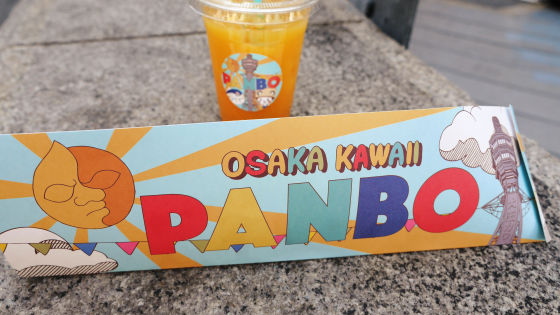 Pamphlets that are more gaudy than eye-catching as they are in hand.



Marshmallow at the tip. I got stained red in Franboise. It is caution to overdo anything.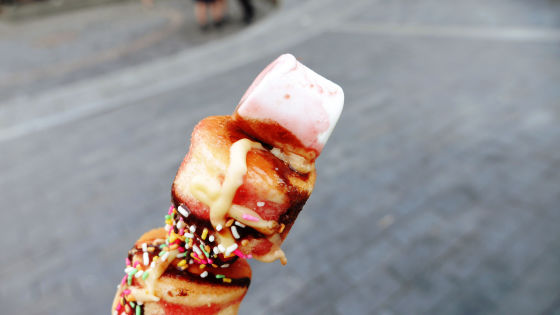 Sweets are caught alternately with pancakes. To strawberries ......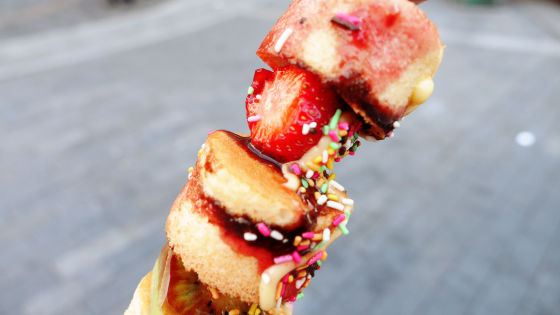 kiwi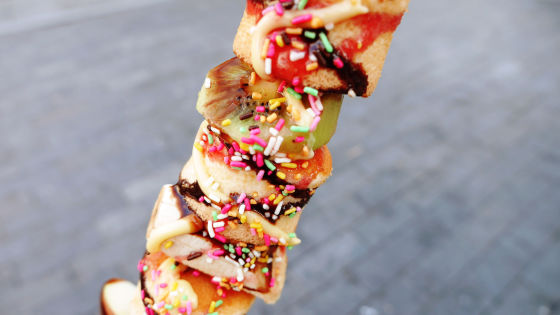 It is covered with chocolate and it is hard to understand, but it is a banana.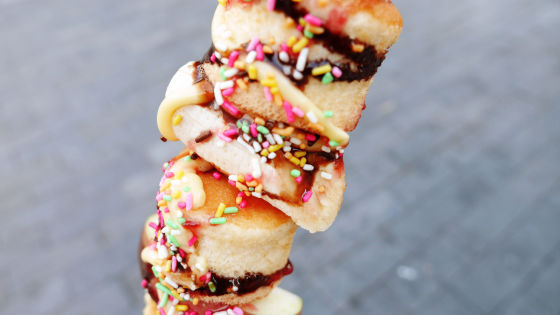 And, an apple.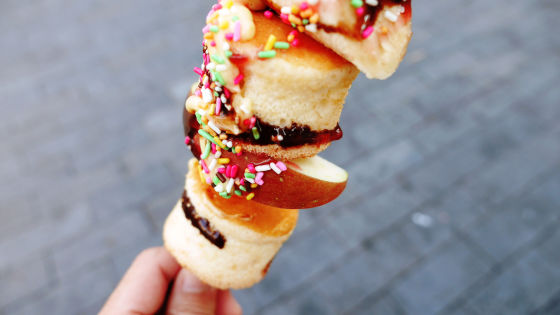 When eating, the pancake is an exquisite size that can be eaten in a bite if opening a large mouth. There is no place to pass, the plump and light pancake can be eaten with moderate sweetness.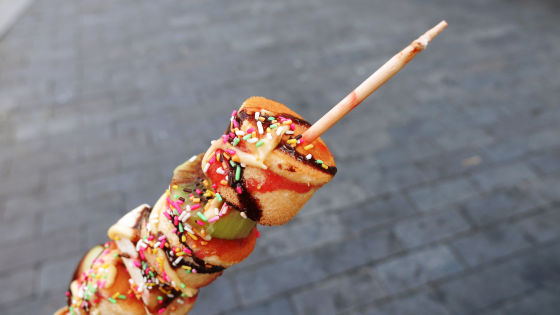 However, from around the kiwi, you have to eat skewers sideways and eat it carefully, and your face will be covered with sauce ......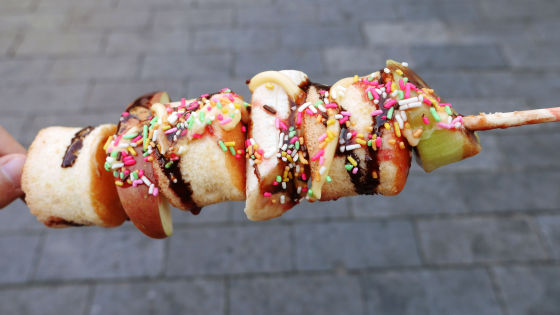 I was overwhelmed by a huge skewer, but I can eat crisply than I thought. Fluffy pancakes are not sweet so it was a sweet that even a woman with a small meal would be able to finish one skewer.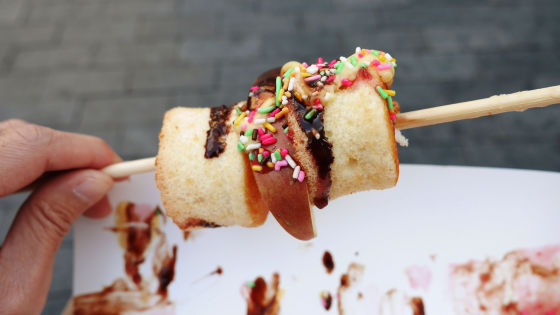 ·bonus
By the way, Osaka gifts were on sale at the PANBO store front.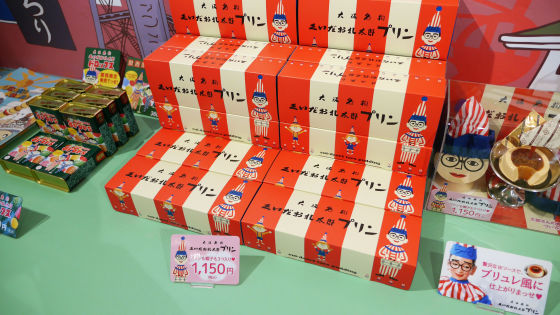 Source rice crackers.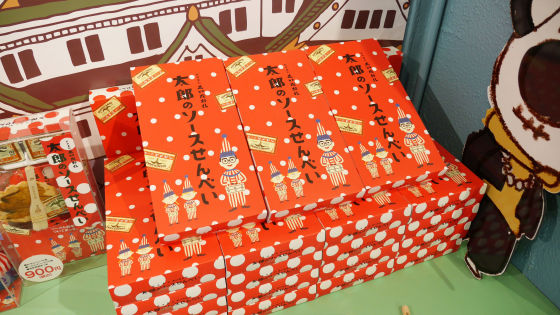 PANBO was a shop where you can experience Kotecote's "Osaka".