"Starbucks Sakura raspberry milk" into which the milk pudding that made a tortoise comes in


As a new item of Starbucks chilled beverage, from February 14, 2017 (Tuesday) to the spring dress "Starbucks Sakura Raspberry Milk"Joined the lineup. "Sakura telling the arrival of spring and the flavor of gorgeous raspberries", I bought it for the first time as cold days continued, I tried drinking it in order to anticipate spring.

Starbucks ® Sakura Raspberry Milk | Starbucks Coffee Japan
http://www.starbucks.co.jp/beverage/rtd/4901777300088/

"Starbucks Sakura Raspberry Milk" which was pink and very conspicuous even at convenience store shelves. It is 237 yen including tax.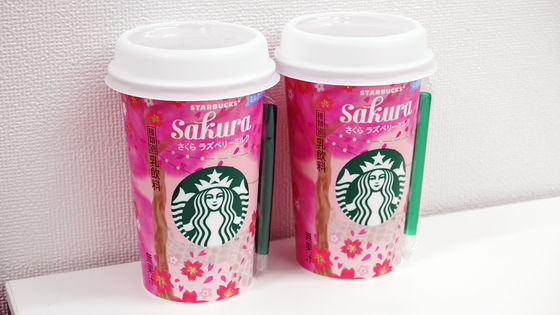 She said that it is a product that matched Sakura and raspberry flavor to plenty of milk.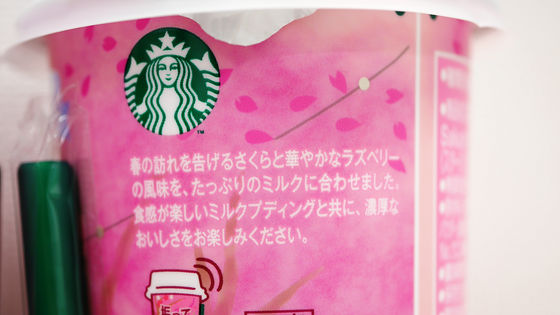 Raw materials are raw milk (less than 50%), dairy products, sugar, cocoa powder and so on. The kind of raspberry or cherry extract is not used.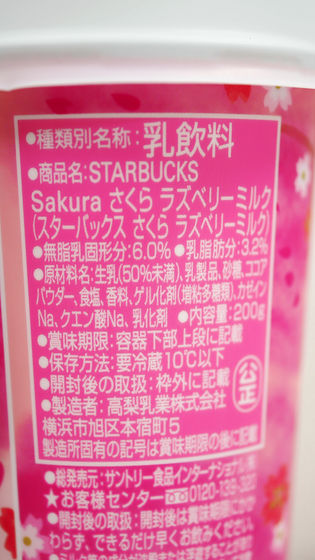 155 kcal at 200 g per one. It is sold at convenience storesStarbucks cafe latteIt is 151 kcal, which is about the same.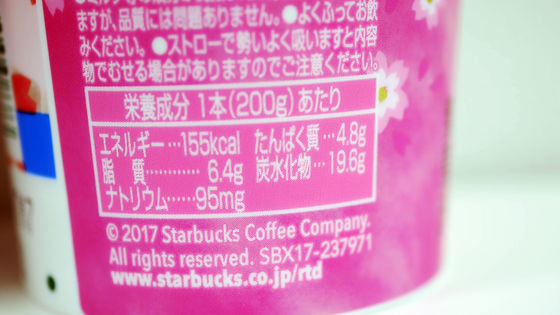 I could drink it by piercing the straw like this, but I seemed to be doing a gorgeous color because "Sakura raspberry milk" so I opened it.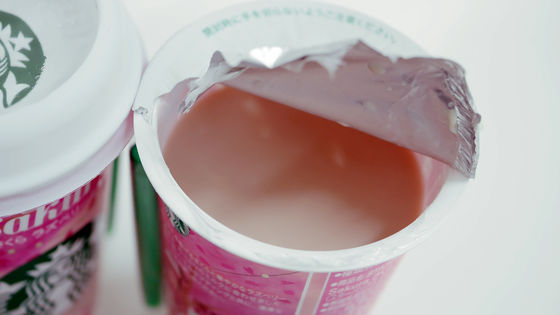 Pouring it into a cup looks like this. Expressing "Sakura color" as a bit difficult is a pretty pale color. It is milk pudding that contains slightly white spots.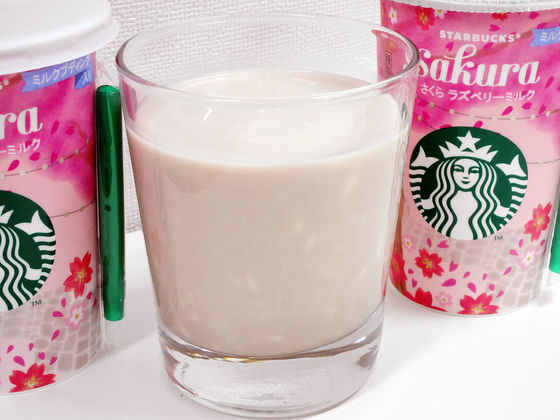 When I drink it, the flavor spreads like a light cherry blossom spreads but in the mouth the drool and milk pudding are rolling in and it is surprising for a moment "!?" Raspberry-like sourness / sweetness is not felt so much, rather it is a feeling like "flavored milk" in which sweetness such as sugar blended into milk. People who like to have something with a sense of texture in this drink in this hand are likely to enjoy the soft texture of milk pudding.