The prince of Saudi Arabia which is too rich purchases seats for 80 falcons by plane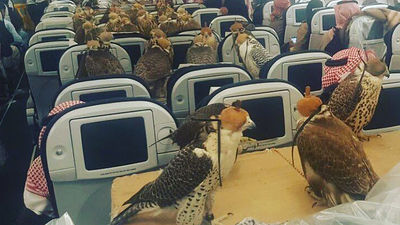 In Japan, pets can not be carried in the guest room of the airplane, but some overseas are permitted to bring pets. In an airplane capable of bringing such pets, a picture of the Prince of Saudi Arabia 's secretary "securing seats for 80 falcons" is being made public at reddit.

Saudi prince bought ticket for his 80 hawks.: Funny
https://www.reddit.com/r/funny/comments/5qzkz4/my_captain_friend_sent_me_this_photo_saudi_prince/?st=iykwei7q&sh=32f1d76c

Some very rich person bought a plane seat for each of their falcons
http://mashable.com/2017/01/30/falcons-on-a-plane/

By saying "a picture sent from the captain of a friend"LensooThe person uploaded to reddit is the following one. You can see that a large amount of falcons are onboard in the middle area of ​​Qatar Airlines economy seat, not human beings. It is a strange sight that birds flying in the sky board an airplane.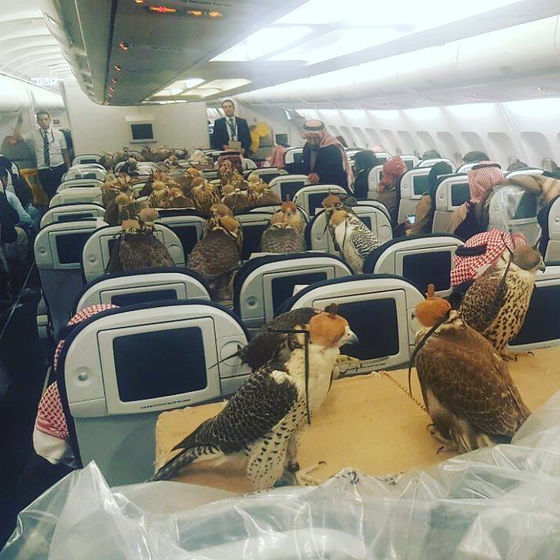 "Bringing animals into a room" is not unusual overseas, and people who had taken pets ducks to airplanes in 2016 were talking about.

My seatmate, CLT➡ ️ AVL, is this handsome duck named Daniel. His gentle quacking eases the sadness of leaving# SFA 16.Pic.twitter.com/iDKWCceAFi

- Mark Essig (@ mark_essig)October 16, 2016

Nonetheless, it is not common to secure up to 80 seats with falcons, but a picture of Saudi Arabia's prince group carrying a huge number of falcons on an airplane has been uploaded four years ago . According to reddit's comment, "Qatar Airlines only allows up to 6 birds to bring in flyIt is pointed out that such a large number of falcons were brought into the guest room of the airplane as in these photographs.

Falcons on a Plane

According to another comment, Saudi Arabia's royal family is hunting with falcons, and in the United Arab Emirates there are laws respecting falcons, one falcon passport It is said that it is being paid up. In other words, in the United Arab Emirates, the falconry 's bird' s right that is not human rights of the falcon is guaranteed, and for example, when the owner of the falconer requests a falcon seat at Starbucks, it is necessary to guide two seats to the owner and falconer is.

UAE Falcon Passport at Abu Dhabi Falcon Hospital - YouTube