An earthquake with a seismic intensity of less than 6 occurred in Ibaraki prefecture, there was no danger of a tsunami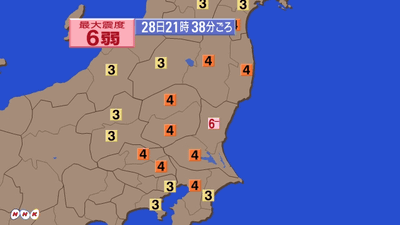 An earthquake that observed a maximum seismic intensity of less than 6 occurred around 21:38 on December 28, 2016. The epicenter is Ibaraki Prefecture. There is no worry about the tsunami.

Japan Meteorological Agency | Earthquake Information
http://www.jma.go.jp/jp/quake/20161228214248393-282138.html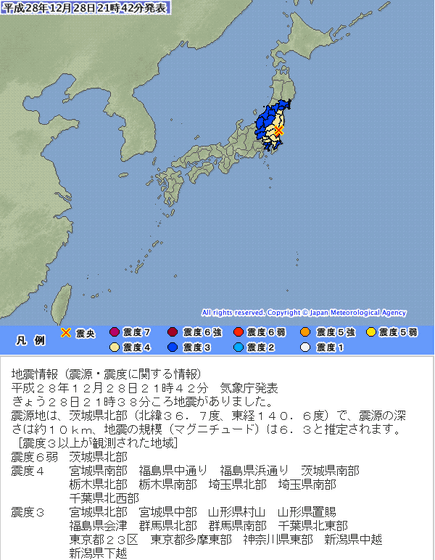 Earthquake Information | NHK
http://www3.nhk.or.jp/sokuho/jishin/

Presented by Japan Meteorological AgencyAccording to sources, the epicenter is northern Ibaraki Prefecture, the depth of the epicenter is 10 km, the magnitude is 6.3.

Ibaraki prefecture Takahagi city Shimonoseki with a seismic intensity of less than 6, Ibaraki prefecture Hitachi City Zuo-cho Tomibo strong intensity, Hitachi City Hall, Hitachi City, Hitachi City, Takahagi city Yasugawa river, etc.

In addition, within Ibaraki prefecture, Mito City, Kasama City, Kitaibaraki City, Hitachinaka City, Tokai Village, Taicho Town, Hitachi Omiya City, Naka City, Shirosato Town, Omiyama City, Tsuchiura City, Ishioka City, Shimotsuma City, Toride City, Tsukuba city, Goku-cho, Sakai-cho, Bando city, Chikusei-shi, Kasumigaura city, Sakuragawa city, Changsha city, Tsukuba Mirai city are also in seismic intensity 4, Miyagi prefecture, Fukushima prefecture, Tochigi prefecture, Saitama prefecture, Chiba prefecture etc. The seismic intensity 4 is recorded.

Due to the earthquake, the Tokaido Shinkansen resumed operation at 21:52 although I was forced to temporarily stop for safety confirmation.
in Note, Posted by logc_nt