I went to the rocket kitchen to devour the "rocket chicken" which skewered chicken became a huge tower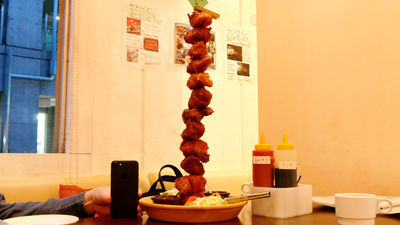 One unusual chicken dish that chicken is not deep-fried or fried chicken is "Rocket chicken"is. It seems that there is too much impact that the skewered chicken rises like a tower, and when it is eaten with tartar sauce it tastes doubled, so I actually eat what kind of food it is supposed to be.

Rocket Kitchen Sixth Day Ootama Fujisawa Cafe Pizza Rocket Chicken
http://www.swellsworks.com/

Rocket kitchen where rocket chicken can be eaten Rokkai Sankyo Ohmae shop is located just outside the east exit of the Odakyu Electric Railway Enosima Line, the sixth day sunbaum station.


It looks like this on the second floor of the building.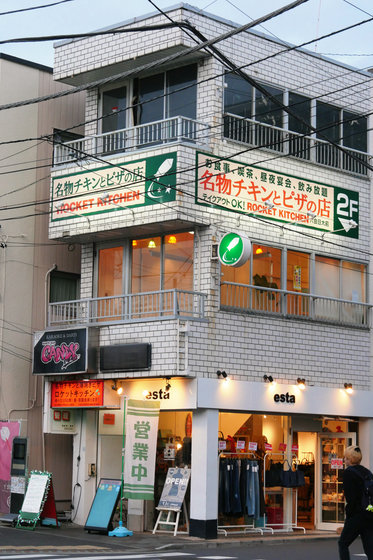 In the entrance part is a sign saying "famous chicken and thin baked pizza rocket kitchen".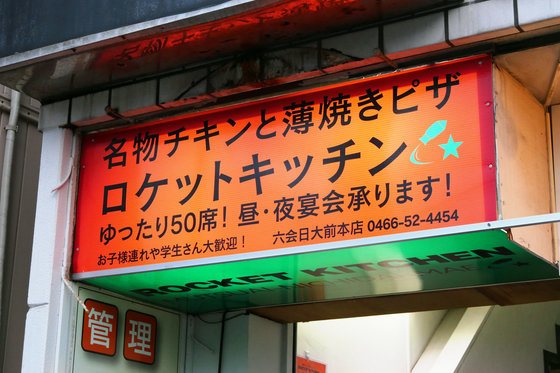 There are 50 seats in the store, and outlets are also equipped in the counter seats. From 11:30 to 15:30 it is open for lunch, but from 15:30 it will be open for dinner, and each room will be divided by roll curtains into a half-room atmosphere.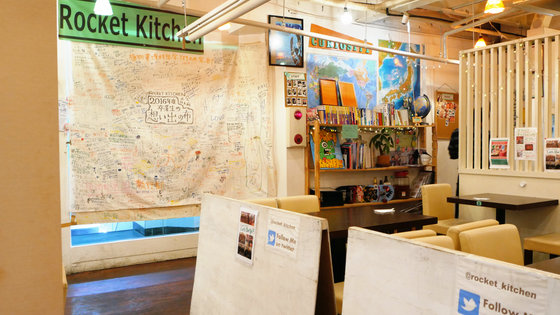 I found a rocket chicken in the menu. The rocket chicken can be ordered from 2 pieces (420 yen tax not included) and will be offered in 'rocket type' where chicken skewered vertically when 6 pieces are exceeded. This time I was ordering the maximum number of 12 pieces (2380 yen tax excluding tax) written in the menu because it was ... ... so.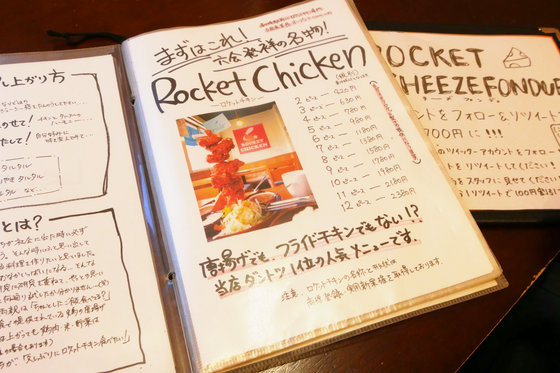 After I ordered the rocket chicken for a while, I heard the sound of deep fried food from the kitchen, so apparently it seems to start frying rocket chicken after order has passed. The way to eat the rumored rocket chicken is as follows. Although it is OK even if you eat it, rocket kitchen It is preeminent even if you put home - made tartar sauce and even seasonings are added to tartar sauce and you can enjoy various flavors.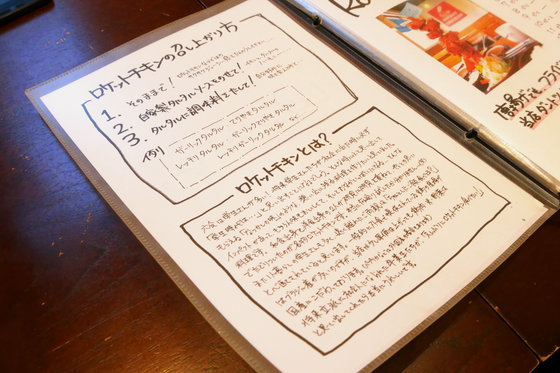 There seems to be a big eating challenge that if you eat 12 rocket chicken ordered + 1 rice of rice within 40 minutes this meal will be free of meal fee.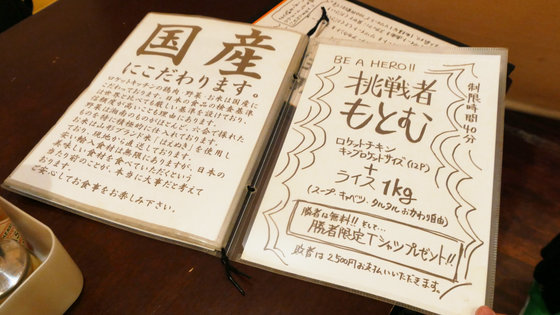 All you can drink miso soup ......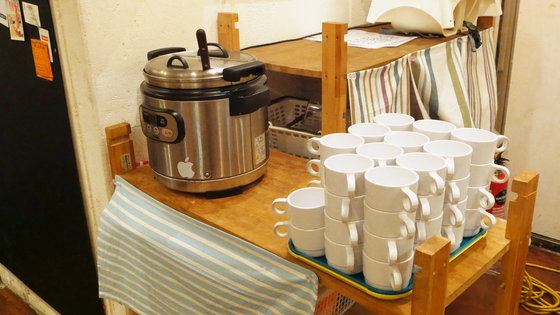 The ingredients were simply simple wakame.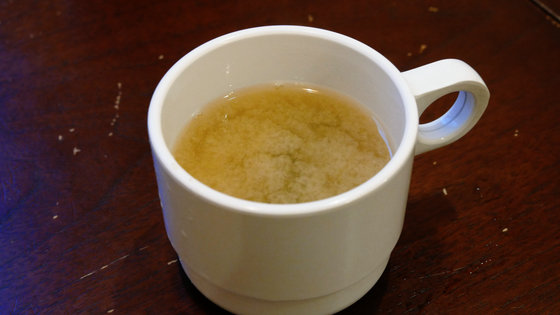 The sauce to be sprinkled on rocket chicken is "Ritchiri" "Teriyaki" ...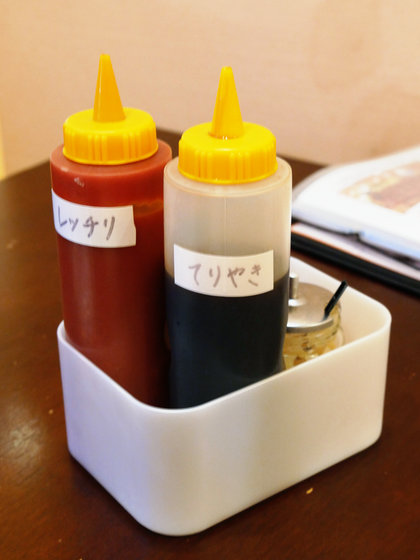 Grated garlic and Tabasco are on.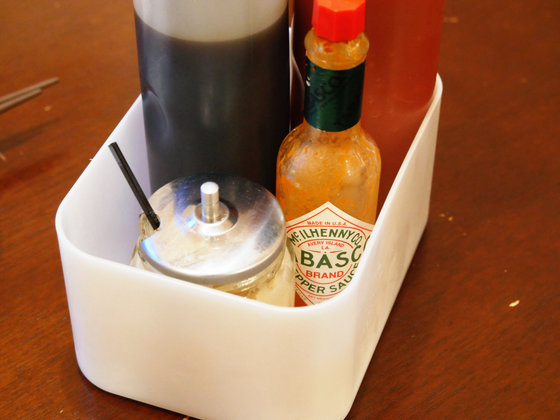 A rocket chicken with 12 pieces of chicken stuck in 1 skewer arrived in about 15 minutes after the order passed.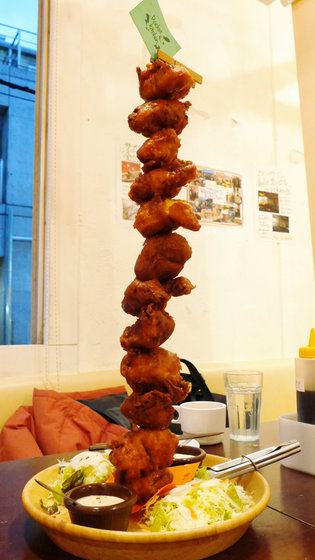 Comparing the size with the iPhone 7, this height.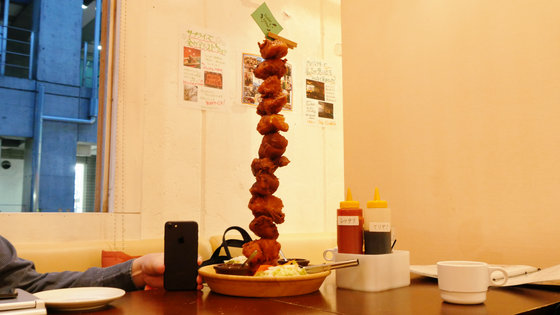 Looking up, it looks like this, it's about the same height as iPhone 7 with rocket chicken 3 pieces.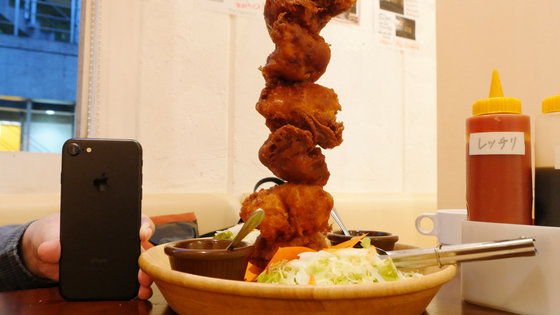 Salad and homemade tartar sauce were added at the root (?) Part of the rocket chicken, and two people gave us two tartar sauces as we visited the shop.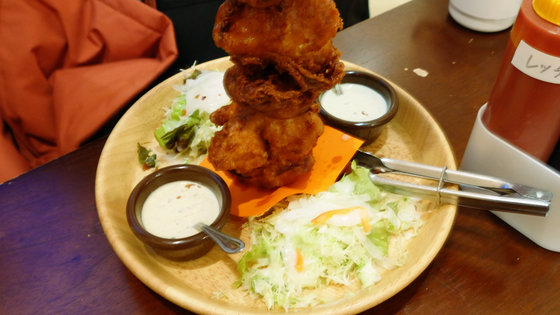 Rocket chicken will eat chicken from the top of the tower one by one.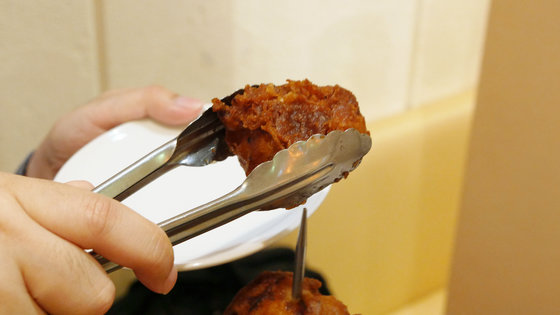 First of all we try to eat the sauce without attaching anything.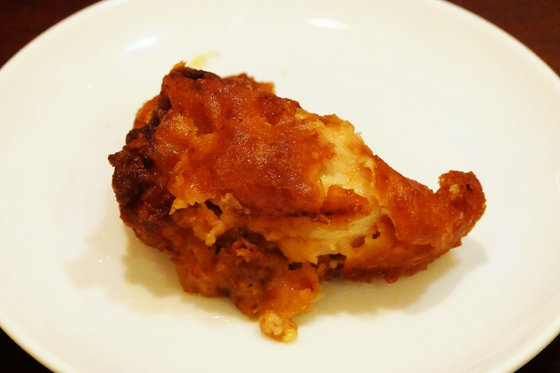 Chicken meat uses less fatty breast meat, but meat quality is very soft and can be eaten smoothly. The seasoning was considerably easier than I imagined, the clothing was a unique zakkuri and the texture was good.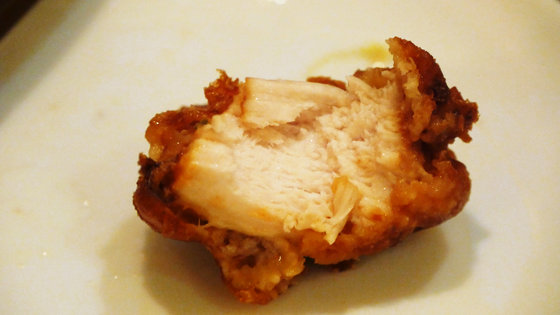 Furthermore, since it is recommended that you eat with tartar sauce that you are making homemade from pickles, I will eat it. Tartar sauce is also a seasoned seasoning, but if you eat it with rocket chicken it is plus mayo's rich flavor to exquisite taste. However, thanks to tartar sauce pickles and onions, the whole flavor remains crispy so it makes me feel like any number of rocket chicken will eat as it is.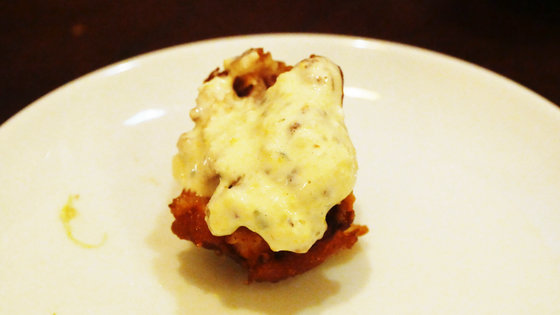 Plus grated garlic here, plus the flavor of garlic to a more rich flavor. If there is beer, it is a combination that seems to proceed indefinitely.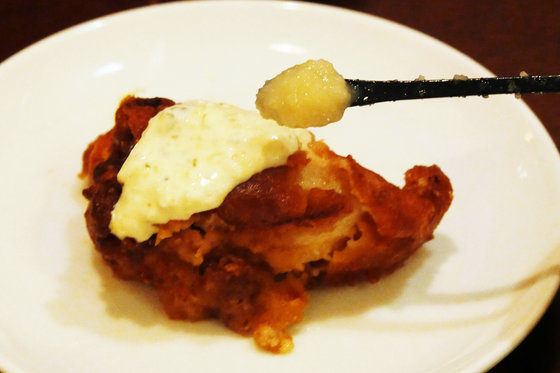 It is OK even if you add a tartar sauce to the tartar sauce. Lecci sauce is a so-called chili sauce, and before eating, it was half-trusting that "Tartar sauce and chili sauce match?", But when you try it, it is unexpectedly exquisite combination, "Why have not tried this combination until now Did you want to doubt yourself as if you ...?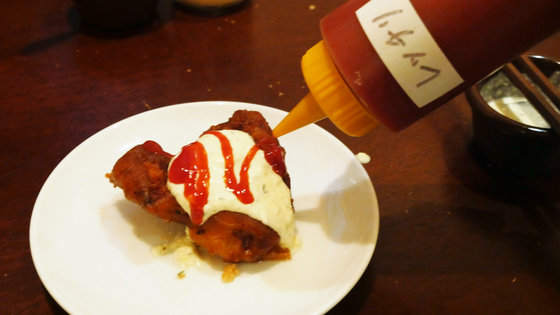 Basically the tartar sauce and rocket chicken are biteful, so it's good that rocket chicken can prepare your favorite flavors by sprinkling your favorite amount of lecchily sauce and teriyaki sauce. Even if we go out to eat for several people, everyone can reproduce their favorite seasoning on the plate.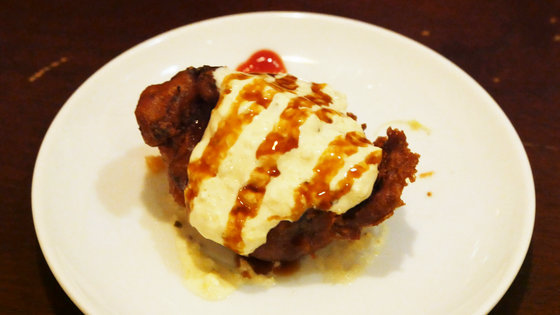 Tartar sauce × Teriyaki sauce × grated garlic can be used in all.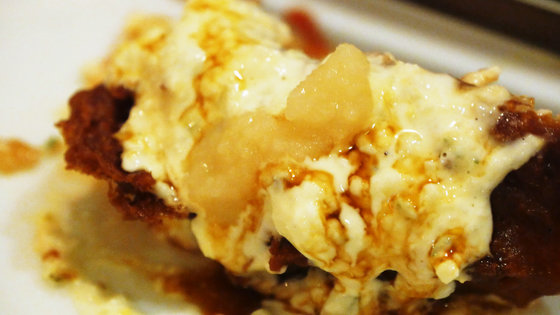 If you notice even 12 people in rocket chicken 2 people, less than half remaining. Because I can enjoy various seasonings, I am tired of eating and flattening with perori in a blink of an eye.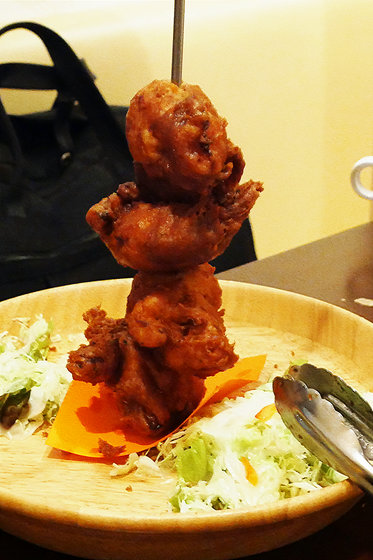 In addition, the rocket kitchen is open 24 hours a day, lunch is from 11:30 to 15:30, dinner is open from 15:30 to 23:00.