"The bad thing came", the strongest junk food "CHIZZA" that made pizza with Kentucky's fried chicken looks like this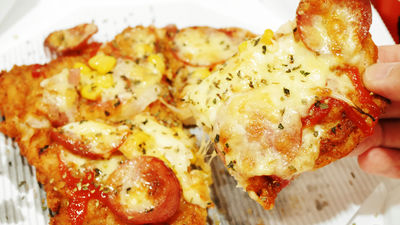 KentuckyCarnivorous burgers that sandwich bacon and cheese between two chickenIn some cases I also offered "Dangerous came.That's why it is not a pizza dough but a terrible junk food that baked with pizza ingredients and cheese on fried chicken "CHIZZA (Tizza)"Landed in Japan for the first time since November 2, 2016 (Wednesday). Even if I eat alone, I bought it and found out what is going to happen when delicious fried chicken and pizza are combined, I tried to make sure.

[CHICKEN × PIZZA] CHIZZA | KFC
http://www.kfc.co.jp/campaign/chizza/index.html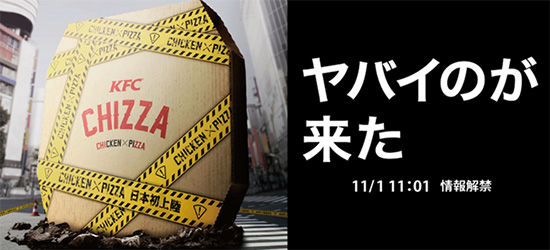 Impulse menu launched nationwide on November 2nd (Wednesday) The whole picture of "CHIZZA (Chiza)" which was enchanted in the mystery is "Overall the chicken's common sense has been overturned" "Yaba is come" "CHIZZA (Chiza)"! ? November 1st (Tuesday) 1:00 pm, "KFC Tokyo Dome City LaQua store" advance quantitatively with limited quantity!
http://japan.kfc.co.jp/news_release/news161020kfc.html

Arrived in Kentucky. It took about 6 minutes to complete when ordering.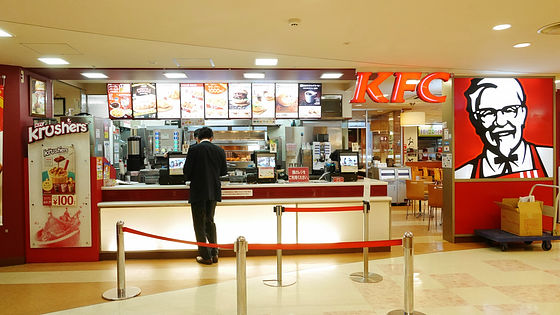 In approximately 6 minutes as we announced, a box of pizza came at hand, despite Kentucky. At this point the scent itself is pizza. Why does it make me excuse to see the pizza box?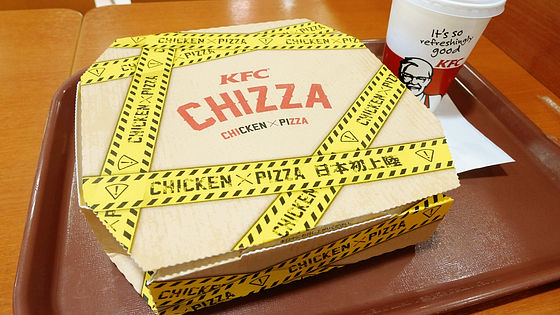 Pac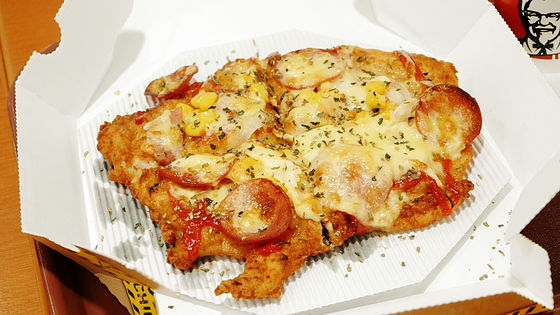 A piece of pizza rocks over a piece of domestic chicken bigger than the palm. It is cut into 4 cuts. It is bigger than a piece of meat used for Burger class of Kentucky, but it is smaller than the M size of the delivery pizza.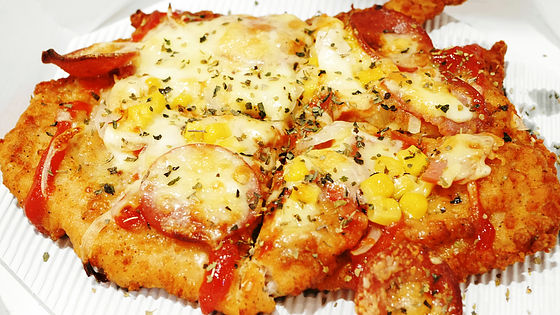 A symbol of pizza - salami protrudes from the top of chicken.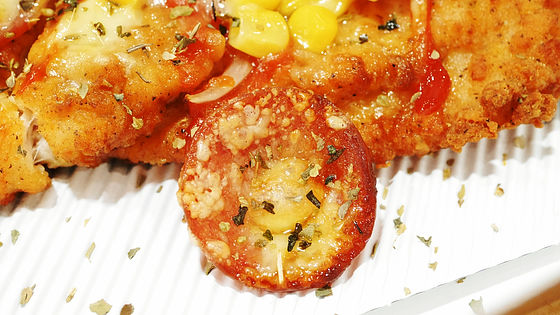 On the top of the chicken are ketchup and ...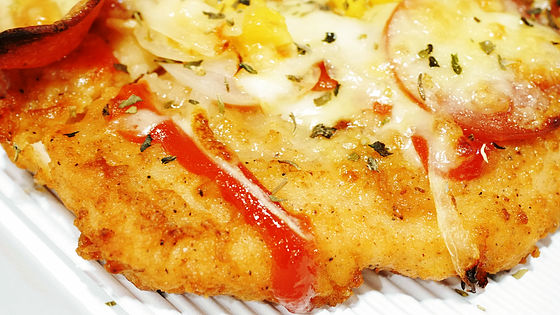 Salami · corn · slice Onion, cheese · herbal mix is ​​put on and baked in the oven.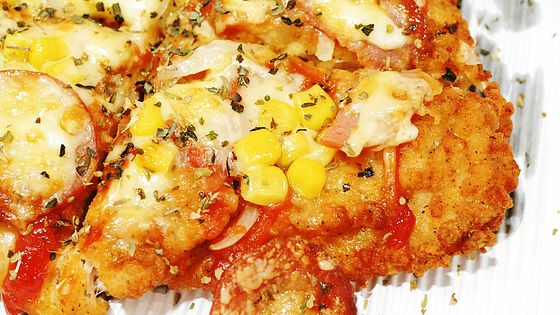 I will eat it with one slice of intense apple. Please be careful as it becomes covered with grease.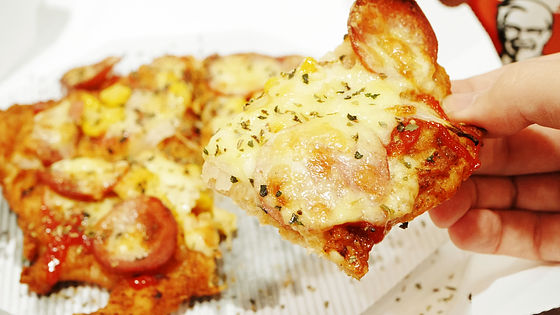 Domestic chicken is onion meat, you can see that it is thinly finished by hitting it for use as pizza fabric.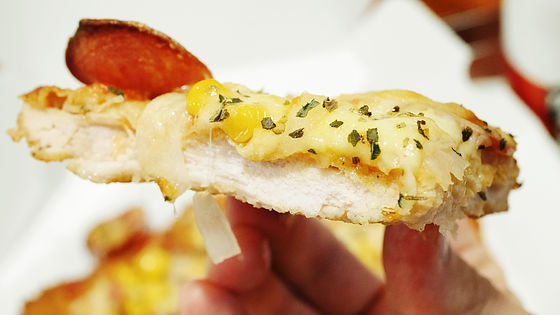 When it gets dug up, vocabulary decreases rapidly as "vengeance, hoarse", and the mouth is dominated by the junk taste of spicy chicken and various pizza items. Using ketchup instead of tomato sauce also emphasizes "junk feeling". As chicken has spice effect, feeling as insignificance as a fabric.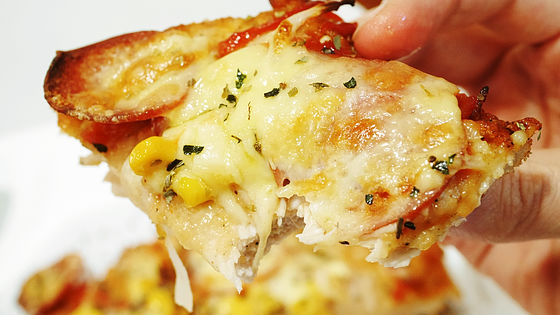 I imagined a rather greasy taste, but it is easier than I thought he was using the meat. Kentucky fried chicken has a feeling that the stomach becomes heavy just by eating one, but it is a lighter impression than that. Since cheese is only applied around the middle if you want a greedy place, I want you to cook plenty and make it baked.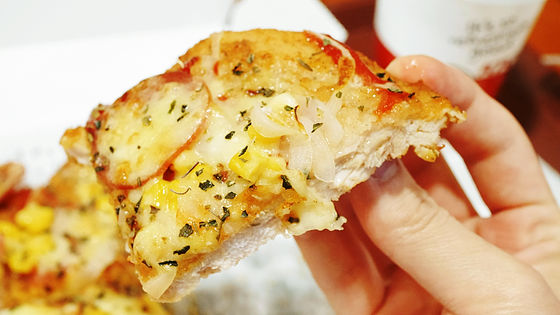 There is no doubt that the hand will be a guitar, so towel is necessary.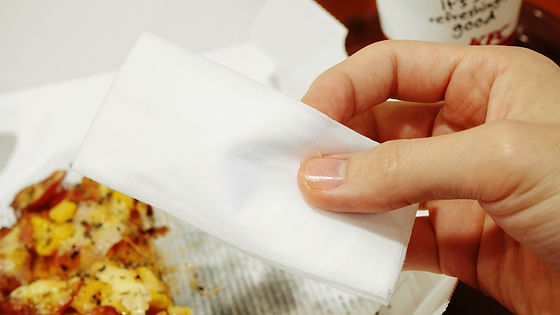 As you continue to eat, it gets thirsty, so when you moisten your throat with Coke or Ginjayre you will have a moment of bliss.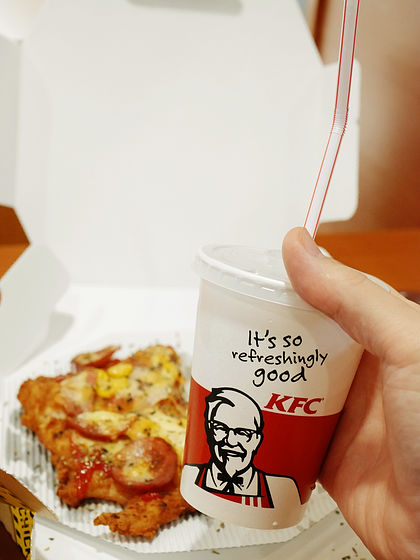 3rd sheet ...... 4th piece ... ... As you gradually get stomach heavy as you eat it, it might be just right if you divide 1 piece by about 2 people. When I bought home and ate another editorial staff, I ate at the other editorial staff, "Since it is ketchup, it feels like" Pizza taste chicken "" I thought it was fatty gitogito's sticky by using meat but it was more difficult than I thought, "" Fabric crisp Since I am not doing it, I think that it is pizza and there is a sense of Koreajanai "" There are few cheeses ...... "There were opinions.