It turned out that Twitter and Facebook allowed data access to SNS monitoring software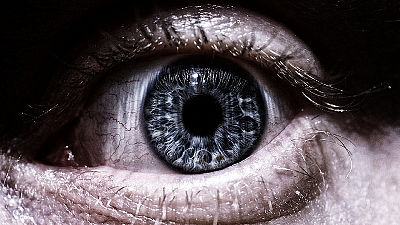 ByDaniel Coomber

I am developing software to monitor SNSGeofeediaCalifornia ACLU (American Freedom of Human Rights Association) announced that Twitter, Facebook, and Instagram were providing user data to the company named. The law enforcement agency in the United States has discovered that Geofeedia was used, tracking personal information such as activists, and using it to suppress the protest action.

Facebook, Instagram, and Twitter Provided Data Access for a Surveillance Product Marketed to Target Activists of Color | ACLU of Northern California
https://www.aclunc.org/blog/facebook-instagram-and-twitter-provided-data-access-surveillance-product-marketed-target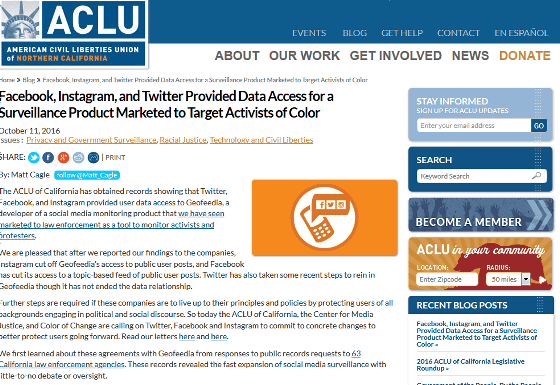 On September 22, 2016 Medium, an overseas news site, reported that American law enforcement agencies are monitoring witness activists using software that can monitor social media. In the United States, controversial acts were taking place in each area as a result of the shooting death by black policemen in Baltimore and Ferguson and deaths during detention, but the police then used Geofeedia's product to make Twitter · Utilize user data obtained from Facebook · Instagram. From SNS to the police side were the information such as the position and the photograph which can be understood from the contents posted by the user, and these are provided to about 500 law enforcement institutions in real time.

Public institutions such as police have been reported to monitor activists under the name "to recognize the danger of approaching the public", and there is a possibility that citizen's political decision-making will be controlled As a problem, it has been viewed as a problem.

Police use of social media surveillance software is escalating, and activists are in the digital ... - Medium
https://medium.com/@ACLU_NorCal/police-use-of-social-media-surveillance-software-is-escalating-and-activists-are-in-the-digital-d29d8f89c48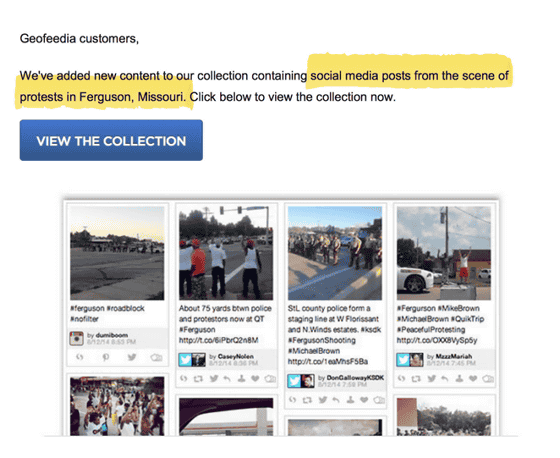 In one of the messages sent to the police from representatives of Geofeedia found by California ACLU, "Geofeedia can withdraw private information from Twitter and Instagram" and " We have concluded a powerful agreement "Michael Brown shooting death caseIt was also clear from the contents of the message that the activists were successful in tracking during protests on such things as.

Regarding this matter, The Washington Post is also reporting greatly.

Facebook, Twitter and Instagram sent feeds that helped police track minorities in Ferguson and Baltimore, report says - The Washington Post
https://www.washingtonpost.com/news/the-switch/wp/2016/10/11/facebook-twitter-and-instagram-sent-feeds-that-helped-police-track-minorities-in-ferguson-and-baltimore-aclu-says/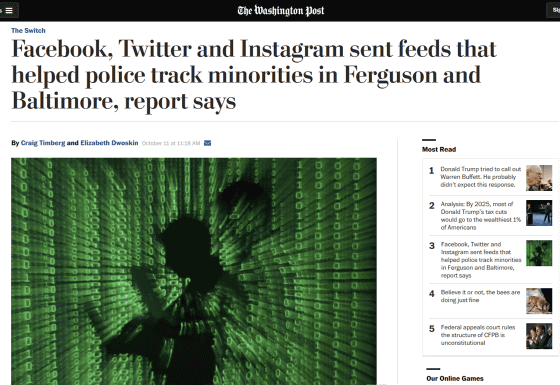 For Facebook and Instagram, developers can use APIs to acquire user's birthdays, data such as user's birthdays, friendships and friendships and location information, but this time Geofeedia uses the Instagram API and Topic Feed API Get personal information. Regarding Twitter, I also used Firehose API to grasp gender, coordinates of interest, latitude, longitude and so on. As for the above contents, The Washington Post says "Facebook · Instagram · Twitter gains much of revenue from advertisement, but as side business it sells third party the right to access rich data stream related to users We report it.

In accordance with what California ACLU announced on October 11, 2016, in response to the above-mentioned one going into the light, Instagram blocks Geofeedia's access to general users, and Facebook also posts topic bases posted by regular users It interrupted Geofeedia from the feed of. In addition, Facebook explained that "Geofeedia inappropriately accessed data because the developer can only access data that the user" disclosed ".

Facebook, Instagram, and Twitter Provided Data Access for a Surveillance Product Marketed to Target Activists of Color | ACLU of Northern California
https://www.aclunc.org/blog/facebook-instagram-and-twitter-provided-data-access-surveillance-product-marketed-target

In addition, Twitter has also begun steps to block access.

Based on information in the@ ACLU'S report, we are immediately suspending@ Geofeedia'S commercial access to Twitter data.

- Policy (@ policy)October 11, 2016

However, Nicole Ozal, representative of California ACLU, said that further efforts are needed to ensure that the user's data is socially and politically protected, "said these platforms, saying that" freedom of speech of colored activists We need to further protect and stop the act of promoting monitoring by the police. " Also, "ACLU should not be told about what Facebook and Twitter developers do, companies establish a strong privacy policy and establish procedures to investigate whether platforms are being used against discriminatory monitoring We need to do it. "