A new OS "Andromeda" which integrated Google's Android and Chrome OS appeared from multiple terminals?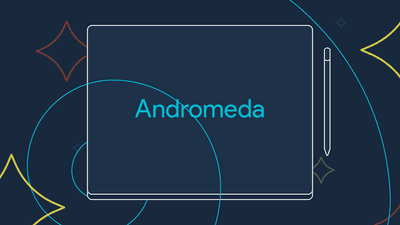 Google's new OS "Andromeda"It is reported that multiple media will be installed in the latest notebook type terminals and tablets.

Exclusive: Google is planning a 'Pixel 3' laptop running the 'Andromeda' OS for release in Q 3 2017
http://www.androidpolice.com/2016/09/26/exclusive-google-is-planning-a-pixel-3-laptop-running-the-andromeda-os-for-release-in-q3-2017/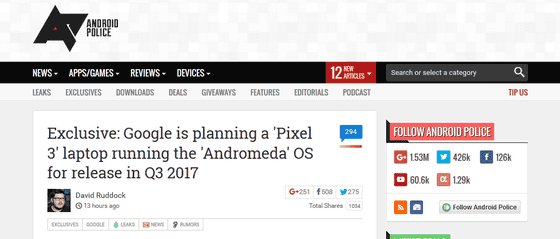 Handle Android related newsAndroid PoliceBut I got information from two separate sources, "Google is planning to release a new Pixel brand notebook PC in the third quarter of 2017". The notebook PC to be released is a terminal called "Pixel 3" which is the first to have a new OS "Andromeda" that integrates "Chrome OS" for PC developed by Google and "Android" for mobile OS It will be seen as a device of.

In the first place, Google's Pixel series is a terminal series closer to the high end than the Chromebook of the inexpensive notebook PC series with Chrome OS. "Pixel 3" which appears from the series is a notebook PC of extremely thin design, the display size is 12.3 inches, the processor is Intel m3 or Core i 5, the storage is 32 GB / 128 GB, the memory is expected to be 8 GB / 16 GB. In addition, it seems to become a terminal that realizes "2 in 1" style which enables usability of both notebook PC and tablet like Microsoft's Surface series and Lenovo's Yoga series.

Other specifications include fingerprint authentication function, 2 USB-C ports, 3.5 mm jack, support of optional Wacom stylus, stereo speaker, battery that can be used for more than 10 hours. In addition, the keyboard comes with a backlight, and the glass trackpad is expected to be like a pressure-sensitive MacBook. The selling price seems to come from $ 799 (about 80,000 yen).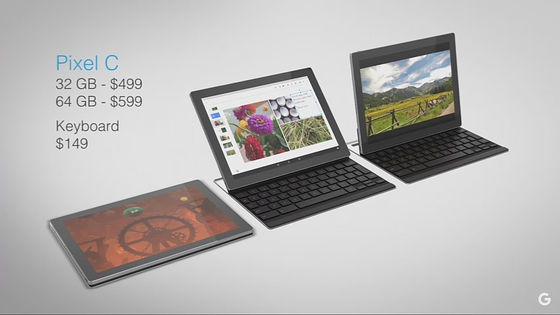 In addition, Google is planning the release of the new Nexus series with this "Andromeda",9to5GoogleIt reports.

Exclusive: Google plans to launch Andromeda on a 'Nexus' Huawei tablet, 'Pixel' laptop | 9to5 Google
https://9to5google.com/2016/09/26/exclusive-google-plans-to-launch-andromeda-on-a-nexus-huawei-tablet-pixel-laptop/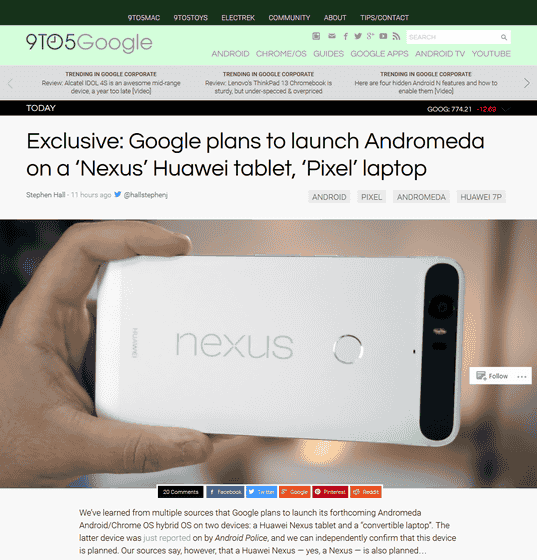 9to5 According to information independently obtained by Google, Nexus terminal with Andromeda is said to be 7 inch tablet to be manufactured by Huawei. However, it can not be said that the terminal manufactured by Huawei will definitely be named "Nexus" 100% surely.

It has been previously reported that Google is developing a new 7 "tablet replacing Nexus 7.

Does Google plan to launch a 7-inch tablet that will be the successor to Nexus 7 - GIGAZINE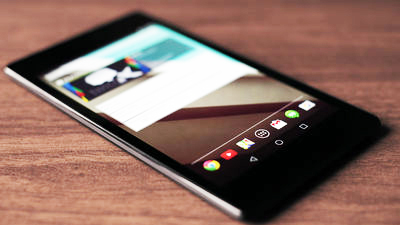 In addition, GoogleI was performing Andromeda's operation test even on Nexus 9That's right.