Accommodation facility reservation site "Booking.com" that experiences "What is an office that creates creative people" Photograph collection of the Netherlands head office Conclusion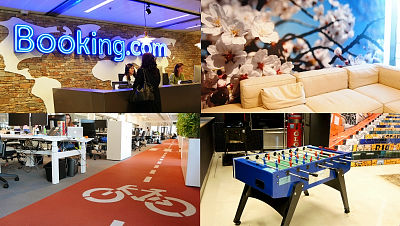 The accommodation facility reservation site which increased the number of employees enough with one hand to 13,000 in 10 years or so was "Booking.com"is. Originally in the Netherlands, only 10 accommodation facilities in the Netherlands were registered at the beginning of the founding, but in 2016 it reached the registered number of more than 1 million in 220 countries in the world, reservation per day is possible The number of rooms is 23 million. Even in Japan, TV commercials have started to raise awareness Booking.com Sinking to see what the Netherlands head office is &Gillian TansI have asked CEO about the founder's secret story.

Domestic as well as overseas! Reservations for hotels and inns at Booking.com
http://www.booking.com/index.ja.html

Booking.com has its head office in Amsterdam, The Netherlands.RembrandtpleinIt stands behind the bronze statue in.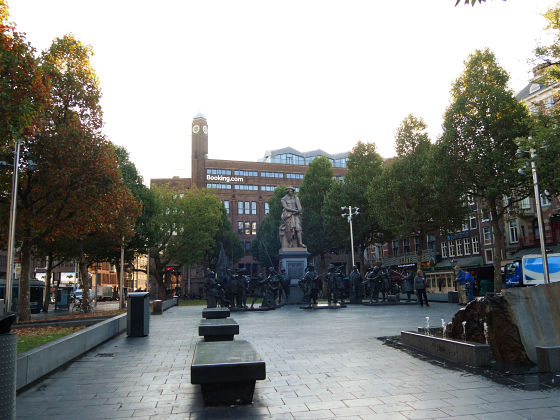 The building is the word "Booking.com". It seems that he originally used a building that was a bank.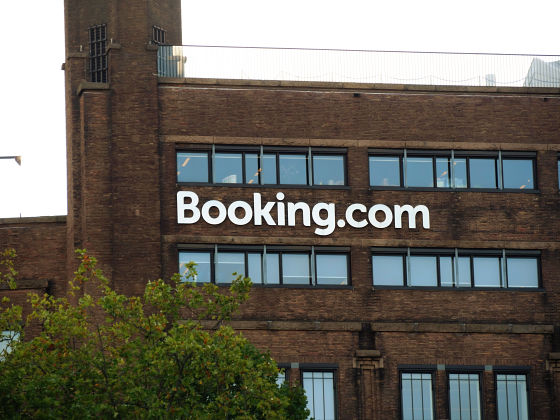 The entrance looks something like this.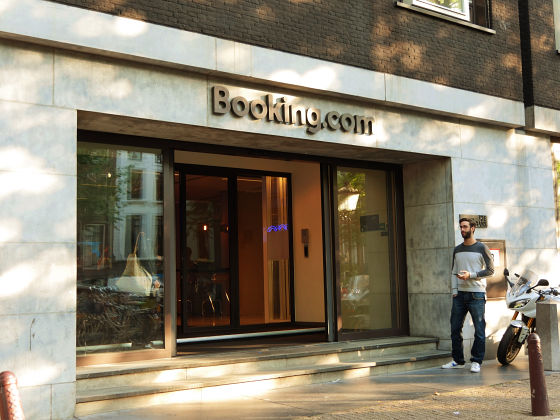 There is reception desk immediately.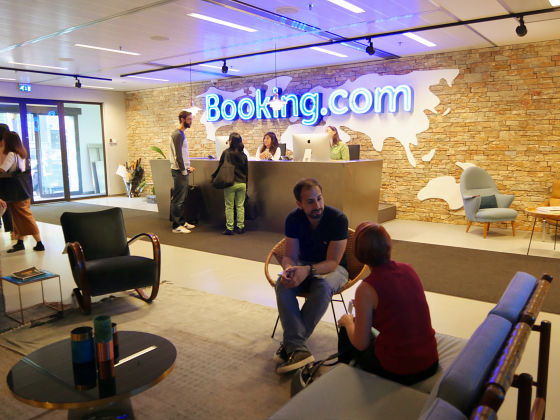 It is an atmosphere where oldness and newness mixed up.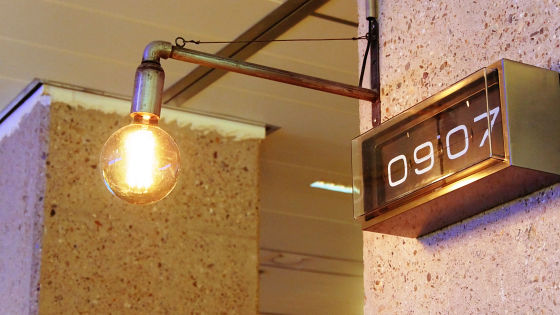 There are also coffee makers and others, people who spend time alone and people to talk with, have been constantly being replaced by someone else. It seems that 1,400 employees are working at the headquarters office.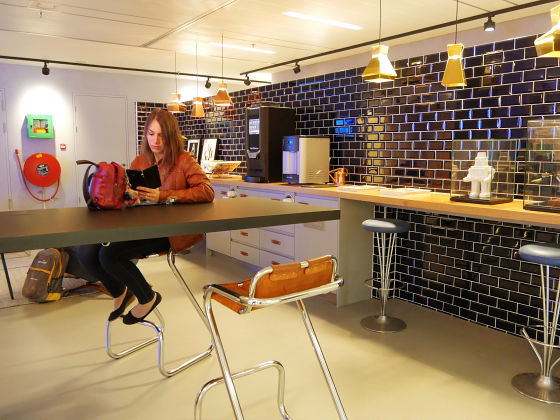 The fruits on the table seem to be delivered to the company by delivery, so to speak, JapaneseOffice GlycoIt seems to exist.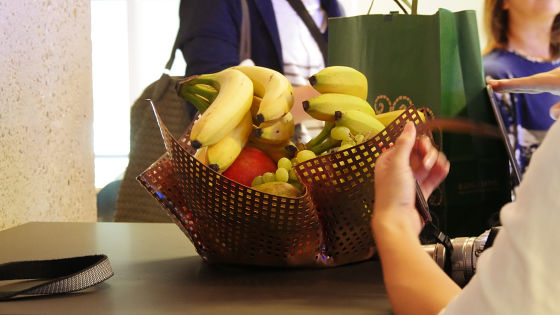 Move by elevator and go inside. It seems that the building has 6 stories and the third floor contains another company, but after that it is the office of Booking.com.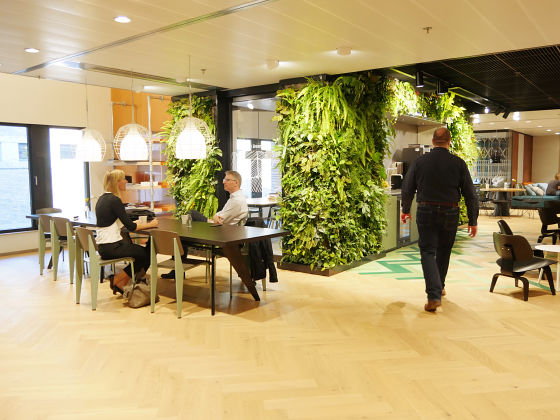 In the kitchenette there are coffee makers and fruits marked as "Booking.com", refrigerators with juice and so on.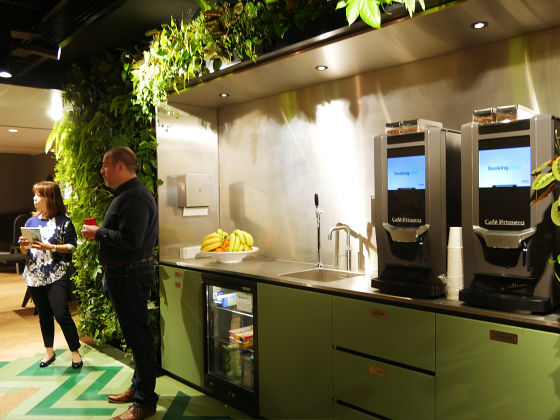 The area that "This must be a place that inspires young people", which was recently renovated to a contemporary design. There are several tables and sofas in a large space, so that you can work freely. If you want more privacy and a quiet place, put in a room partitioned with glass OK. It is an office where flexible way of working can be done depending on the way of work and contents.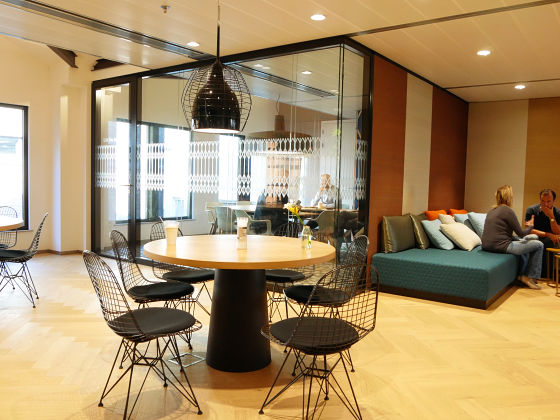 Each theme is attached to a meeting room divided by glass. The room in the picture below is "Greenery (green)". It is a room with a theme of nature, so plants are planted around.



There are 10 large tables and chairs in the room. The interior is not an inorganic one that tends to be in the office, it is a modern design with warmth.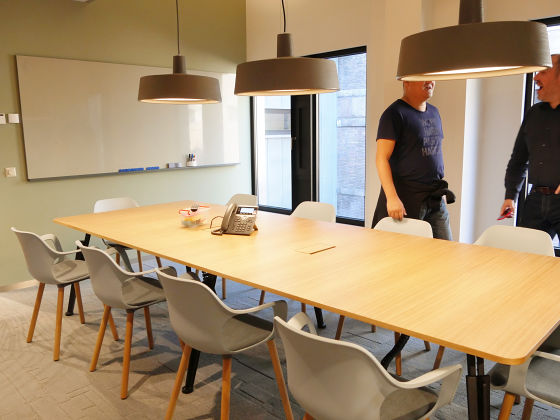 There is a huge picture on the wall of each room. This was taken by teams located all over the world. The following Moose deer was taken by the Finnish team.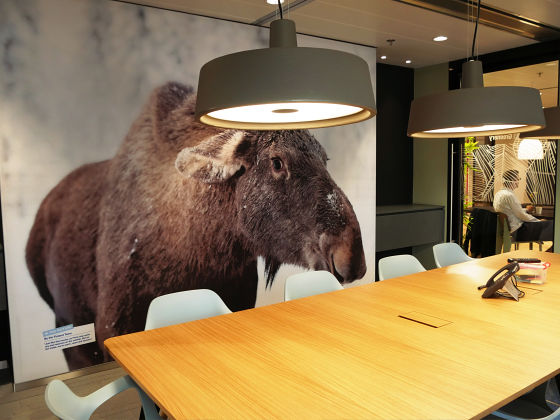 In the corner of the photo "It is shy and shy at first sight, like the elk of the photograph, but the Finnish team is shy, but the inside is warm, open, honest" was written.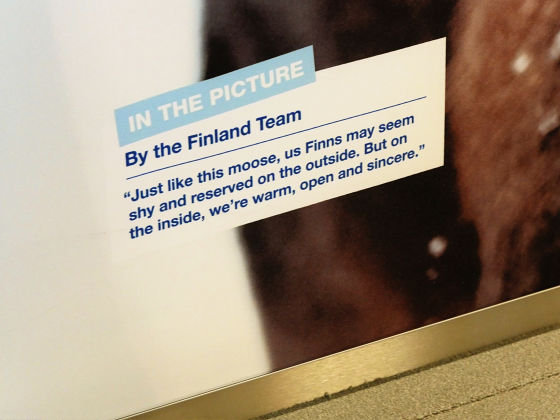 I will move while passing through the cafeteria.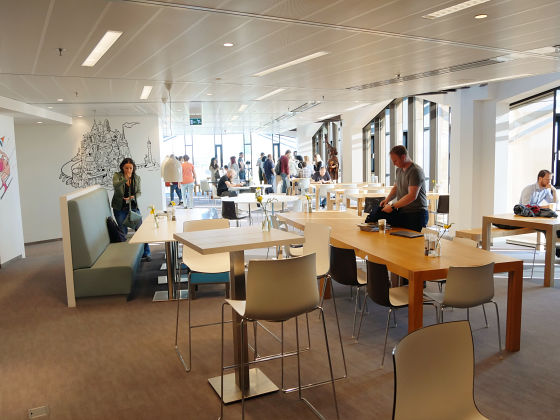 There are two small coffee bars in the cafeteria.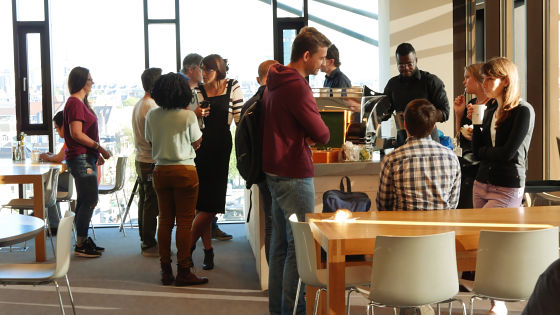 The cafeteria is full glazed. Since Amsterdam has a height restriction of buildings, skyscrapers can see a beautiful view from the cafeteria, despite being the capital of the Netherlands, skyscrapers do not line up.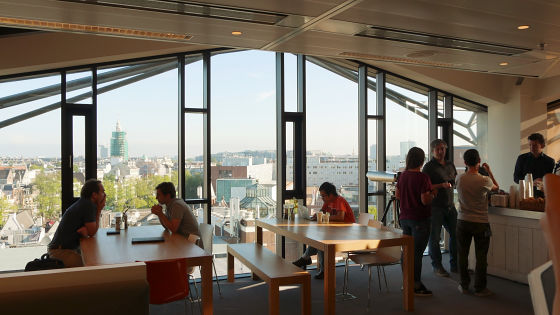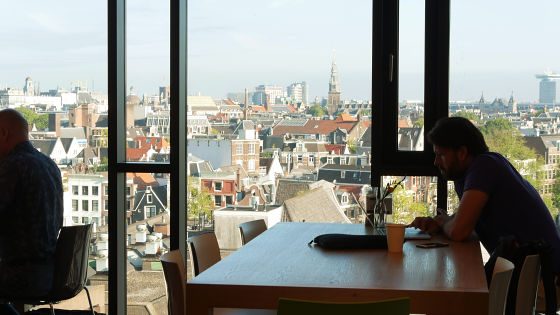 Pictures of the world are lined up on the yellow wall, it looks like a small exhibition.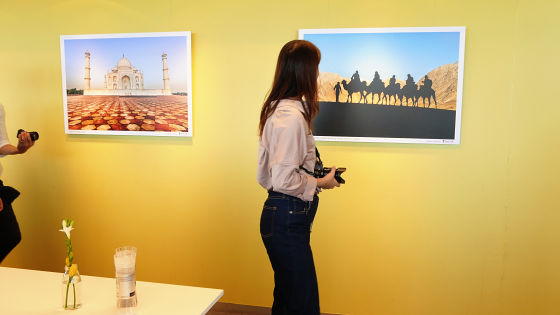 There is space in the back of the cafeteria where food is prepared.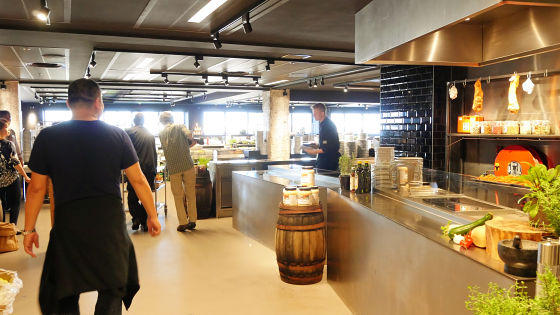 When I visited it was still in the morning, so I was preparing. We will report lunch situation later, so please look forward to it.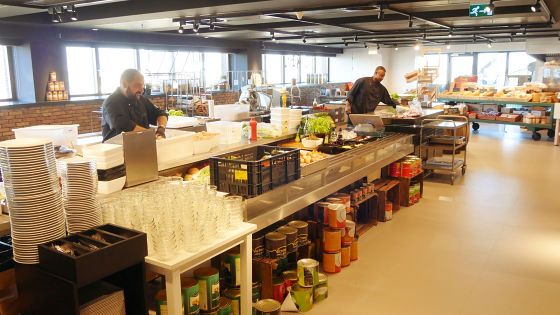 Leave the cafeteria and proceed further. The middle of the building was in a colonnade.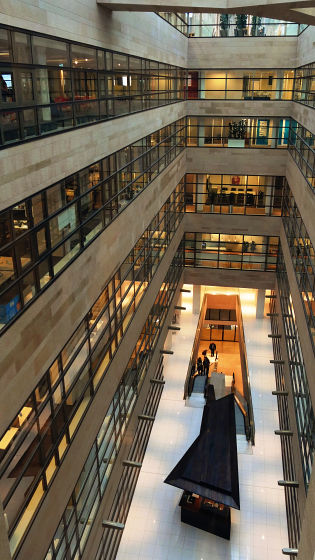 Of course there are not only shared spaces but also offices with desks with PCs. The office is also glassed, so it seems like the staff work from outside. It is quite open.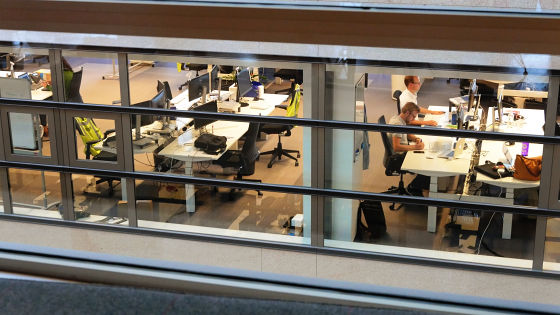 Following is the part which was originally the office like above and was renovated into a shared space. Approximately half of our employees are women, and looking at female employees and male employees who have dressed in casual wear and chatting, I forget that this is an office. Although there are many companies that divide public and private, there are many different business and private clothes, but at Booking.com I got the impression that working is becoming part of lifestyle.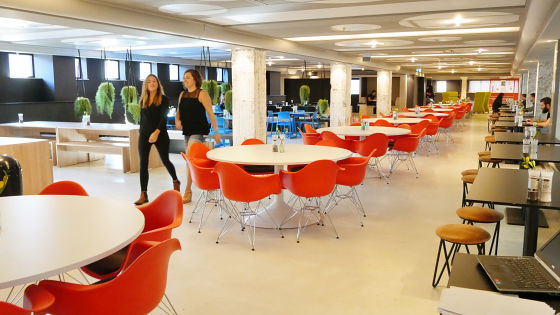 Under the chair is an outlet etc installed. There were three patterns of table · chair, but it was impressive that there was no boarding seat.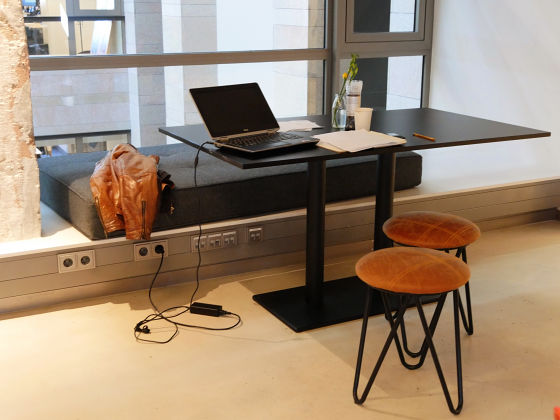 "Understand the rise and fall of the technology industry from the sales of the table tennis tableEven though it is told, Booking.com was not even an IT company, there were table tennis table and billiard table.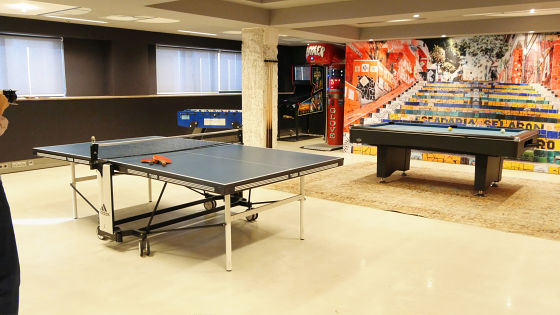 FoosballYa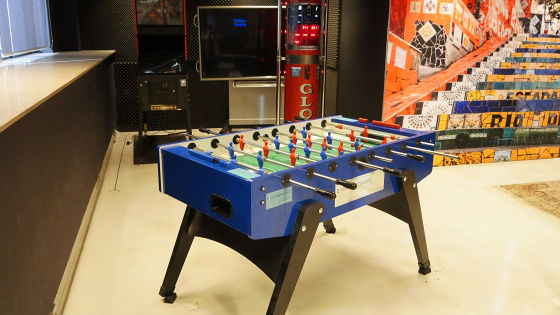 An arcade game was also placed. Even though it was in the morning, when I visited it was unmanned, but it seems that most people are usually playing most of the time.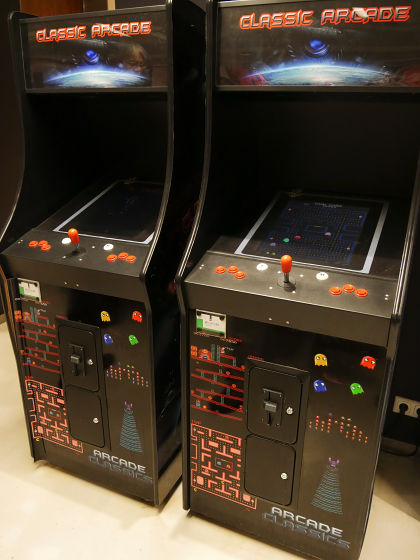 And to the 6th floor, which is the top floor.



On the 6th floor some red lane is dedicated as in Amsterdam city.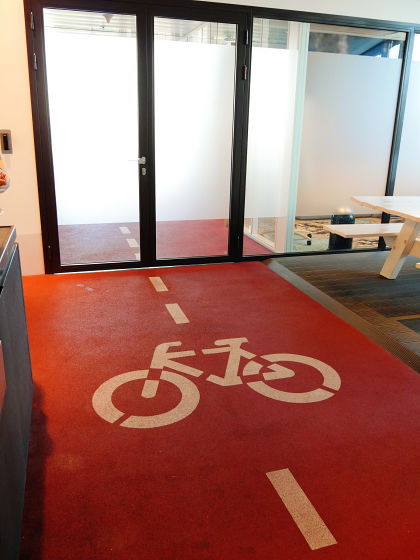 I thought "I went outside," but it is indoor properly.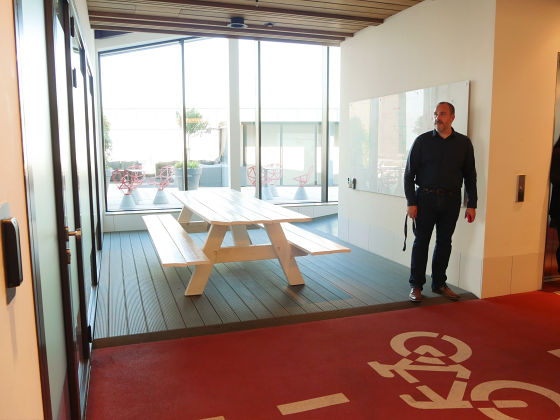 When opening the door and entering inside it is like this.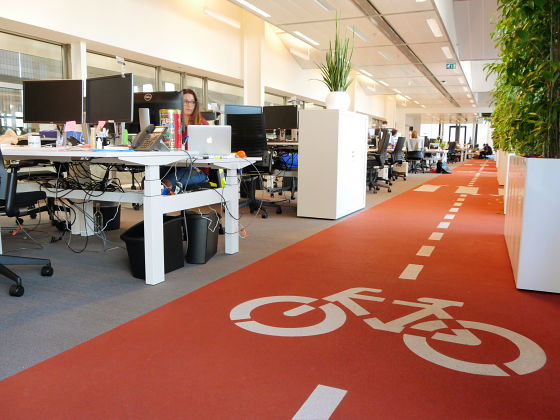 "Sitting for a long time reduces people's life as much as smokingBy saying that,Standing deskSome people are using.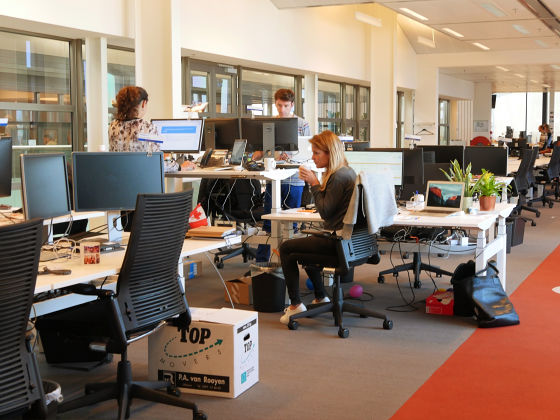 Actually, this does not have an ordinary desk and a standing desk, but the desk height can be changed freely. It is possible to see how to automatically adjust the desk height with one button from the following movies.

'Booking.com' at the head office in the Netherlands Standing Desk - YouTube


Also, there was a meeting room that was also divided by glass. Below is a meeting room with Japanese name Himeji as its name, but the notation is "HEMEJI".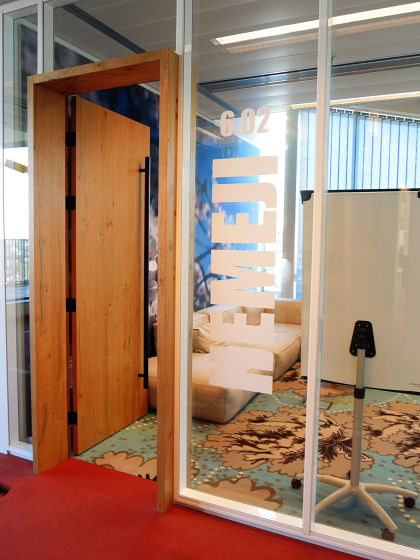 Inside is like this. Carpets etc are also different in each room in a form conforming to the theme and it is fun just watching it. There was no big table here, sofa, small table, monitor was set up.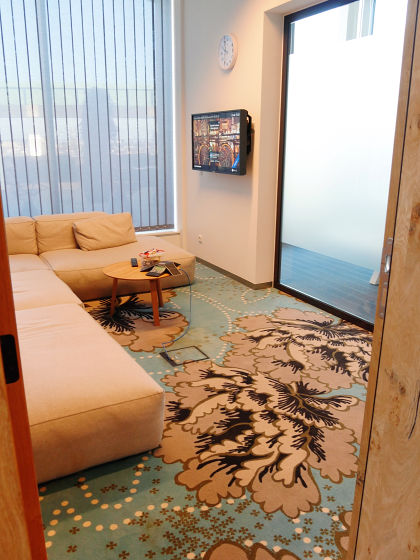 Behind the sofa are pictures of beautiful cherry blossoms.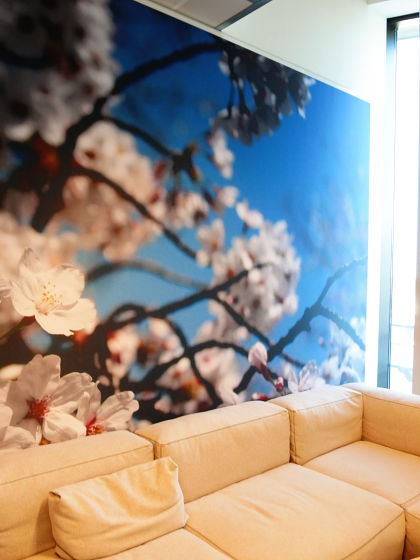 "Cherry blossoms, one of the national flowers in Japan, can be seen here and there when they are in spring, even if they do not go to famous national parks etc. This picture was taken when the flower-viewing party was a neighborhood with friends and home It was accompanied by a comment "It is".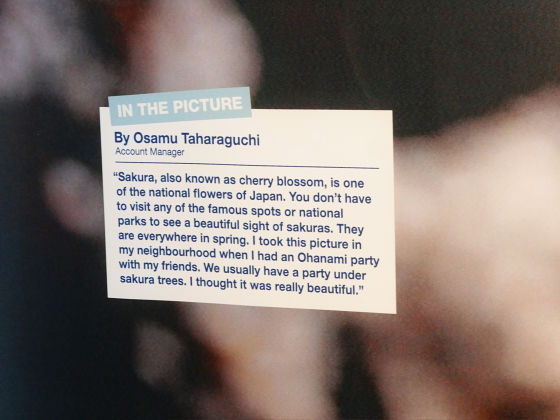 Located in MyanmarBaganThe room crowned with the name was in use. The red table and the unique pattern carpet are producing an oriental atmosphere.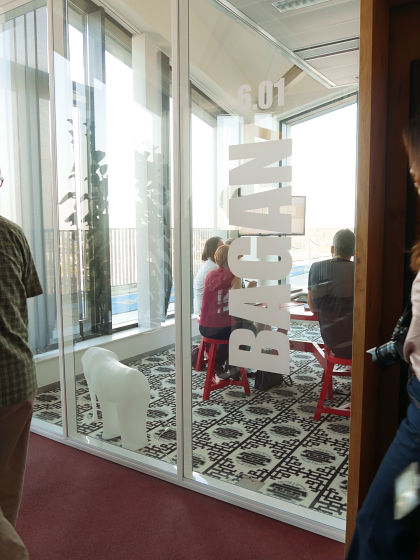 Furthermore, it is possible to go out to the roof.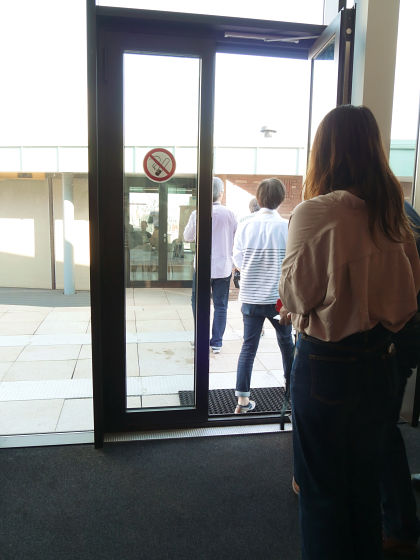 The roof looks like the following.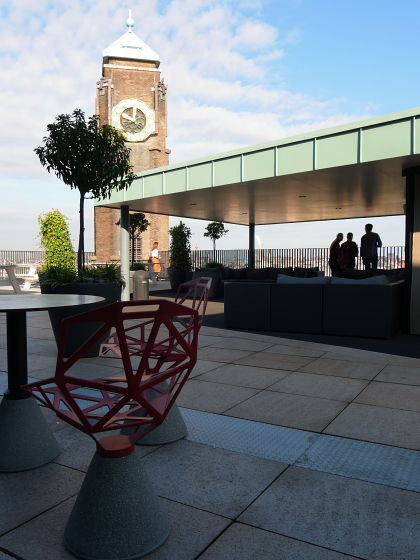 Even if there is a rooftop there is no room for employees to spare ... ....? I thought, but some people are talking while actually prolonging the outside scenery on the rooftop. When you look at the rooftop, cafeteria etc. used at timing that is neither lunch break nor after work, you can see well that you are working in a style that suits your needs in your favorite place.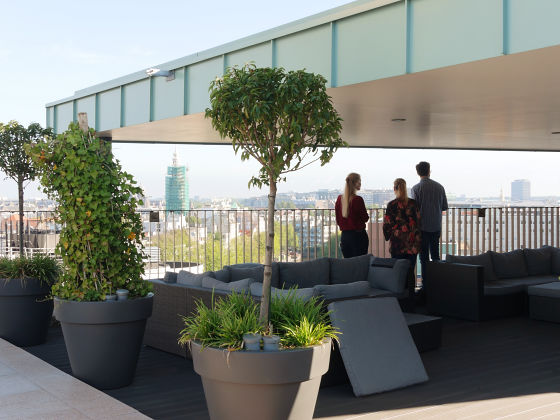 There is a big clock tower ......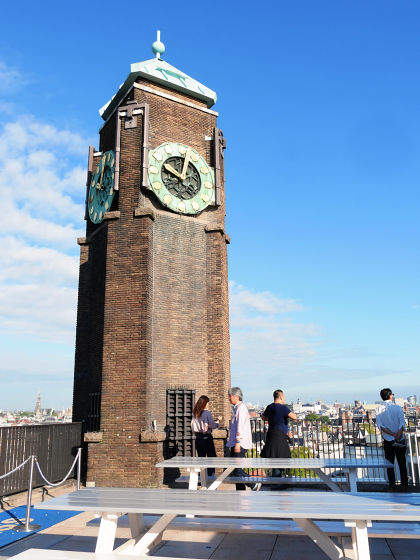 When I looked outside the fence, I could see Rembrandtplepleple.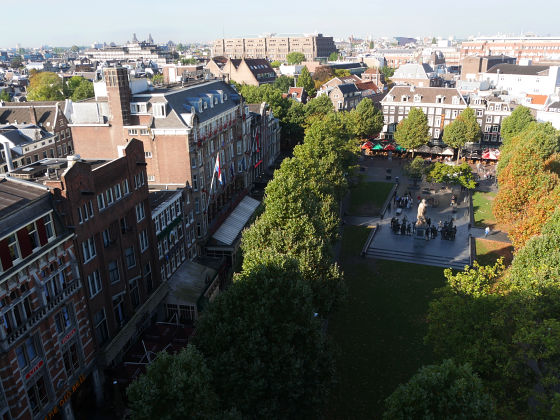 When I saw the office around the corner, I went to the ballroom "Olympus" used for meetings and so on.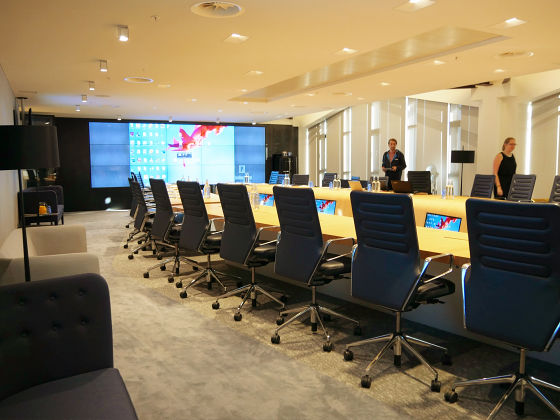 I also asked Gillian Tans, CEO of what company Booking.com is, that booking.com's head office is in the Netherlands too little.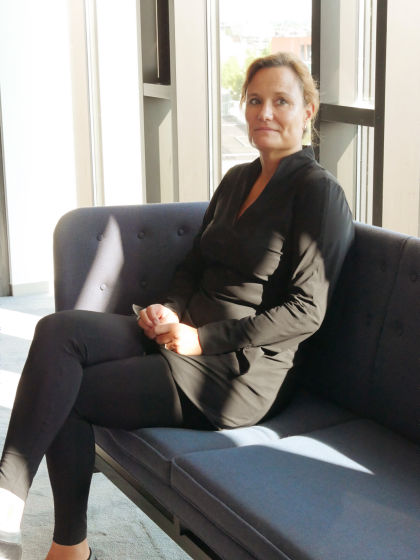 Booking.com was founded in 1996, and it was a dawn of only 100,000 websites still on the Internet. The Dutch people said that they liked traveling, and was opened as "Netherlands accommodation reservation site" Booking.nl "by Geert-Jan Bruinsma who was a graduate of Information Engineering Department of Twente University of the Netherlands at the time. Current CEO Gillian Tans worked at Booking.com since 2002 when there was only one employee with enough hands,Price Line GroupThrough acquisitions, etc., I am a person who has seen the company becoming a global company with 13,000 staff.

"Booking.nl" operated by Mr. Bruinsma initially was not in a state where life can be lived only by the profit of the Web service. As Mr. Tans studied hospitality, he seems to have started working with his own knowledge to be useful.

Since the Netherlands is a small country, there was a limit to dealing with accommodation in the Netherlands only. As a result, it took me a while to look overseas, but around 2002, I was not interested in accommodation reservation site and I was told that I had not received investment. Meanwhile, the price line group who wanted to make the business successful in Europe searched for a partner, and it seems that Booking.com was chosen to be acquired in 2005 due to the agreement between both parties. And when founded, the number of accommodation facilities where there were only about 10 houses registered was over 1 million, and the number of employees who had enough with one hand increased to 13,000.

Q:
What was the biggest influence among CEO Tans' decision so far?

Gilian Tans, CEO (Tanz):
Since I was thinking from Booking.nl's era, I thought that 'Amsterdam alone can not do it', so deciding to go out and interact with local people is the biggest decision. The founder of Booking.com thought that we could do business with Excel sheet, but since I was working in the hospitality industry, I thought that "accommodation facing customers directly", and across the computer We have now sent staff to accommodation.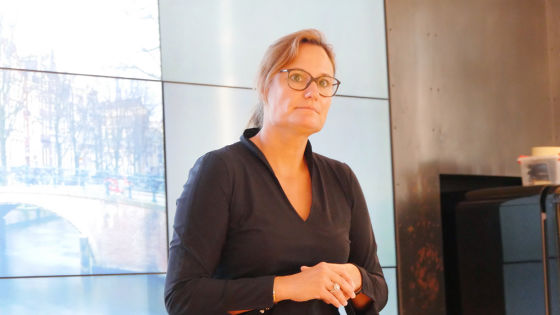 Q:
What is the competitive advantage that Booking.com has grown so far?

Tansu:
We have a lot. First of all, being able to spread to the world though it exists locally. It is to expand the scale on a global scale according to the place you want to go. Also, I think that it is a strength that we have made information acquisition and reservation methods as easy as possible. Content is constantly being updated as it is also required that the accommodation facility that you have made is the same as the accommodation you have made.

And culture within the company, "entrepreneurial spirit" is also important. Booking.com has employees from 100 countries around the world, but they like "entrepreneurial spirit". In an environment where young people can learn and fail, many employees have the right to decide and they are innovating day by day.

Q:
When I say 1996ExpediaIs it the year of establishment, but what do you think is the biggest factor that Booking.com gained advantage?

Tansu:
Expedia is a comprehensive trip booking site including airline and rental car reservation. On the other hand, Booking.com focuses on accommodation facilities only. Because it took quite a while only at accommodation facilities, I think that it was more difficult for Expedia that we have to do many things. Booking.com believes that focusing on one thing is the biggest advantage that it was able to expand at a faster speed.

Q:
There is a service to reserve an airplane or a rental car in the price line group, but do you plan to start a new service in cooperation with them?

Tansu:
Also in the price line groupAgoda (Agoda.com)There are possibilities if customers are profitable, as in incorporating Booking.com accommodation.

Q:
At that time, is not it possible to make a total reservation including booking such as rental car in Booking.com?

Tansu:
Of course, we are going to collaborate with other companies, but for customers, reservation of rental cars etc. is an action to "cause" after deciding accommodation facilities. Beyond that, Booking.com wishes to provide information such as word-of-mouth, and we would like to focus on helping travelers decide "Where to go from now".

Q:
In Japan, many people prefer a type of reservation method that reserves everything from accommodation to air tickets to rental cars, but can you think of changing the service content by country?

Tansu:
There is a possibility. In Japan now, we are working on increasing accommodation facilities first. It is the last minute reservation that is increasing as needs now. In other words, it seems that the airplane is already reserved at that time, so we have not yet reached the need to reserve an airplane.

Q:
Are you thinking about doing "reservation method without using website" such as using artificial intelligence such as Siri instead of booking using website in the future?

Gilian Tans, CEO:
I agree. There are various directions on how to proceed from now. Currently translate messages of travelers and accommodation in real time so that they can exchange directlyBooking messageAlthough there is a function called, it is thought that this will be converted to voice. It is considered to evolve according to the needs.

· Continued
【All-you-can-eat all-you-can-eat lunch at 230 yen / day】 "Experience the creative people's office" "Booking.com" Netherlands headquarters infiltration report - GIGAZINE