【All-you-can-eat all-you-can-eat menu for 230 yen / day】 "Experience the creative people's office" "Booking.com" Netherlands headquarters infiltration report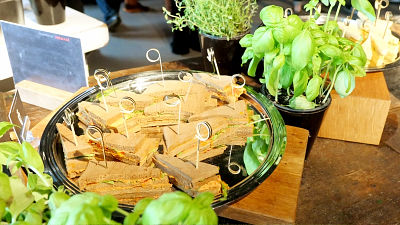 Geert-Jan Bruinsma, founder in 1996, opened accommodation facility reservation site, increased employees who had enough hands with just one hand from there, to 13,000 people, and grow to an international company did"Booking.com". I entered the Netherlands headquarters where creative workers from all over the world gathered, but it is said that there is an all-you-can-eat cafeteria at 2 euros a day (about 230 yen), so actually going to lunch I tried to participate.

Domestic as well as overseas! Reservations for hotels and inns at Booking.com
http://www.booking.com/index.ja.html

The state of the office can be seen from the following article.

Accommodation facility reservation site "Booking.com" experienced "What is an office that creates creative people" photo collection of Netherlands headquarters Summary - GIGAZINE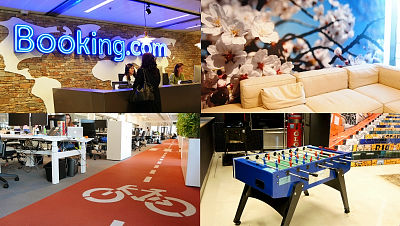 So to the dining room again.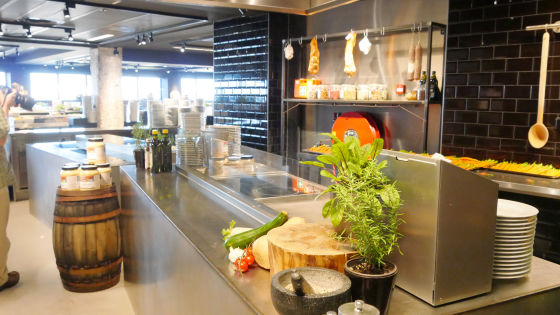 In the corner of the room, trays, glasses, dishes etc are stacked.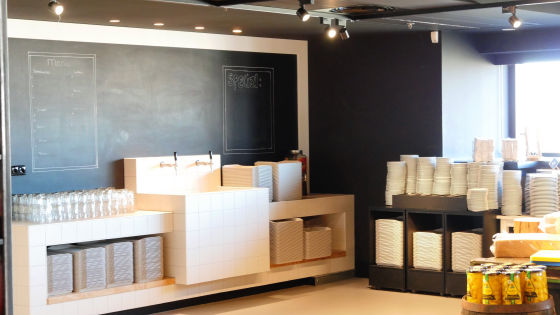 First get a plate, knife, fork and so on.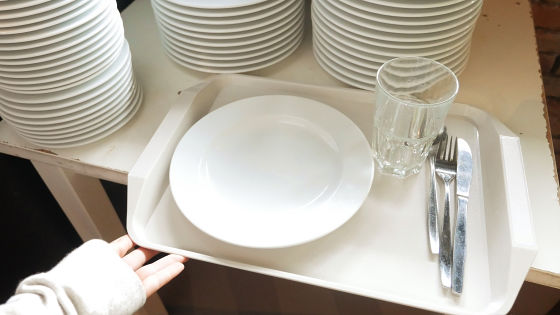 The first sandwiches to appear first are rowed side by side. There were several kinds such as club sandwich, chicken & camellole, salmon & cream cheese.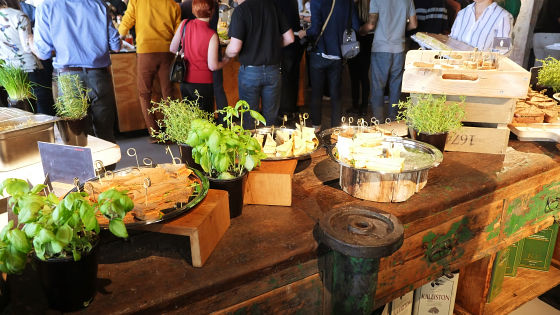 As a pot of herbs is placed next to the sandwich, it seems to be said that "Try the necessary people and cut it".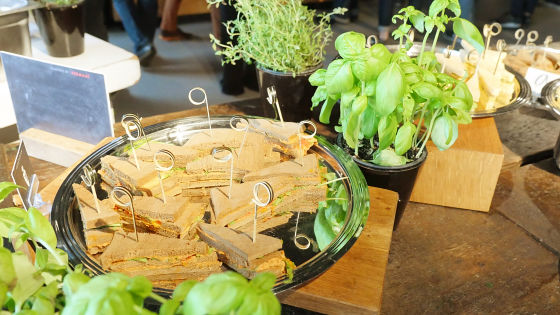 Also open sand.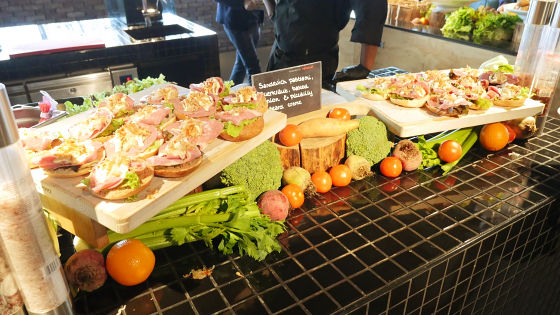 Next to the table with the sandwich, pickles are placed on the barrels with bottles and donons.



There was a salad bar in the middle of the dining room, people were in line. When I say salad at noon, it seemed to be popular for both men and women though women liked it somehow.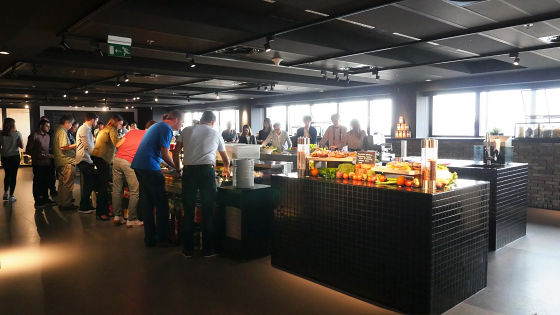 The salad bar has a bloody orange mousse and a cocktailBloody MaryThere was also placed. Since Bloody Mary is not drinking it is unknown whether alcohol is contained or not.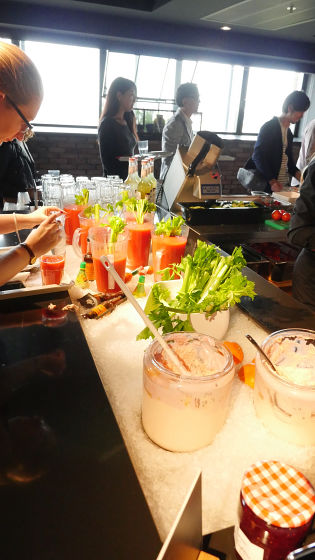 I will get a salad in line.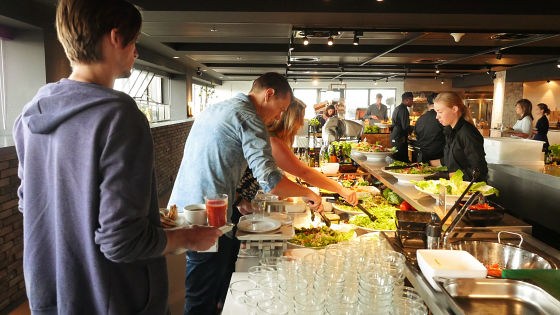 At this time, with leafy vegetables such as Caesar salad and green salad,Beats· I was able to topple various kinds such as olive, pickles and cheese. You can choose from multiple choices of dressing according to your preference.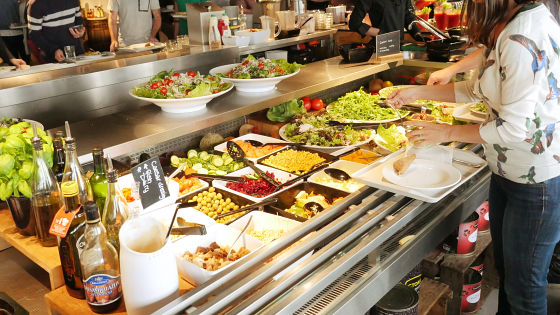 Another sandwich & bread space next to the salad bar. There is a grilled sandwich of goat cheese & honey for vegetarians.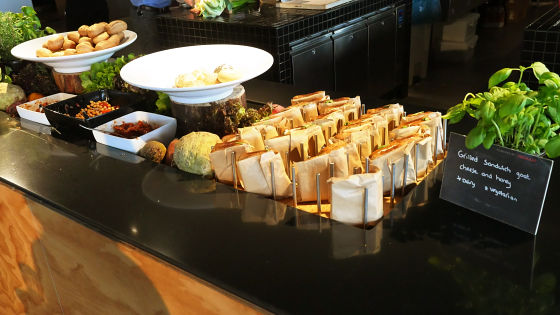 Chickpeas and tomato salad etc for garnish.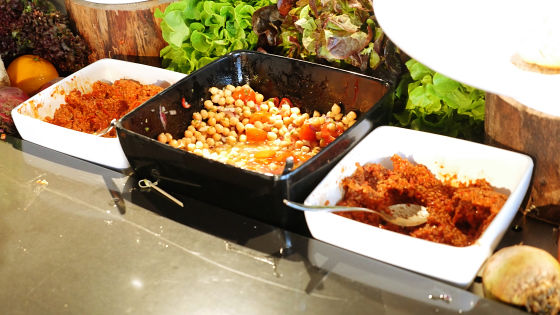 There are also dried fruits and nuts.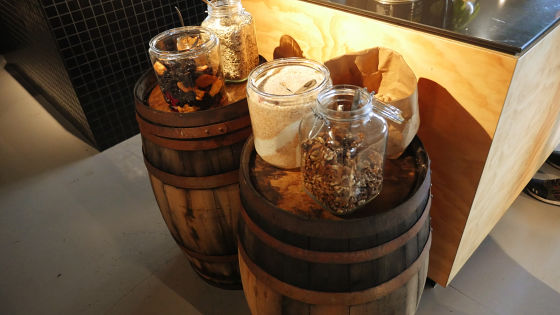 Also cut various breads and likes ......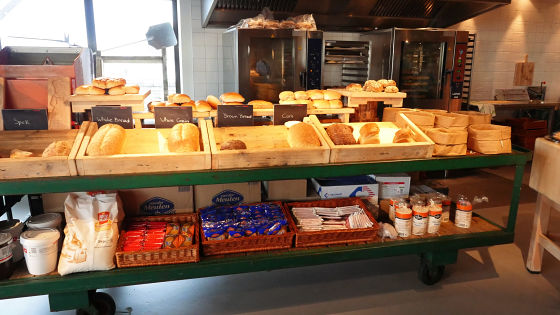 There was a space where I could make sandwiches on my own. It shows how people in the Netherlands love sandwiches.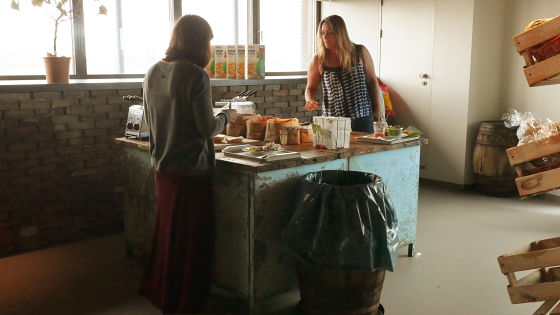 Soup and warm menu ......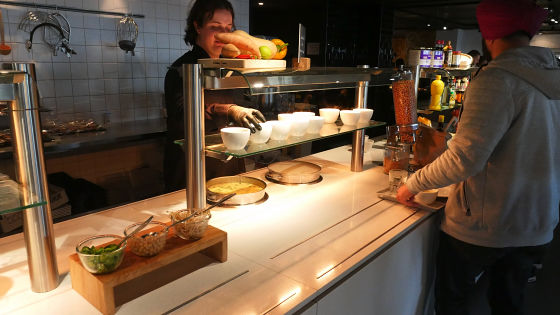 Rice and pasta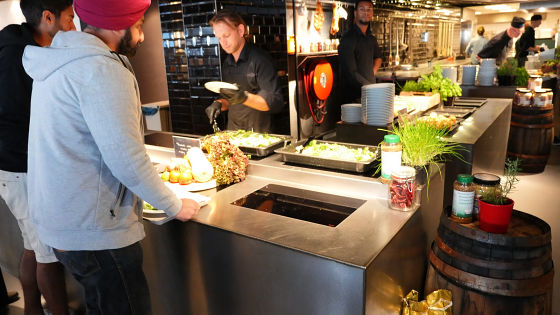 Menu is multinational, such as kebab of lamb meat and couscous.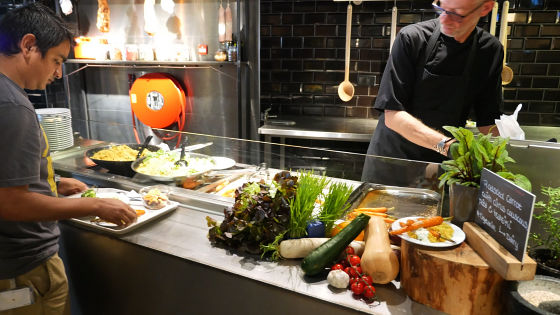 You can also drink water and juice free.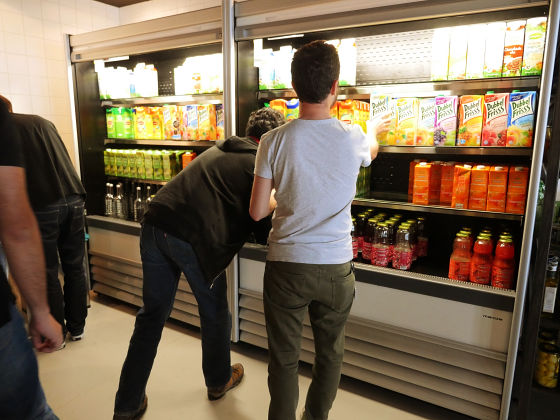 When I get food I move to the table.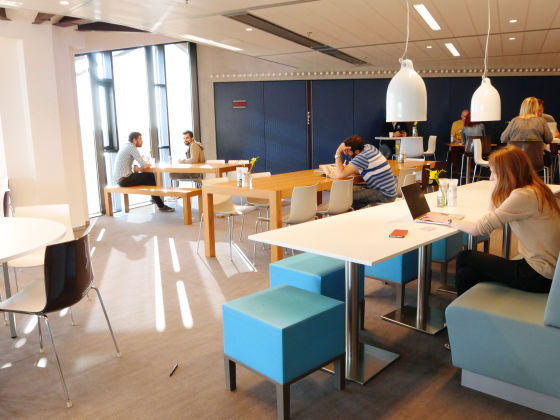 Lunch of this day is like this.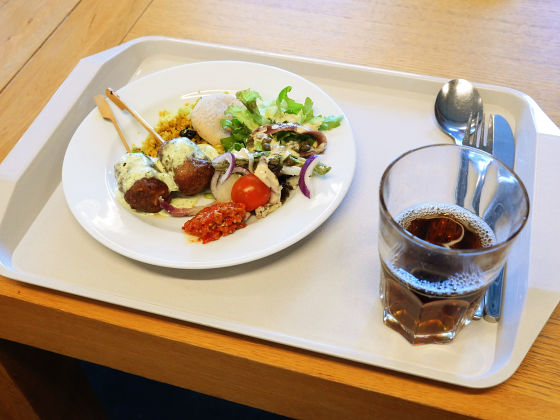 I chose lamb meat kebab · mininan · couscous · salad etc.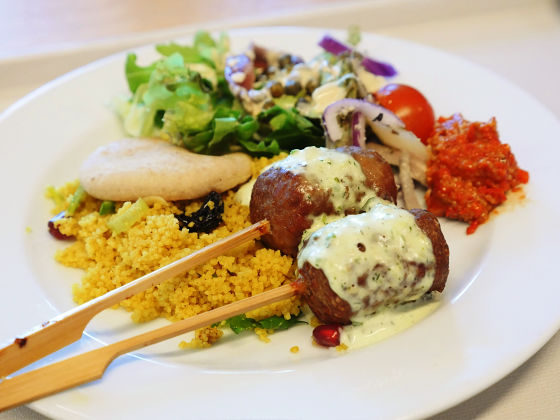 Another person's lunch looks like this. Basically you can take plenty of fresh vegetables, you can eat staple foods and meat on your own while adjusting the amount, so you can prevent nutrition from being biased. It is difficult to go out during office work with little lunch break time, it tends to become cup noodles and rice balls only, and nutrition tends to be biased, but because it is low cost and it can eat delicious food firmly while reducing time, such a cafeteria There seems to be very useful if there is. The lunch fee of 2 euros is drawn from the pre-tax salary.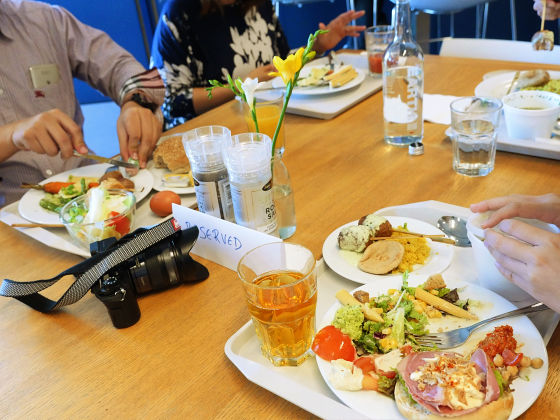 The luncheon at lunch time is like this. AgainBottle riceIt was impressive to have a meal in several groups.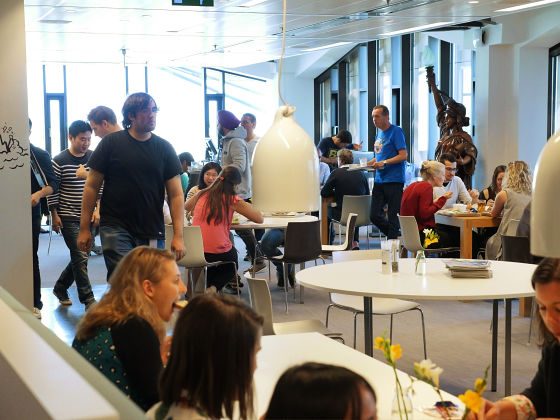 ◆ 2016/09/26 10: 50 postscript:
Where my stomach was full, I heard stories from Japanese staff working at the Dutch headquarters. Sayaka Hayashida, a woman on the left side of the photograph as an IT team at the Dutch head office and working as a copywriter for the Asian market, and Mr. Yoshiaki Makino who is responsible for optimizing Japanese websites on the right side. Mr. Hayashida obtained MBA from the Netherlands after leaving Toshiba where he worked before and went to Booking.com. Mr. Makino originally said that he was doing work related to launching the GREE London branch office.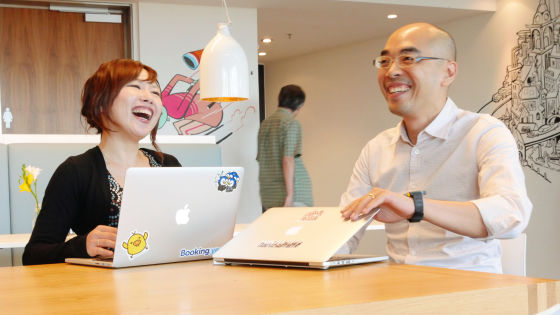 Hayashida's involvement is the copywriting part of the website and the application. It is difficult to communicate how well it translates as it is an expression in line with English-speaking culture, so it is said that in Asia, copywriting is done separately from that. Even in the Netherlands headquarters alone there are people from around 100 countries, and because it is a service deployed around the world, people in all countries work as employees to create content that conforms to the land and culture.



Hayashida asked the difference between working at Booking.com in the Netherlands and what he was working in Japan. First of all, Mr. Hayashida worked at Booking.com and felt it was "to be equal" and "to be myself." Because the wording such as hierarchy does not change, the consciousness of being "equal" is strong, it is conveyed without being informed even when telling the opinion, and the clothes are also casual so that they can be themselves.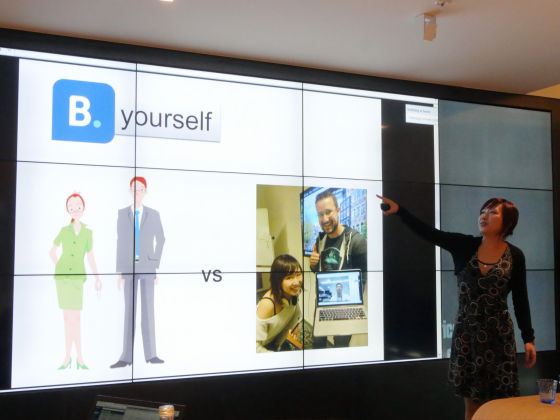 Also, "being efficient" was also mentioned as one of the differences. When working in Tokyo, Mr. Hayashida says that Red Bull worked as a coffee like the illustration on the left. There seems to be work from 1 to 3 o'clock in the morning because there is "just waiting time", but the employee of Booking.com says, "It's already 16 o'clock and we will not do a new job today" It is said that there is a tendency to decide. The picture on the right side of the picture is taken from the bar near the office after leaving the office, and it shows that the blue sky is still reflected. Also,A report on the office at the headquarters in the NetherlandsAs was also the case, there is a room for refreshment, not a state like "there is no time to go to the toilet", but a state that "a refreshing and working more efficiently" attitude is strong.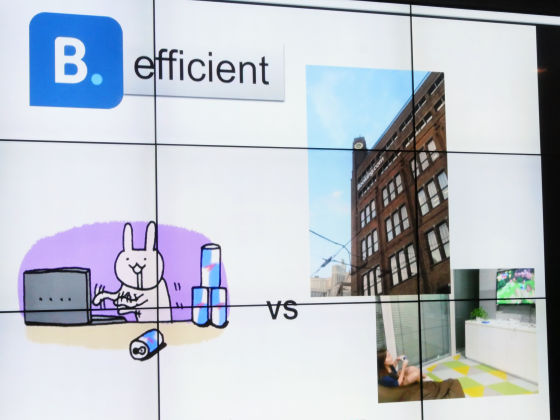 "Autonomy" is also an important part, so Booking.com needs to find jobs from myself rather than "doing a given job". That's where the employee wants to say, "I did it !!!" that is interesting. So, as a team leader, we inevitably have a meeting and need to get convinced by reporting "I've talked about this kind of things for your career formation", and management is also a serious part, Mr. Hayashida I was talking.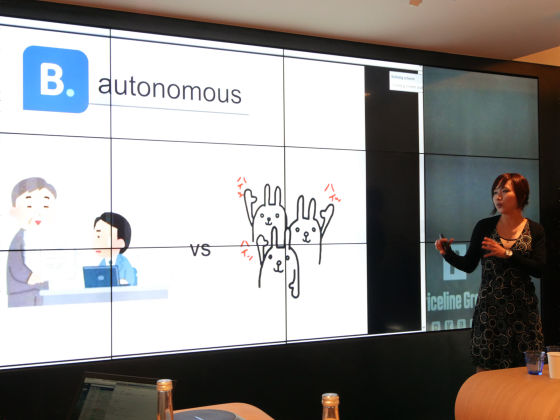 And it is characterized as "Be crazy!" When I worked in Japan, I went to karaoke in the after-fives, I had to pay attention to doing my role as a tambourine or taking a bath, but as I can see on the picture on the right, at Booking.comGay paradeIt is said that they are dancing to their heart's content and enjoying themselves at an annual party where employees from around the world gather.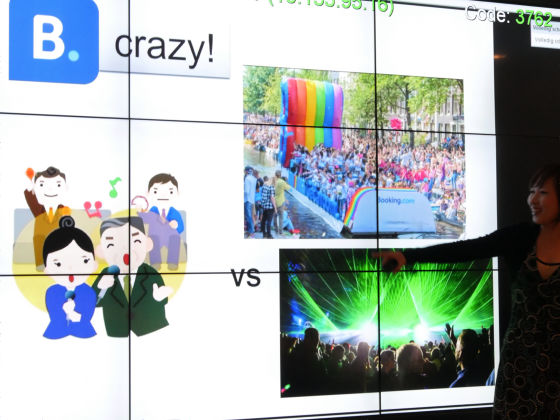 And Booking.com has 184 offices in 70 countries around the world and supports 43 languages ​​around the world, but at this time it is necessary to change the display of the website according to the language and culture of each country. The headquarters team of Makino etc. seems to optimize the website for Japan, suck up the feedback when actually using it from the office in Japan, and make further changes ... ....

This is the website of Japan.

Domestic as well as overseas! Reservations for hotels and inns at Booking.com
http://www.booking.com/index.ja.html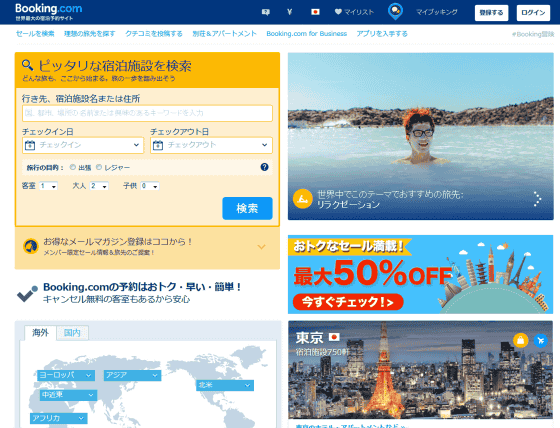 There is a difference as to what kind of website is preferred by the national character, I will make a detailed article later, but in order to ascertain that "What is favored by the user?", The catch under the logo color / logo From copying to the color and position of buttons and functions, Booking.com conducts 1000 AB tests per day. For example, preferring a map displayed on the top page tends to be unique to Japan.



It seems that the tendency to prefer functions that can see detailed evaluation such as location, cleanliness, affordability in the search result list is unique to Japan.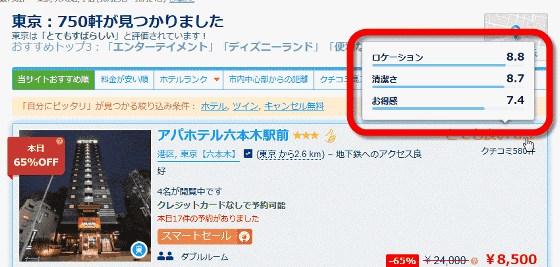 In addition, Booking.com is not a stay plan but a reservation form by choosing a guest room type, but there are differences in the screen which displays the guest room type in each country. When it is in Japan, the photo of the room, guest room type, capacity, the lowest price etc are displayed, but ......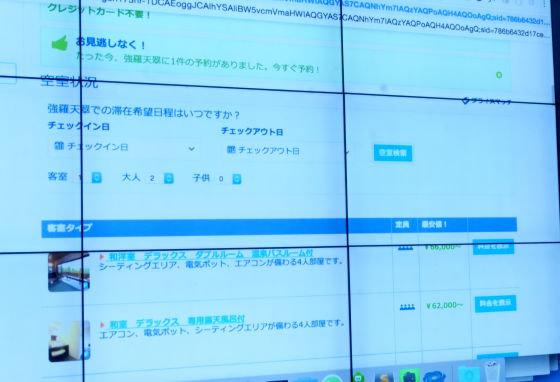 When looking at the same page on the English site, there is information of the capacity first, there is room type information without photo. Price is released for the first time by pushing "Reveal prices" button.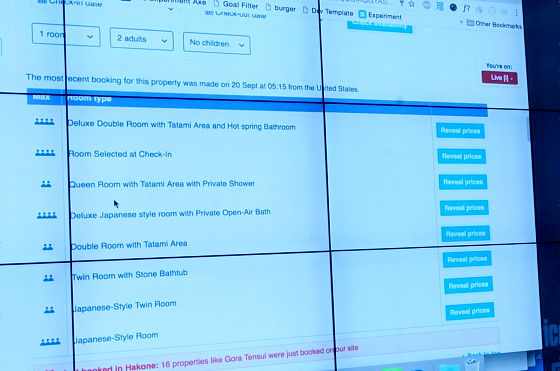 Also in Japan it is important that price notation is tax or tax included.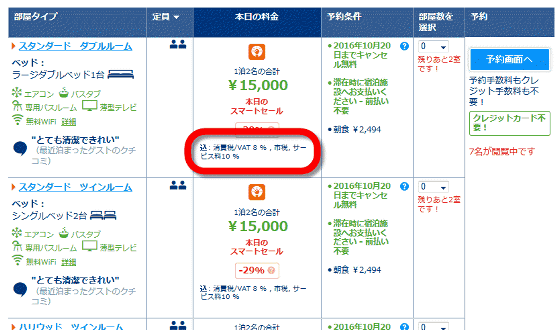 It is also a unique characteristic of Japan that languages ​​are arranged lazily at the request of accommodation facilities on the item "confirm in advance".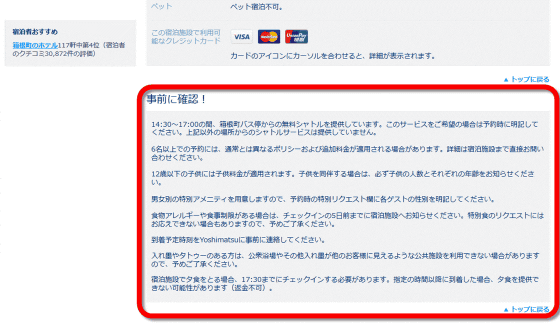 · Continued
I have heard the story behind the development of "Booking.com" that conducts 1000 A / B tests a day [Part 1] - GIGAZINE