Tokyo Game Show 2016 the latest VR device appearance Tonkari Summary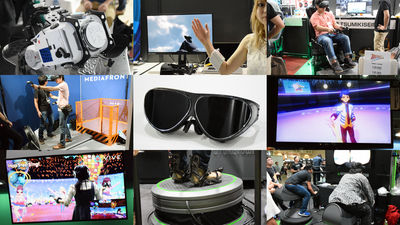 Oculus RiftYaHTC Vive, In October it will appear up to PlayStation VR that 2016 will become the "first year of VR" has gained much attention, Japan's largest game festival ·Tokyo Game Show 2016So many new VR compatible games and related devices are exhibited anyway and ginseng is transmitted to the whole industry focusing on VR.

·Dentsu Science Jam
Arrived at Dentsu Science Jam Booth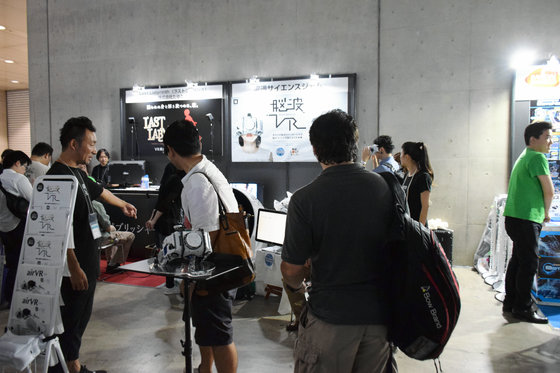 Here "Technology to Visualize Kansei with EEG" is displayed.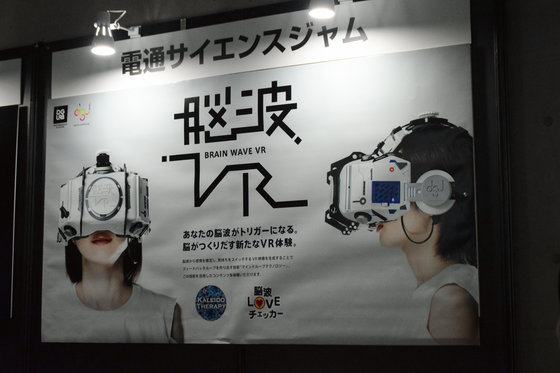 The exhibited VR device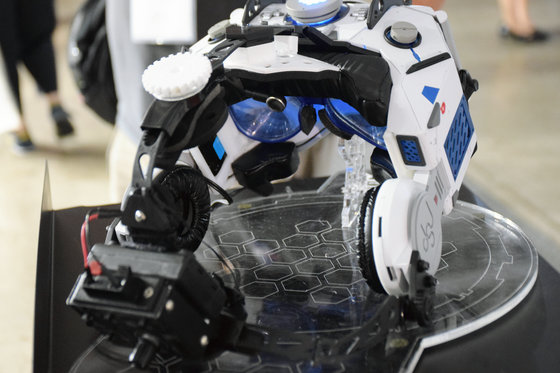 In this booth, you can enjoy "Kaleidotherapy" which automatically generates VR images and sounds to reduce stress by observing brain waves, "EEG brainwave LOVE checker" to check your brain waves and choose your favorite women.



·H2L
The H2L booth that came after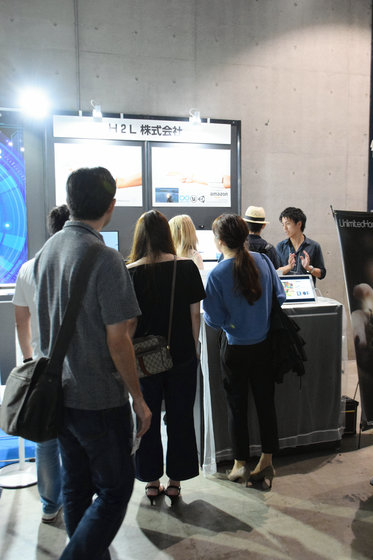 What was exhibited here is such a device.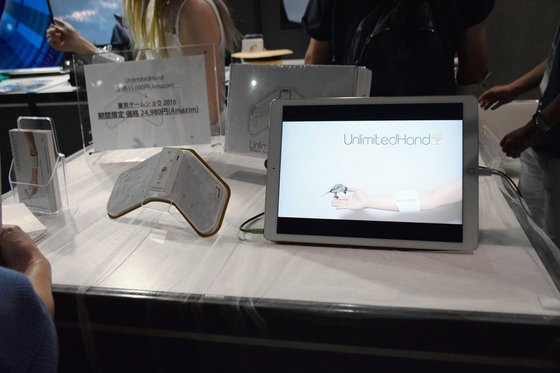 This is a new VR dedicated controller that allows you to link the hands and fingers of the user's hands and fingers with the hands and fingers of the characters in the game by winding around the armUnlimitedHand(Unlimited Hand) ".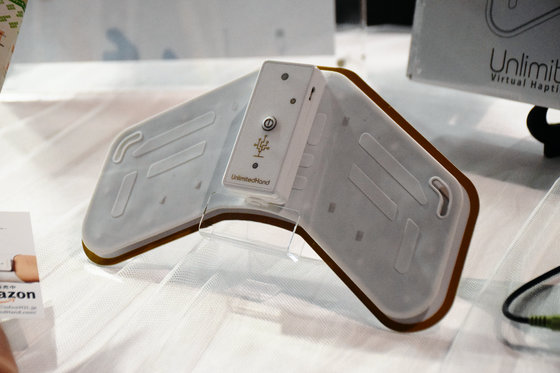 The back side is an electrode, you can detect the movement of the muscles interlocking with your finger by winding it on your arm.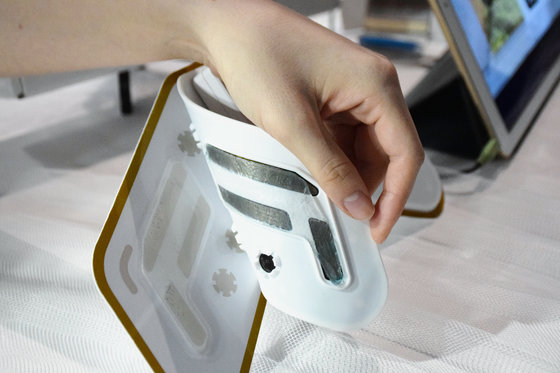 In addition, since 3 axis accelerometer, multi - channel EMS (myoelectric stimulation) and vibration motor are mounted on 3 - axis gyroscope, it can be immersed in the game more.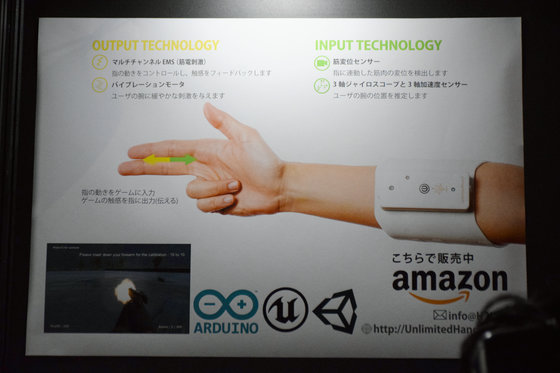 Of course it is possible to actually experience.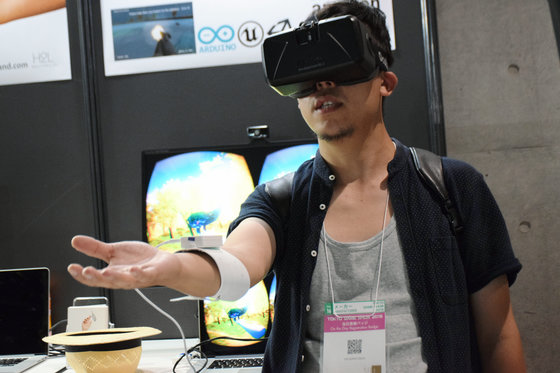 You can operate the game by wearing it and grasping your hands with a good hand.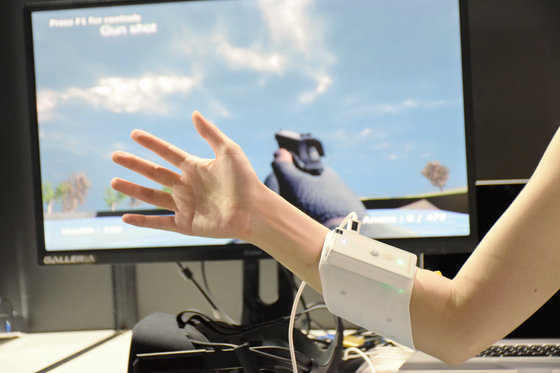 In the demonstration, it was supposed to see how to shoot FPS guns by grasping hands with unlimited hands.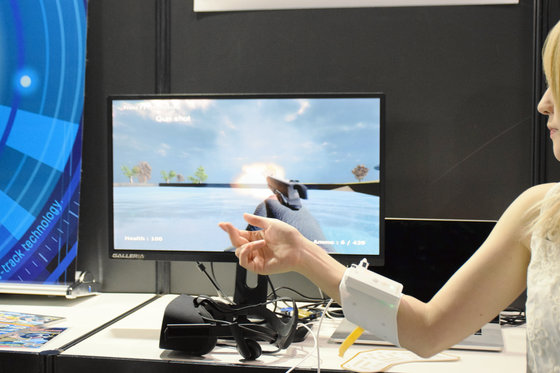 Also, the hand with the unlimited hand replaced not only as a trigger in the game but also it was possible to raise or lower the viewpoint in the game by moving the arm up and down.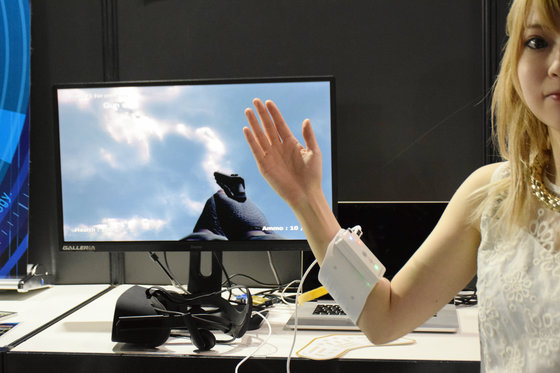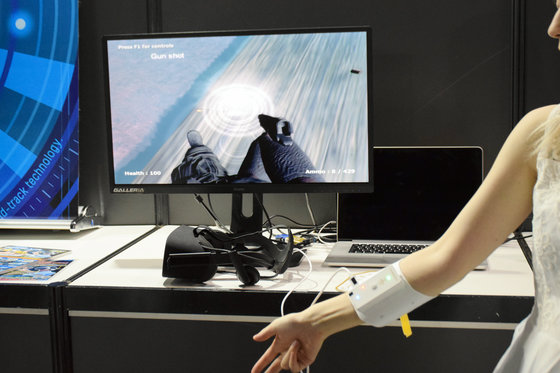 ·FOVE
A lot of visitors gathered at the FOVE booth.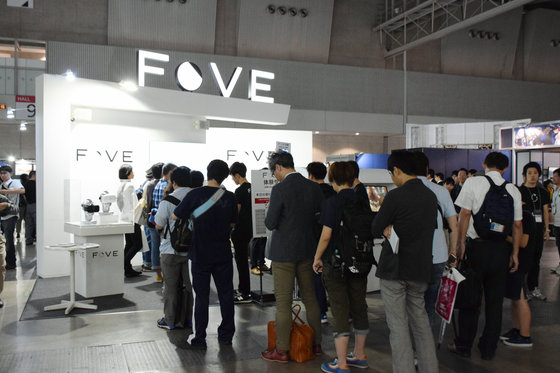 Here you can experience "FOVE" of the world's first VR headset with eye tracking technology.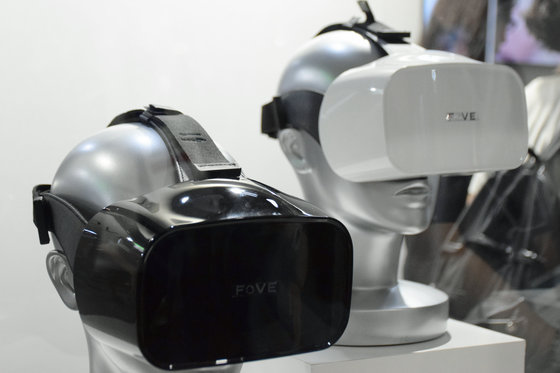 What you can do with gaze tracking techniques is "manipulate with gaze", "focus on", "make eye contact", "reduce sickness" and so on.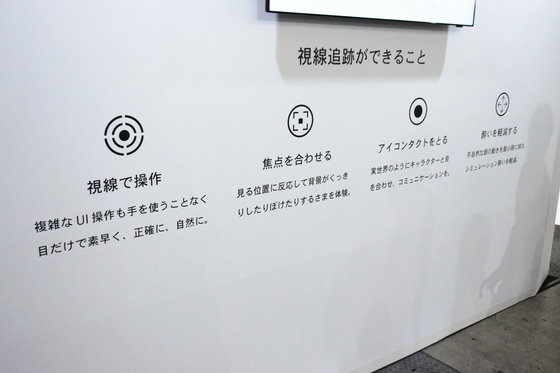 In the booth, you can play game play with FOVE installed, but you can see that FOVE has different characteristics from other VR headsets when watching the situation. The most surprising is that it is a little movement of the head of the user who is wearing and playing the game, and in view of the ability to secure a wide field of view even with less head movement than other VR headsets by eye tracking technology did. Also, this "little movement of the head" seems to play a role in alleviating VR sickness.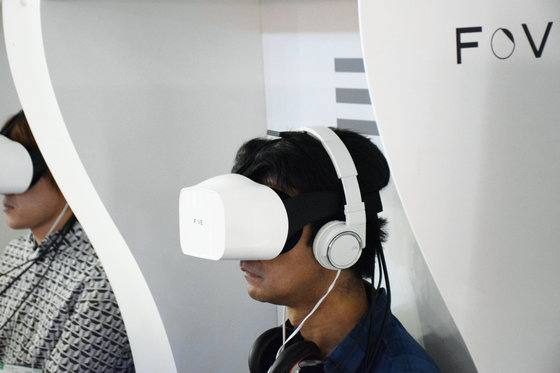 In the exercise, we attach FOVE and have a controller at hand.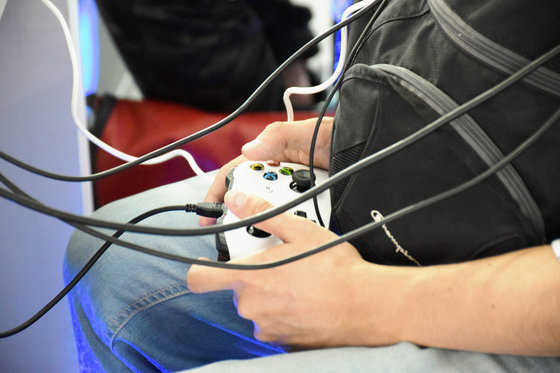 In the booth you can see the FOVE play screen without going through the test.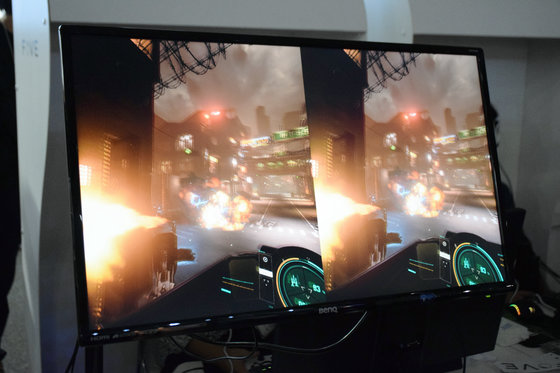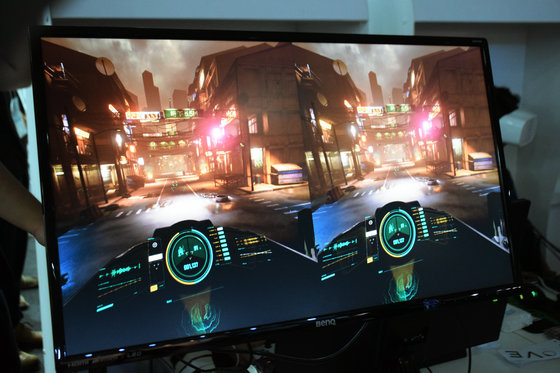 The cursor near the center of the screen shows the line of sight of the FOVE wearer, and you can see the Aim of the shooting game moves following it.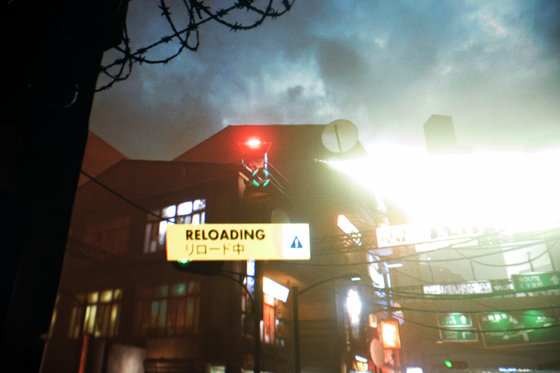 ·Building blocks
In building blocks, you can experience "BLAST × BLAST" of VR game using VR ride simulator "SIMVR".



This is the VR ride simulator "SIMVR".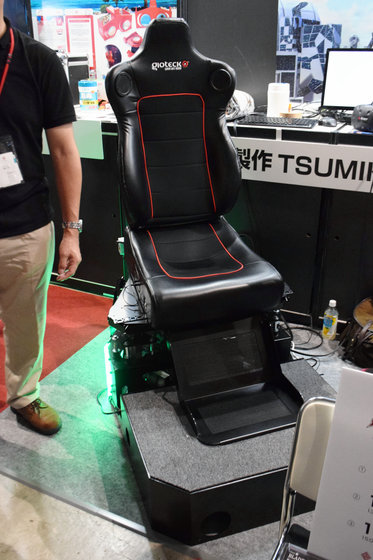 When playing the game, SIMVR vibrates according to the contents. This makes it possible to enjoy a higher immersion in VR.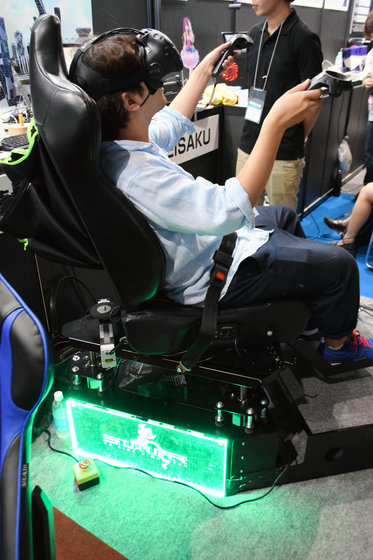 ·Media front · Japan
It is the booth of Media Front Japan that made the attraction-like look more attractive than other VR booths.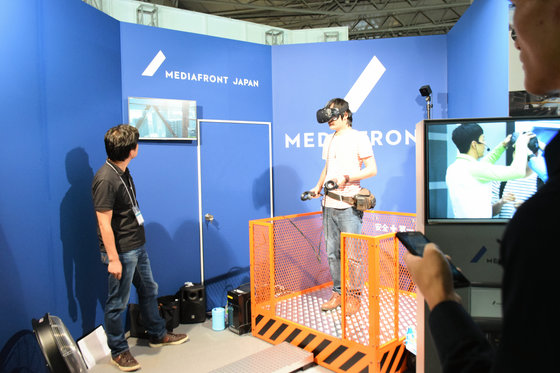 You can standing on something like an elevator and experience VR content.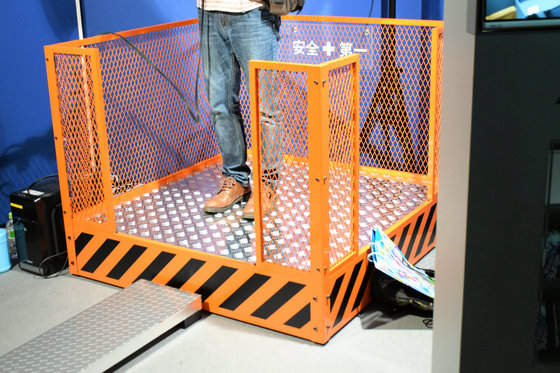 I am playing FPS with HTC Vive ......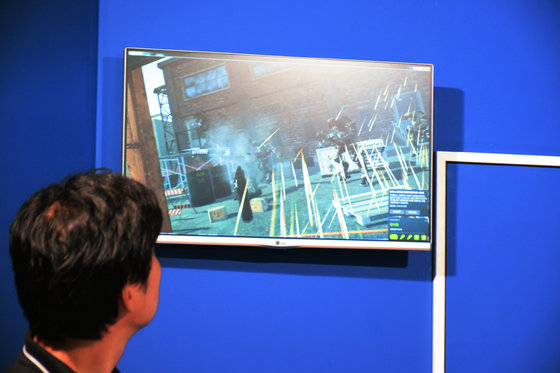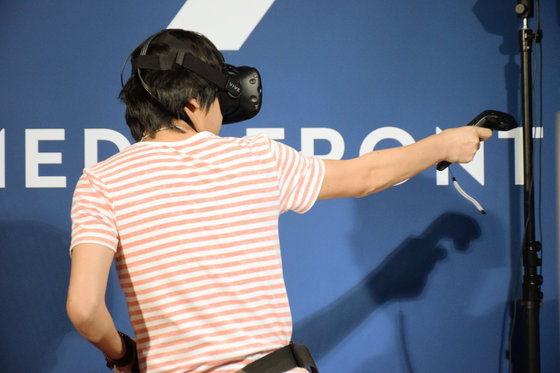 It was very impressive how to play on a special stage adapted to the game contents.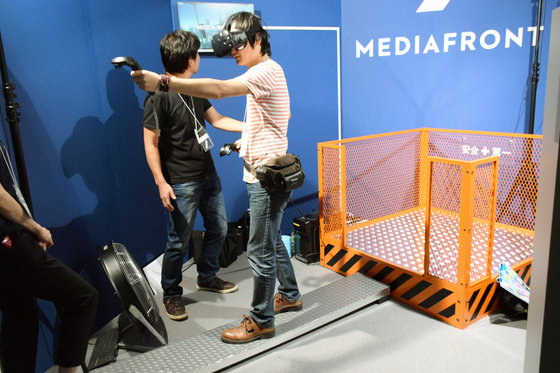 ·HTC
Even at the VR corner, at a big HTC booth, VR experiences collaborating with various contents are made possible.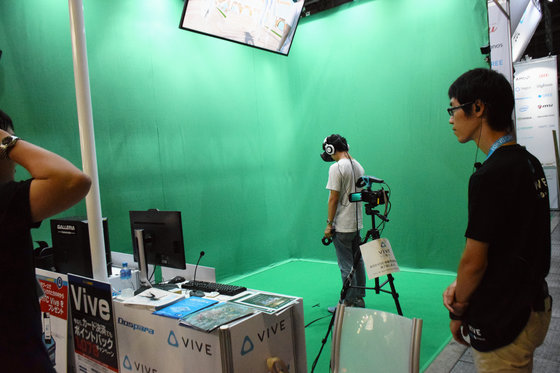 For example, this is an experiencing booth of "divergent Million Arthur VR"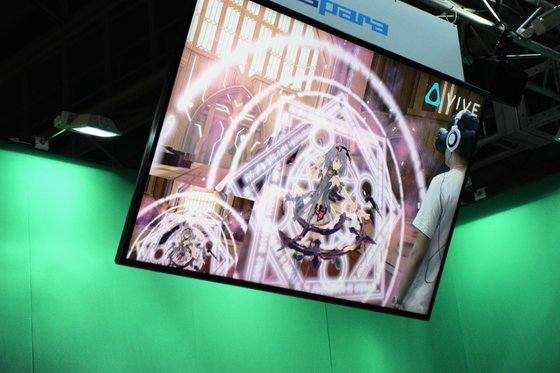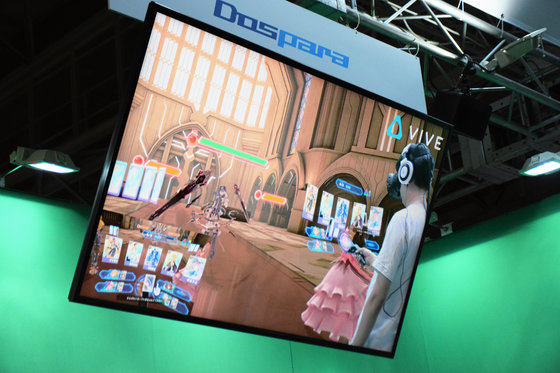 Furthermore, next generation VR multi-communication by KDDILinked-door.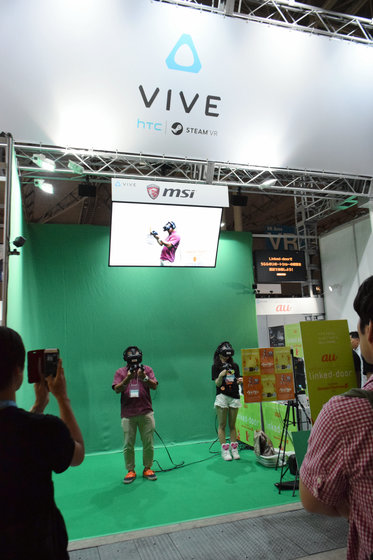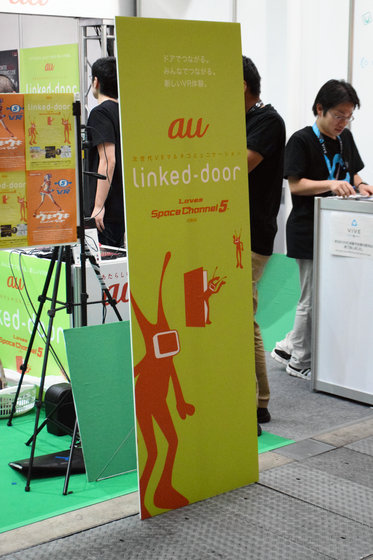 At the HTC booth, even people who do not have VRs synthesize VR wearers into VR content and display them on a monitor so that "what kind of experience they are doing" is easy to understand.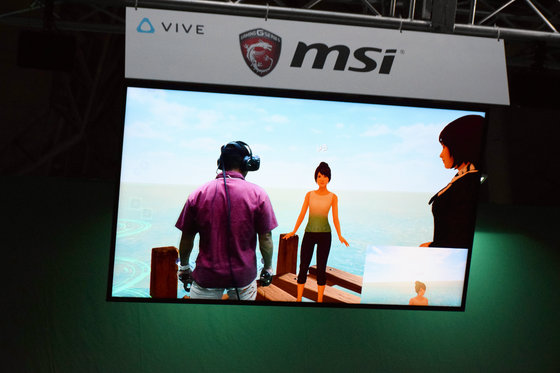 further,Kodansha"Hop Step Sing!" Booth of VR Idol Star Project by.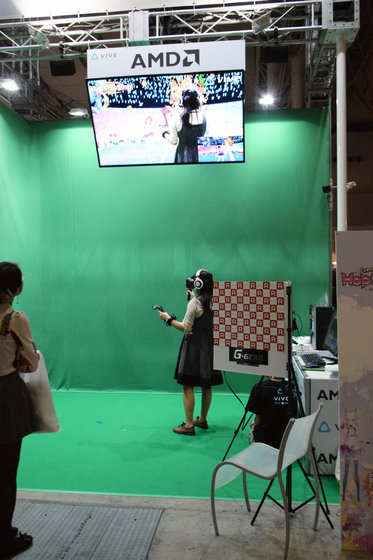 Hop Step Sing! You can experience the live appearance of characters by VR.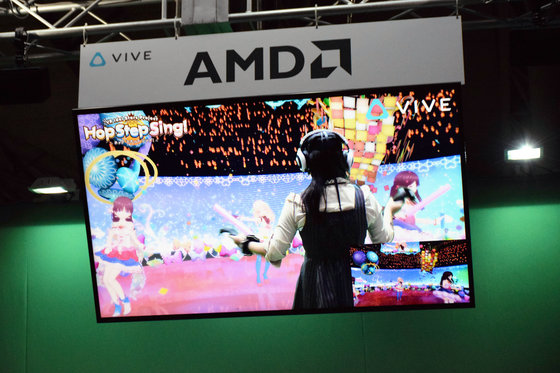 By shaking the HTC Vive, it was possible to enjoy content unique to VR, which means that psyllium can be shaken in the game.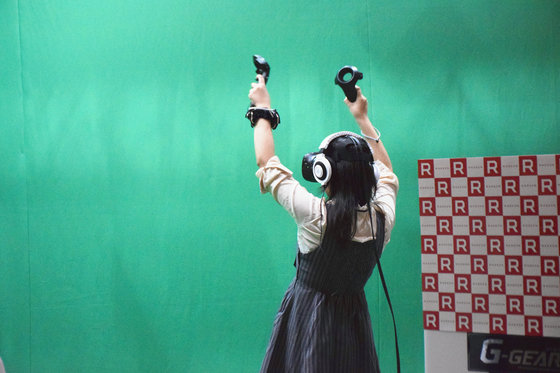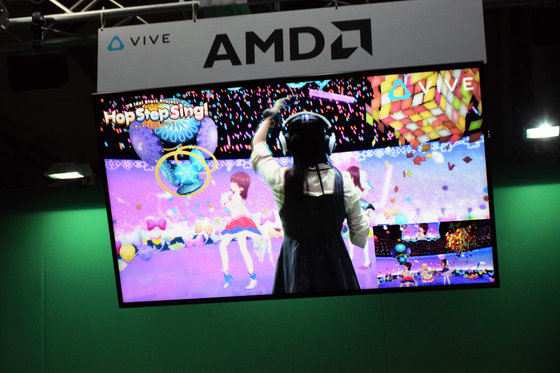 ·CCS Reporter
VR contents of "KING OF PRISM by Pretty Rhythm" and "Poppin Q" were on display at the CS Reporter's booth.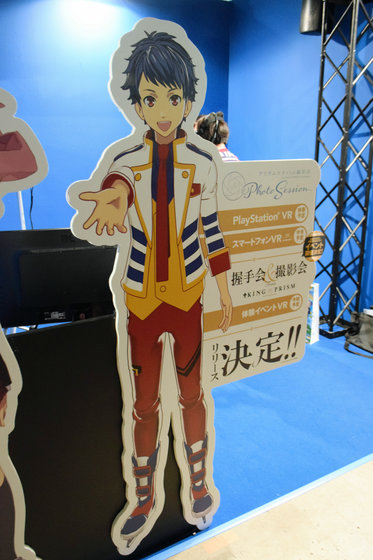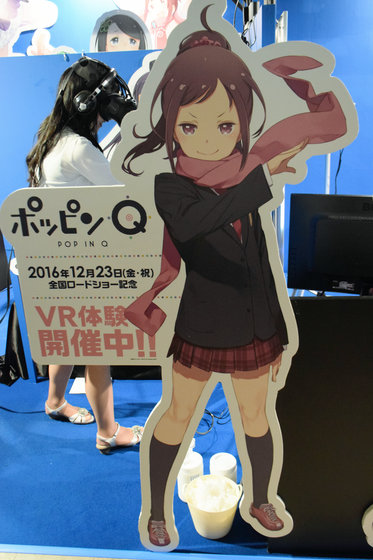 Anyway a lot of fans gathered, the purpose is ......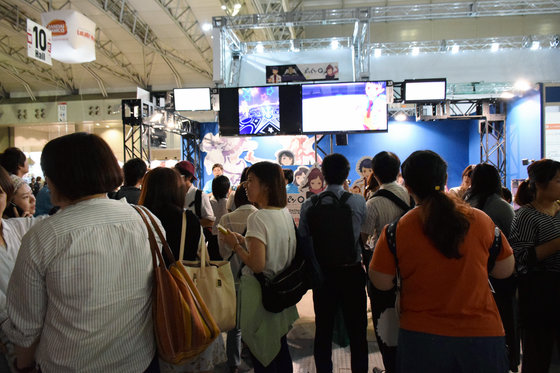 Handshake with KING OF PRISM by Pretty Rhythm (Kimpuri).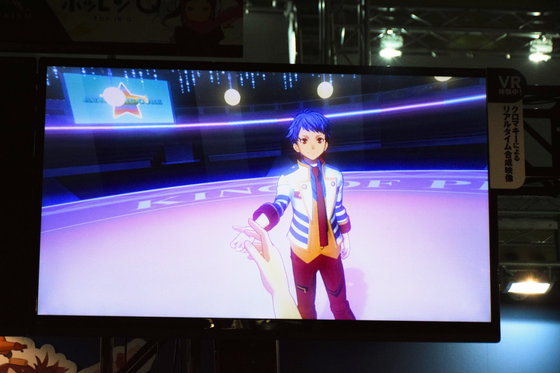 When you actually shake hands like this. It was a handshake meeting featuring a fairly future that I shook hands with HTC Vive.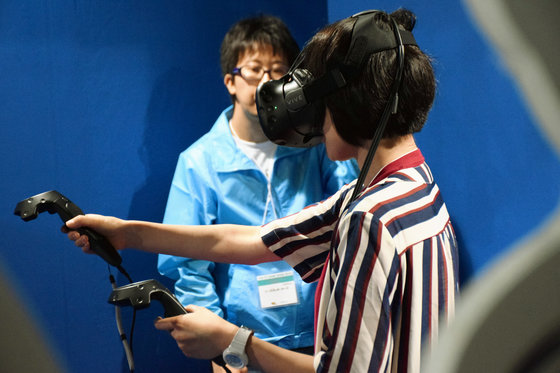 · Shenzhen Dlodlo Technologies
There were also many waiting queues in the Dlodlo booth.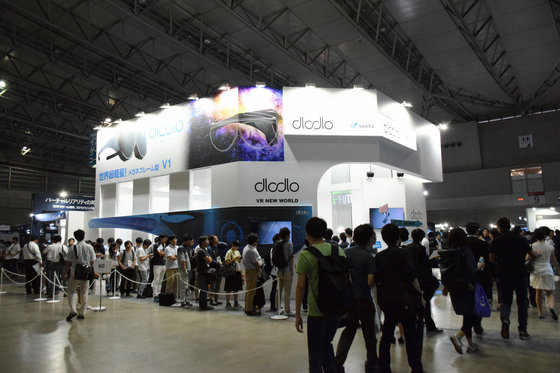 Here you can experience Dlodlo's latest VR headset "V1". This is a light VR headset that is only 88 grams.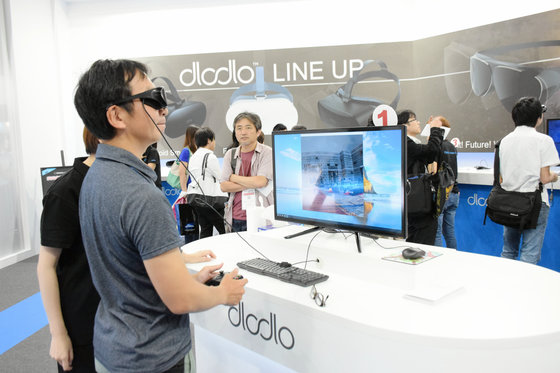 The output video can be checked on the monitor.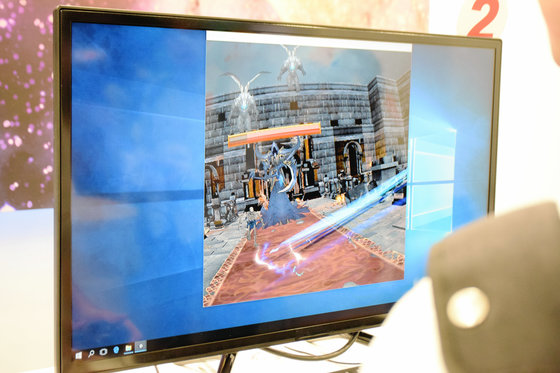 V1 body is very compact.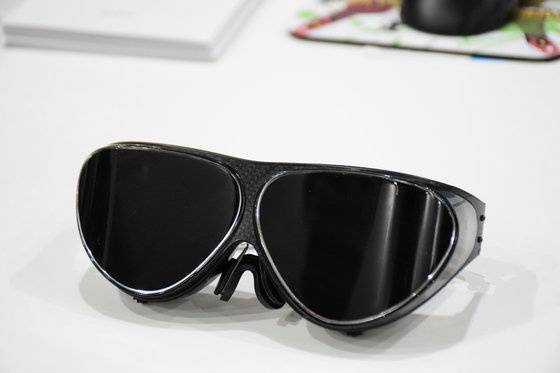 Point is an eyeglass type device, there is not a band etc. which fixes a device like other VR headset to the head. V1 is easy to wear glasses as it can be worn easily, you can enjoy VR without breaking the hair style you set. The experience booth seems to have loosened the feeling of wearing so that various people can wear it, but when he actually purchases it can improve the fit more.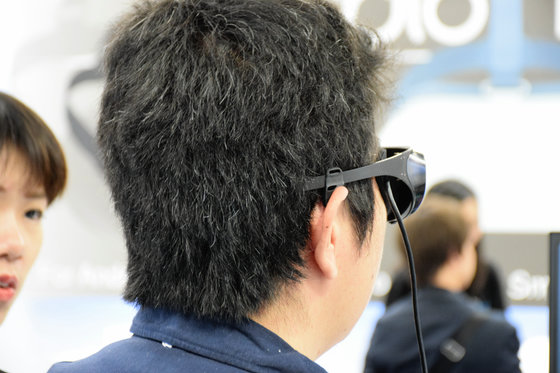 In the Dlodlo booth, in addition to 88g VR headset V1, "H2" for Android, "A1" for iPhone, and "X1" which can operate by itself can also be exhibited.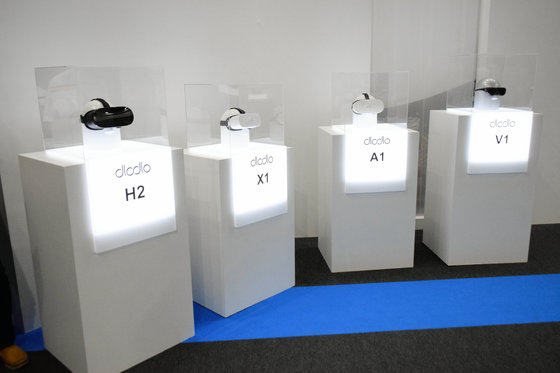 ·FUTURETOWN
FUTURETOWN booth where several characteristic controllers exclusive for VR were displayed.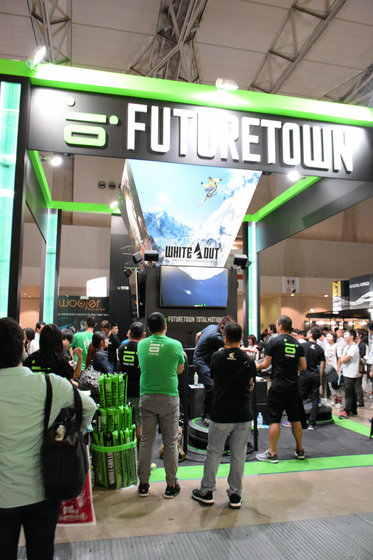 It's "WHITE OUT" that you can ski in ski with VR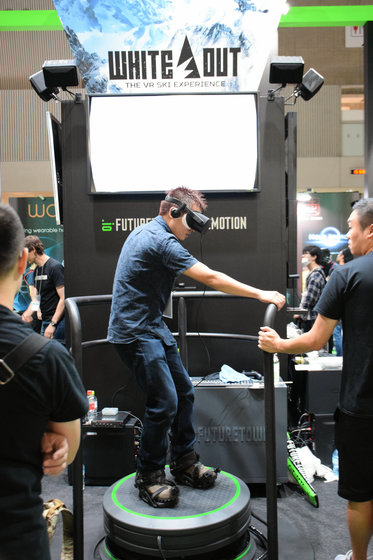 Mount the VR headset and slide the skis on the platform that moves.



A unique feeling of operation enhances the immersion to VR.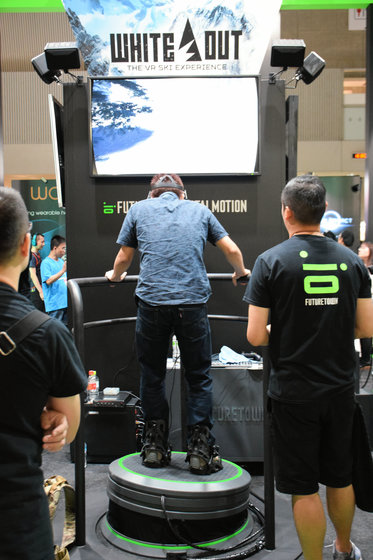 Here is a VR game called "INFINITY RIDER VR".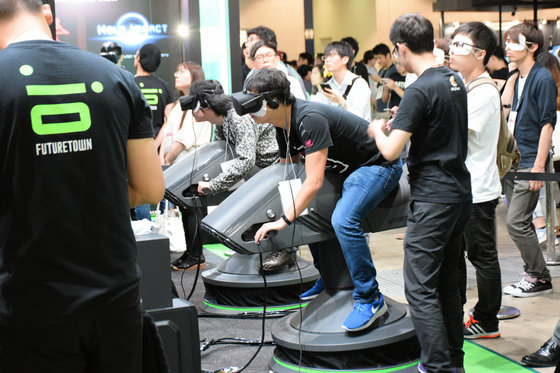 As you can see, you can ride a bike type VR ride to experience the race.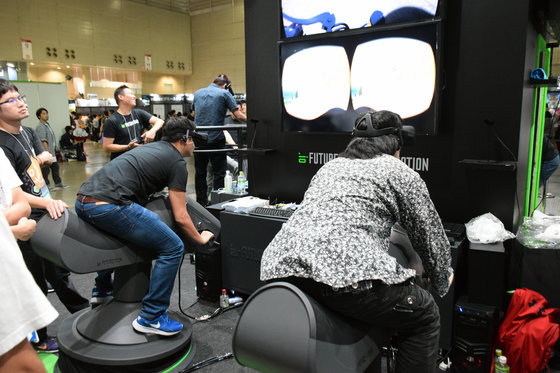 This is a VR game that adventures by riding the horse "STALLION adventures".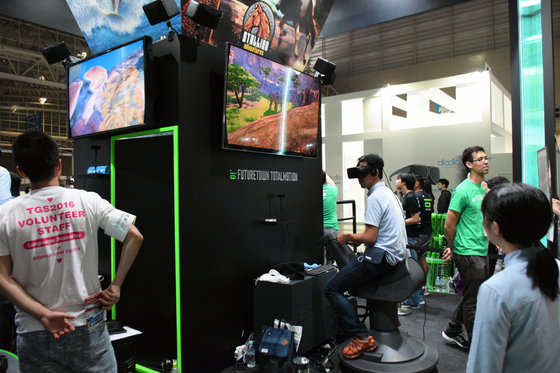 It reproduces the movement when the unique shape of the VR ride got on the horse.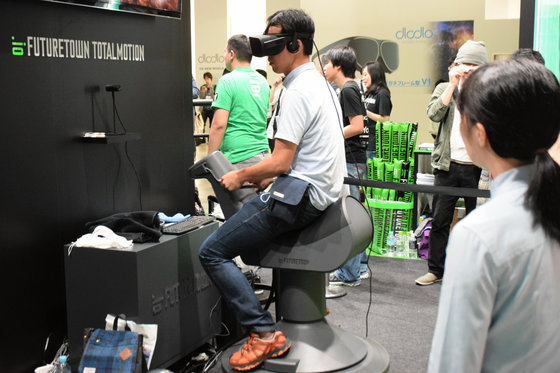 In addition, "Wave Breaker" enjoy using the same VR ride as "WHITE OUT". This is a VR game where you can enjoy surfing instead of skiing.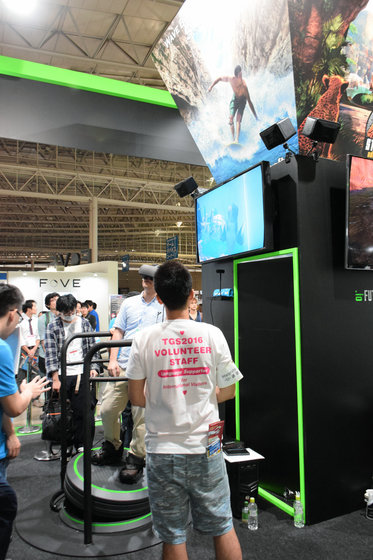 In addition, at the Tokyo Game Show 2016 there were plenty of VR related content besides these.

Anyone can do her in JK PS VR game "Summer Lesson: Miyamoto Hikari Seven Days Room" Experience - GIGAZINE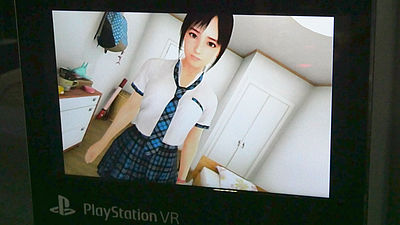 Idol of longing gave a lively singing performance in front of me and I experienced deluxe & excitement Max's PS VR "Deremus" - GIGAZINE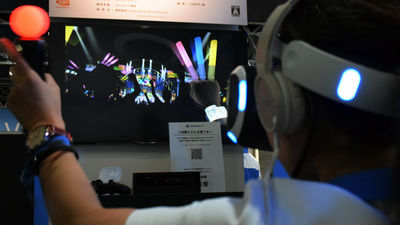 Game that can not return to ordinary controller anymore, compatible with virtual space PS VR dedicated Gancon "Farpoint" - GIGAZINE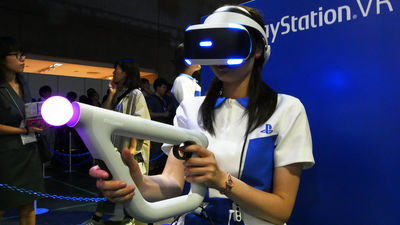 Domestic first exhibition of the latest biotechnology series "BIO HAZARD 7 RESIDENT EVIL" that can taste the ultimate fear Demonstration trial repo - GIGAZINE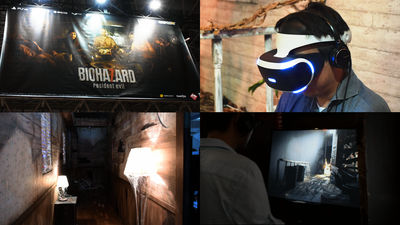 · 20th September 20th 21: 45h 00s
VR head mount display "VRG-9020" capable of 4K compatibility and standalone operation with only 200g - GIGAZINE