At the experiences meeting of "PlayStation VR" which the reservation reception ended with a blowout, I told my parting to the real world and traveled to the virtual space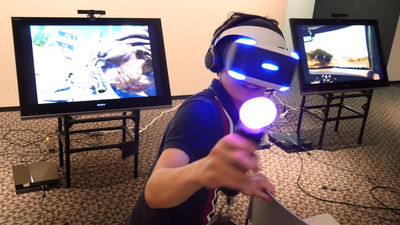 The VR system scheduled to be released on October 13, 2016 "PlayStation VR(PS VR) "will be out of stock in the moment the reservation reception started on June 18th and will be out of stock from Sony Interactive Entertainment Japan Asia and next time reservations regarding reservedOfficial announcementIt has become a product with a high degree of attention that is done.Reservation acceptance resumes on a limited quantity since July 23PS VR that was supposed to be played and participating in a media experiencing society where you can experience the latest games, so what kind of product is the product of PS VR, the game that you can play in virtual space I have actually experienced what kind of content it is.

PlayStation VR | PlayStation Official Site
http://www.jp.playstation.com/psvr/

◆ PlayStation VR
Meet PS VR at the Experience Meeting venue. On the right side is PlayStation Move (PS Move) which can also be used as a PS VR controller. It is the LED light that shines blue in front of the PS VR, which allows the PlayStation Camera to track the position and movement of the user's head mounted.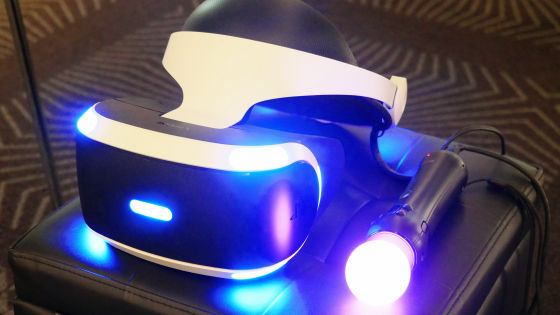 Curves that draw smooth curves are heavily used for the entire hard design, and it also has beauty as a product.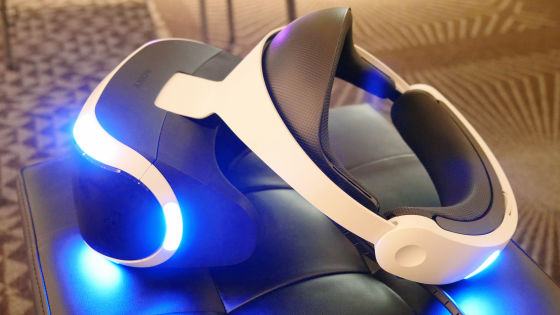 Two LED lights are also mounted on the head band, tracking nine LED lights in total. A headband release button that adjusts the length of the headband in such a way as to be sandwiched between the LED lights is arranged.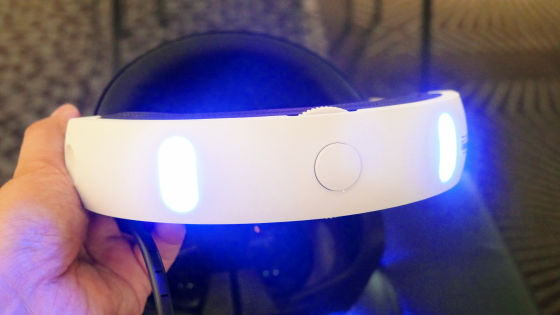 Arrange the adjustment dial to adjust the degree of tightness in the headband part. With the headband release button and the adjustment dial, it is not too tight when PS VR is attached, and exquisite wearability that it is not too loose is realized.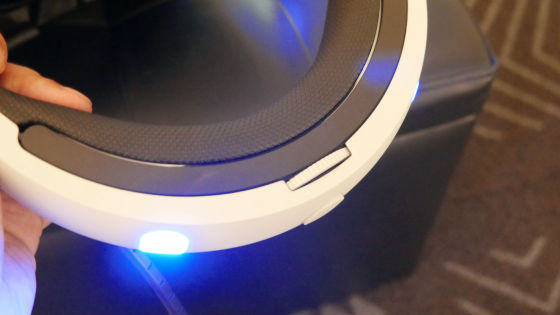 Spacious space design that can be worn while wearing glasses inside.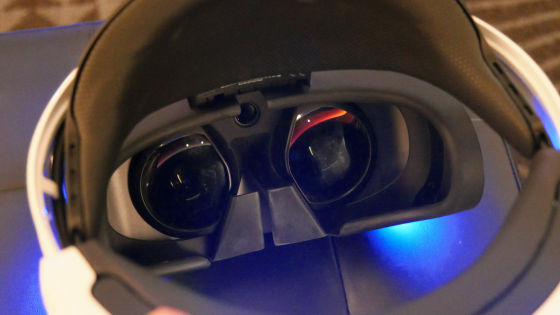 In addition, it is clear that the cover is also attached to the part where the nose fits, and it is clear that it is designed to be comfortable wearing property.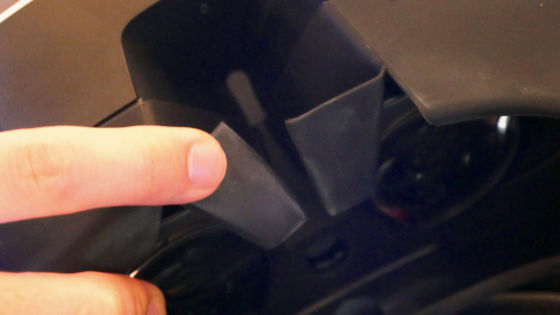 A cushioning soft material is applied to the surface of the headband and the scope section that comes in contact with the head.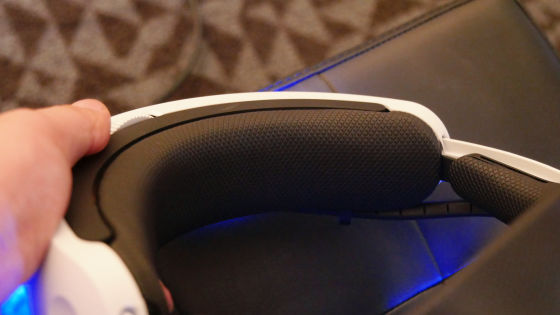 Also equipped with a sliding button (bottom left image) on the bottom of the scope. While holding down this and sliding the scope ......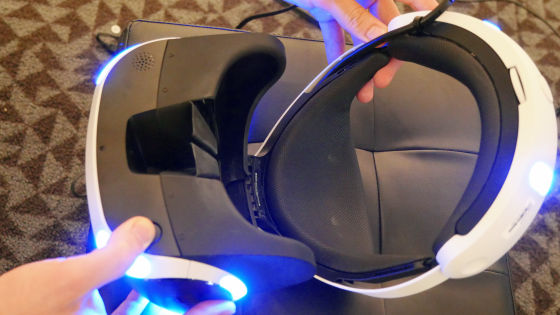 The scope can be adjusted back and forth to adjust the length.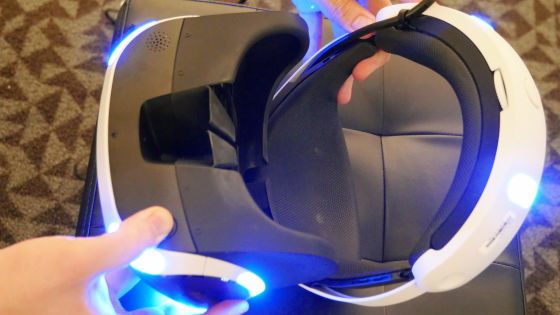 The weight of the VR headset is surprising to have PS VR. It weighs about 610 g without a cable, it is lighter than expected if you take it with your hands. Also, not only the front scope part is heavy, but also the rear part of the headband is given a heavy feeling, and the point that balances the front and the back is also a point. By balancing the front and back, it is designed so that users will not get tired even if they are wearing for a long time.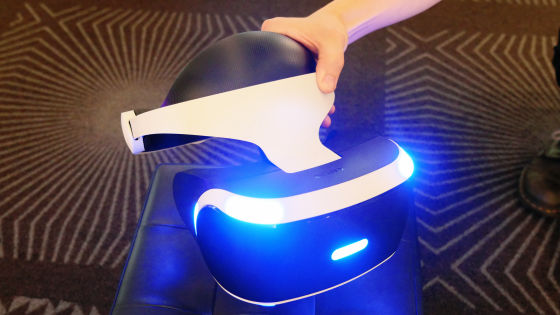 This is a processor unit shipped with PS VR. "3D audio processing" realizing three-dimensional sound "Social screen" which can display different images on PS VR and monitor · "Cinematic mode" which enables you to watch huge screen in virtual spaceThree treatmentsI will do.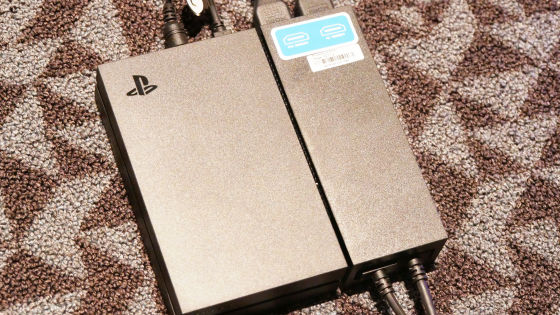 On the top is a PlayStation logo.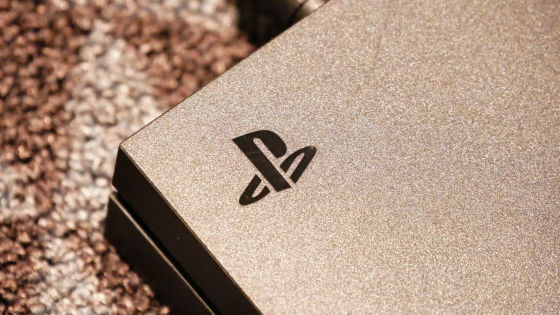 Two HDMI ports are installed, TV and PS 4.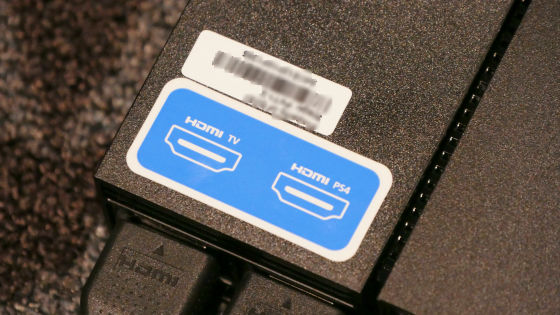 On the back of the processor unit are a USB port and a power input terminal in addition to the HDMI port.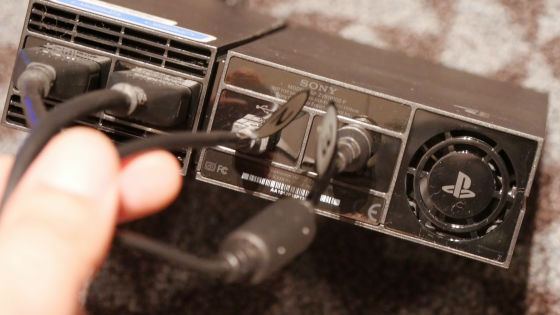 From the front side, the dedicated cable connected to PS VR is extending.



The size of the processor unit is about 143 × 36 × 143 mm, and it is like this when aligned with PS Move. Because it is compact, it seems not to be troubled by the installation location.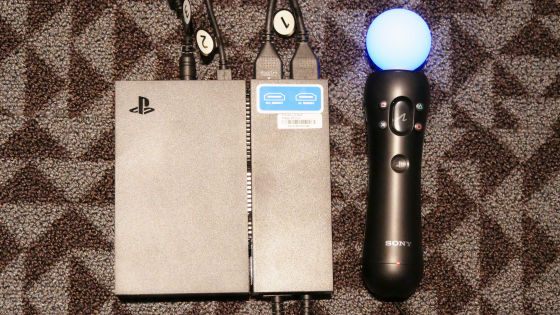 After seeing the PS VR thoroughly, I got the demonstration of the latest VR game to be experienced one step before the release.

◆ Batman: Arkham VR
The first thing I played was the "E3 2016 PlayStation Press Conference"Batman: Arkham VR" demonstration was announced.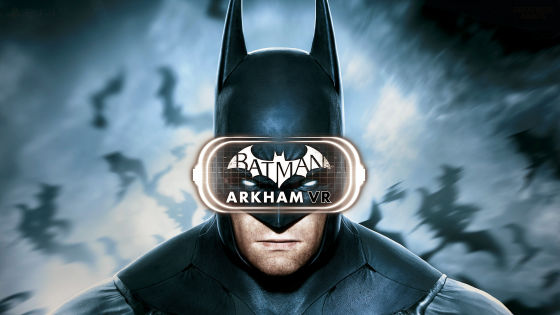 You can check the trailer of "Batman: Arkham VR" from the following movie.

Game "Batman: Arkham VR" to be released in October 2016 - YouTube


Batman: Arkham VR wears PS VR and plays PS Move with both hands. You can also play with PS4's controller.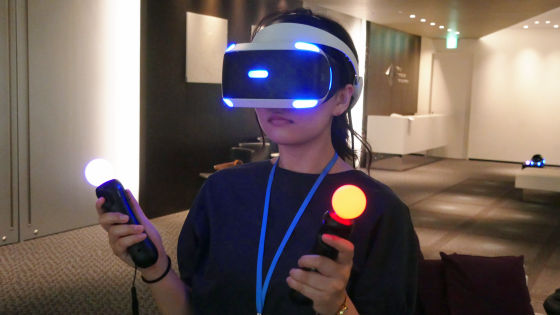 The demo I played was divided into two parts, "Transformed into Batman" and "Investigation of a case by becoming a Batman." In the part that turns into Batman, it turned out to be a tutorial for becoming a Batman to turn on Batman in a bat cabe, equip a familiar gadget such as Bat Lang or Grapple Gun and use each gadget It was.

Batman: It was an operation using PS Move that was amazing personally at Arkham VR. By using PS Move you can do a variety of movements, such as grasping things, throwing Bat Lang, launching grapple guns, and this makes it possible to feel "immersive" that you are now a Batman! You can taste.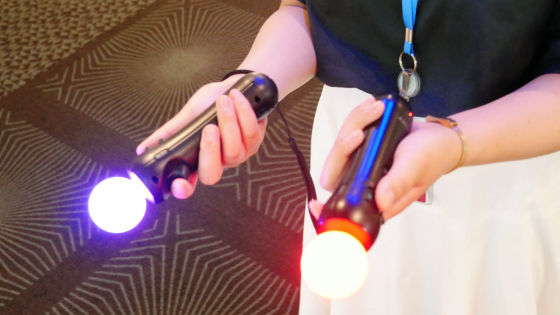 For example, when throwing a bat-run, just grasp the bat lan equipped per abdomen by pushing the trigger of PS Move ......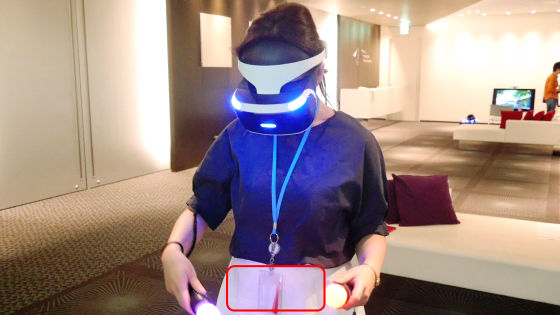 Leave it as it is ......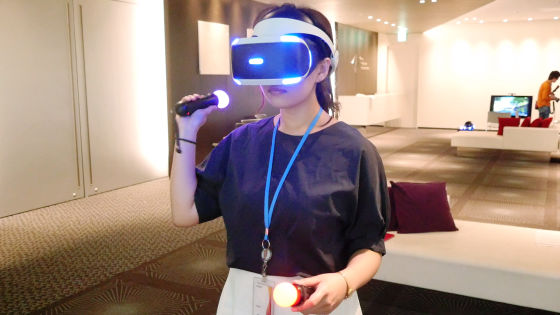 Just toss it forward with Poit. Linking the virtual space and the movement of the real world player makes it possible to experience a strong immersive feeling that really makes himself a Batman.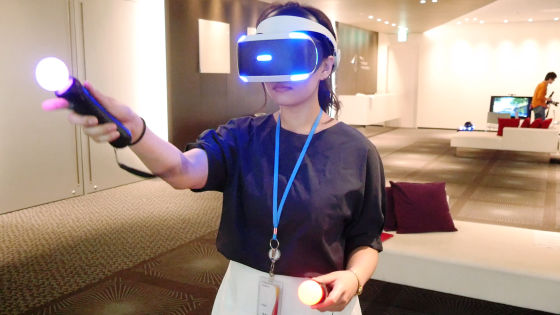 "Investigation of an incident by becoming a Batman" is a process that collects fingerprints at the scene of a murder case, reproduces images of the time of the crime, and has become a Batman in the Detective Mode that also appeared in the game "Batman: Arkham Night" It is what you can experience. There was no action to beat out the enemies exhilaratingly, but the Batman World reproduced in the virtual space was a word of "amazing".

After experiencing DemoPlay, I asked Dax Ginn, brand marketing producer of Rocksteady who is developing Batman: Arkham VR, to be worried.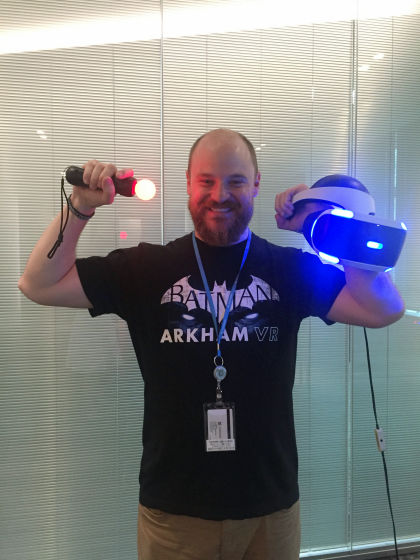 GIGAZINE:
Demo play did not move around freely, it was a mechanism to move a pre-specified place (viewpoint), but will this mechanism be the same mechanism?

Dax Ginn:
I think navigation style will increase like moving to demo. Although it is not an alternative, I am pursuing a navigation style that can be operated intuitively, such as throwing a bat rung.

GIGAZINE:
Although there was a scene to see a fierce battle in the demonstration, I felt that a considerable skill is necessary to do that fast deployment battle by myself. Is there a scene where users participate in the battle in this volume?

Dax Ginn:
It's a very good feedback. I think that there will be no battle, basically going to the main as a mysterious mystery to find the culprit who killed Batman's homie. It's not an open world but you can enjoy the real pleasure of moving through Gotham City by becoming Batman.

BATMAN: ARKHAM VR software © 2016 Warner Bros. Entertainment Inc. Developed by Rocksteady Studios.
BATMAN and all characters, their distinctive likenesses, and related elements are trademarks of DC Comics © 2016. All Rights Reserved. WB GAMES LOGO, WB SHIELD: & amp; © Warner Bros. Entertainment Inc. (s 16)

◆ FINAL FANTASY XV VR EXPERIENCE
Next time I played Batman: Arkham VR, "FINAL FANTASY XV VR EXPERIENCE" where VR compliance was announced at E3 2016 PlayStation Press Conference.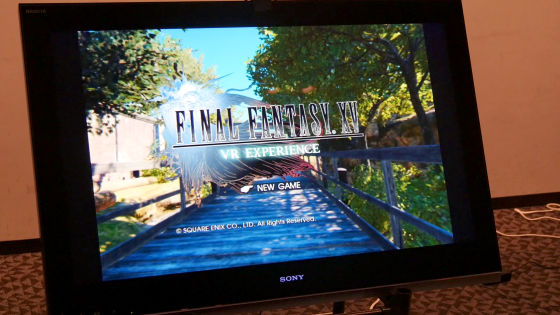 The beautiful scenery spreads out when you look around the title screen, and it will be dragged into the world of FINAL FANTASY XV from the moment when PS VR is worn.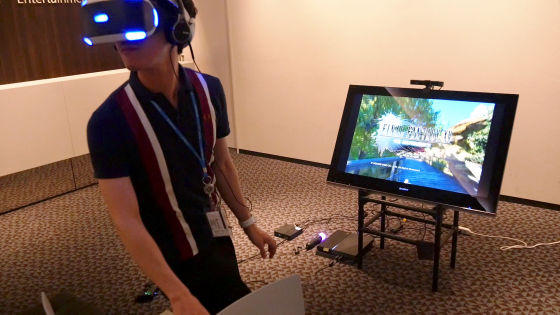 The player manipulates a prompt with a gun as a weapon, and a battle with a monster attacking with Gladiolas and Noctis, Ignis.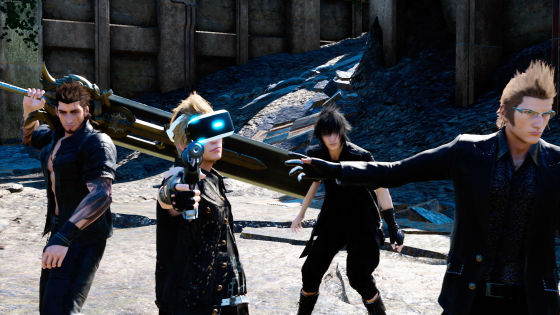 The player fights is the familiar behemoth in the FF series.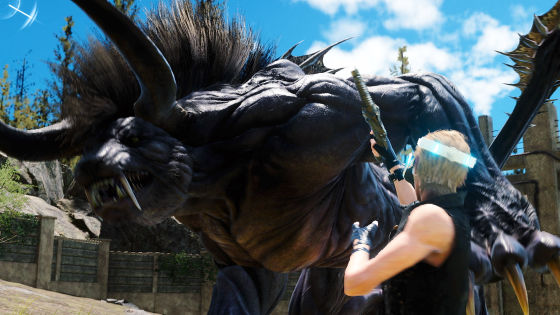 Actually you can see "FINAL FANTASY XV VR EXPERIENCE" playing from the following movie.

Playing "FINAL FANTASY XV VR EXPERIENCE" on PlayStation VR will be like this - YouTube


When demonstration play is started, a huge behemoth appears in front of you. First of all, I am sure you will be amazed at the size of the behemoth. With the surprise, I felt the impression that that Behemoth was rampant in front of my own eyes.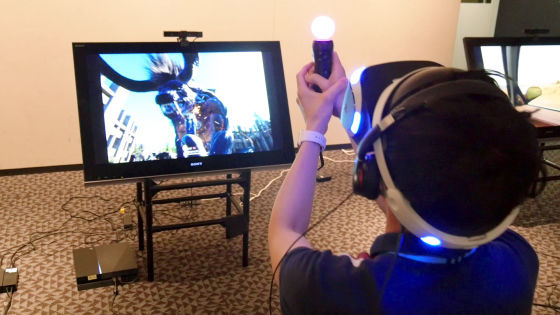 Shoot PS Move instead of guns and fight against Behemoth. Demo play is a style in which you move around a designated place rather than moving around the field.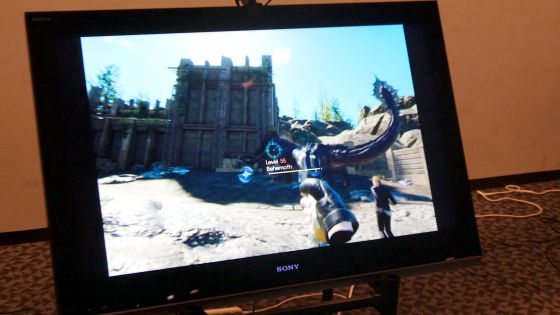 Since Behemoth runs around the field, players may fight backward and sometimes fight.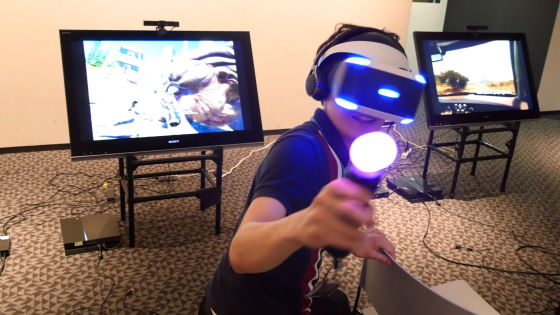 When Behemoth wields arms swiftly and attacks ... ...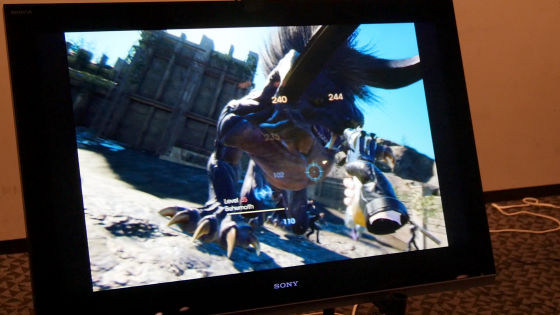 Unexpectedly the level where the body scooped out as "Geez! Danger!"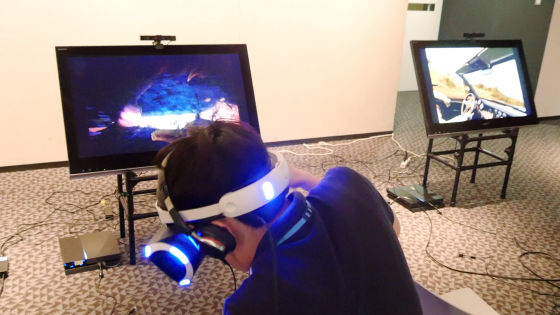 I managed to destroy Behemoth somehow.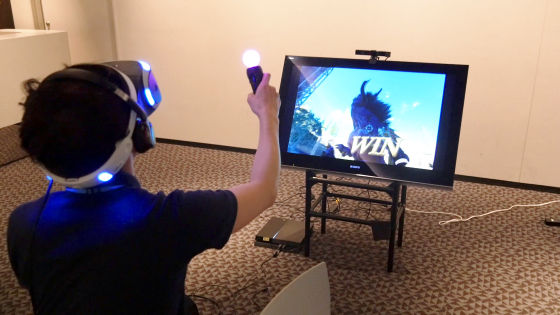 After defeating Behemoth, I went to the drive demonstration.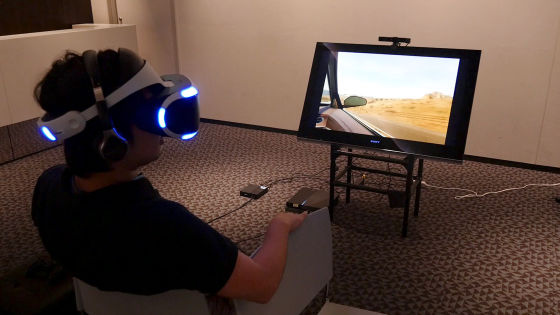 Turning to the left, Sydney is driving.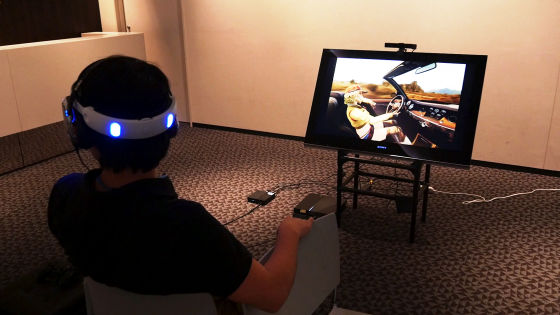 When I actually play, I am nervous without thinking of the unrealistic event that the transcendental beauty is driving next to it.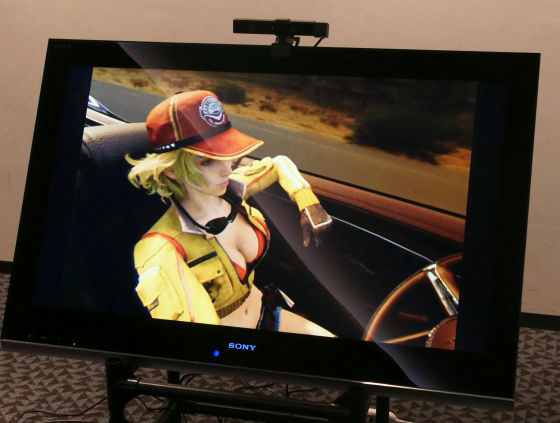 As I was staring at you, Sydney looked back at me, so it was an editorial staff who tossed out as "sorry, sorry".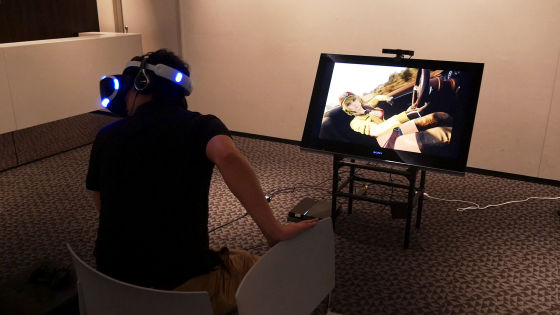 © SQUARE ENIX CO., LTD. All Rights Reserved. MAIN CHARACTER DESIGN: TETSUYA NOMURA

◆ Until Dawn: Rush of Blood
Next I will play a demo of PS VR titled "Until Dawn: Rush of Blood" announced at PlayStation Media Preview held in Paris on 27th October 2015. Until Dawn: Rush of Blood is a game "Until Dawn - The tragedy of the tragedy -It is a first person viewpoint horror shooting game with the theme of "Theme."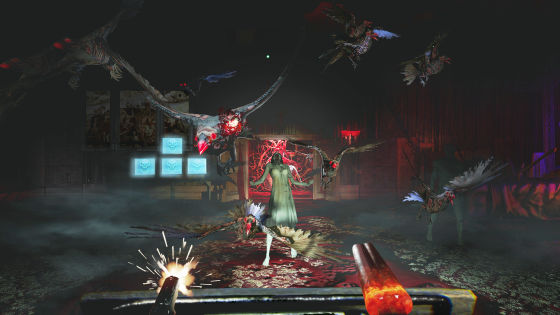 Until Dawn: Rush of Blood can play with PS Move x 2 units even with the controller. A hand with PS Move is displayed as a hand with a gun on the screen, and the game progresses while shooting a creature with a gun. In the image I play using PS Move × 1, but playing with PS Move × 2 units is the right playing method.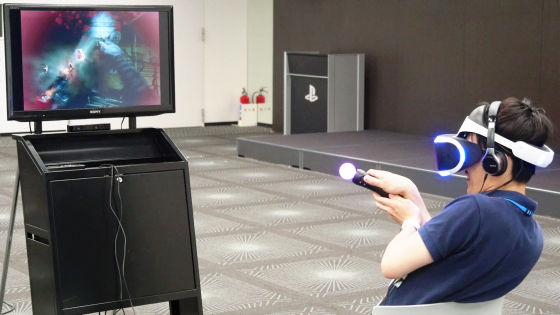 Actually you can see how you play Until Dawn: Rush of Blood from the following movie.

Play PlayStation VR dedicated title horror shooting game "Until Dawn Rush of Blood" - YouTube


The player does not move by manipulating it by himself, but moves on a trolley that advances arbitrarily. Movement is automatic so you can concentrate on shooting while scooping around.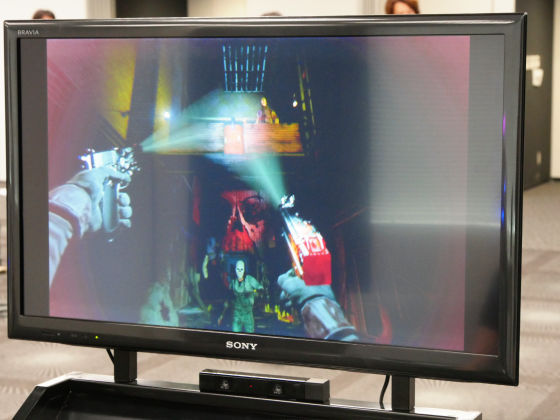 Suddenly creatures will appear or the suddenly the lights will disappear The surprises will surprise me as much as to raise my voice and I will steadily get into the game world.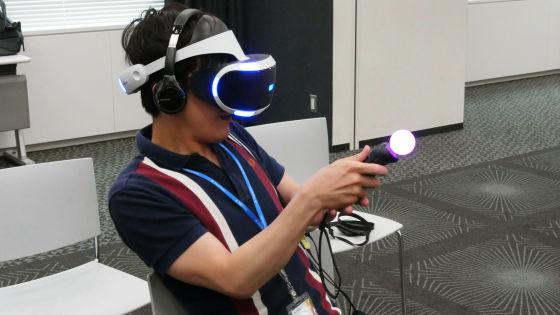 When such a horrible creature comes closer to your eyes ... ...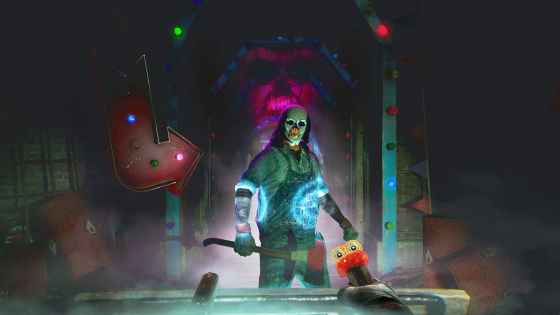 Shocking while screaming "Wow !!!". It is an honest impression that the feeling of immersion is not half end, "I was really scared!"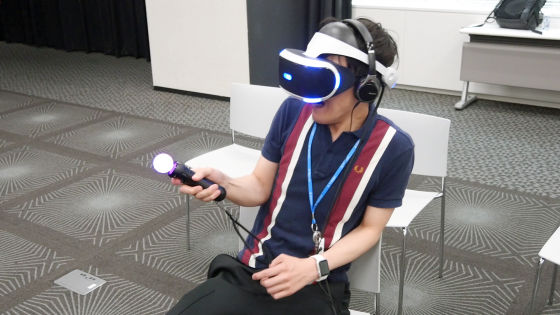 The state of the player who is playing can be seen from the following. You should know how much fear the player feels.

Played a horror shooting game "Until Dawn Rush of Blood" for PlayStation VR exclusive title - YouTube


While I am surprised many times, the shoulder is always scooped while playing.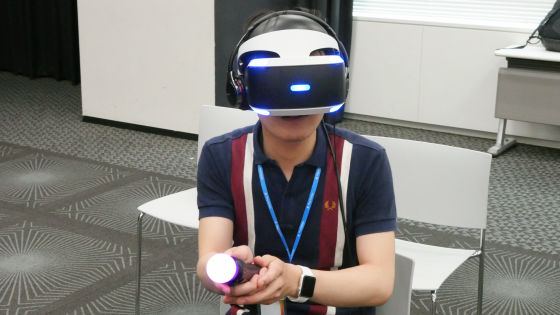 If the bullet runs out, we have to reload it, but as soon as a creature comes close to eyes it is a panic attack and we can not reload. Until Dawn: Rush of Blood is so scared that I am surprised and I realize that the compatibility of horror and VR is so messy. Horror content is likely to be a genre of VR games that can be expected quite a bit in the future.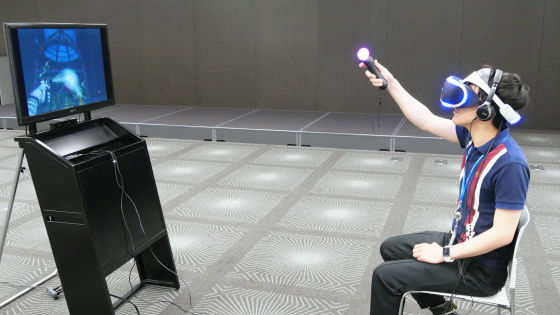 © Sony Computer Entertainment Europe

◆ JOYSOUND VR
Next experience was the demonstration play of "JOYSOUND VR". JOYSOUND VR is next generation home karaoke, article writing It is said that it will become possible to play by upgrading "JOYSOUND. TV PLUS" currently being offered.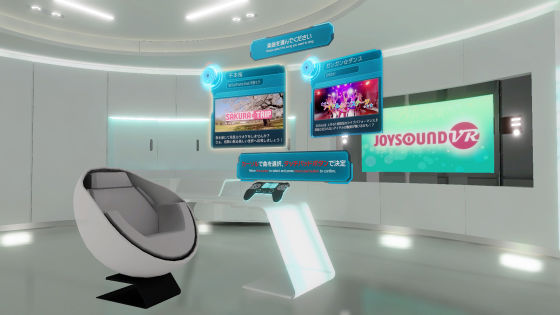 JOYSOUND VR includes "VR background image" that can enjoy VR karaoke with original images and songs of over 100,000 songs, including scenes such as dates and recordings under the cherry blossoms in full bloom and the sun shining down, and selling as download-only content Two modes of "VR personal image" which can experience the original 360 degree video of the planned artist himself are installed.



First of all, I will play "Beauty Karaoke" which can be dated with two beautiful girls from a VR background picture.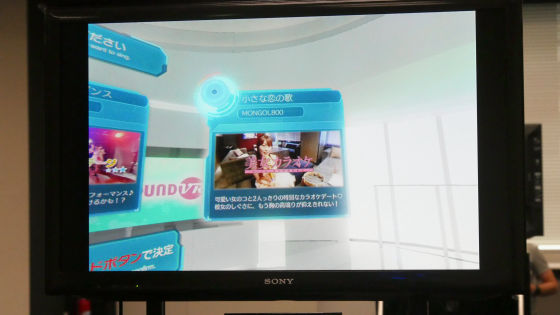 When the beautiful karaoke begins, warp to the karaoke room with just the beautiful woman and two people.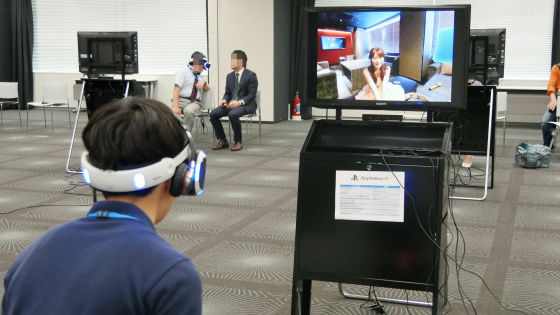 On the left the beautiful woman claps the tambourine and it will rise.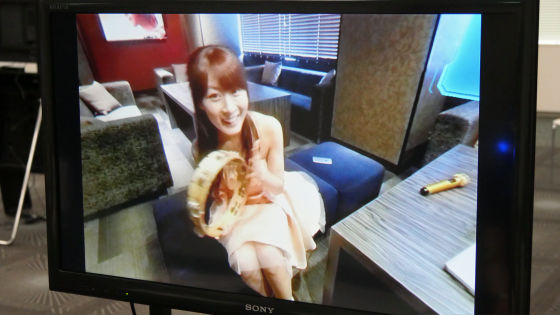 The beautiful karaoke really has a presence like the woman lies side by side, and the feeling that you are together with your knees standing together is a sense of distance to an intimate person so do not be afraid. Immersion feeling is pretty real by being a live-action photograph. It seemed to me that it was the strongest version of one karaoke at home, clapping hands to the song and hitting the tambourine. Also, I felt the development team's enthusiasm for the fact that women included scenes that bent before dropping the tambourines.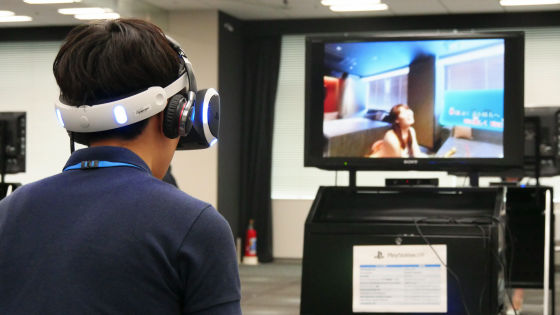 Next, I play "VR personal image" which can experience the original 360-degree video of the artist himself.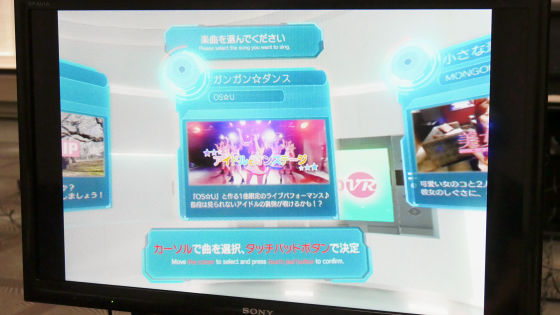 The picture starts from the dressing room before the live.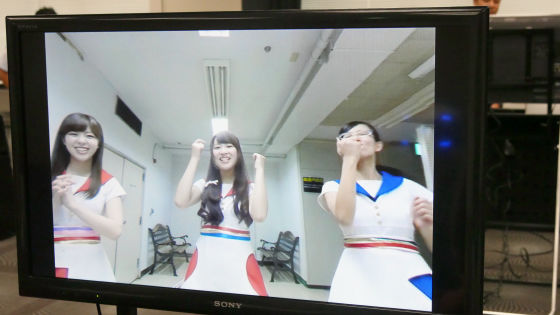 Put your hands in front ......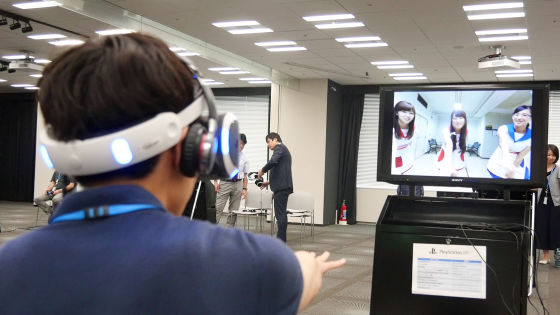 There are exchanges such as "Oh!" And I feel like I'm really a member of an idol.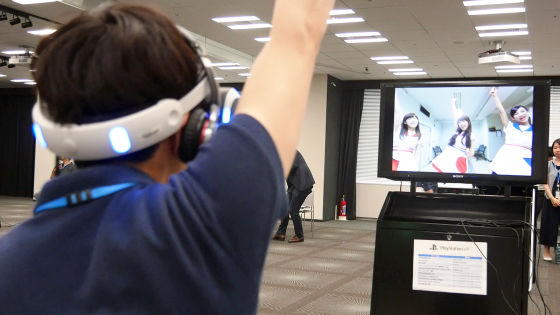 And go to live go. To sing along and dance on stage is a unique experience of VR.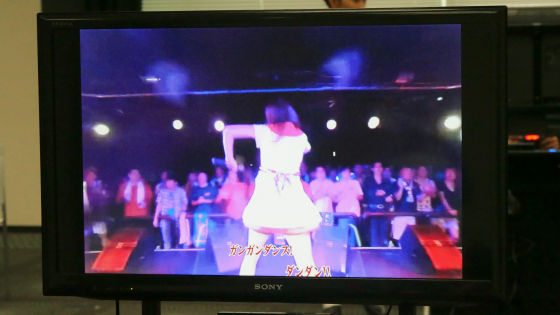 It is also ant to move to the front row of the stage and enjoy the live in front of you.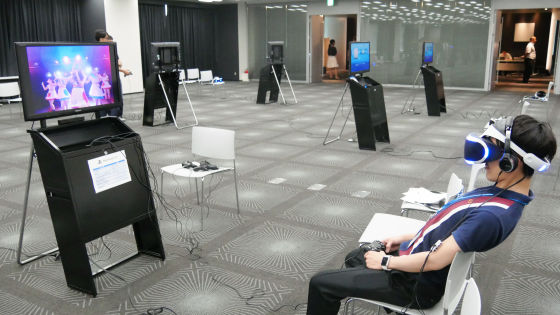 At first I was embarrassed editorial staff, but gradually started clapping.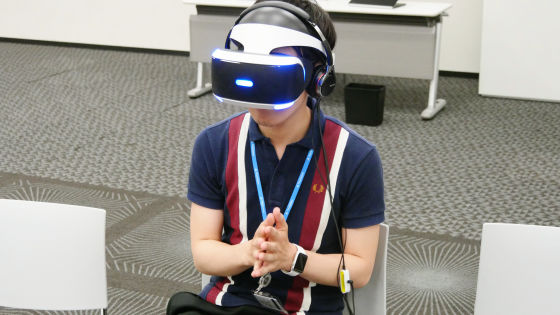 During the live excitement involving spectators ......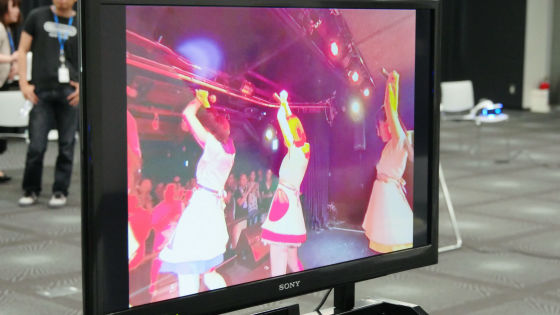 I thrust up my fist and it is exciting.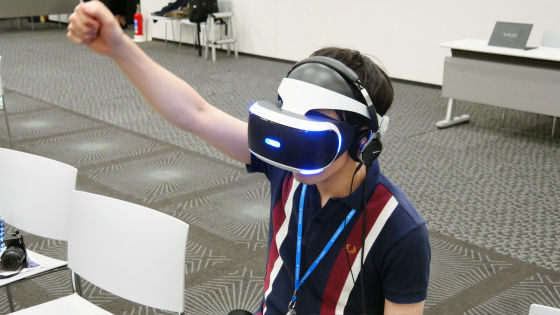 After the live was over, I sent a thumbs up gesture to the members and was praising a good fight. Because "VR personal image" feels like being in the same space as a real artist, if you like your favorite artist, it seems to be more fun.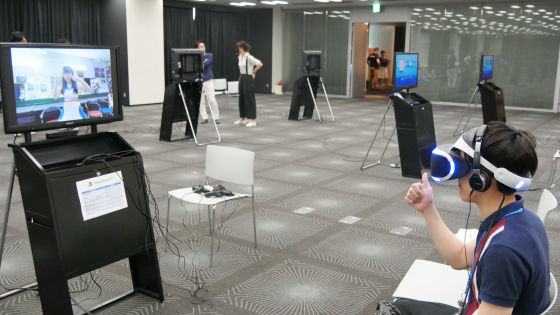 © XING INC.

◆ Summer Lesson (Tentative)
Presentation Although our company was developed as a technology demonstration of VR, I tried the demonstration play of "Summer Lesson (Tentative)" which was carried to appear as an official title because there was too much response. .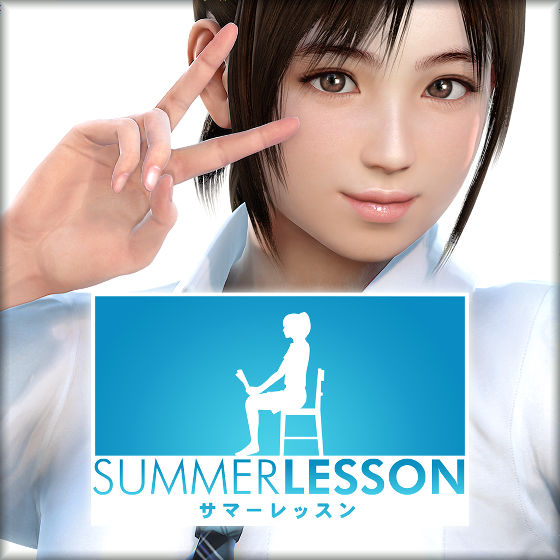 Summer lesson (provisional) is content that enjoys communication with female characters in virtual space. At the moment of entering the room, I am frightened in a room that is not familiar, and a woman character is coming next to me and I am puzzled twice. Perplexing is a feeling that is close to being shy, and the scene showing the notes is not so far as the female high school student's face is too close to listen to the story.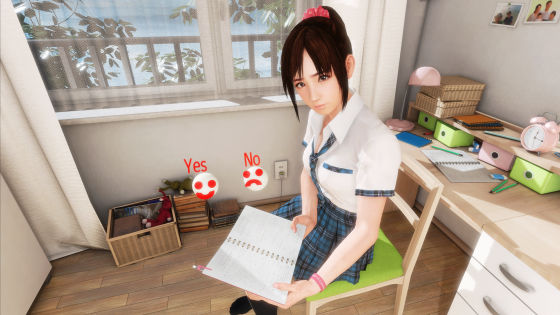 If you are looking at the direction different from the female character, you say "Are you listening properly?", And interactive relationships are fun.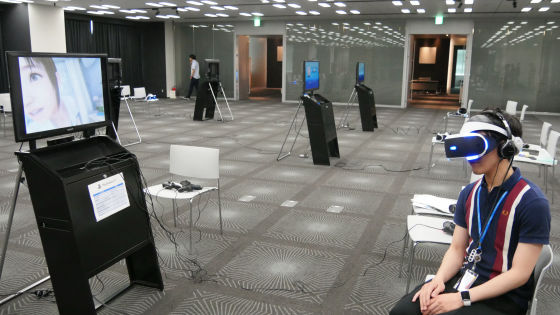 If you make such a face so close, it seems that any man will be embarrassed.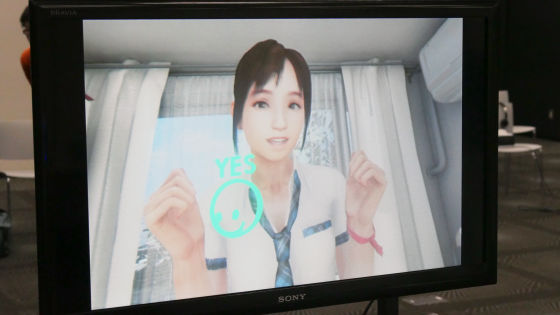 The editorial staff who is playing has stopped moving while staring at the female character.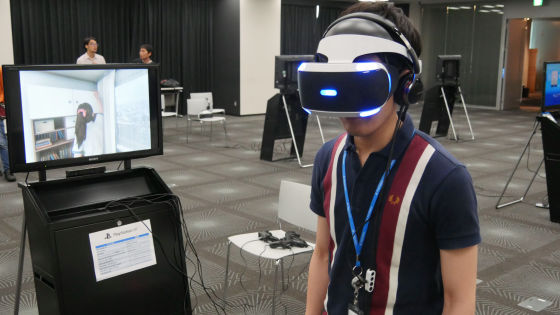 When there is a line of sight or turning back here, it makes me feel sorry for being surprised as if you were surprised.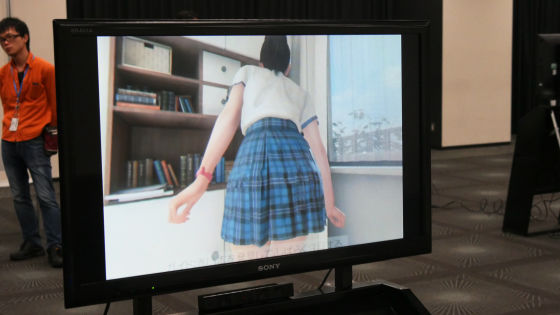 The summer lesson (tentative) is also very high immersion in the same way as other demonstrations, and communication with the character at a distance as if it actually touches, as stated in the propaganda that "she is really there" I felt that.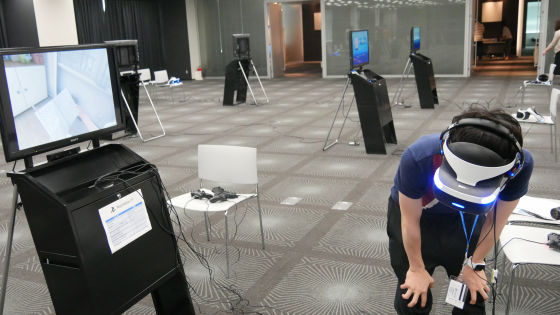 © BANDAI NAMCO Entertainment Inc.

◆ Cinematic mode
Lastly, I experienced a "cinematic mode" that allows you to enjoy PS4 titles and video content that are not VR compatible with PS VR. In cinematic mode, a huge screen floating in the virtual reality is displayed, and contents are displayed on the screen. Since the size of the screen can be adjusted from three levels of small (about 117 inches), medium (about 163 inches), large (about 226 inches), it is difficult to know how big it actually is, An editorial staff member who was experiencing gave me the size of the screen by hand. It's the smallest (about 117 inches) small this.



Medium (about 163 inches) is like this.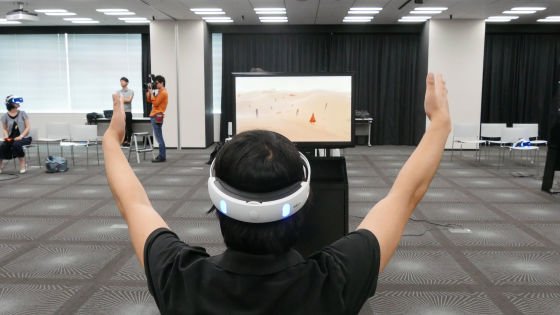 When it becomes large (about 226 inches), it is big enough to reach both hands even if it widens their eyes. If you look at games and movies with such huge screens, there is no doubt that it is impressive.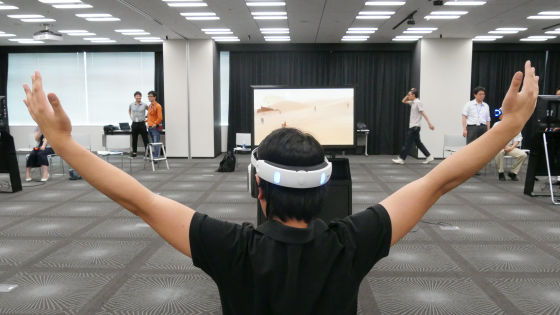 PS VR experience experience is over so. After experiencing various titles, the tension keeps rising as "I want other people to taste this experience as well!" VR means that there is fun if you do not experience it,PS VR Experience MeetingAre carried out nationwide. Those who are concerned about PS VR should actually visit the experiences meeting and experience the charm.