The tremendous game "Mario's Sky" searching for peach in the universe where Mario is infinite generation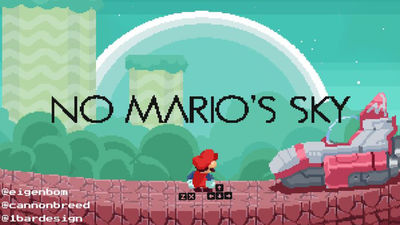 1800 An open-world game "No Man's Sky" traveling in the vast universe where the planets of Kyoto are also present was released on PC and PlayStation 4, and it is a sci-fi like the universe which is infinitely generated, a monolith and hyper-drive SF fans A dizzying creation is attracting attention among gamers. Meanwhile, "Super Mario Brothers" masterpiece game and "No Man's Sky" mixed "No Mario's Sky"Fan-maid work entered.

No Mario's Sky by ASMB Games
https://asmb.itch.io/no-marios-sky

Play No Mario's Sky game in which Super Mario meets No Man's Sky | WIRED UK
http://www.wired.co.uk/article/play-no-marios-sky-game

You can see how the game of No Man's Sky tended by No Mario's Sky is seen in the following article.

1800 I survered the amazingly vast universe of Kyoto and tried to play "No Man's Sky" full of scenes such as monolith and hyperdrive - GIGAZINE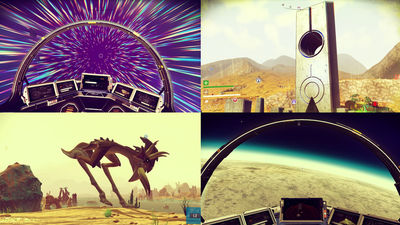 One of the developers has released a play movie.

Visit a bajillion worlds in No Mario's Sky. Here's some Real Gameplay Footage!https://t.co/GgNRx97y4r# LDJAMPic.twitter.com/EOMLFfW 475

- Ben Porter (@ eigenbom)30th August 2016

Also, many YouTube play movies are released.

No Mario's Sky is 4 billion planets of Super Mario! (Ludum Dare 36 game jam gameplay) - YouTube


No Mario's Sky follows the stage of Super Mario Brothers and starts from 1-1.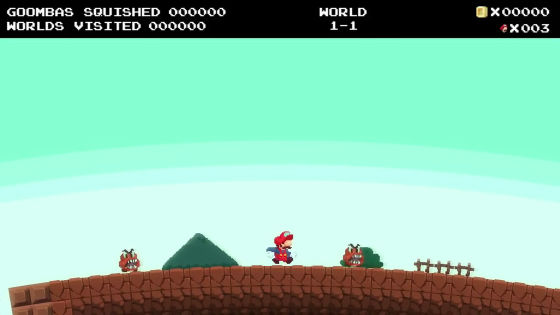 Familiar characters such as Kuribo and Hatena Block will appear. In addition, music uses songs arranged songs of Super Mario Brothers.



Kuribo has a big mouth compared to the original, it looks a bit berserk.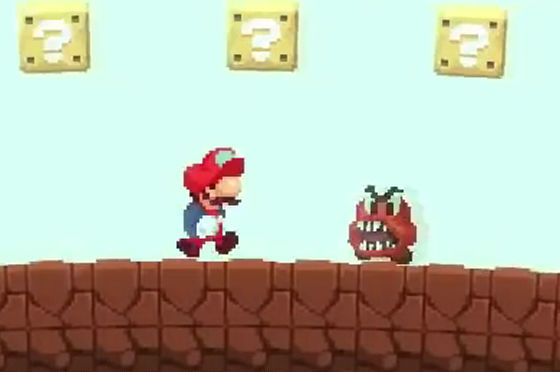 Muscle Morimori Machuman's Kinopio has appeared in the middle of the stage.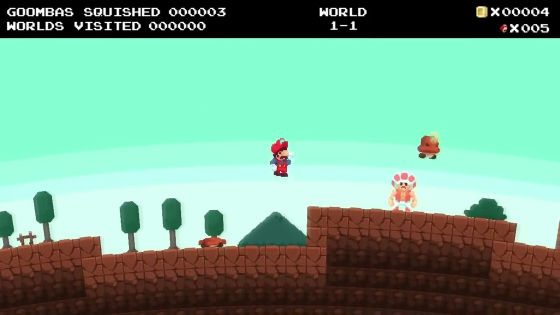 According to Kinopio, Princess Peach said that she was hit by other planets.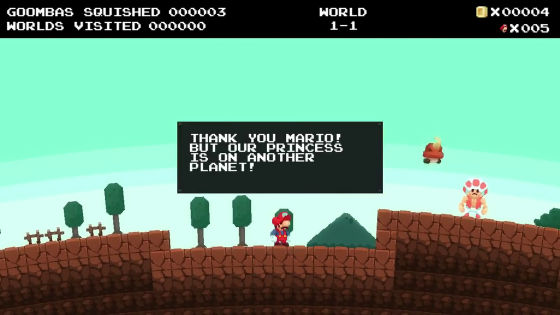 Then Mario got on the Space Shuttle ......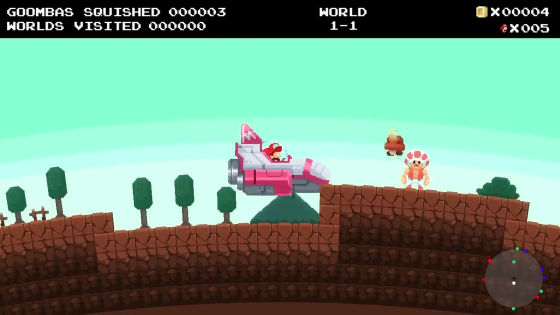 I jumped out to the sky as it was.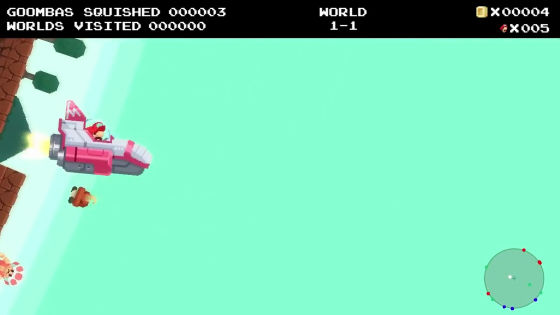 The space shuttle with Mario departed from the atmosphere ... ...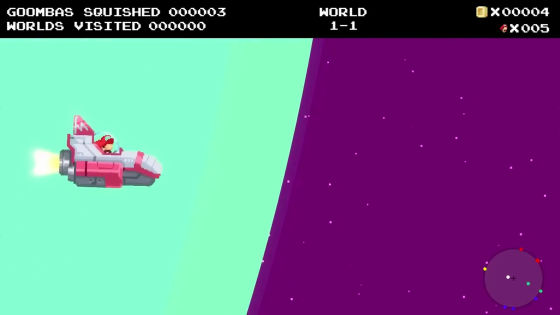 And to space. When looking carefully, a circular map is displayed at the lower right of the screen, and points such as red, yellow and green indicate places of the planet.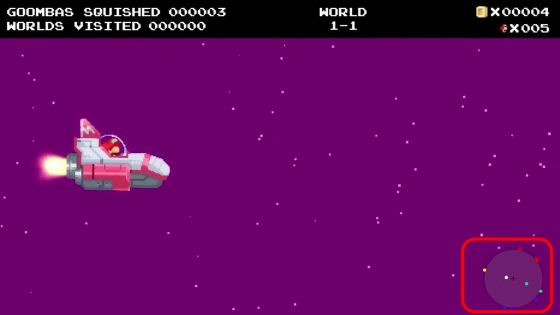 When flying towards the green point and approaching the atmosphere, the world name at the top of the screen changed to a mysterious name of "FFFF - F 660".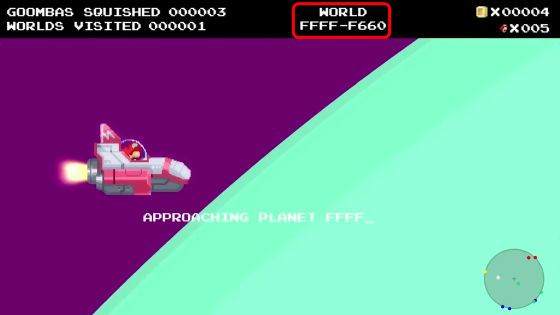 The space shuttle lands while crashing into the ground.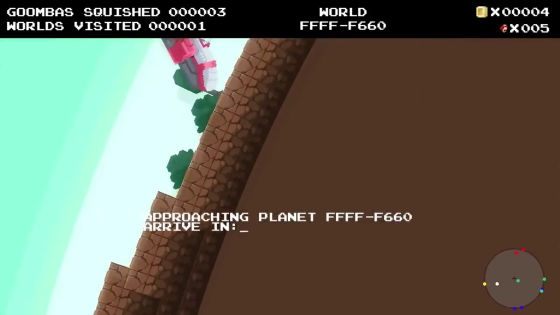 That's why we arrived at the planet "FFFF-F 660". Princess Peach begins again.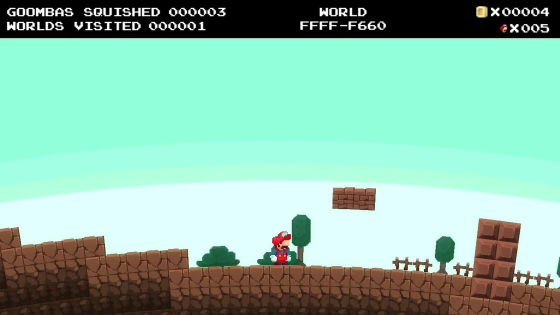 Items and enemy characters that appear on the planet have different shapes for each planet, and music also adds different arrangements for each planet.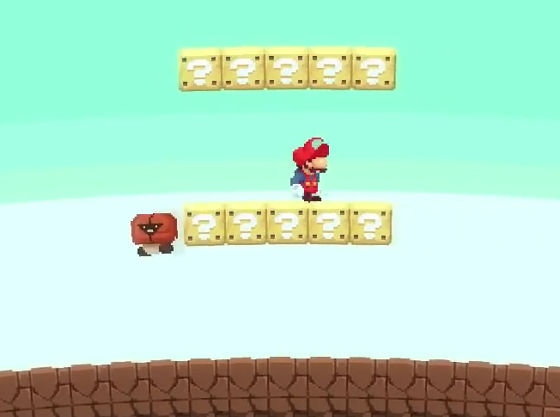 A planet stained with pink in sunset ... ...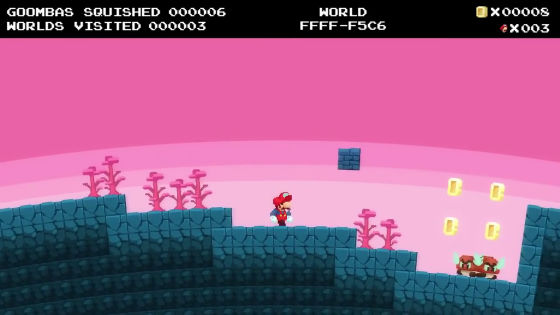 There are various stages of infinitely generated space such as planet like Kupa castle underground stage. It seems to be said that finding peach princess from the vast universe is a very difficult business.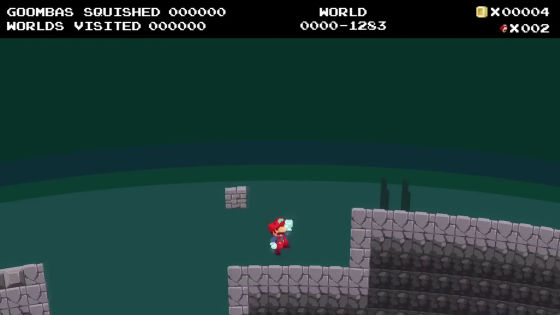 No Mario's SkyBen Porter,Max Cahill,Alex Mike,Sam IsoIn the game made by the four developers, it is surprising that it took only 72 hours to complete. No Mario's Sky is released for free and can be downloaded from the following page, but it is considered a matter of time to be deleted due to copyright infringement.

No Mario's Sky by ASMB Games
https://asmb.itch.io/no-marios-sky