Motion controller that pokes and catches a ball like a real Pokemon trainer with Pokemon GO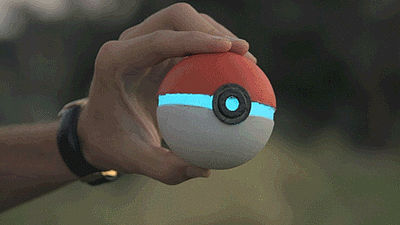 A ball type controller for "game being downloaded the most in the world" that "if you throw the ball like a real trainer you can catch a monster" has appeared.

Revolutionary Game Controller For The # 1 App in the WORLD by GamerReality LLC - Kickstarter
https://www.kickstarter.com/projects/1193114899/revolutionary-game-controller-for-the-1-app-in-the

I made it.Gamer RealityA group called. Kickstarter calls it "a revolutionary controller for the world's best game applications", but on the official website "Pokeball Kinetic Controller for Pokemon Go?"Is raised, it is revealed that this is a controller for" Pokemon GO ".

However, it is not particularly hidden, and in 'GIF animation' of 'how to use' this player is used to play Pokemon GO and it is showing where you are trying to catch Collata.



Since this controller has a USB port, connect it to a smartphone and charge it. If you can charge it, pair the smartphone and controller with Bluetooth, just find a Pokemon and throw the ball like this.



Also on YouTube, there is a movie capturing Pokemon using this ball. However, rather than "throwing a ball" rather than just "pretending to throw a ball type controller", I feel like a bit different from the image ....

#WHERESTHEBALL - YouTube


Kickstarter's deadline is September 30th. In the scheduled schedule, in addition to completing the final product version in September, we will finish the license negotiations with Nintendo first, and we plan to finish software integration with Niantic in October. However, at the moment it is noted as a disclaimer that the license is not obtained yet.

Even in this state, the early application plan in which one ball can be acquired at 35 dollars (about 3500 yen) has already filled up all of the 500 frames. At the moment, the second wave of the early application plan which also obtains one ball is accepted at $ 45 (about 4500 yen), as well as two dollars for 70 dollars (about 7000 yen) and three balls for 105 dollars There are also plans such as $ 155 (about 17,500 yen) for 5 balls and $ 350 (about 35,000 yen) for 10 balls.

Also, a developer kit for making applications and games that cooperate with this ball by yourself is available for $ 365 per license (about 36,500 yen).

The release was postponed in SeptemberList band type terminal "Pokémon GO Plus"It seems convenient when this is integrated, but is there a possibility ... ....