In the Olympic swimming competition, underwater camera robots are shooting powerful pictures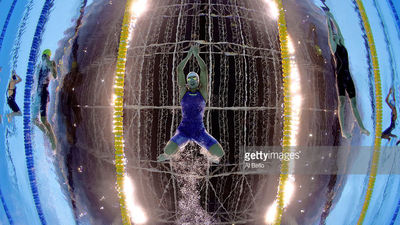 Shooting swimming competitions such as swimming, flight competitions and synchronized swimming which are carried out at the Rio Olympic Games is taking place not only from the ground but also from underwater, but as the competition starts, it enters the pool until the end of the day's competition and underwater It is not possible to move the camera installed in the camera or change the settings, and many cameramen are forced to struggle. However, the underwater camera robot introduced by Getty Images can remotely control the angle, greatly reducing the burden on photographers.

Stunning underwater Olympics shots are now taken by robots - Aug. 8, 2016
http://money.cnn.com/2016/08/08/technology/olympics-underwater-robots-getty/index.html

'Incredible evolution': How Getty Images will cover the Rio Olympics with robot cameras, 360-degree views and more - GeekWire
http://www.geekwire.com/2016/getty-images-high-tech-rio-olympics/

You can check the setting of the underwater camera robot from the following movie.

Getting the perfect Olympics shot with underwater robots - YouTube


The picture taken with the underwater camera robot introduced by Getty Images is the following image. The underwater camera robot seems to have been introduced by Reuters during the last London Olympic Games, but since it did not have the remote control function, it is necessary to set the shooting setting in anticipation of where the athlete will come in advance was. Therefore, it happened that it was very difficult to take pictures of subjects such as Getty Images completely framed in, as the player's body got out of the frame.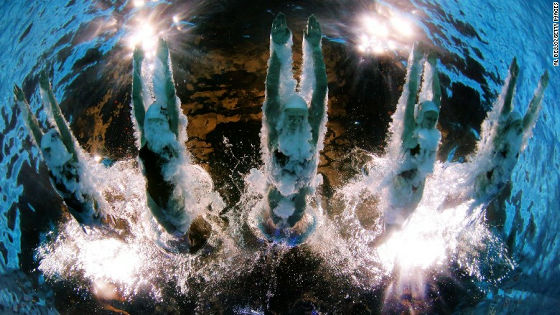 The underwater camera robot introduced by Getty Images can remotely zoom in or tilt in all directions and shoot. The underwater camera robot itself does not move, the main body tilts in various directions, and it adjusts the angle of Canon · EOS - 1 DX Mark II installed.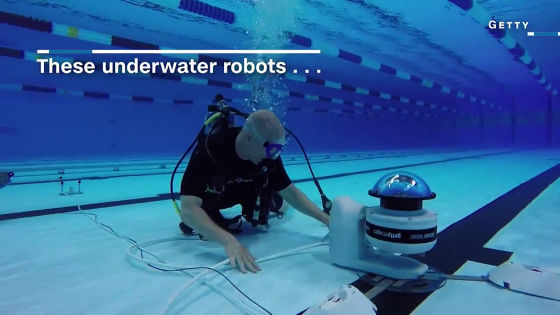 I am one of the photographers of Getty ImagesAl BelloSays, "Even if the idea of ​​shooting occurred during the competition, it was impossible to execute it, but if you use the underwater camera robot, one of the many shooting ideas you came up with will be executed It is a great advantage to be able to take more pictures in less time than before. "

The photographer Bello takes a position at the corner of the pool, while watching the PC, adjust the angle of the underwater robot camera with the controller and turn off the shutter remotely. Getty Images has introduced a total of two underwater camera robots to the Rio Olympics but does not disclose details such as specs and prices.

Actually it is thanks to an underwater robot camera that it is possible to shoot a powerful picture like the following.

How@ Albello 55Gets these insane underwater images:https://t.co/CmRoir3JK8# Rio2016Pic.twitter.com/5 wKwJOYaWs

- Getty Images Sport (@ GettySport)July 26, 2016