Everyone shares the car "Car sharing" Eleven people do not own cars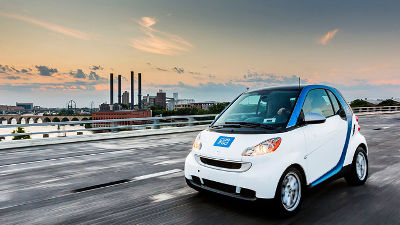 In recent years, with the rapidly spreading "car sharing" service, there are an increasing number of people who do not have private cars in cities. If American researchers spread car sharing in various areas such as urban areas and countryside, we estimate that eleven people will share their cars per car to be shared.

Impactsofcar2go_FiveCities_2016.pdf
(PDF file)http://innovativemobility.org/wp-content/uploads/2016/07/Impactsofcar2go_FiveCities_2016.pdf

Here's How Many Cars This Car-Sharing Service Killed - CityLab
http://www.citylab.com/commute/2016/07/car2go-car-ownership-vmt-ghg/491825/

Elliott Martin and Susan Shaheen of the University of California at Berkeley in the United States investigated how life changes, such as ownership of cars and transportation, by car sharing services. Car sharing service "car2go" cooperated in the survey from 2014 to 2015 for nearly 10,000 people in North American cities such as Calgary, San Diego, Seattle, Vancouver, Washington D.C.

Car2go is a car sharing service started by Daimler of the car maker and has the feature that it is OK to get rid of anywhere in a given position. Members can search for the nearest car sharing car with the smartphone application, borrow a car using the member card, can freely drop off on the street if it is within a predetermined area, With the convenience of being charged with royalties, we are proud of its high popularity in Europe and the US where the parking banned area on the street is relatively small.

About the mechanism of car2go you can understand with one shot if you look at the following movie.

Car2go Tutorial Video - English - YouTube


In the experiment, I question the members who use car 2go, such as "Do you want to let go of private car?" "Do you think to refrain from purchasing private car?" By car2go service.

According to the survey result, 2 to 5% of the members answered "We sold private cars thanks to car 2go", which is relatively high in Washington, D.C. in the city. On the other hand, "7 to 10% of the members answered" I refrained from buying private cars ". Furthermore, taking into consideration the number of users and the number of car 2go installed, one to three cars sold "private cars" per car 2go · four to nine cars "refrained from purchasing a car". As a result of totaling, it was found that the demand for cars (private cars) was lost in Washington, DC, which had the least influence in car 2go / car one car, car 2go in the most influential Calgary cars I understand.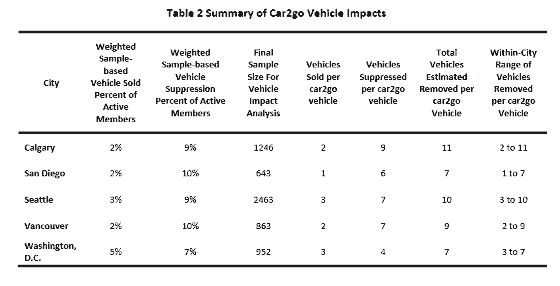 Furthermore, analysis of the results of the survey revealed that by using car 2go, it is possible to reduce the cumulative mileage of the entire private car in the five cities from 6 million to 12 million miles (about 9.6 million kilometers to about 19.2 million kilometers) We are reducing CO2 emissions per year by 5,300 to 10,000 tons.

In the survey, we also know that users who are using some public transportation, that is, users who do not usually use their own cars will change their lifestyles to drive cars using car 2go. But overall, with car sharing services such as car2go, you can reduce the number of cars to reduce CO2 emissions, and a policy is added to arrange car sharing services in a way that complements trains, buses, etc. It is thought that you can further improve the effect.