One of the world's largest Torrent site managers who illegally spread contents equivalent to over 100 billion yen will be arrested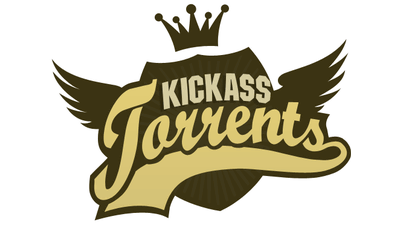 Torrent fileTorrent site which posted link to (tracker site) ·KickassTorrents(KAT) administrator was arrested. In KAT, links to files equivalent to over 100 billion yen in total such as Hollywood movies are posted, movie companies etc.DMCAAlthough I was making an allegation of infringement, the site side had overlooked this as having various deficiencies.

U.S. Authorities Charge Owner of Most-Visited Illegal File-Sharing Website with Copyright Infringement | OPA | Department of Justice
https://www.justice.gov/opa/pr/us-authorities-charge-owner-most-visited-illegal-file-sharing-website-copyright-infringement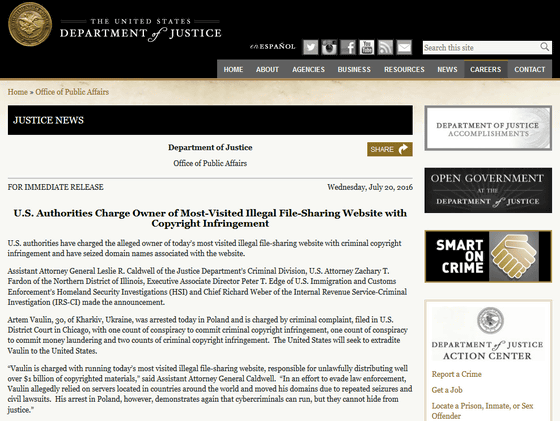 Alleged founder of world's largest BitTorrent distribution site arrested | Ars Technica
http://arstechnica.com/tech-policy/2016/07/kickasstorrents-alleged-founder-artem-vaulin-arrested-in-poland/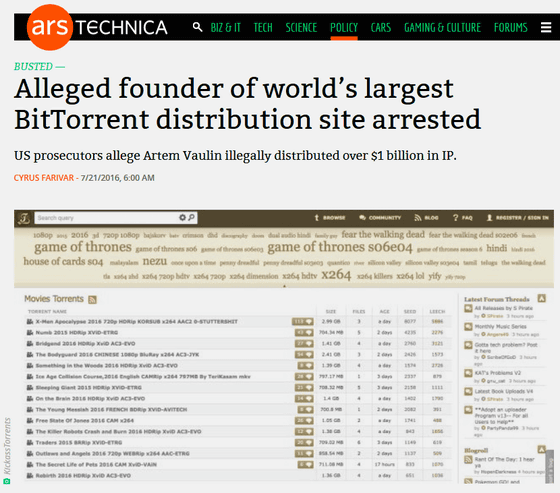 Feds Seize KickassTorrents Domains, Arrest Owner - TorrentFreak
https://torrentfreak.com/feds-seize-kickasstorrents-domains-charge-owner-160720/

On the Internet, when a user downloads a file, that file is somewhere on a specific server. However, BitTorrent does not mean that files are placed on a specific server, and roughly it means that all users have entire files or fragments of files, and by joining them, the desired file is obtained It is a mechanism to enter.

First of all, when you want to download a specific file (say "movie A"), you download the movie A torrent file (extension is .torrent). What is included in the torrent file is information on a server called a tracker who knows "which IP address has part of the data of movie A". A computer that has this data is called a peer. The data of movie A itself is not included in the torrent file.

When loading the torrent file with the BitTorrent client, the client connects to the tracker and gets the peer information. The target file is downloaded.

Arrested this time, Artem Vaulin (30), a manager of KickassTorrents who was the largest in the world with "Torrent site (also known as a tracker site)" on which the torrent file has downloadable links. Vaulin is living in the city of Ukraine in the northeastern part of Halkiu but was arrested in Poland. There are 2 copyright infringement, 1 collusion of copyright infringement, 1 collusion of money laundering.

According to Leslie R. Caldwell, Deputy Secretary of Defense Judge Vaulin was operating KAT, copyright protected content worth more than $ 1 billion (about 107.4 billion yen) was illegally spread and 2016 Even as of July 20th, works like the current cinema, such as "Civil War: Captain America", "Grand Illusion Disappeared Trick", "Independence Day: Resurgence" "Finding Dolly" It was spreading.

The state of the site when I was active was like this.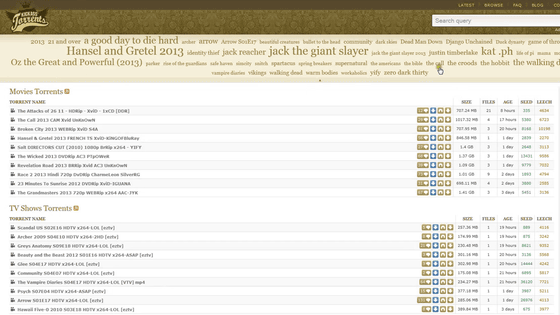 KAT founded in 2008. The number of unique users per month is more than 50 million people, it seems to be "the site frequently visited on the Internet 69th." On the site, even the torrent file still in the movie that is still in the theater is on the market, its advertisement revenue is from 12.5 million dollars (about 1.34 billion yen) to 22.3 million dollars (about 2.4 billion yen), the net asset is 54 million dollars (About 5.8 billion yen) is estimated.

一方で、民事訴訟やドメイン差し押さえを受けるたびに、その執行を逃れるため、サーバーをイギリス、アイルランド、イタリア、デンマーク、ベルギー、マレーシアなど世界各地に移転させていたとのこと。今回は「https://kat.cr/」などのドメインも差し押さえ命令が出ています。
in Note, Posted by logc_nt