Secretly Warner paid money to YouTuber to raise the rating of the game and discovered that they had a well-received gameplay review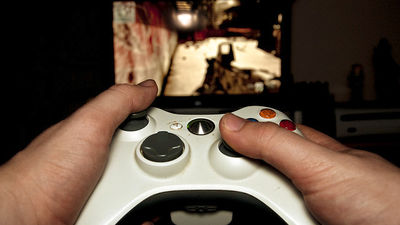 ByGlobal Panorama

Warner · Brothers · Home Entertainment, which handles household games and videos, secretly pays money to famous YouTube bar to raise the reputation of in-house game, ask them to post videos and reviews that appreciate the game It turned out that it was. The Federal Trade Commission is strictly paying attention to Warner Bros. 'as a rule violation that does not explicitly indicate that it is a sponsored video.'

Warner Bros. Settles FTC Charges It Failed to Adequately Disclosure It Paid Online Influencers to Post Gameplay Videos | Federal Trade Commission
https://www.ftc.gov/news-events/press-releases/2016/07/warner-bros-settles-ftc-charges-it-failed-adequately-disclose-it

FTC: Warner Bros. paid YouTubers for positive reviews | Ars Technica
http://arstechnica.com/tech-policy/2016/07/ftc-says-warner-bros-paid-youtubers-to-promote-shadow-of-mordor/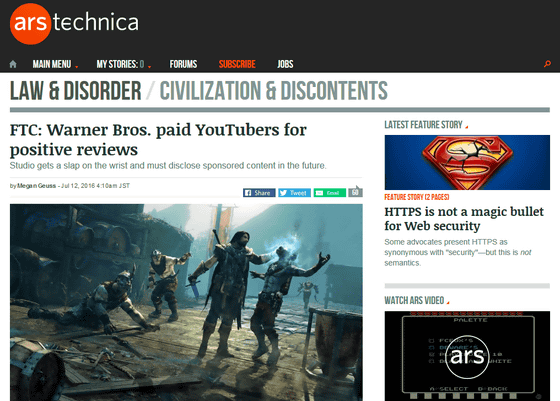 This time it became clear that the game "Shadow of Mordor" released by Warner Bros. Home Entertainment in 2014. The world of "Lord of the Rings" and "Hobbit" was drawn and made for PlayStation 4, PlayStation 3, Xbox One, Xbox 360, Steam.

Shadow of Mordor 【Official website】 | Warner games
http://wwws.warnerbros.co.jp/game/shadowofmordor/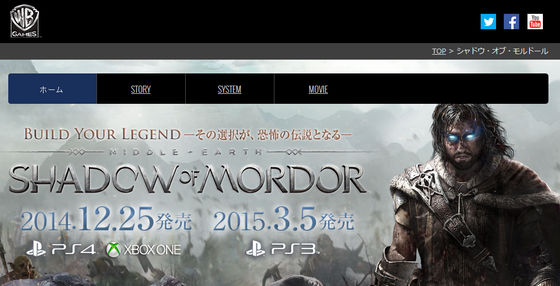 According to what the Federal Trade Commission has announced, Warner Bros. Home Entertainment pays money to several influential YouTube bars, including worldwide earnings earned on YouTube video posts To havePewDiePieMr.'s name is mentioned. Also, it was the PR company hired by Warner Bros. who actually handed out money to youtube and asked for game review.

YouTube bars create videos according to certain criteria such as "to express positive opinions on the content of the game" and "to guide viewers to the official website of the game" He seems to have received tens of thousands of dollars (tens of thousands of yen to several million yen). Bugs existed because the software distributed to YouTube bars was an early release version, but it seems that bugs were touched on movies. Also, in addition to posting videos, it was obliged to post on Shadow of Mordor at least once on Facebook or Twitter.

The PR company told the YouTube bars "to make it clear that it is a movie made by earning money from advertisers", but the Federal Trade Commission has said " If I do not press the "view" button, it is a problem that I did not know that it was a sponsored movie. " This is because there is no way for viewers to know that the video is a sponsored video if a video embedded in Facebook or Twitter is played. Also, it seems that some of the videos posted have no sponsored videos specified anywhere. The total of the submitted videos has been played 5.5 million times, of which the number of views of videos posted by Mr. PewDiePie has reached 3.7 million.

Jessica Rich, Federal Trade Commission Director of Consumer Protection, says, "Consumers clearly wonder whether the people reviewing the games are giving personal impressions or reviewing with gold received Companies such as Warner Bros. must adequately conduct online advertising campaigns. "

Regarding this matter, Warner Brothers has not been fined by the Federal Trade Commission, but only for the caution that "When asking for a review in the future, please explicitly state that it is a sponsored video" I have stayed.
in Game, Posted by darkhorse_log