Did he have a wife in Jesus Christ?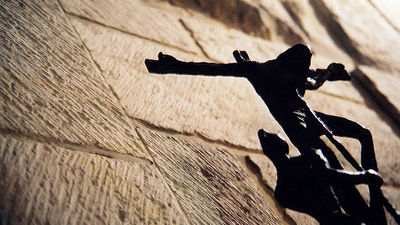 ByThomas Berg

In many denominations of Christianity,TrinitarianThe Savior who is a true God and true person who is believed to be incarnated and become a person under the doctrine of God is "Jesus Christ"is. There are multiple evidences that Christ has a wife, and controversy has continued for a long time among religious scholars and archeologists.

Did Jesus Have a Wife? - The Atlantic
http://www.theatlantic.com/magazine/archive/2016/07/the-unbelievable-tale-of-jesus-wife/485573/

In an academic meeting held in Rome in 2012, Professor Karen King of Harvard University announced that he found an old literature written that "Christ said to them, they are my wife" . This document shows that on old papyrus paperCopticThe text was written with ancient letters, and this content called up a big topic because it reverses the fact that "Jesus Christ was a single lifetime" that was believed until then.

A document that says "Christ told them I am my wife" is a business card-sized papyrus paper and Professor King named this document "the gospel of Jesus' wife."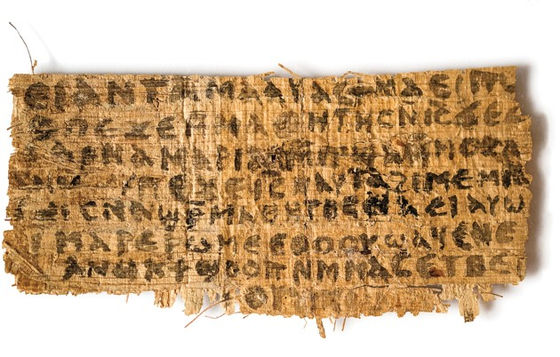 One sentence on the Papyrus paper is incomplete, but from the conversation between Christ and his apostle, you can clearly see that there was a wife in Christ. And that wife of Christ is "Mary of MagdalaIt is thought that. However, although Mary Magdalene is a saint, he is also considered a "prostitute", and this is a fact that denies the fact that Mary Magdala might have been the wife of Christ There is also. And forces that refuse to make women a leadership position of religion also deny that Christ was a wife, as "the gospel of Jesus' wife," announced by Professor King, is fake I will.

Furthermore, the Vatican's newspaper, the Roman Catholic headquarters, reports that the "gospel of Jesus' wife's gospel" is a "bad fake". In addition, many of the scholars who believe that the New Testament is right point out that there is a misspelling of the Coptic word in "the gospel of Jesus' wife."

However, the existence of "the gospel of Jesus' wife" became recognized even with a half-doubt, and it became a grand news worldwide. Still according to the criticism that does not stop ringing, after a year and a half have passed since the announcement in 2012, Professor King conducted a radioactive carbon dating test etc., and the accuracy with which the "gospel of Jesus' wife was made" Measure the ages. And the papyrus paper and ink used in the discovered literature was ancient and announced that someone has not forged the present age.

However, those who claim that the "gospel of Jesus' wife" is a fake can buy old papyrus paper that appears in the auction, mix inks in the same way as in ancient times, and write Coptic words , Insisted. In addition, "the gospel of Jesus' wife" and "The Gospel of Thomas"By accidentally pointed out that there is the same mistake," It is made by imitating the Gospel of Thomas, there is the same mistake ". In this way, we continue to hardly refuse that "the gospel of Jesus' wife" is genuine.

Although it seems to be easy to find out the facts as to where "the gospel of Jesus' wife is found", Professor King demanded that the owner "make it anonymous", so whichever it got from hard I have not revealed that. However, this document is considered to have been found in Egypt or Syria.

Professor King with "the gospel of Jesus' wife"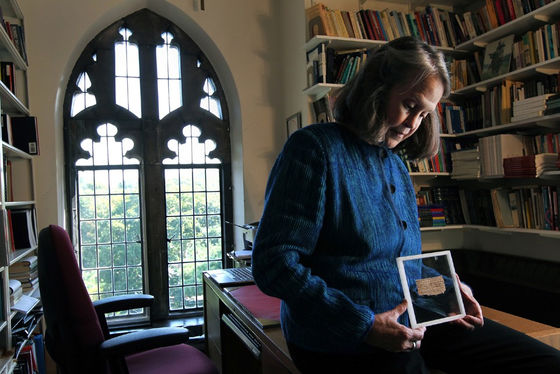 The owner of "the gospel of Jesus' wife" has not revealed his identity, but I reveal to Professor King where I got this document. The literature was purchased from a man named Hans Uhlühi Laukamp in November of 1999 and it seems that Mr. Raukamp said that he got it in Potsdam, Germany in 1963.

Professor King explained that "the gospel of Jesus' wife" would not prove that Christ was married, "some of the early believers indicated that they believed that Christ was a wife First evidence "pointed out. Furthermore, Peter Mauro, an archaeologist at the University of Berlin, who was asked to decode the copy of the same document before King, said, "The tip of this article (the gospel of Jesus' wife) It is the only example that told about the possibility of being married, "he says. However, Mr. Rau Kamp and Mr. Mauro are already gone, and Professor King says that it is almost impossible to know already about the origin of the document.

As for this "gospel of the wife of Jesus" in the past, it has been posted as follows and you can see from the following article what kind of other things are written in the literature.

Christ found a mysterious text that might have married Mary Magdalene - GIGAZINE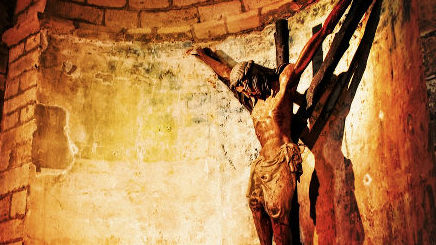 There are other scholars who claim that Christ was married to Mary of Magdala. In the book "The Lost Gospel" by the Canadian documentary filmmaker Simcha Jakovovich of Israeli Canadian and Canadian scholar Barry Wilson, there were also several children in Christ besides his wife The claim that it is made.

"There was a wife and child in Christ" Discussed with a new book publication Four flames of relapse international news: AFPBB News
http://www.afpbb.com/articles/-/3031652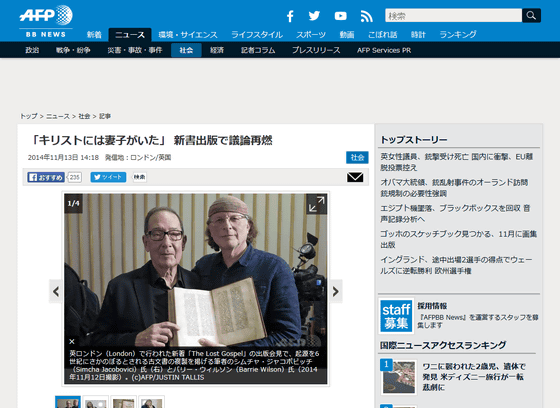 Mr. Jakovovich and Mr. Wilson have interpreted the old document "Joseph and Asenate" which is kept in the British Library in London, and its declaration. According to the two, it seems that there is written in the ancient document that it is hidden in the way of Christ's marriage, marriage, children and what Christ tried to accomplish. Regarding the reason why it is written in the old document in the encrypted state, he says, "There were many conflicts in the early church, and it was concealed in this way."

There are also a lot of criticisms of Mr. Jakovovic and Mr. Wilson's main work and the customer review column of "The Lost Gospel" sold at Amazon also has a mix of the highest rating of star 5 and the lowest rating of star 1.

Amazon.co.jp: The Lost Gospel: Decoding the Ancient Text That Reveals Jesus' Marriage to Mary the Magdalene: Simcha Jacobovici, Barrie Wilson, Tony Burke: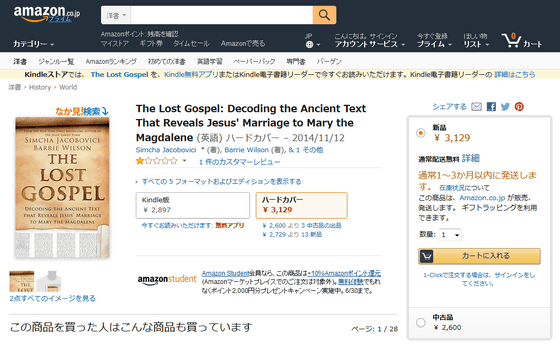 In addition, in 2015, once in the past "being fake"AppraisalA survey result that the bone box "Jacob's bone box" containing the bones of Jacob (Christ's younger brother) was genuine, Christ and his wife and children was also announced.

Findings Reignite Debate on Claim of Jesus' Bones - The New York Times
http://www.nytimes.com/2015/04/05/world/middleeast/findings-reignite-debate-on-claim-of-jesus-bones.html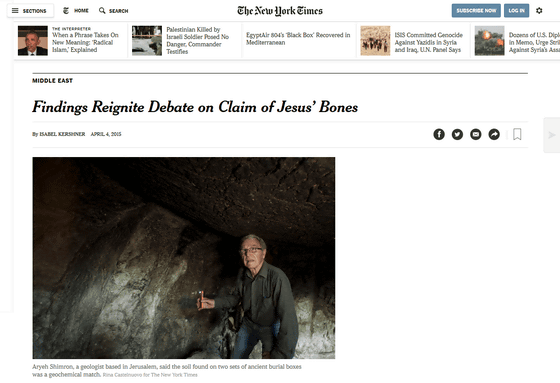 The lost tomb of Jesus? Scientist claims he has 'virtually unequivocal evidence' that could help explain the whereabouts of Christ's remains | World History | News | The Independent
http://www.independent.co.uk/news/world/world-history/the-lost-tomb-of-jesus-scientist-claims-he-has-virtually-unequivocal-evidence-that-could-help-10158514.html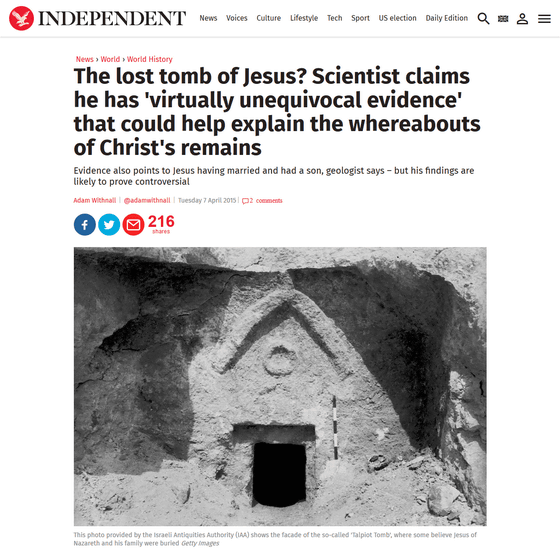 In "A Jacob's Bone Box" that Israel's collector purchased from an antique art dealer in eastern Jerusalem in the 1970s, it is written in Aramaic, "Joseph's son, Jesus' brother, Jacob". When the Israeli research group investigated the bone box in 2003, the investigation team said, "Although the ankylostocon is an ancient one, the inscription written in Aramaic is a relatively new one, It was appraised as "added to increase religious value".

However, the documentary program taken under the direction of James Cameron "Christ's coffin"Mr. Jakovovich, a documentary film artist involved in the filming of a documentary filmist, has invested in geologist Ali Shimlon who has been engaged in government geological surveys for many years as a principal researcher in Israel. In 1980 An ancient tomb called "Talpiot Tomb" found in the eastern part of Jerusalem,Jesus of NazarethAnd that he found a clear evidence that the bereaved family is a cemetery sleeping.
in Note, Posted by logu_ii