The 100,000 records that the Air Force gathered over several years disappeared due to a personal computer crash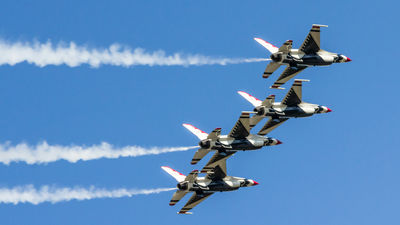 ByGary '

It was revealed that 100,000 data collected by the US Air Force over the 13 years from 2004 have all disappeared due to the crash of the database for recording. In cooperation with the military company in the Air Force, it is said that the cause of the failure of the database is investigated and data recovery is in progress.

Computer Crash Wipes Out Years of Air Force Investigation Records - Defense One
http://www.defenseone.com/technology/2016/06/computer-crash-wipes-out-years-air-force-investigation-records/129049/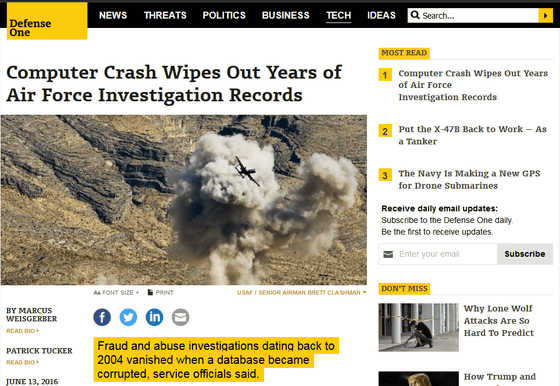 Air Force has lost 100,000 inspector general records | TheHill
http://thehill.com/policy/defense/283109-air-force-has-lost-100000-inspector-general-records

The US Air Force announced that due to a database failure occurred at the end of May 2016, records of military internal dispute and misconduct were lost. The database in which the problem occurred manages the files of the Air Force Superintendent Inspector General and the Congress contact department and that 100,000 data created since 2004 has disappeared due to this failure. The Air Force and the military company that manages the databaseLockheed MartinIn both of them, it is unknown whether the cause of the broken database is unknown and whether or not the disappearing data can be recovered.

Although Lockheed Martin worked on data restoration for two weeks after discovering a defect, he could not fulfill it, but told the Air Force that the data had disappeared on June 6. In the Air Force, we asked the cyber security experts of the US Department of Defense to provide assistance, and also asked private contractors for help to restore the data. Annie Stefanek, Air Force spokeswoman, said, "We are exhausting ourselves as much as possible inside the Air Force to recover data, so we will provide external experts with assistance for data recovery I decided to ask for it. " In the Air Force, it is not thought that occurrence of database malfunction was intentionally caused.


ByExpert Infantry

Maureen Schumann, a spokesperson for Lockheed Martin, said, "In our company, the Air Force's Automated Incident Recording System (ACTS) I am aware of the data loss of the Air Force and I am trying to recover the disappearing data when investigating the cause together with the Air Force. "

The Air Force's General Inspector General is a third party organization directly under the Air Force Director who reports to the Air Force's waste, misconduct, violent acts, etc. in the Air Force. According to Mr. Stefanek, the lost data includes personal information of soldiers, investigation results of complaints and misconduct within the Air Force, inquiries based on the Information Disclosure Law, records of the Congress contact department, Inquiries etc are included. Not only the past record but also the data currently under investigation are lost, so it is expected that the latest survey progress will be delayed.

There is a possibility that data backup may be left at the base where the survey was conducted. Stefanek says, "We have begun to investigate what is going on, but we have not found out anything for the moment."
in Note, Posted by darkhorse_log