Methods and link summary for obtaining information and confirming safety information on the net at the time of disaster occurrence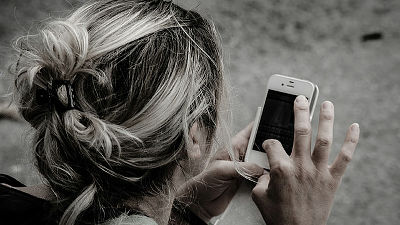 ByChristian Hornick

A lot of damage occurred in the "Kuroshima Earthquake in Heisei 20 (2016)" that occurred on the night of April 14 th, 2016 (Thursday), and at the time of the article creation, 9 people were killed and 960 injured people Damage status is revealed one after another. Although it may be difficult to obtain information at the time of such a disaster, we summarized the method of obtaining information on the net and the method of confirming safety information.

◆ Getting information
Link to earthquake information etc provided by Japan Meteorological Agency and Weather news.

Japan Meteorological Agency | Earthquake Information
http://www.jma.go.jp/jp/quake/index.html

Earthquake Information :: Weather News
http://weathernews.jp/quake/

Disaster information is also provided by the Fire Department's Twitter account.

Ministry of Internal Affairs and Communications Fire Fighting Agency (@ FDMA _ Japan) | Twitter
https://twitter.com/FDMA_JAPAN

NHK simultaneously provides the same news as TV on the net.

NHK NEWS WEB News is being offered simultaneously
http://www3.nhk.or.jp/news/live/

◆ Confirmation of safety
Safety information on people who suffered damage can be handled by disaster message dialing and disaster message boards provided by NTT and communication companies.

Disaster Message Dial (171) | Publicity Advertising Activities | Corporate Information | NTT East Japan
https://www.ntt-east.co.jp/saigai/voice171/

Disaster Message Dial (171) | Efforts against Disasters | NTT West Japan
https://www.ntt-west.co.jp/dengon/

Disaster Message Dial is a voice message board that starts to be offered when communication to disaster areas increases due to the occurrence of disasters such as earthquakes and eruptions, and it is difficult to connect. People at the afflicted areas and evacuation centers can record their own safety information by voice by dialing "171" and leave a message at the person who called. Also, people other than the disaster area can record a message or listen to the message from the other party.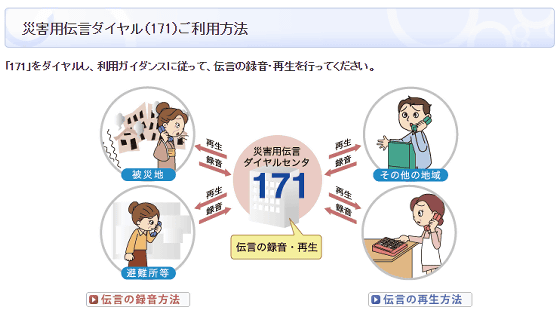 With the Disaster Message Dial provided at the time of the Kumamoto earthquake in the year of Heisei 28, it is possible to store up to 10 messages of 10 seconds per session.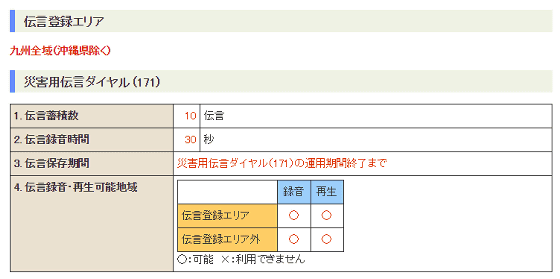 In the message board "web171" which confirms the safety of people in the disaster area using the Internet, it is now possible to leave a message on the message board.

Disaster TOP Screen | Disaster Message Board (web 171)
https://www.web171.jp/web171app/topRedirect.do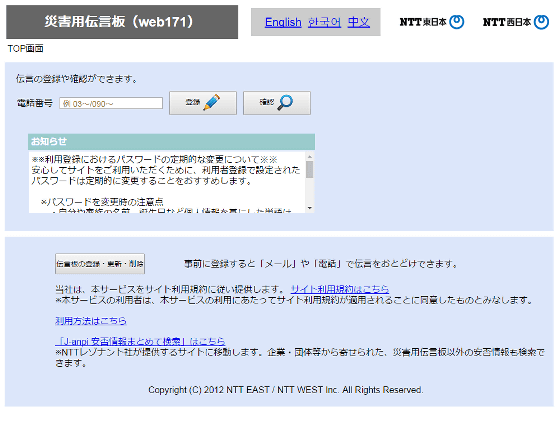 Mobile companies are also providing disaster message boards so that you can check the safety by entering the phone number of the people in the area.

Disaster Message Board(NTT DoCoMo)
http://dengon.docomo.ne.jp/top.cgi

Disaster Message Board(KDDI)
http://dengon.ezweb.ne.jp/

Dengon.softbank.ne.jp/J(Softbank)
http://dengon.softbank.ne.jp/J

In addition, Google has begun offering a "Person Finder" that can confirm the safety of friends and family members in the event of a disaster.

Person Finder (safety information): Japan
https://www.google.org/personfinder/japan

The Person Finder has become a service that enables mutual provision of information at the time of disaster, and it is possible to find the safety information of friends and family members.




In addition, by inputting a telephone number and name, "Safety Information collective search" that can collect information of mobile companies, local governments, Google Person Finder can also be provided. When you do not know where you should check your partner's safety from nowhere, it seems good to try this page for the time being.

Safety information collectively search - J-anpi
http://anpi.jp/top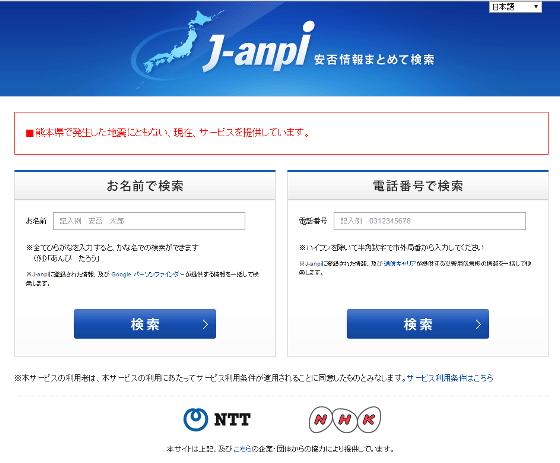 We can search information of mobile companies, local governments, Google Person Finder side by side, so it is easy to find information.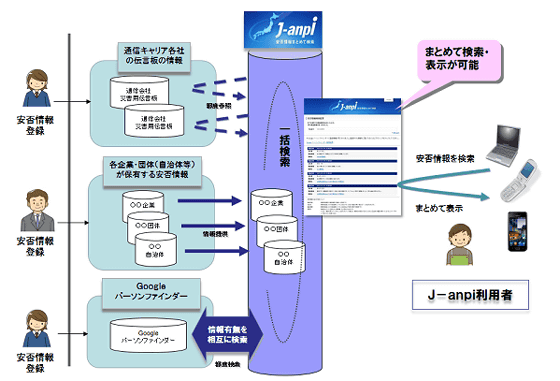 ◆ How to obtain other information
Google provides "Google Crisis Response" to provide disaster information including the above-mentioned Google Person Finder.

Crisis response
https://www.google.org/crisisresponse/japan

Toyota is releasing "the road map that I went through" in the area affected after the earthquake occurred as reference information. This information is a summary of the traffic information based on the probe information gathered from vehicles equipped with the company's "G-BOOK" telematics service.

Toyota | Route that got through Map
https://www.toyota.co.jp/jpn/auto/passable_route/map/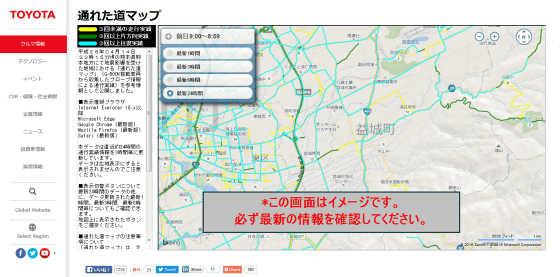 in Note, Posted by darkhorse_log