Facebook releases illegal content detection "Rights Manager" to automatically determine illegally uploaded content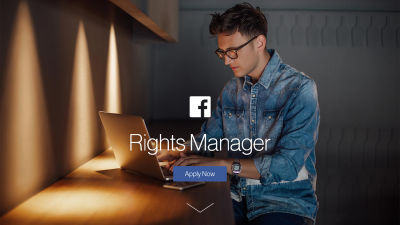 Facebook has released a countermeasure against the illegal uploading of content created by the creator. "Rights ManagerThis system, which automatically detects movie contents uploaded without the permission of the copyright owner and notifies or deletes the movie contents uploaded without permission of the copyright owner.

Copyright Management | Facebook
https://rightsmanager.fb.com/

Rights Manager is a system aimed at copyright protection of content holders, which enables the third party other than the copyright holder to detect the act of uploading the same content and in some cases delete it. On the creator side, "Upload video content, create library to make it easy to monitor and protect copyright infringement" "Allow user to set for each video content" "Notify in case of copyright infringement It is said that there is an advantage such as "you can receive."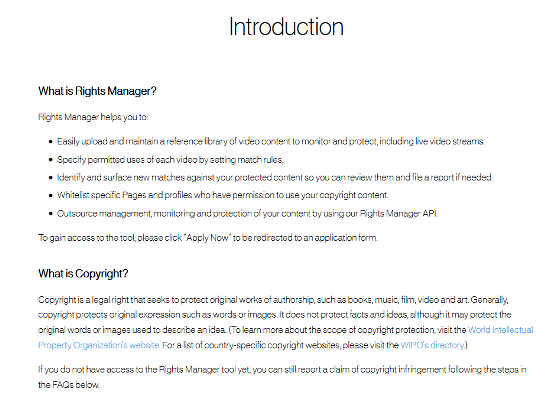 Rights Manager is a countermeasure against action called "freebooting" (freebooting) in which moving picture contents created by YouTube and web media etc. are copied by others and uploaded illegally to Facebook . Regarding freebooting, voices of dissatisfaction have been raised as originally content creators were forced to gain access to content and advertisement revenue was taken away.

When making a complaint, it is possible to send a message to the other party to solve the situation "calmly". If you do not choose that method,Dedicated online formYou can report infringement of rights from. Also, after reporting the infringementDesignated agent on Facebook claiming copyright infringementIt is possible to take correspondence by taking contact with. In addition, you can only declare the principal who owns the copyright.

If a complaint is made through online form, the content may be deleted without contacting the person who uploaded the illegal content. Also, if content is deleted, Facebook is warned and it seems that the next item will be notified.
· Report number
· Name of copyright holder
· E-mail address of the party who made the report
· Details on the copyrighted work of the copyright holder
· Details of deleted content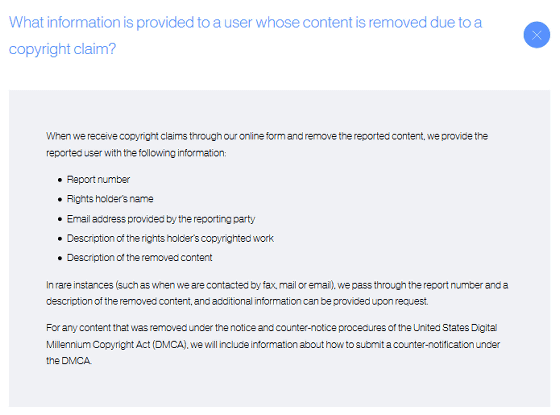 Applications are necessary to use Rights Manager.Official pageAnd click "Apply Now", you can proceed to the registration screen.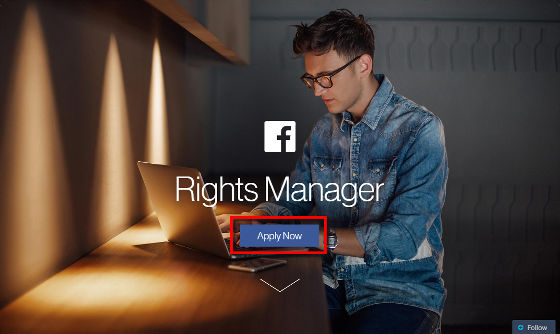 If you fill in your name, organization name, job title, contact information etc on the next screen and click "Send" application will be done ......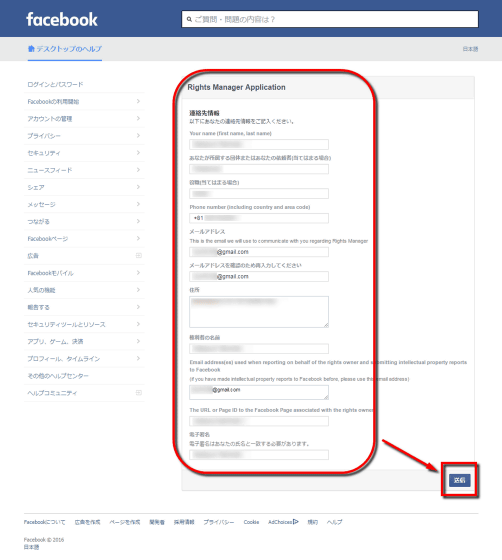 Whether the ID you entered was not valid, we were not able to proceed well at the time of writing the article. It is not possible to be invalid because I actually used the ID you are using, but maybe it just was not supported at the moment.




API is also prepared for Rights Manager. Since we also need to register with Rights Manager first, we will say that it is operation after the above application has been done.

Rights Manager API Tutorial - Graph API
https://developers.facebook.com/docs/graph-api/rights-manager-api