Camera that can shoot 360-degree VR movies with 4K image quality "Orah 4i"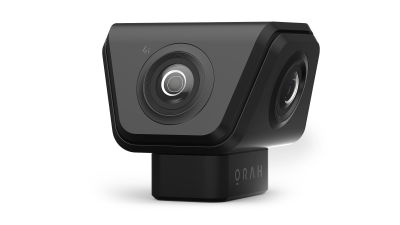 YouTube supports 360 ° moviesThen,VR headset that gets an overwhelming immersive feelingCommercial sales of 360 degree content are starting to gather, etc. MyselfA camera capable of shooting 360 images with one handHas appeared in the world of cameras, even in the world of cameras that are compatible with 360 ° content, but 360 ° video equipment to specialize in video equipment · 360 ° camera newly announced by VideoStitch "Orah 4i"Is equipped with four lenses in a compact body, making it a camera that can shoot 4K movies.

The camera for live VR | Orah
https://www.orah.co/

Orah 4i is a camera that mounts four fisheye lenses on the four sides of the main body. It seems that the point where the angle of each lens is slightly shifted up and down is a point. In addition to connecting to an optional "processing unit" when streaming 4K video, this is also equipped with an Ethernet terminal under the main unit, in addition to POE (Power-On-Ethernet This is because the system is adopted.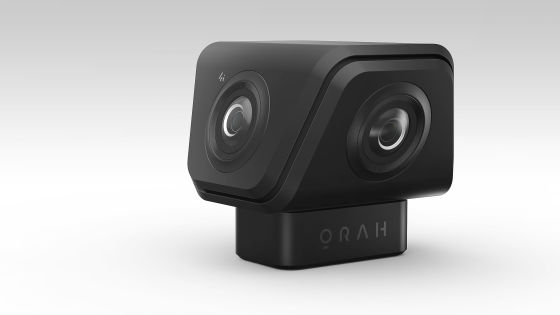 The camera body is made of aluminum, and it is highly durable and it is suitable for professional site. The size of the main body is 80 × 70 × 65 mm which is small size, and it is possible to have distortion free by bringing the positions of the four sensors closer to one point. It seems that the weight is 17 ounces (about 481 grams) and it is very lightweight finished.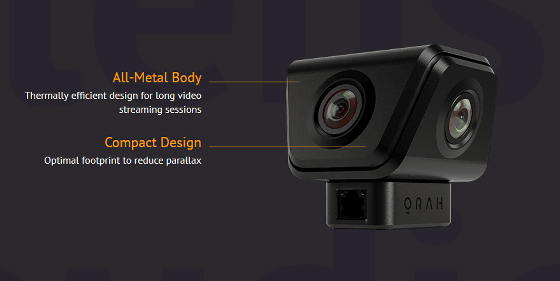 The fish-eye lens is made of glass. Moreover, by installing Sony's high sensitivity sensor, it seems that it seems to be able to keep high picture quality even in shooting in dark places. The resolution of each camera is 2048 × 1536 pixels, it is possible to shoot 4 K / 30 fps video.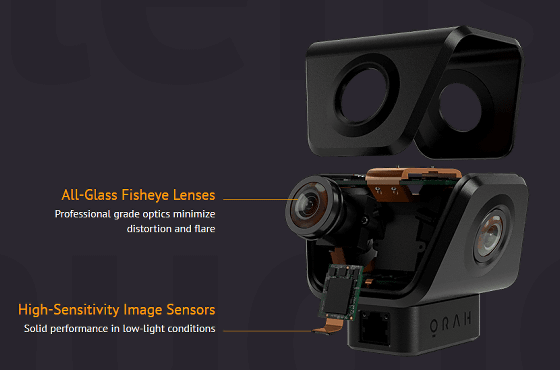 The stabilizer mechanism is provided inside the main body, and it is said that it is not easily influenced by tremor and movement. In addition, by incorporating four microphones, it is possible to record sound with realism.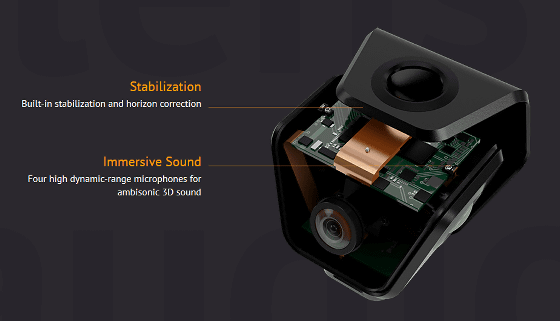 Although it is worrisome what kind of picture can be taken at this time, it seems that the actual picture is not released on the manufacturer's site or YouTube yet. Although the image movie of Orah 4i is released on the manufacturer's YouTube channel, people who are interested may be able to see new contents in the future if you register channels.

Orah: Live VR Made Simple - YouTube


Detailed specifications etc. are published on the following page.

Technical Specifications | Orah
https://www.orah.co/tech-specs/

Although the part enveloped in a mystery still remains Orah 4i of the 360 ​​degree camera, Engadget succeeded in the review of the actual machine. According to the article, the composition captured by the four cameras is accompanied by rattling, and the completeness degree as a camera is still improving. In addition, while Ricoh has released competitors such as "THETA S" released, the evaluation of Orah 4i's advantage is unknown.

The Orah 4i camera makes live 360-degree videos a reality
http://www.engadget.com/2016/04/06/orah-live-360/

Orah 4i is accepting reservations for regular price of $ 3959 (about 430,000 yen) at $ 1,795 (about 196,000 yen), and it is scheduled to ship in 2016.