The overwhelming huge world's largest aircraft "Airlander 10" will be released in fully assembled state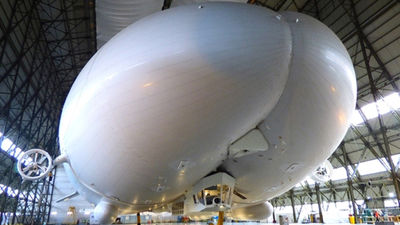 The world's largest aircraft with a total length of 92 meters, a total height of 26 meters, and a width of 43.5 metersAirlander 10"Was released in the hangar at Bedfordshire, England. The aircraft is fully assembled to the state where it can fly,Last publishedUnlike the exhibition in a suspended state in the air, that state is released in the photograph.

Hybrid Air Vehicles - Airlander Assembly Complete - On Time and On Budget
http://www.hybridairvehicles.com/news-and-media/news/airlander-assembly-complete-on-time-and-on-budget

Massive new aircraft the Airlander 10 is unveiled | World news | The Guardian
http://www.theguardian.com/world/2016/mar/21/airlander-10-hybrid-airship-unveiled-bedfordshire

Airlander 10: New pictures of world's longest aircraft - BBC News
http://www.bbc.com/news/uk-england-beds-bucks-herts-35836218

Airlander 10 is the world's largest aircraft that combines the features of an airplane and an airship, the volume of a giant filled with helium gas with a total length of 92 meters, an overall height of 26 meters, and a width of 43.5 meters is 38,000 cubic meters. A total of four Jumbo Jet engines are mounted, manned flight of five consecutive days with maximum altitude of 20,000 feet (about 6100 m) · maximum speed of 80 knots (148 km / h) is possible, loading weight is 2 tons It is up to.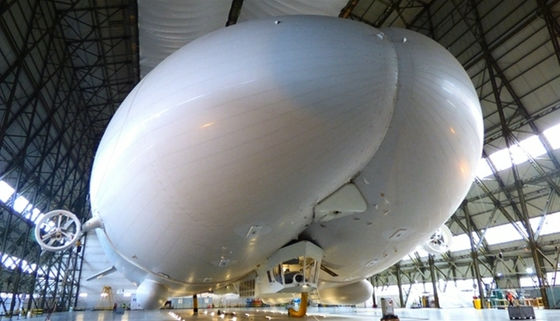 Looking from the top like this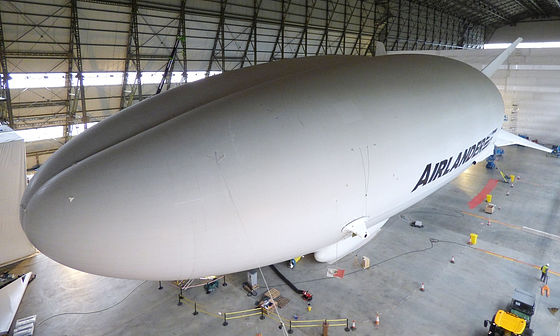 The cockpit is visible in the middle of the bottom. Compared with humans, you can see how big it is a huge airship.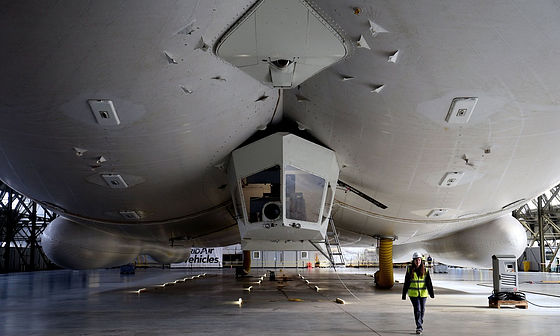 Incidentally,When the heart is dirty Airlander 10 appears to be differentThe tweet that was called also attracted a hot topic.

I was convinced that my heart is dirtyPic.twitter.com/KOpTbGKjCW

- Adsense click please (@ kougasya_meria)March 23, 2016
David Burns, the chief of the test pilot team sitting in the cockpit.An accident where huge airships threaten 33 people in 1937Although it had happened, Mr. Burns said there was no worry about manipulating Airlander 10 and he said "It was a very interesting and wonderful experience about Airlander 10's flight experience."