Wachowski brothers in movie "Matrix" to sister with sex change


Known in the movie "Matrix"Wachawsky former brothers'S older brother Larry Wachowski received a gender-compatible surgery after the movie "Speed ​​Racer" released in 2008, has been reborn as a woman and has renamed his name to Lana Wachowski. Since then, they have been called Wachawski brothers, but his brother Andy Wachowski got a woman receiving sexual compatibility surgery and changed his name to Lily Wachowski I announced and became Wachowski sister from Wachowski siblings.

229825 - Second Wachowski filmmaker sibling comes out as trans - Gay Lesbian Bi Trans News Archive - Windy City Times
http://www.windycitymediagroup.com/lgbt/Second-Wachowski-filmmaker-sibling-comes-out-as-trans-/54509.html

Lily announced a statement in the title "Windy City Times" for homosexuals, bisexuals, and transgender with the title "Shock transsexuality - Wachawsky brothers become sisters !!!" According to the statement, Lily's gender change article seems to be published many times in the past, and that this is contrary to her intention that Lilly himself has made public the fact of sex change. In a statement, "Yes, I am a transgender and I have been transgenerated," I clearly state that I am a transgender.

One day before the announcement, a person who names a reporter of British tabloid paper "Daily Mail" visited Lily's home. Daily Mail is a transgender named Lucy Meadeoth before, writing an article of a woman serving as a faculty member at an elementary school, summarizing that article "Contents of a transgender acting as a faculty is a negative effect on students" "It is said that Midoth was not only caught up in the wrong body trap, he is getting into a trap of the wrong job title. Then a tragedy happened that Lucy committed suicide.

As a reporter on Daily Mail who wrote about Mr. Lucy came home, Lily felt horror and made a public announcement of sex change.

Wachowski's sister at the preview of "Cloud Atlas" published in 2012. On the left is Lily which announced the sex change this time, the right is Rana.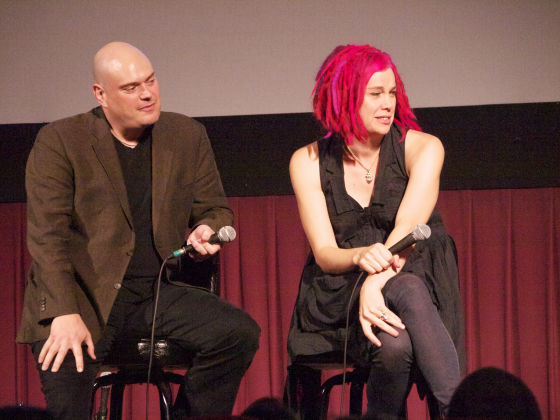 ByAnna Hanks

Lily said that "becoming a transgender means that we face a tough reality and the rest of our lives are hostile to the hostility.I think that I am lucky because my family, wife and friends are cooperative. Some of the transgender people who can not receive it are involved in the murder case.In fact, the number of victims of murder cases of transgender in the United States is tremendously high, we are not predators. "It is leaving a comment in the statement to worry about transgender people.

Lily is posting her own photo in a statement.