SlySoft of "AnyDVD" developer is closed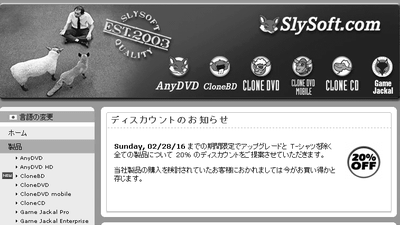 SlySoft, known as the developer of DVD ripping software "AnyDVD", closed the official website and reported that all activities had to be canceled.

On SlySoft's site"Virtual CloneDrive" free software that can create virtual drives such as Blu-ray / HD-DVD / DVD / CD on PCAlthough it was also handled, it originated from the fact that SlySoft was separated from Elaborate Bytes which is developing Virtual CloneDrive.

Closed :-(
http://www.slysoft.com/

Even if you visit the site as of February 25, "SlySoft company has to stop all activities under the legal regulation.Thank you for years of patronage, thank you very much "The message is only displayed.

Due to recent regulatory requirements we have had to cease all activities relating to SlySoft Inc.
We wish to thank our loyal customers / clients for their patronage over the years.

Several weeks ago it was displayed like this. You can see that the sale period is until February 28, 2016 and has been closed without waiting for the end.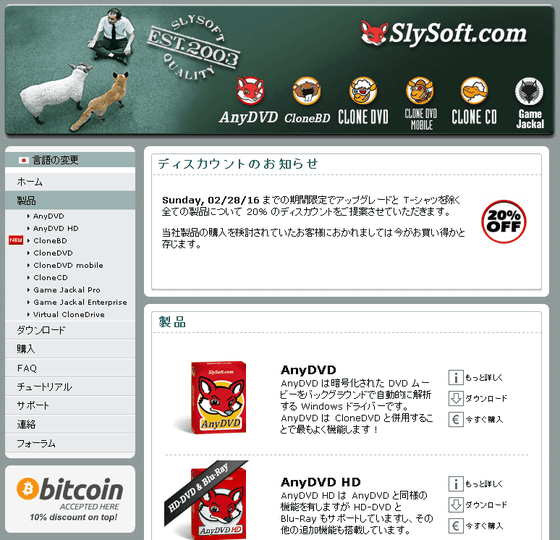 Team member Tom showed up in the forum, revealing that SlySoft has been doing for 13 years and huge pressure has been applied since 2007.

SlySoft Closed: - (| SlySoft Forum
https://forum.slysoft.com/threads/slysoft-closed.68304/




The source of this pressure is the American movie industry. Industry has long been a problem with AnyDVD which can release ripping by canceling copy guard. Organizations that formulate copy control standardsAACS LAIn cooperation withNational Trade RepresentativeIt also moved, but SlySoft is headquarteredAntigua and BarbudaNaturally the copyright law of the United States did not fall short, and it was impossible to take measures because the copyright guard avoidance by illegal copyright law of Antigua and Barbuda was not illegal.

However, as the law which makes illegal copy guard avoidance be made in 2012, AnyDVD will be the subject, and in 2014, the owner of SlySoft will be sentenced to a fine of $ 30,000 (about 3.4 million yen) due to copyright law violation I descended. It seems that the movie industry was excited as "a big victory at Antigua and Barbuda!Sony Pictures got hacked in 2014You can see a glimpse of the mail that leaked in the matter.

FW: Antigua Victory - WikiLeaks - Sony Archives
https://wikileaks.org/sony/emails/emailid/107430

Incidentally, Elaborate Bytes, which is the branch source of SlySoft, has Virtual CloneDrive as well as Blu-ray copy software "Clone BD"And DVD copy software"CloneDVDAlthough it deals with, it is still available for downloading.

Download - CloneBD, CloneDVD, and Virtual CloneDrive
https://www.elby.ch/en/download.html

· Continued
"AnyDVD" developer · SlySoft's forum renamed "RedFox" and continued activity - GIGAZINE