Drawing a profession as an RPG-like "corporate warrior", full of job content and salary "Japanese salary & professional chartbook"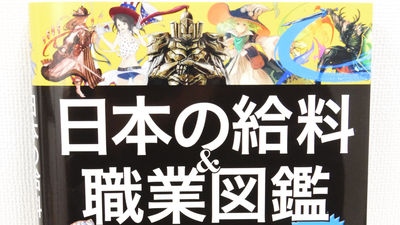 A site that describes RPG style illustration about salary, salary, and takeover of about 300 occupations "Salary BANK"It turned out that"Japanese salary & vocational guidebook"is. The contents are upgraded according to the book making, "Dad mother with children, those who can not take pride in job change or work, those who like RPGRecommendedI was concerned about what kind of things, so I tried it.

Salary BANK will be released as the book "Japan's salary & vocational guidebook"! | Salary BANK
http://kyuryobank.com/book

The author of 'Japanese salary & professional graphic book'Yamada CompetitionMr. Based on the contents of his site "salary BANK", it seems that work was done at super speed of 3 months from the time the project arrived until the book release.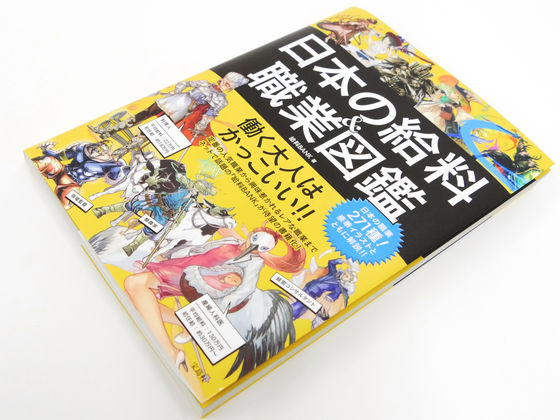 Illustrations of various occupations are on the back side in the icon style.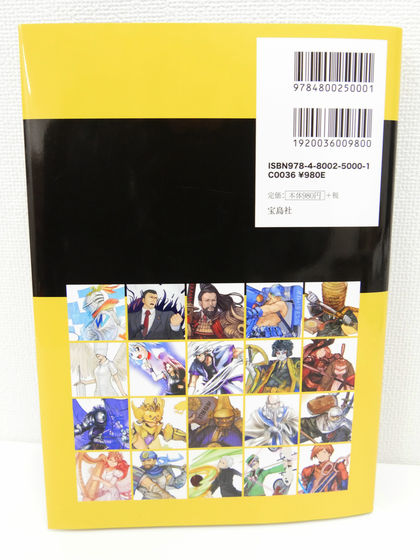 For each page, job title, occupation introduction, comparison between average salary and average salary in Japan, monthly average salary / salary are written on the status table of RPG.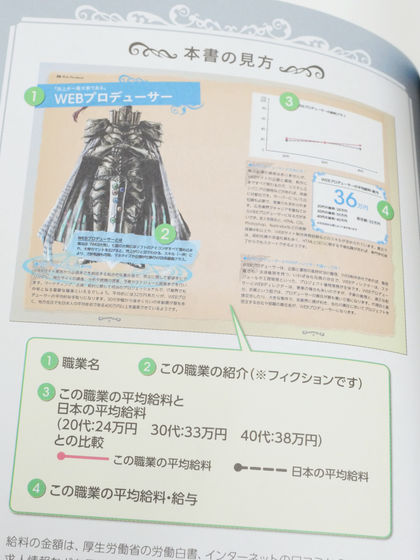 "Japanese salary & vocational guidebook" is chapters classified by genre, taking 271 kinds out of jobs posted in salary BANK, and the table of contents is as follows.

◆ Chapter 1 IT-based occupation
◆ Chapter 2 Masters · consulting occupation
◆ Chapter 3 Public Service Occupation
◆ Chapter 4 Entertainment and Arts Occupation
◆ Chapter 5 Civil engineering · physical fitness · sports occupation
◆ Chapter 6 Medical / nursing care profession
◆ Chapter 7 Foodservice · Service · Fashion occupation
◆ Chapter 8 Other occupations

The first page of Chapter 1 is a "WEB producer" wearing armor.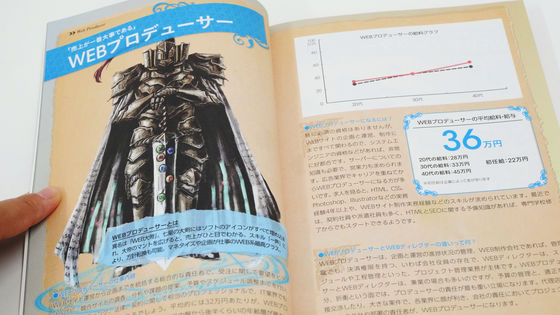 When you have "Seven Star's big sword" embedded with seven kinds of software icons such as Excel, Word, Adobe Illustrator, Photoshop, etc. and spreading the cloak while chanting Zelif's "Sales are the most important" Have skills to understand sales at a glance.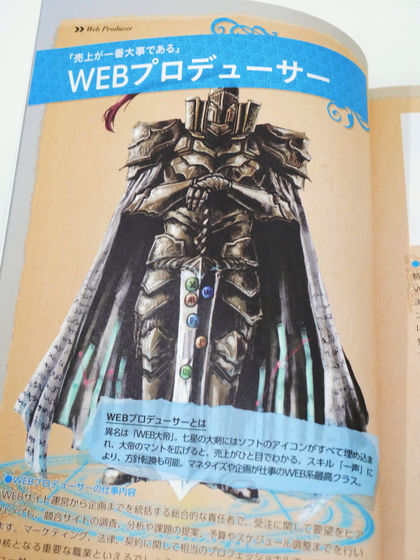 The average salary / salary written on the right page is slightly higher than the average salary in Japan, 360,000 yen. The starting salary is 220,000 yen, it seems that as you get older you will acquire skills and salary will be up.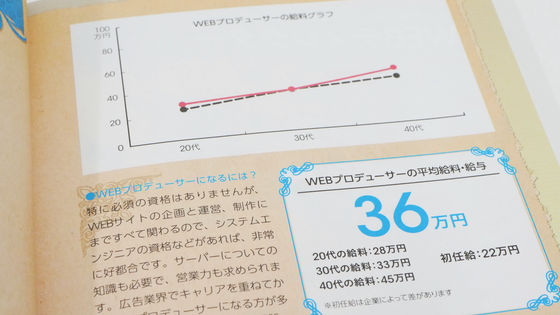 Next, wearing a sturdy armor, equipped with an umbrella-like coding shield in both hands "WEB programmer". It is a warrior that is the key to defense of the security of the site in the back guard, decided Zelif is "It is like programming is to compose symphony."



"System Engineer" is a swordsmen working on specifications production with Word sword and Excel shield.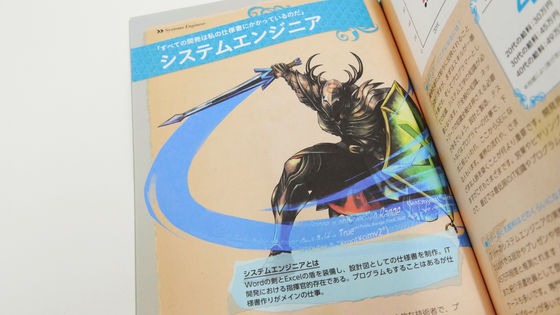 In addition to the average salary, the page on the right also contains answers to questions such as "How much is your salary if it is free?"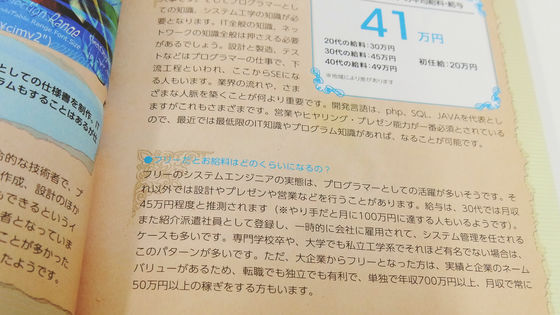 "WEB DESIGNER"DreamweaverArts Knight (Art Night) who is wearing the armor of the photographer and protecting the avant-garde of the Internet by making use of the two swords of PhotoShow bar and Iraire Saber.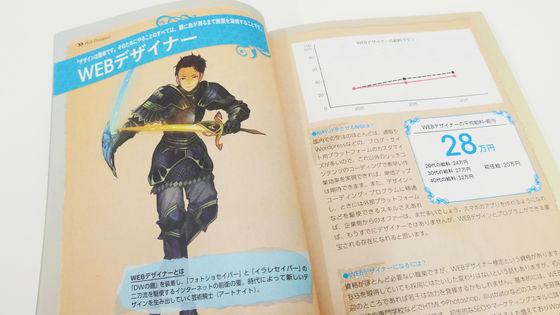 WEB producer, WEB programmer, WEB designer, when the WEB director joins, it becomes "WEB Crusade".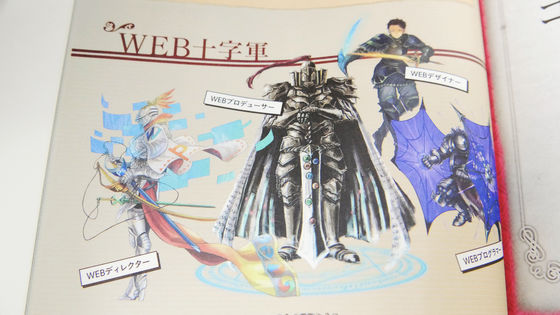 The first page of "Chapter 3 Public Service Occupation" is the champion of the commercial theater company "Shiki Theater Company". Actors are said to have "beasting" skills to haunt animals, and in the illustration cat aura behind the actor in practice wearing shape is visible. The income of the actor is calculated by multiplying the number of performances by the actor unit price, and some people reach an annual income of 30 million yen.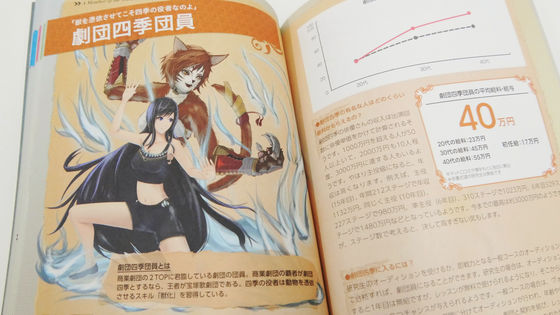 The top class occupation "announcer" as an event transmission job is equipped with a weapon "Mike" that converts his voice and words into magic, and I am working to control the spirit that embodied the words.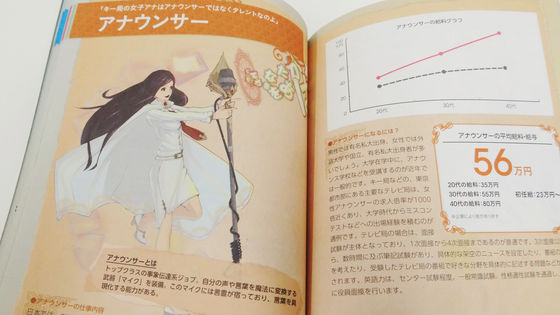 "Cute and poisonous. Which one is my nature?" While murmuring "reader model" works as a female college student or OL, he introduces new clothing and make-ups in fashion magazines etc., the average salary is about 50,000 yen.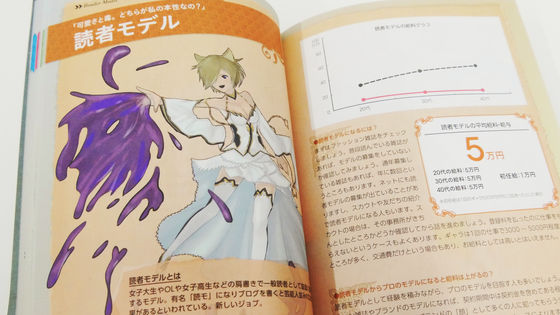 "Cosplayer" is a job that makes fantasy characters possessed by their identity and can transform them into everything, aka "transformation teacher". We earn revenue from photography societies and events, creation of original brands, Nico Nico video, YouTube and others. The average salary for a month is about 160,000 yen, but there are also many people doing it as part of their hobbies because of the cost of costumes and makeup.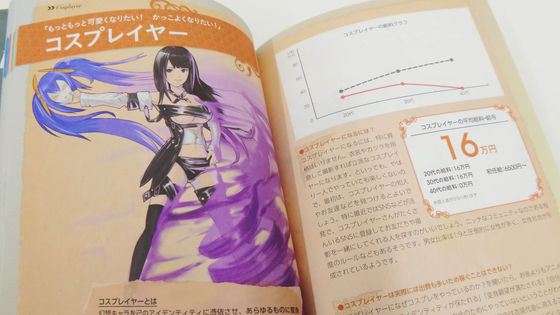 Both "voice actor" and "singer" are depicted as artistic attractions that attract people.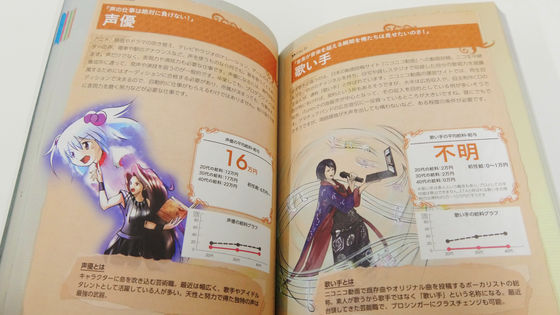 "Youtuber" of a new job born in the 2010s, average salary varies from person to person, but if you become popular youtuber you also earn over 6 million yen per month.



"Pro gamer" of operation system job which manipulates multiple displays and keyboard is a warrior who secures more than 10 hours of practice time a day and earns prize money by FPS and fighting game etc.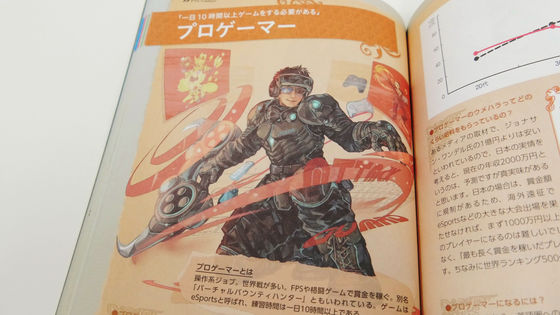 "Pro blogger" which does not do flames as a thing penetrates intention with the mouse sword while preventing flame with a keyboard shield, and is fighting as a knight specialty every day.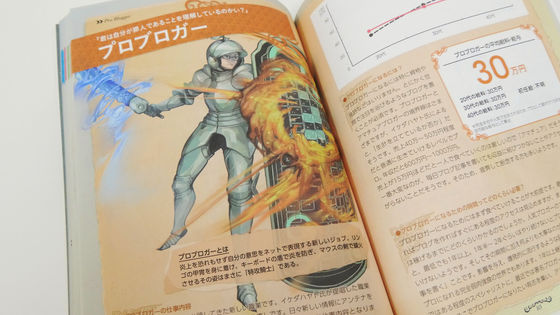 "Chapter 8 Other occupations" include "highway tollgate staff" like Senju Kannon where speed, politeness and accuracy are required ... ...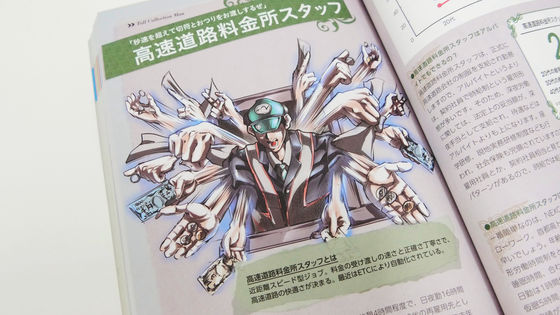 As an occupation of a housewife-only class, "Lactobacillus drink delivery member", so-called Yakult Mr. and others are drawn.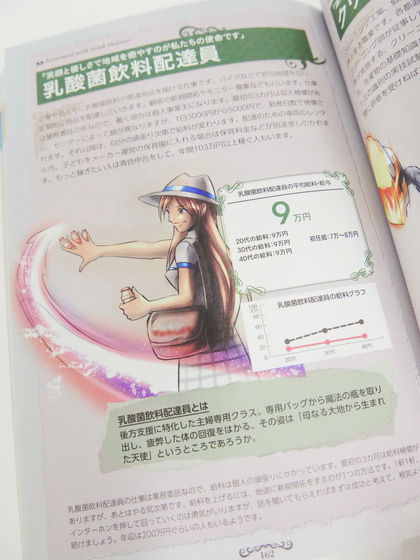 You can also learn more about unusual occupations such as "chick expert" who distinguishes chick sex by special ability and dealing 1000 chicks in one hour in chicken farm etc etc.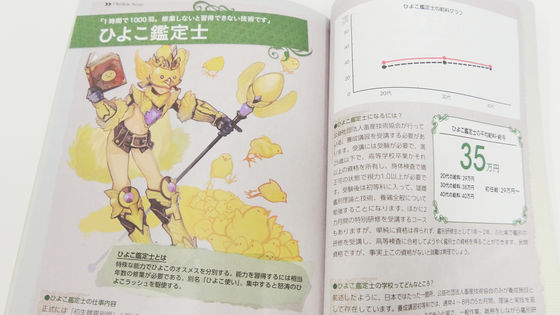 In addition, "Japanese salary & professional picture book" is sold at Amazon for 1058 yen including tax.

Amazon.co.jp: Japanese salary & amp; employment picture book: salary BANK: book
http://www.amazon.co.jp/dp/4800250005/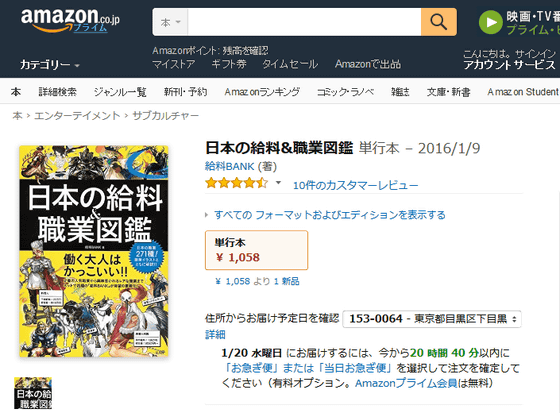 in Review, Posted by darkhorse_log