802.11ad (WiGig) router "Talon AD7200" that realizes world's first 4.6 Gbps ultra high speed wireless communication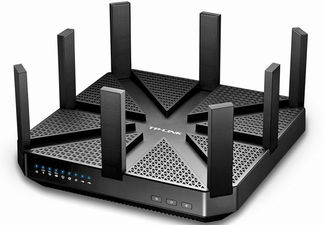 TP-Link, a Chinese router manufacturer, is the world's first wireless communication standard using the 60 GHz band (millimeter wave band) "802.11ad(WiGig) "compatible multiband router"Talon AD7200We announced at CES 2016. Ultra high-speed wireless communication of up to 4.6 Gbps will be possible only in the short distance.

TP-LINK® Unveils World's First 802.11ad Router - Welcome to TP-LINK
http://www.tp-link.us/news-details-16352.html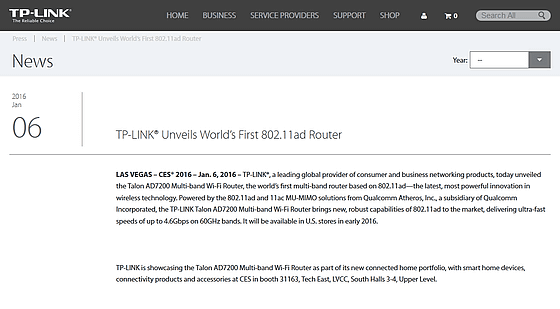 TP-Link unveils world's first 802.11ad WiGig router | Ars Technica UK
http://arstechnica.co.uk/gadgets/2016/01/tp-link-unveils-worlds-first-802-11ad-wigig-router/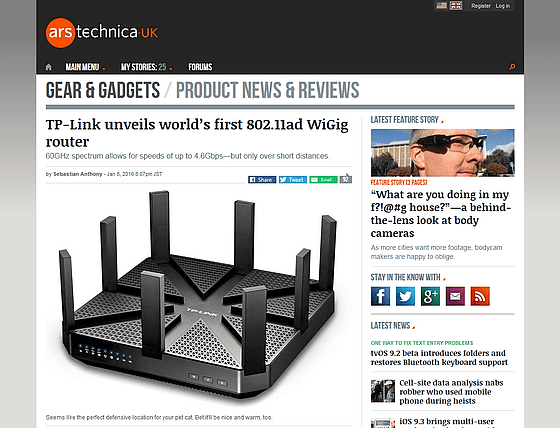 The Wi-Fi router "Talon AD 7200" announced by TP-Link will be released in the US in early 2016, according to Ars Technica UK, the price is expected to be less than $ 250 (about 30,000 yen). It supports not only 60 GHz (WiGig) of maximum 4.6 Gbps, but also 2.4 GHz of maximum 800 Mbps, 5 GHz of 1733 Mbps maximum. Because it covers not only "802.11ad" but also "802.11a / b / g / n / ac", wireless communication is possible even outside WiGig usage range that can only be used at short distance.

The Talon AD7200 is equipped with 4 × 4 flat antennas and is a subsidiary of QUALCOMMAceros CommunicationsofBeam forming technology of "MU-MIMO"It is said that high-speed communication can be obtained even with simultaneous multiple connections by one router. Four moreGigabit EthernetIt has a port and a two-port USB 3.0 port, and it has a function as a high-end router.

According to TP-Link, it is possible to download 4K HD image quality movie in about 4 minutes and transfer thousands of photo files to the storage equipment etc. in just 5 seconds via radio.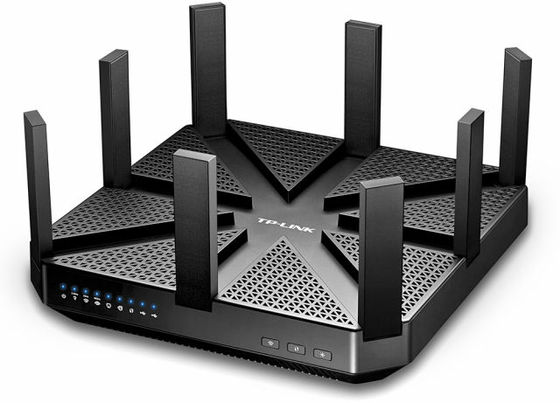 According to PC Watch, at the Qualcomm booth of CES 2016, a WiGig router under development jointly by NEC and Elecom is also being exhibited, and it is expected that the multiband router corresponding to WiGig will gradually increase in the future is.

【Event Report】 NEC and Elecom display exhibits IEEE 802.11ad compatible router ~ 60 GHz high speed communication solution rising rapidly - PC Watch
http://pc.watch.impress.co.jp/docs/news/event/20160108_738138.html