[Old News] "Gegege no Kitaro" Author 's cartoonist Shigeru Mizuki died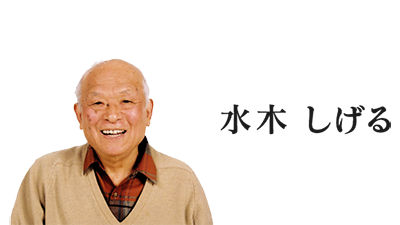 Mangaku Shigeru, a manga artist known for such as Gegege no Kitaro, Kappa Sanpei and Devil Kun, died on November 30 morning due to heart failure at the hospital in Chofu, Tokyo. He was 93 years old.


[Breaking news] Cartoonist Mizuki Shigeru died in a hospital in Chofu, Tokyo, 93

- TBS NEWS-i (@ tbs_newsi)2015, November 30

Mizuki Shigeru was born March 8, 1922, dropped out of Musashino Art School, debuted as a cartoonist in 1958. He had published numerous works influenced by the monster talk that Kageshi Fusa who was entering and leaving home as a girlfriend when he was young talked.

After debut as a manga artist, he announced "Gegege no Kitaro", "Kappa no Sepei", "Devil kun" etc, and "Gegege no Kitaro" was published in "Weekly Shonen Magazine" to popular cartoonist. Although he was actively energetically active, it was reported that he was hospitalized for myocardial infarction in December 2014.

Mr. Mizuki who celebrated his 93th birthday on March 8, 2015 (Sunday).

[93 years old birthday] March 8th was Mr. Shigeru Mizuki's 93th birthday. Thank you for a lot of presents such as flowers and sweets. Today I received a pudding with a message and I am having a great time! I have lost my physical condition recently, but I am feeling better today!Pic.twitter.com/xezPjk4kXN

- Mizuki Production (@ mizukipro)2015, March 10

Mizuki Productions acknowledged that Mr. Mizuki was somewhat disappointed after admitting "my daily" serialized in big comic from 2014 in May 2015, but "Millionally burdens the series "Since" I'm out of here and there, I lack manga story "and deny the health anxious theory.

The series of big comics has ended. "Why? Mizuki Sun collapsed!" Is asked, but such a thing is not. It is certain that I have been feeling sick since last year but my elderly and serialization is burdensome and I can not go out of here, so it is a shortage of manga. Do not worry, everyone!

- Mizuki Production (@ mizukipro)2015, May 11

In July where the physical condition was goodIbaraki Prefecture Tenshin Memorial Goro Art MuseumWe visited the "Towards a different world - the great gathering of youkai -" which was done at.

At the Ibaraki prefecture Tenshin Memorial Goro Art Museum, a planning exhibition entitled "Towards a different world - a large set of youkai" is being held.http://t.co/PvhiRHUY15Mizuki Sun who was in good shape the other day, I extended my legs to the museum. He was eagerly looking at the old yokai picture.Pic.twitter.com/sgVJBpCX9S

- Mizuki Production (@ mizukipro)2015, July 29

In September, I visited Kitaro Chaya in Fukaderaji where I celebrated the 12th anniversary of my wife and I ate a lot of menus.

【12th anniversary of Fukajiji Kitaro Chaya】 I'm currently doing 12th anniversary event at Kitaro Chaya. Mizuki also went out with a couple for the first time in a long time, and had plenty of tasty delicious menu ♪Pic.twitter.com/eP75z1Cn5R

- Mizuki Production (@ mizukipro)2015, September 13

On September 30, I posted photos taken with foliage plants etc. on Twitter.

Shimizu Mizuki who loves mini-ornamental plants for farming that I bought at home centers as "beautiful ..." It became one piece like the wonder of the forest!Pic.twitter.com/sOeuVzIJ 6 f

- Mizuki Production (@ mizukipro)2015, September 30

◆ November 30, 2015 15:57 Addendum:
There was an announcement on the official website. I had fallen at home on 11 November, I was undergoing an emergency operation with subdural hematoma due to bruising the head, I was recovering temporarily but the condition deteriorated in the early November 30, 7 am on November 30 He died of multiple organ dysfunction in 18 minutes.

Obsolete | Mizuki Production Official Website Kusakabe Communication
http://www.mizukipro.com/2015/11/post-1341.html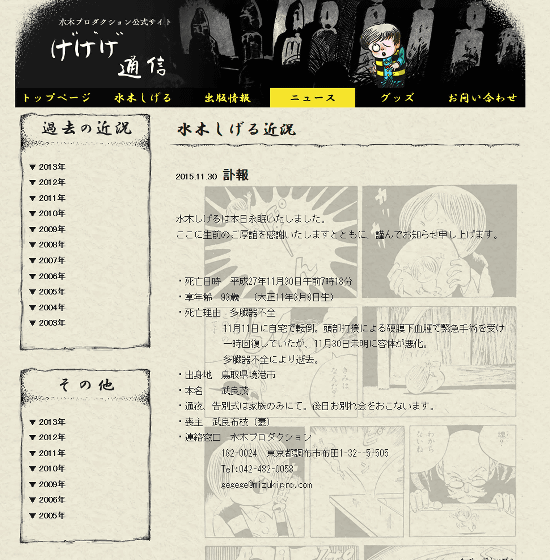 ◆ December 01, 2015 13: 30 postscript:
There was a comment from the family on the official website.

Recent Status | Mizuki Production Official Website Kusakabe Communication
http://www.mizukipro.com/news/state/

"My father passed away"

It was incredible.

"It seems like it will be until 100 years old, or 120 years old," Mizuki was always talking about.

From now on I will continue to be 100 years old unexpectedly, I thought that the same kind of days will continue for the future.


Last year I fell down with myocardial infarction and I was hospitalized for 2 months and in February this year I was discharged from a wheelchair.

My strength was totally low, but then I began to be able to walk little by little, taking advantage of my strength.

I recovered by walking the 1 km road from my house to my company.

My appetite also returned, "Is not there anything good?" Was a habit.


Mizuki who said that "The last one is to follow God's decision."

I think that having suffered naturally without being distressed was able to greet the end.

I was gently surrounded by my family.

It was a pity that the falling down at home triggered me

This may also have been decided by God.


Dad who thought family the most. I think that I am surely watching from now on.

Now it may be pleased to see a deceased comrade again.


Last but not least, fans, everyone involved,

Thank you for supporting Mizuki for a long time.