A bright red cooked boiled pot comes up We have a good Yaoyui "Tofu Tige set meal"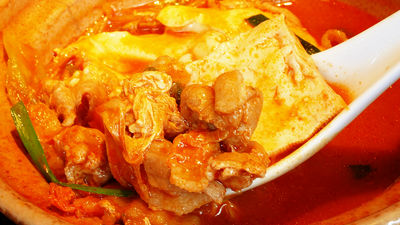 From Thursday, November 5I started "sukiyaki set menu"Only "Yoyoi eaters" started "Tofu Tige set meal" for a limited time as a new product from November 10 (Tuesday). It began to get cold at night, so I went to the shop looking for a hot pot.

Tofu Tige set menu | Menu | Yaoyui
http://www.yayoiken.com/menu_list/view/237

Arrived at the shop.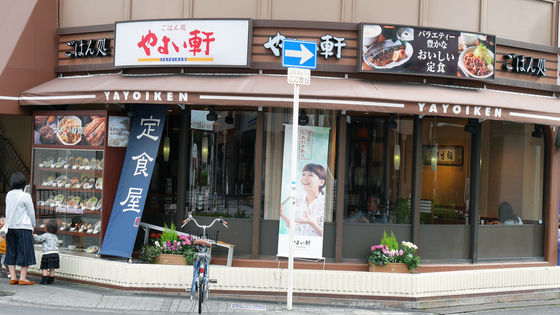 After the breakfast time was over, panels of "Sukiyaki set menu" and "Tofu Tige set meal" panel appeared.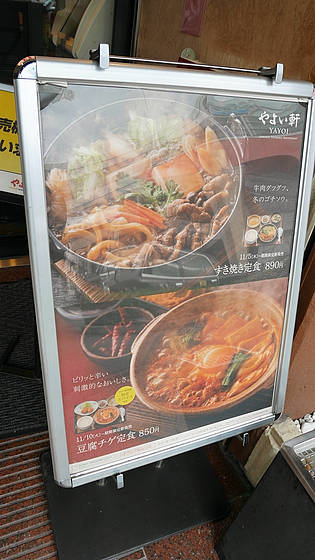 In the ticket vending machines, "Tofu Tige set meal" came in the most prominent position. The price is 850 yen including tax.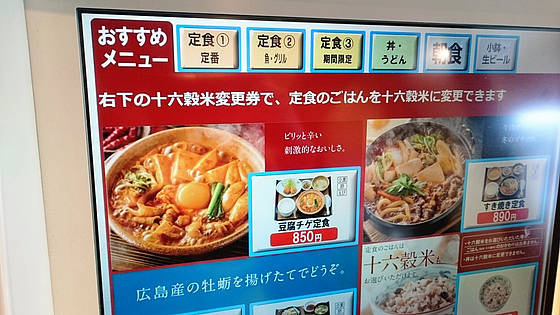 The menu arrived in less than 10 minutes after purchasing the ticket.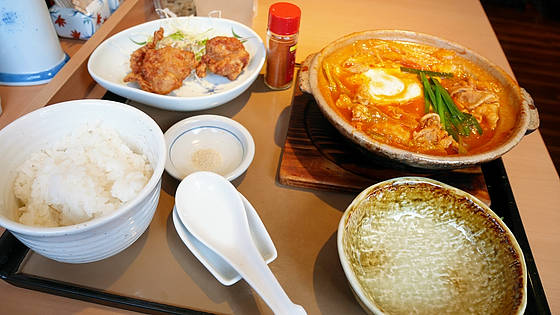 The pan hears the sound "Gutsugutsu" and the surface is boiling with the pocopoko. It is not warming with solid fuel like "Nabe-zen" served by other chain stores, but if it is heated as much as this, it will remain as a tears for a while.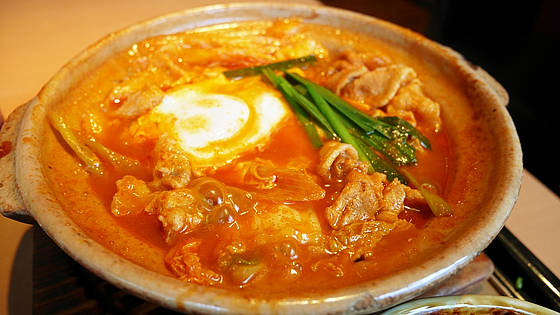 Besides the main dish tofu jige, two slices of mustard and vegetable salad, accompanied by rice.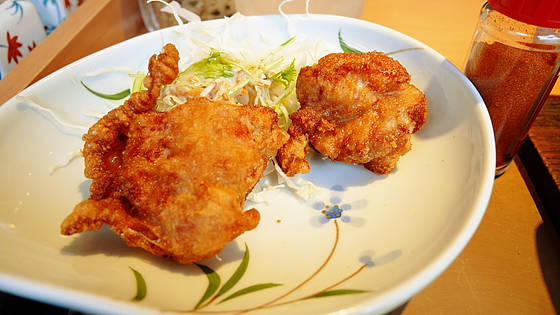 First of all I will receive it from the main Tofu Tige. Tofu was cut a little thin, and other pork, cabbage, leeks, chives and so on were contained.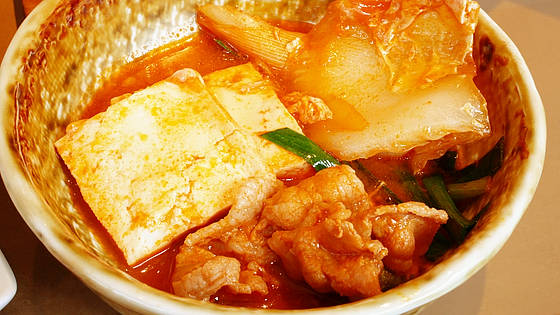 The hot soup of Atsuazu seemed to be getting hot as it appeared, and the first mouth seemed to be miserable unexpectedly. However, since hotness is not a pointy point but a wide spread, once you become accustomed, you will become able to understand the taste impregnated in ingredients. Pork kimchi sometimes feels sour, but this tige has no sour taste, it feels like it is composed of dull pungent taste and umami.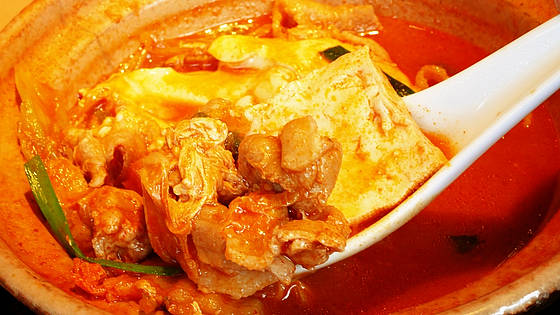 Perhaps because the yolk of the egg was mixed in the soup.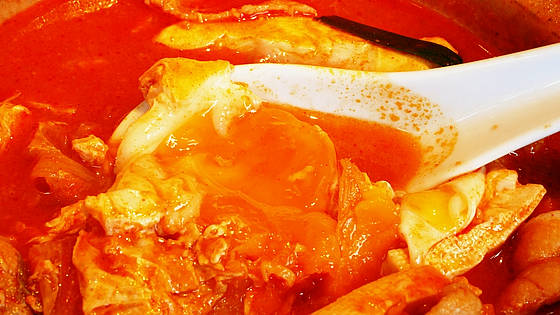 Compatibility with rice is outstanding. It is okay for me to continue eating without ingredients.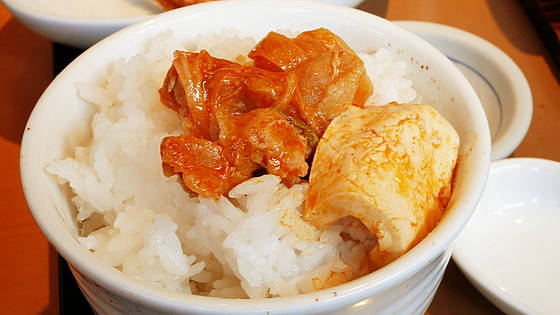 There are also hands that make soup for cooking style. As long as the hot things are not so weak, the body warms from the inside, so it is quite ant.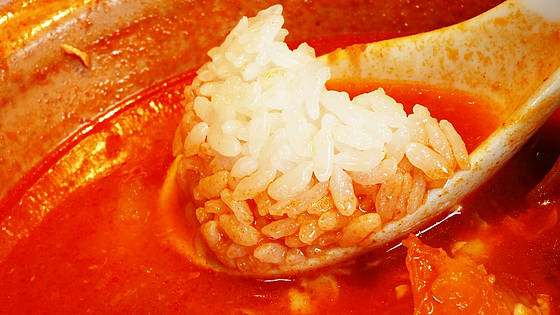 Incidentally, aside from ......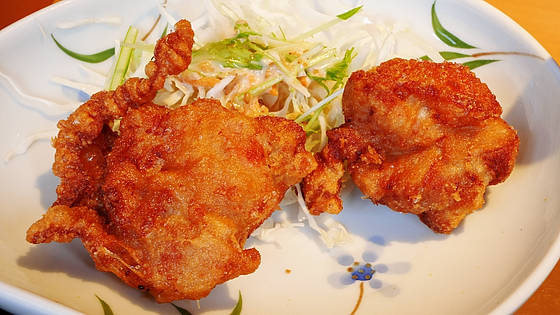 In addition to normal salt and pepper, "spicy spicy" comes along.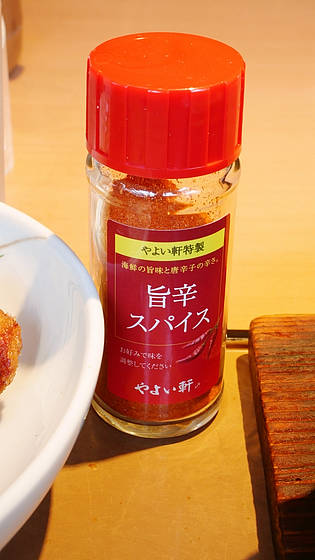 It seems to be spicy with a bright red appearance, but here also the spicyness is properly suppressed and it can be eaten as lazy because it is literally "spicy".