Tesla's model S moves forward to realize fully automatic operation, software is updated to version 7.0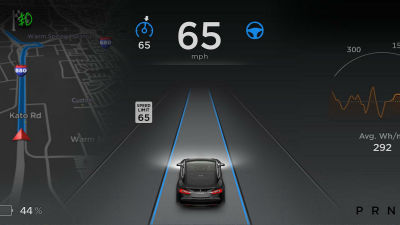 Tesla Motors' Electric Vehicle "Model SYou can add new functions by updating software like a smartphone. In the next version 7.0 of the model S software, a number of automatic driving functions were added.

Model S Autopilot Press Kit | Tesla Motors
http://www.teslamotors.com/presskit/autopilot

◆ Autosteer (beta version)
The Autosteer function is the latest version of the so-called "cruise control" function that automatically adjusts the vehicle speed according to the speed of the surrounding car and keeps it out of the lane. If you want to change the lane with the Autosteer function turned on, you will also have an "Auto Lane Change" function that will automatically lane change by instructing the direction you want to change with the blinker. In addition, Tesla recommends not to let go of the steering wheel even if the Autosteer function is enabled.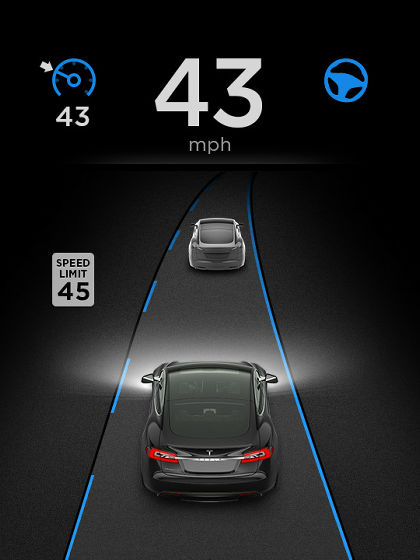 ◆ Emergency steering · Side collision warning
When a sensor mounted on the car body finds an object that abnormally approaches the surroundings, in order to avoid danger or relieve shock at the time of collision, the sensor automatically operates the steering at emergency, The function to warn the meter panel of the danger of collision of the sensor has been added.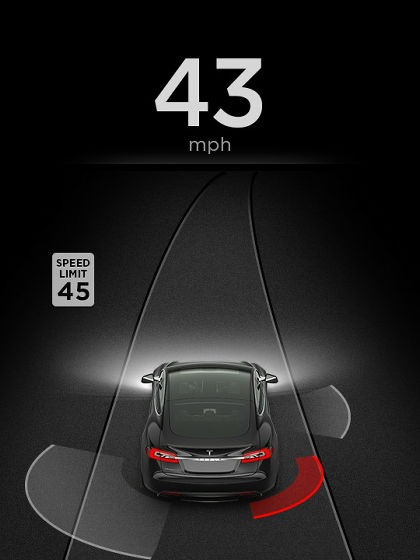 ◆ Automatic parking function
Automatic parking function was added in version 7.0. The automatic parking function of Model S has the feature of starting from where you find parking spaces. When traveling at low speed with the automatic parking function turned on, a "P" mark is displayed on the instrument panel when it is judged that it is a space that can be parked in light of the total length, full width, and total height of the model S. "Here, It will notify me that you can stop it ~ ".

Of course, after discovering the parking space, the parking space will be displayed in the guideline with the model S looking down from above on a huge touch screen of 17 inches and will park automatically without any operation.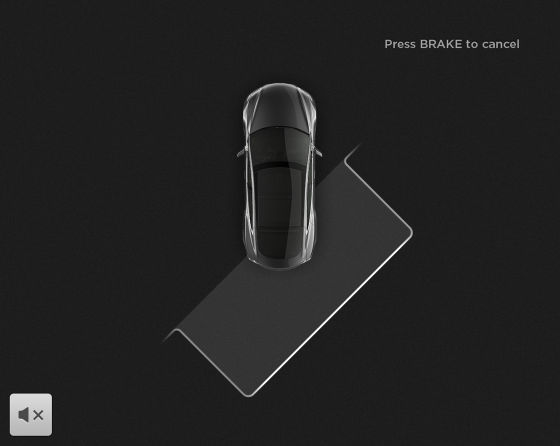 With Version 7.0, Model S is surely one step closer to full automatic operation.




As for the fully automated operation mode of model S, the idea of ​​realizing it by "learning" information of other model S is confirmed by Tweet of Earlon Mask CEO.
2015, July 31
◆ Additional notes
How to drive in Autosteer mode of version 7.0 is as followsCNETYou can check it in the movie.