In supercompact compact body 4.7 inch display of the same size as iPhone 6s and high speed IGZO etc. packed up high specs smartphone "AQUOS Xx2 mini" photo review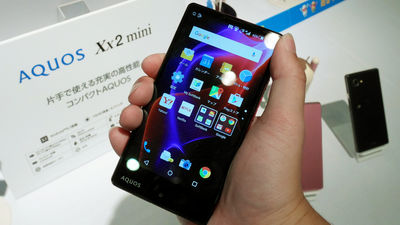 Sharp developed a newly developed "high speed IGZO", fingerprint sensor, wide angle in camera and other variety of rich features such as "AQUOS Xx 2"While it has almost the same high performance, it is finished in a compact body with a width of about 66 mm that makes it easy for girls to grip easily"AQUOS Xx2 mini"is.Softbank & Wy-Mobile's 2015 Winter Spring New Product PresentationSince the real thing was exhibited at the factory, I actually checked what kind of terminal it was and confirmed it.

AQUOS Xx2 mini | Search products from the list | product information | mobile | SoftBank
http://www.softbank.jp/mobile/products/list/aquos-xx2-mini/

The touch & try corner of "AQUOS Xx2 mini" looks like this.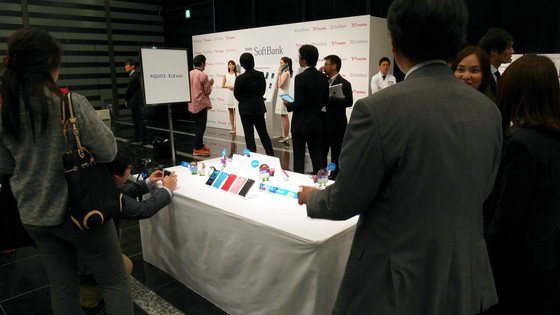 This is AQUOS Xx 2 mini. The main body color is white, blue, red, pink, black, all five colors from the left.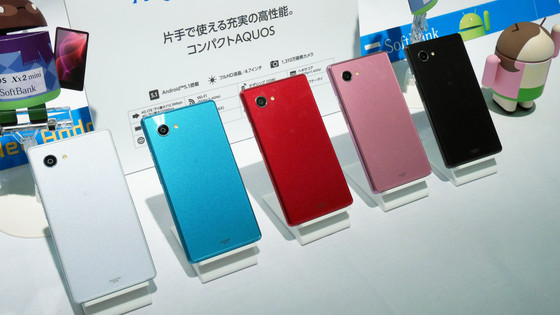 The OS is equipped with Android 5.1, CPU and RAM are equipped with Snapdragon 808 (1.8 GHz (2 cores) + 1.4 GHz (4 core) hexa (6 core)) and 3 GB of RAM as same as "AQUOS Xx 2". However, storage (ROM) is 16 GB. In addition, the battery capacity is 2810 mAh, waterproof / dustproof (IPX 5/8 · IP 6 X equivalent), 1 seg, Osaifu-Keitai, VoLTE are also supported.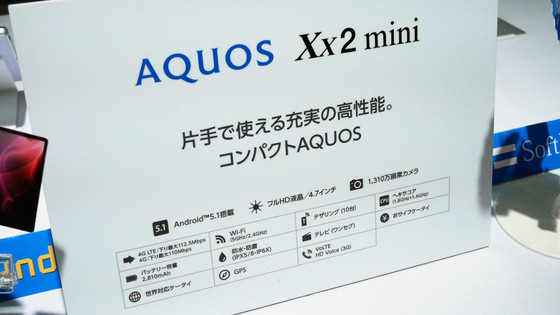 In addition, a compact sheath with a lateral width of about 66 mm, high-speed IGZO driven with 120 Hz, main body color of 5 colors to choose, 4.7 inch full HD display, capless waterproof / dustproof function, large capacity battery of 2810 mAh, long battery life A point is a point.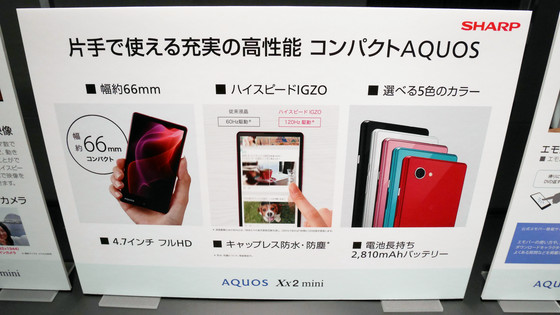 The surface looks something like this. The narrow frame design, the point that the "AQUOS" logo and in-camera are arranged at the bottom of the display. This in camera has about 5 million effective pixels and adopts a wide angle lens like AQUOS Xx 2 so SELPHY is easier to take than conventional model.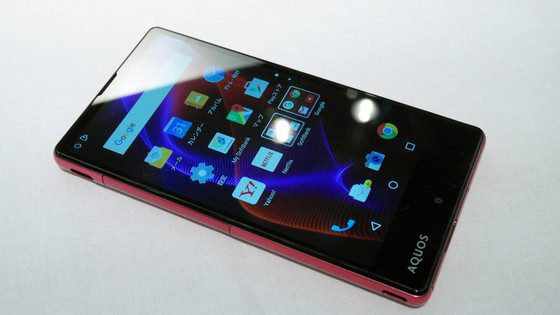 With one hand you can feel like this. The AQUOS Xx2 mini is equipped with a 4.7 inch display (full HD, 1920 x 1080) of the same size as the iPhone 6s, but it is shocked with "the same display size? It was.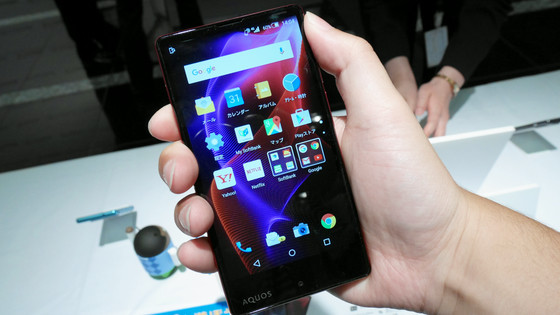 Since there is no fingerprint sensor in the AQUOS Xx2 mini, the back is pretty simple.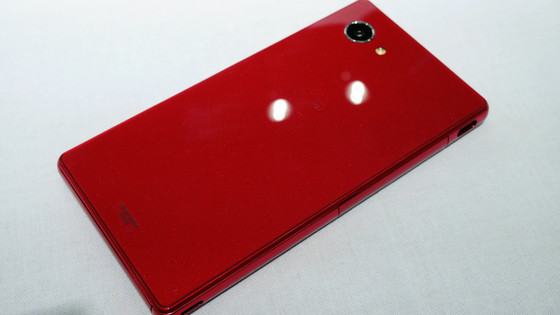 The main camera has the same effective number of pixels as AQUOS Xx2, about 13.1 million pixels. This main camera has acquired the image quality improvement certification program "GR certified" developed by members of the Ricoh "GR series", and it supports high-speed autofocus, which enables you to capture subjects more quickly than conventional cameras.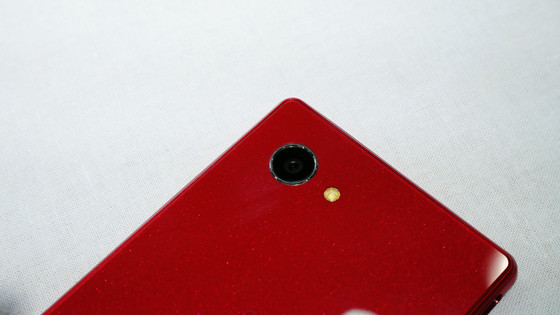 Earphone jack on the top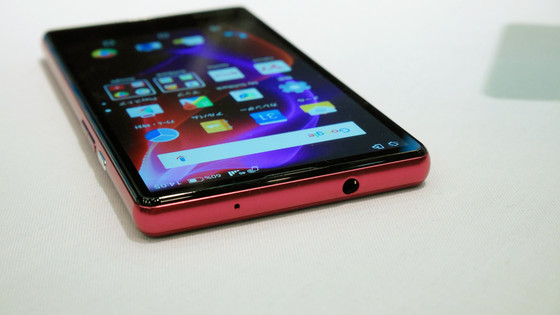 Speaker on the bottom and the edge of the surface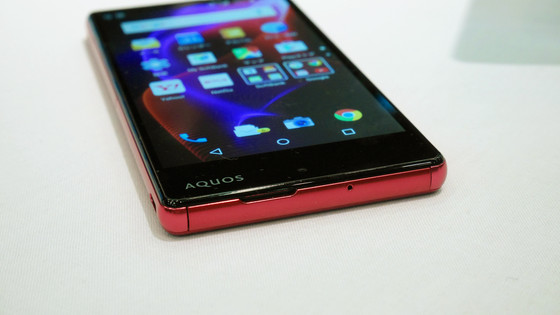 Micro - USB port for charging on the left side ... ...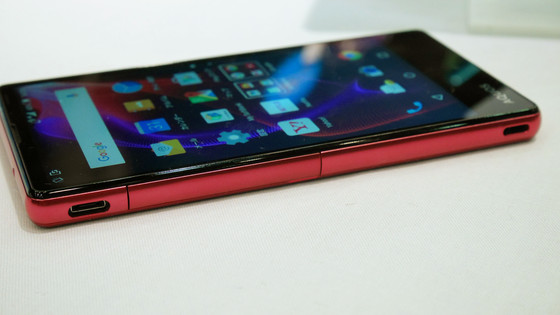 SIM card slot & SD card slot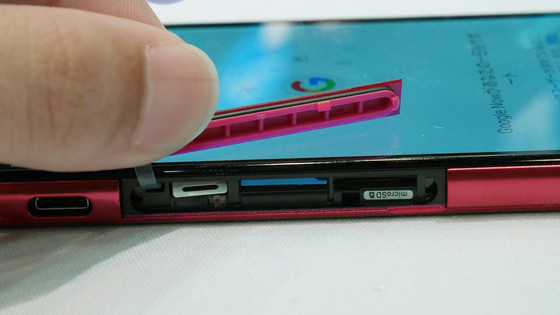 On the right side are volume adjustment button and power button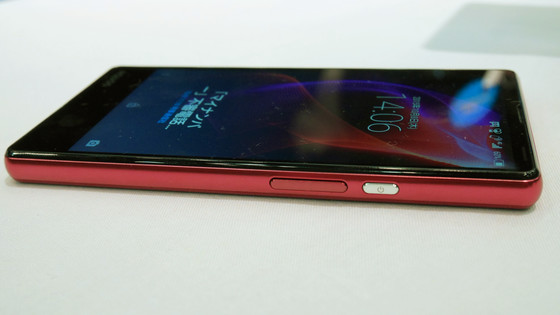 The AQUOS Xx2 mini also shimmers at the four corners of the side, letting you know the notice.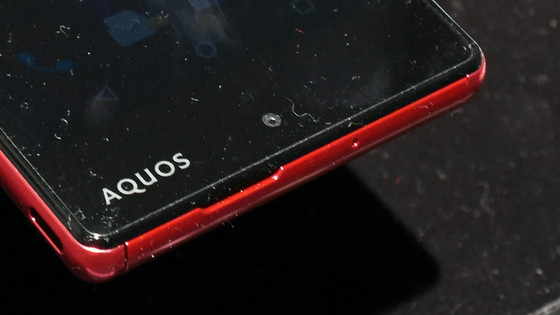 In addition, "AQUOS Xx2 mini" is scheduled to be released mid January 2016.