The smartest battery capable of ultra-fast charging from 0 to 80% in just 35 minutes "Qualcomm Snapdragon 820"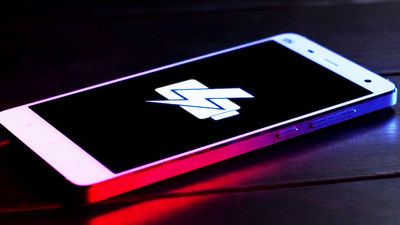 Qualcomm next-generation high-end SoC "Snapdragon 820"To realize the highest level of high-speed communication for the mobile in response to the maximum communication speed of 600 Mbps on the downlink, and it will be possible to charge at a speed that has never before been achieved with rapid charging standards It turned out.

Qualcomm Introduces Next-Generation Fast Charging Technology with Quick Charge 3.0 | Qualcomm
https://www.qualcomm.com/news/releases/2015/09/15/qualcomm-introduces-next-generation-fast-charging-technology-quick-charge

Snapdragon 820 countdown: breakthrough LTE and Wi-Fi with X12 LTE modem | Qualcomm
https://www.qualcomm.com/news/snapdragon/2015/09/14/snapdragon-820-countdown-breakthrough-lte-and-wi-fi-x12-lte-modem

According to Qualcomm's announcement, Snapdragon 820 is compatible with "QuickCharge 3.0", a rapid charging standard equipped with "Intelligent Negotiation for Optimum Voltage (INOV)" that optimizes power level. By installing INOV, QuickCharge 3.0 enables fine voltage adjustment every 200 mV within the voltage range of 3.6 to 20 V. It can be adjusted only with 4 types of 5 V, 9 V, 12 V, and 20 V. Conventional QuickCharge It developed from 2.0 to 82 kinds greatly.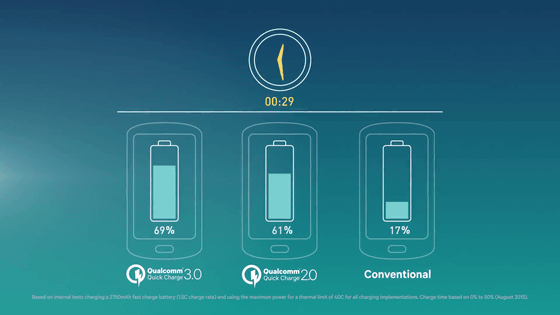 According to finer voltage regulation, smartphone battery can be charged from 0% to 80% with 35 minutes power supply. Compared to QuickCharge 2.0, the charging speed is 27% faster and the power consumption can be reduced by 45% at the maximum. QuickCharge 3.0 will be adopted for 620, 618, 617, 430 besides Snapdragon 820.

You can check the movie that understands QuickCharge 3.0 smoothly from the following.

Quick Charge 3.0: next-gen fast charging technology - YouTube


In addition, Snapdragon 820 is compatible with both Category 12 downlink and Category 13 uplink by integrating "X12 LTE modem" compatible with LTE, and it is best for mobile with a maximum of 600 Mbps downlink and 150 Mbps uplink It is said that high-speed communication of the level is realized. Besides, it is equipped with the latest Wi-Fi communication standard "802.11ad", "LTE-U" that realizes high-speed network communication using the 5 GHz frequency band, "4 × 4 MIMO "and so on.




The demo movie of X12 LTE modem can be confirmed from the following.

Snapdragon 820 with X12 LTE: a first with LTE-U - YouTube


In the past announcement compared with Snapdragon 81040% power saving & 40% faster GPU, Unique malware detection function "Snapdragon Smart Protect"New CPU that doubles power efficiency"KryoIt is proved to be equipped with. A smartphone with Qualcomm Snapdragon 820 which equipped numerous new functions and greatly improved performance from the previous version is expected to appear in 2016.