A new type Apple TV will be born soon with Siri correspondence and soon, but it is expected to rise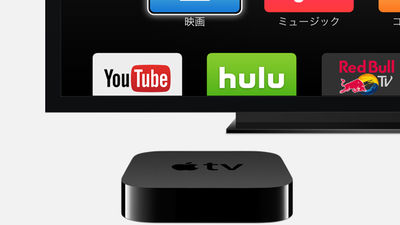 Apple's local time from 10 o'clock on September 9, 2015New iPhone presentation eventWill be held, but at the same event it is expected that a new Apple TV will be released at the same time, dealing with Apple-related news9to 5MacIt reports.

Apple TV 4 coming in October for under $ 200, Apple TV 3 stays & gets new streaming service | 9to5Mac
http://9to5mac.com/2015/08/30/apple-tv-4-200-october/

According to information gained by 9to 5 Mac, it is expected that a new 4th generation Apple TV will be released within 2 weeks, with production aiming for launch in October. It seems that the price of the new Apple TV has already been decided, suggesting that the suggested retail price will be $ 149 (about 18,000 yen) or $ 199 (about 24,000 yen). This price is higher than the price setting of 3 rd Generation Apple TV which was released for $ 99 (about 12,000 yen) in 2012.

The 3rd generation Apple TV is priced down to $ 69 (about 8400 yen) in March of 2015, and it can be purchased at a price of 8200 yen in the Japanese Apple Store.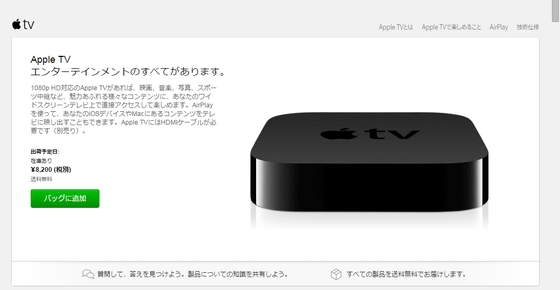 The new Apple TV will be available on Google's existing competitor productChromecastOr Amazon'sFire TV Stick,RokuBecause it is much more expensive than, etc 9 to 5 Mac, it may be left with the third generation Apple TV of 69 dollars as an entry model on the sales line.

According to information sources, the new 4th generation Apple TV seems to be almost the same as the 3rd generation model, but it seems that it will become thinner than the existing models instead of increasing the lengthwise and breadthwise sizes. In addition, new features to differentiate from the old version are also included, newly added to Siri, the App Store · software development kit · UI and others are new, the motion sensor is built in the remote control saidrumorAlso exists.

In addition, the new Apple TV seems to be compatible with the video streaming delivery service of $ 40 per month (about 5000 yen) which Apple expects to release in 2016, but in order to unlock the content when using the service It is necessary to log into the cable network to. However, according to the information gained by 9to 5 Mac, the video streaming delivery service is said to be available by updating the software on third generation Apple TV.




In addition, before quitting the new terminal at the event of September 9, Apple quietlyEnd of repair support for some terminalsIt is also clear that you are planning to do so. Repair support is expected to be discontinued due to the first Apple TV, Mac mini (2009), Apple LED Cinema Display (24 inch), Apple Cinema Display (30 in, 2007), 2nd and 3rd Generation iPod touch, 3rd Generation iPod Shuffle 5th generation iPod nano, iPod classic.