How to get "Hunting License" to pass hunter exam and hunt with guns or traps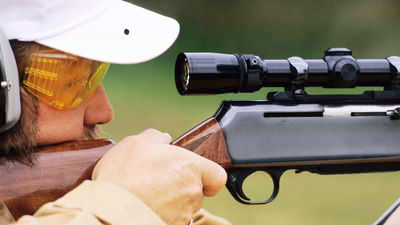 ByWisconsin Department of Natural Resources

Hunting birds and beasts are designated as hunting targets from harmful birds and beasts that damage agricultural crops and wild animals such as alien species that destroys ecosystems. In order to capture hunting birds and animals "hunting license" is necessary, depending on the hunting equipment used, "Hunting"Hunting"First-class battle"Type 2 firearmingThere are four kinds of licenses. In order to acquire such a hunting license and hunt deer and wild boar, it is necessary to pass the test including writing and practical skills, but the examination procedure necessary to obtain the hunting license and necessary expenses etc. , I summarized a series of flows.

Obtaining a hunting license [Ministry of the Environment] [Attracting hunting attraction forum]
http://www.env.go.jp/nature/choju/effort/effort8/hunter/license.html

Dai Nippon Bunkai Kai "To Rangers who Love the Mountain and the Forest" To become a Hunter ① To hunt ___ Hunting, Ranger, Gun, Outdoor, Wild Animal, Bird Japan Bunkai
http://www.moriniikou.jp/index.php?itemid=39

◆ What are the four hunting licenses?
The hunting permitted by the license is different, "hunting" is a net, a glue net, a netted net, a licked net, "hunting" is cramped, hikikana · ha ha · enclosure · enclosed · " Seed gunning "is defined as rifle / shotgun / air gun," 2nd gunshot "is air gun only. "Hunting" "hunting" can obtain hunting by purchasing hunting equipment if you obtain a license, but with regard to "first kind gunning" and "second kind gunning", separately "permission to possess a gun" If you do not acquire, you can not purchase, possess and use a hunting gun, so be careful.



◆ How do I get a hunting license?
In order to obtain a hunting license you need to pass the hunting license test conducted twice a year in each prefecture. "Hunting" "hunting" is 18 years old, "first type gunfighting" "second type gunning" can be examined from the age of 20. "Examination test" which is a 90-minute written test, "aptitude test" to judge whether vision, hearing ability, exercise ability is satisfactory, judgment of each hunting tool, practical skill of hunting equipment, "skill test" to judge hunting birds and beasts If you pass all the exams you can obtain a hunting license. There seem to be many people who take two kinds of "hunting" and "first kind gunning" at the same time.

Just before the exam date, each prefecture's hunting pleasure boy "Hunting License Examination Preliminary WorkshopWe are doing. It is like a "driving school" in the license of a car, and it can be participated in about 10,000 yen though it depends on the prefecture. When participating in the preliminary workshop, you can get the text "hunting reading book" summarizing basic knowledge on hunting licenses and "hunting license exam question example collection" summarizing past questions and practical skills to actually do in the exam You can teach. Since it will be able to pass 8 percent if you go to the seminar, you should receive it unless it is a good circumstance.

◆ Procedures required for taking the examination · Required documents · Cost
In order to take the hunting license exam, it is necessary to submit an exam application issued by the department in charge of each prefecture. In TokyoTokyo Metropolitan Environment BureauIn OsakaOsaka BunkaikaiThere is also a place where you can download the application form on the website.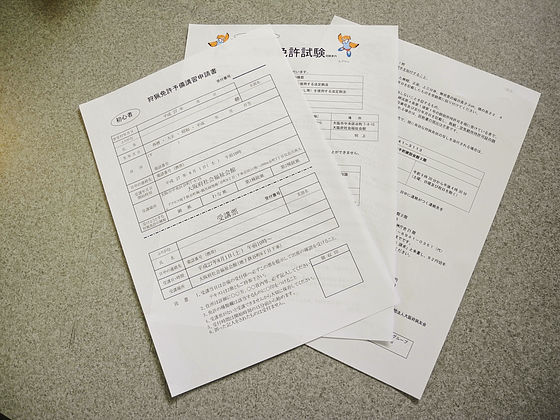 In applying for a hunting license test for the first time, I will simultaneously submit 'Resident's card', 'Doctor's certificate', 'Original photo taken within 6 months before application'. The doctor 's medical certificate proves that it meets the examination qualifications as follows and there is no need for X - ray examination etc. If you go to a hospital where you go to a family doctor or a doctor often going to the hospital, you can create it from 3000 yen to 5000 yen. Formats and reference examples can be downloaded on the website.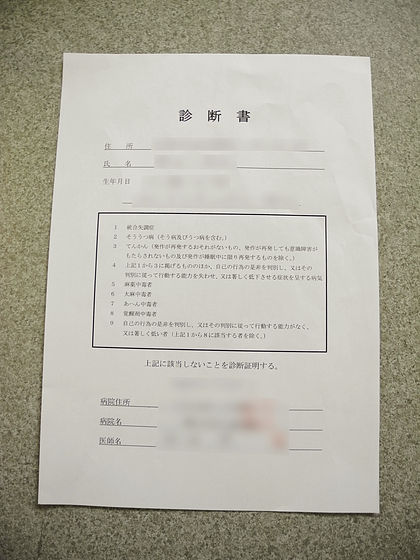 For beginners who do not have any hunting license, the test fee is 5200 yen per species. Attractiveness of hunting According to the Forum Clearly Forum, the reference expenses for examining only one kind are about 15,000 yen, but in Osaka this time it was about 1 year and about 20,000 yen.

Ministry of Environment _ What you need to know [Attracting hunting attractions forum]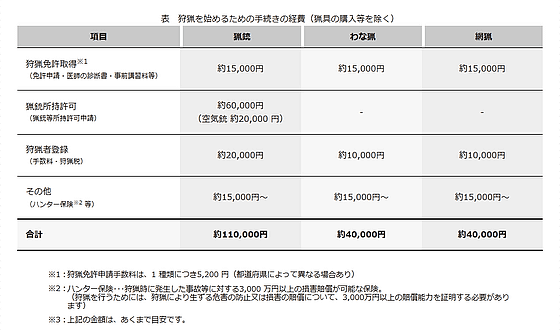 Depending on the prefecture, there are many places where applications for hunting licenses are not accepted by mailing. Even in Osaka, application was only distributed by the department in charge, so we went to the office of Osaka Bunkai Kai, which is in charge in charge, with necessary documents and stamps.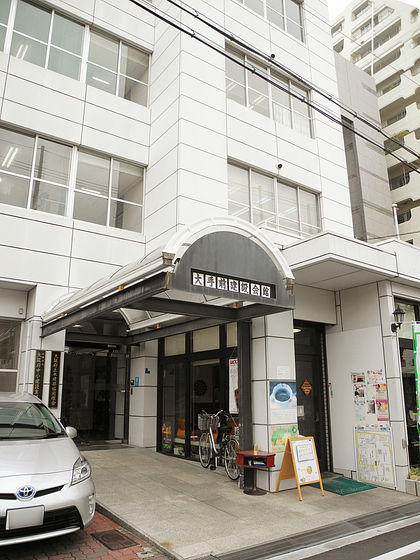 The entrance looks something like this. Tell them that "I want to apply for a hunting license exam and a preparatory workshop" and get the necessary documents prepared.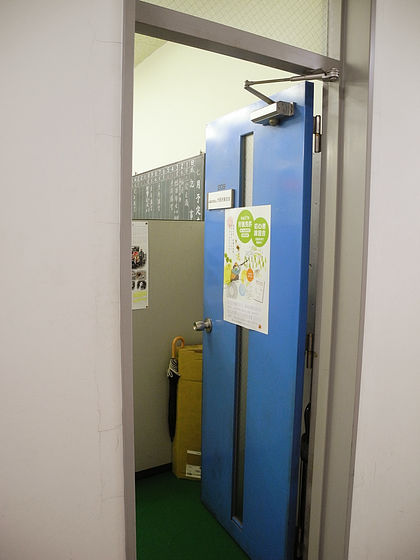 The prepared examination application form is Kore. After filling in the necessary items, stamp and submit. This time we take two kinds of "hunting" and "first kind gunning" at the same time so we paid 22,000 yen together with the tuition for the preliminary workshops.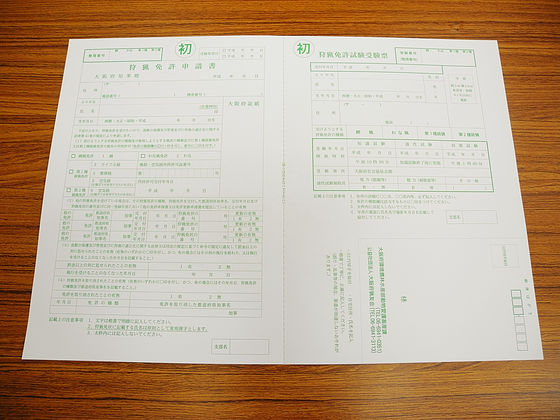 The examination voucher will be mailed at a later date, and on this day we received the lecture slip of the preliminary workshop and two textbooks and the procedure is completed.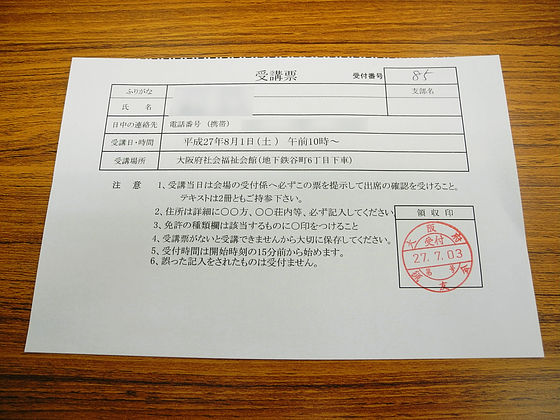 ◆ What is "hunting reading book" and "hunting license exam example example"?
When I applied for a workshop, I got two textbooks necessary for the hunting exam.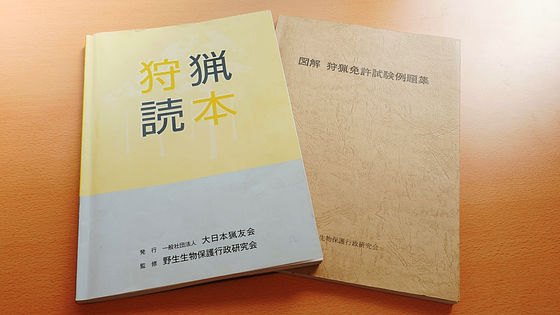 "Hunting reading book" is like a textbook in which basic knowledge on hunting, a method of judging a hunting wild animal in illustration, how to handle each hunting instrument, etc. are written.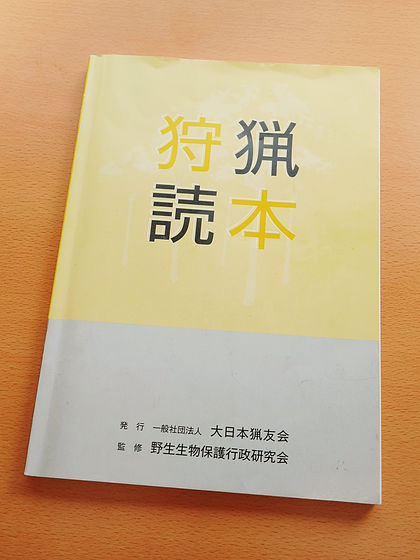 Illustrations of hunting birds are written on the first page, and as of 2015, 48 kinds of birds and animals are set as hunting birds and beasts. There are illustrations of "Birds and beasts that are easily misidentified as hunting birds and beasts", so that you can learn the necessary knowledge to do hunting.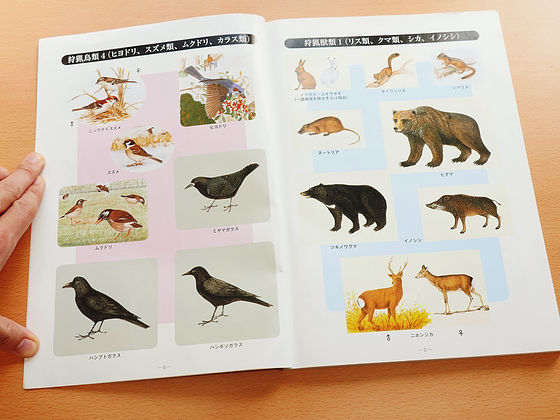 I was told that it was easy to remember all the animals in the illustration by the preliminary workshop, so it was hard to remember when I stuck the animal name to a name and quizzed when I had time.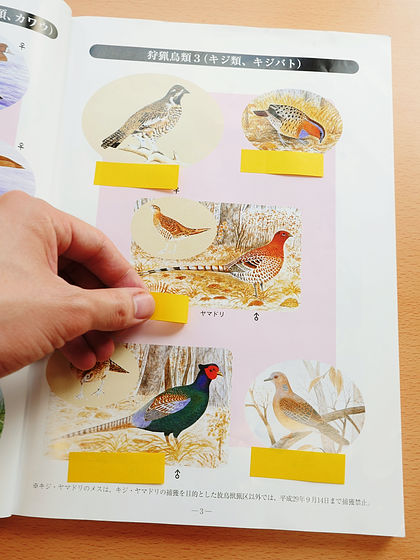 The table of contents of the hunting read book is like this.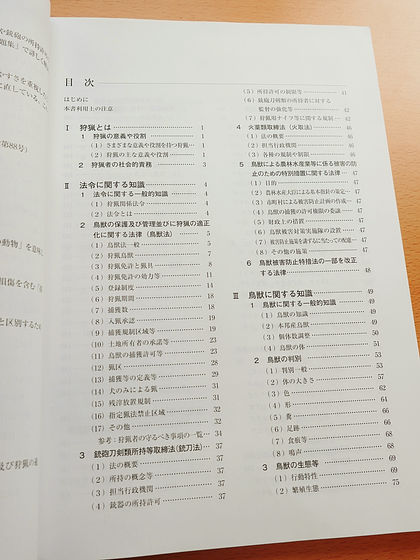 About different hunting period in various places ......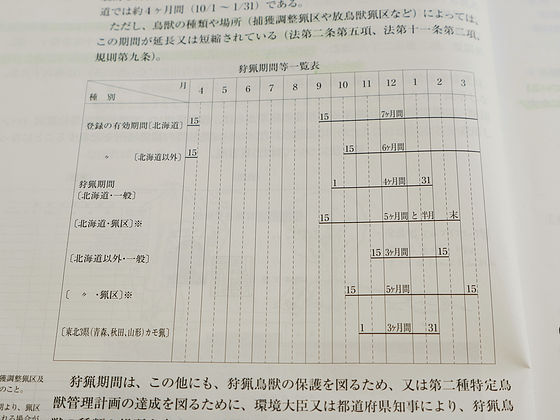 Details of the hook and the like are explained with illustration.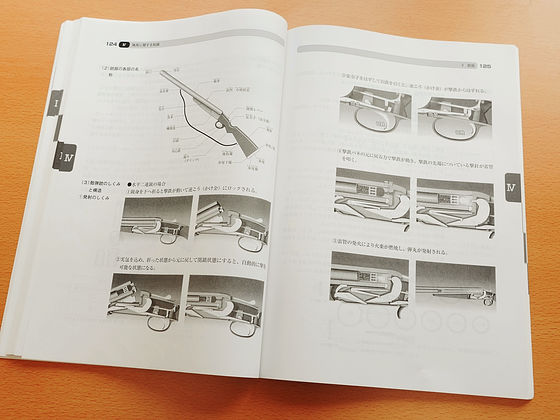 Pictures of those who shot people at the position where there was a person who was shot were also posted on the scene where a human injury caused by a hunting gun actually occurred. Whether or not there are people is hard to see and you can see that extreme caution is necessary to get a gun.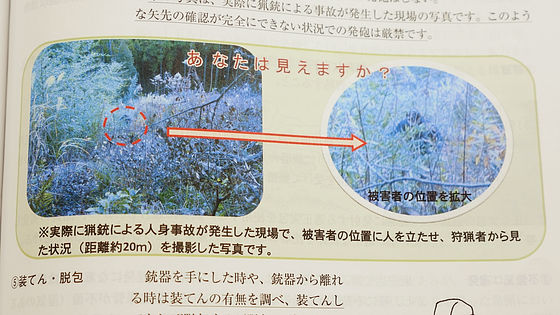 Next is a hunting license test example collection.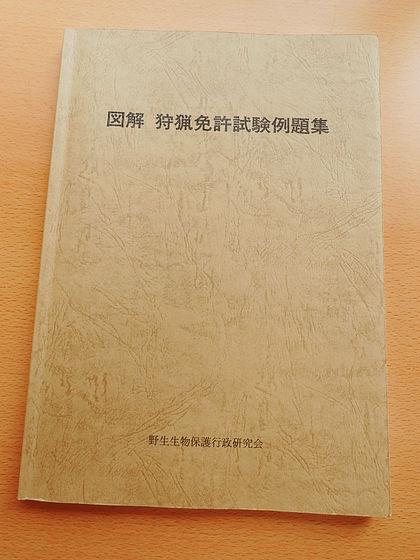 The table of contents is like this.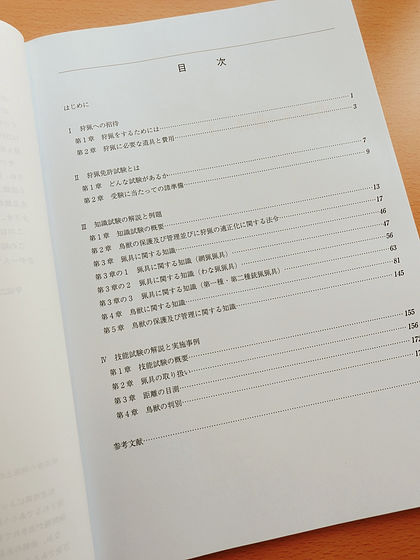 Answers on the left side, problems on the right side. If you answer the question before the exam, you will be studying this exam.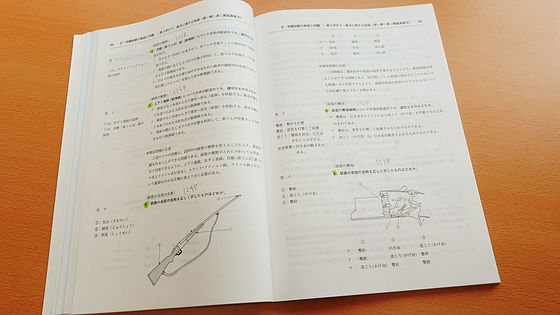 ◆ The preparatory workshop is like this
It will be on the preliminary workshop day and arrive at the designated place.



You will be taken to the room as you pass the entrance form.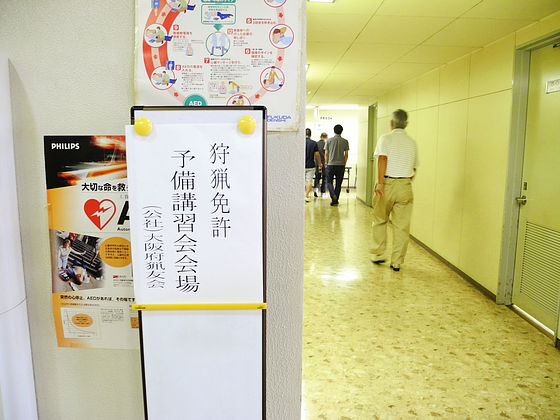 When entering the room, unexpectedly a large number of people were participating. People who take the hunting license are increasing every year, and nearly 140 people, the largest number of people in Osaka this year, have gathered.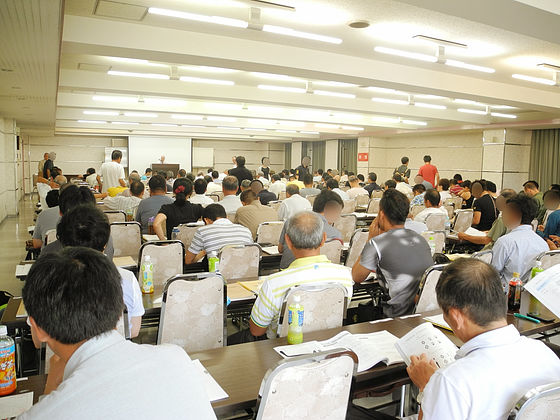 The contents of the preliminary workshops are as follows. In the morning to the afternoon, a lecture class was held to explain the points that are likely to be presented on the exam and to mark two textbooks.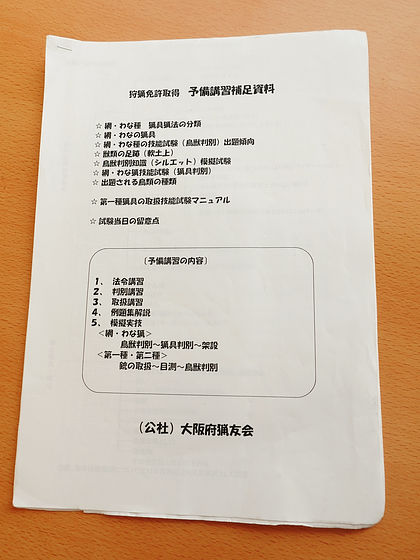 Next, an example of a wild animal discrimination test using illustration. Slides are screened in the actual question format and surprised information that "100% is not used, but the same slide is used in the examination" was also obtained.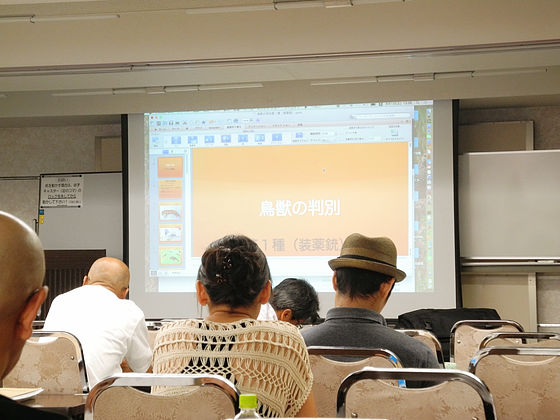 At the end, explanation and practice of skill test by skillful hunters of Bunkai-kai who was a lecturer. The photograph is the state of the practical test of the first type gunning using simulated gun. In the practical tests, we will make notes such as "deduction if you touch the trigger" or "deduction point when turning the muzzle towards people", and disassemble and combine simulated guns. Practical practice can only be practiced at workshops, so it should be quite difficult in the battle test. In other practical guidance on hunting hunting, a lecture was held to actually set and release hubbya.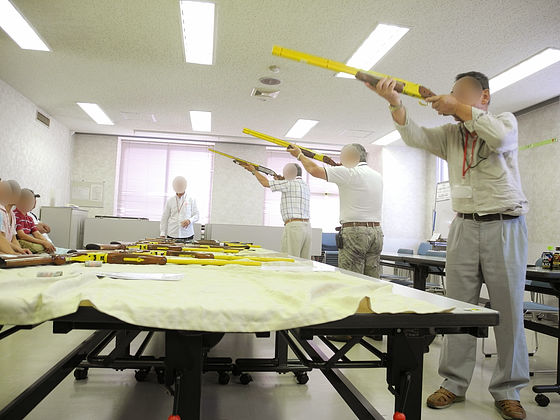 ◆ I've taken the hunting license test
In Osaka in 2015, there is a preliminary workshop on August 1, and August 6 is the schedule of exam date. We reviewed the content of the preliminary workshops, and finally the day of the exam. From 10:30 to 12:30 "knowledge test", it is possible to leave when finished, it is content that ends 30 minutes for each species. From 10:50 to 12:40 is the "aptitude test" to examine the visual acuity test and grasping and opening the hands to see if there is any problem in exercise. The result of the knowledge test will be announced at 13:30 on the day, and if it scores more than 70%, it will be able to receive "skill test" from 13:40.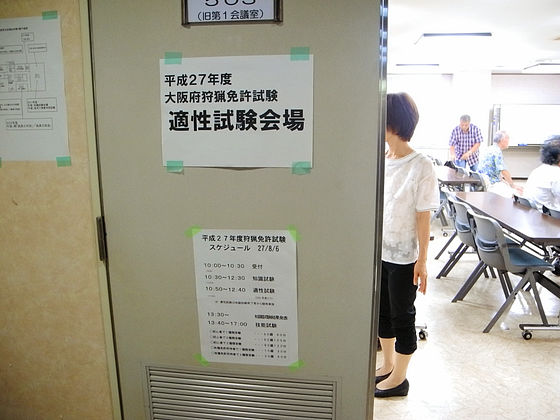 In the knowledge test, the impression that a lot of contents learned at the preliminary workshop were given was given, and there was no hooking problem. A level that can be cleared without problems by reviewing the example collection. When the results were announced, most people passed successfully. After that, as a "skill test", we conducted the "wild animal discrimination test", "practical test of hunting equipment" etc. All the exams were completed around 17 o'clock.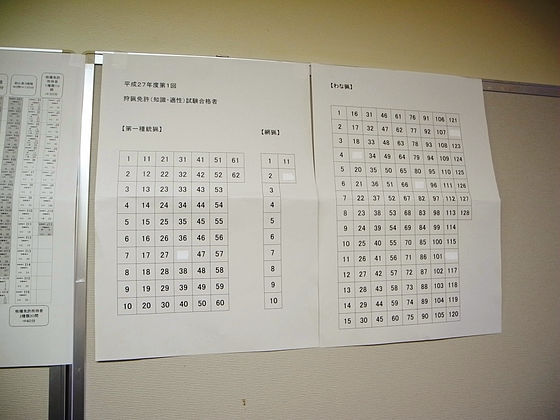 Regarding the acceptance or rejection of the exam, although it depends on the prefecture, it is said that posting and shipping will be done in about two weeks. Osaka will only send a pass / fail notification to all examinees, and the following envelopes will arrive about 3 weeks after the exam.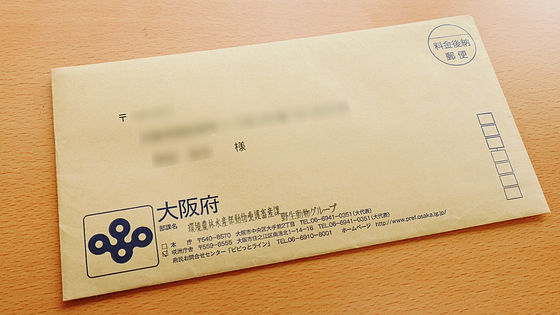 When I checked inside, I found notice of passing both hunting and first type gunning.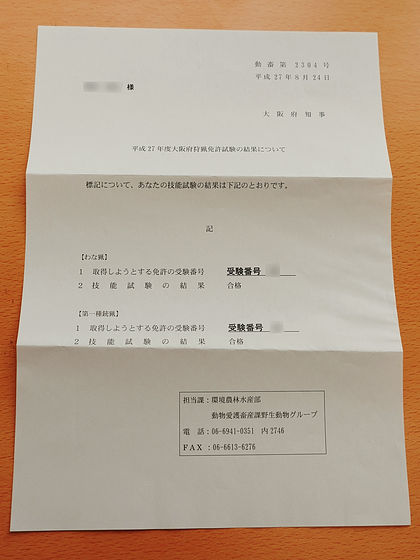 Regarding "Hunting Demonstration" that prove to be a hunting license holder, it was mailed or received by the department in charge.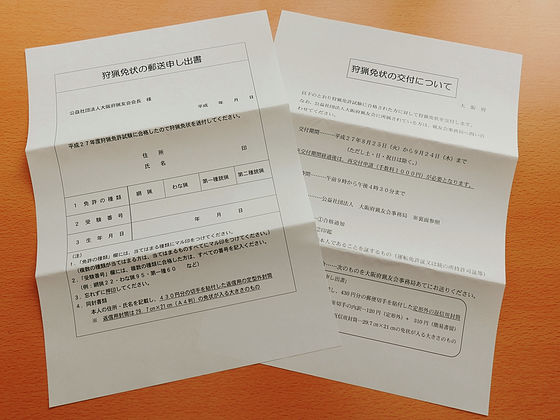 In order to receive it as soon as possible, I went to the department in charge with a notice of acceptance and received my diploma at once.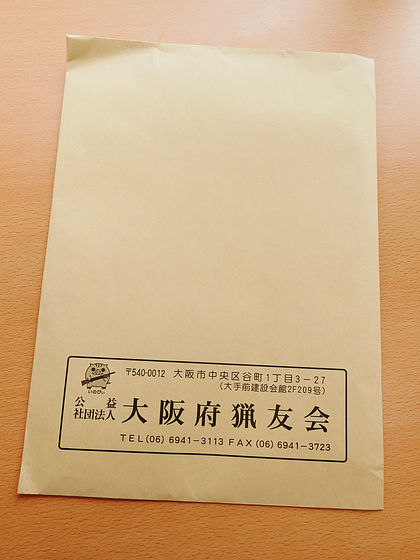 So, I got two hunting certificates for A4 paper. It is a big size to carry, but unlike a car license there is no need to carry a hunting diploma. In order to do gunfire it is necessary to obtain further permission to possess a gun, but it became a sunny and formal hunter.