'True otaku women's fashion taught by otaku women' is now available, which explains in detail how to classify and distinguish otaku girls' fashion.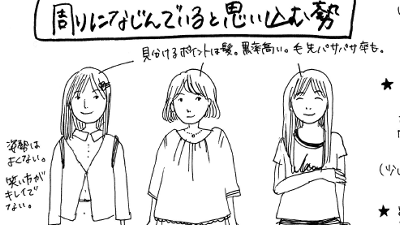 'It's a story of people who can't be imitated,' so amateurs can't understand the fashion of otaku women at first glance. 'The real otaku woman fashion taught by otaku women ' was released and became a hot topic. I am.


Since the permission of the author 'geek woman fashion of the true teachings of the geek girl' of the most interesting was the fanzine none ...... pledged paper this summer Komi came out to publish the PDF

Https://T.Co/QcIWgTRSQ5 pic.twitter.com/jZwaKPU4tu — A-park (new issue outsourced) (@a_park) 2015, August 18


If you open the following page, you can see 'The real otaku woman fashion taught by otaku women' as a PDF file.

Dropbox-The real nerd woman fashion taught by nerd women.pdf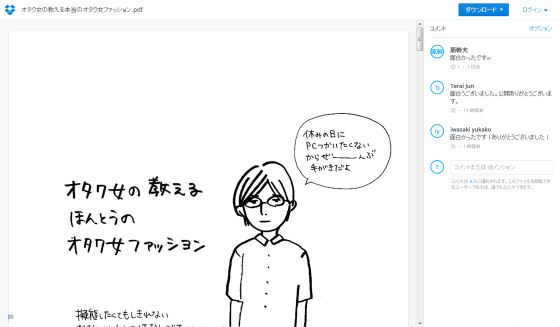 → It has been deleted as of August 19, 2021.

First of all, 'the people who think they are familiar with their surroundings.' At first glance, it looks like a cardigan and skirt, fluffy chiffon tops and shorts, T-shirts and sneakers, but it says, 'The points to distinguish are hair, high blackness, and dry hair tips.' Also, ' earth music & ecology , people with a brand around LOWRYS FARM that is' trendy 'for the time being' 'I'm not very interested in sharp fashion and lolita fashion. From the favorite brand name to the thought circuit, such as 'I'm enjoying it' and 'The color is pale overall', I've taken a closer look. There is also a reference to the body shape, saying, 'People with heavy legs and hips have a high otaku rate. They may have a fat lower body due to lack of exercise.'



The 'people who think they are familiar with their surroundings', which make up the majority of otaku women's fashion, are also
wearing NICE CLAUP
,
Heather
,
GLOBAL WORK
, and
OLIVE des OLIVE
clothes. It's a relatively affordable brand, so it's an atmosphere that you'll often see on university campuses. In addition, it seems that people around here want to talk about 'moe'.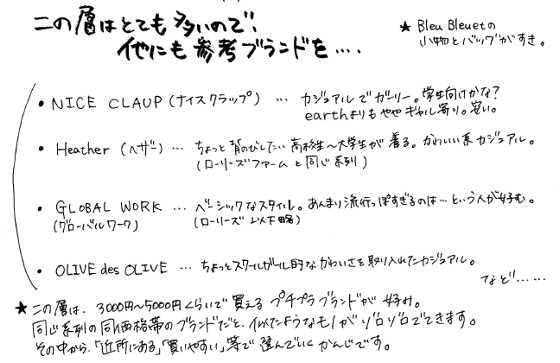 'I don't like the same things as those around me!' Is (1) too particular to distinguish it from 'really dangerous' (2) I love simple things (3) it seems to be divided into three factions with a little individuality. People who 'love simple' prefer standard fashion to fashion, and want to produce 'simple but good taste'. Perhaps because he is particular about what he wears, it is analyzed that 'many people have trouble talking about their favorite genres and works ...'.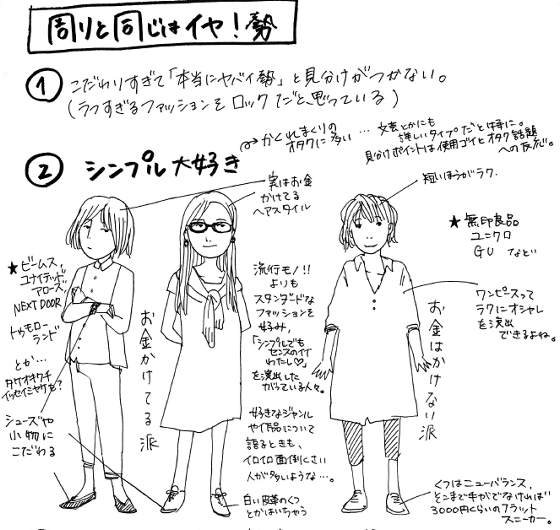 'Slightly individual' people like POU DOU DOU and niko and ..., which are slightly individual brands that handle patterned clothes and T-shirts with unusual patterns. There are characteristics such as 'I say it' and 'Is it because I am satisfied with the individuality of clothes and hairstyles (?) Some people do not have such a principle in otaku talk.'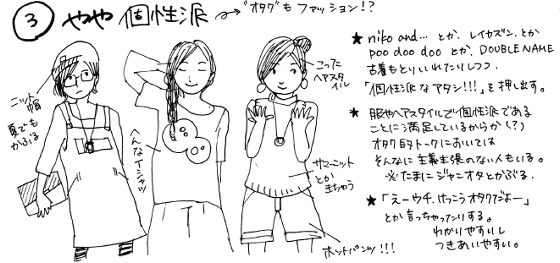 'I'm doing my best' is explained as 'Lolita-like (but some have failed)' people 'I understand that I want to incorporate Lolita fashion essence into my daily life, but somehow ... people' .. What kind of thought did you have on the part erased with a cross?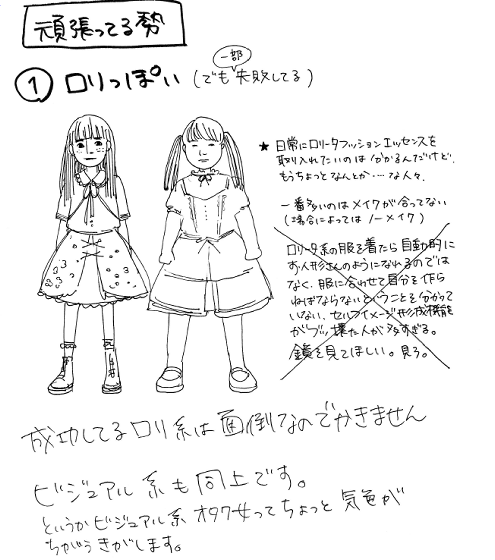 And 'really dangerous' seems to refer to people who are not interested in fashion. The features are hair that you don't know when you cut it, wearing a shirt from a mass retailer that you bought when you were a junior high school student and a sweatshirt in denim and pajamas. He rarely owns clothes with brand names, and he says he will buy them at UNIQLO Super Aeon.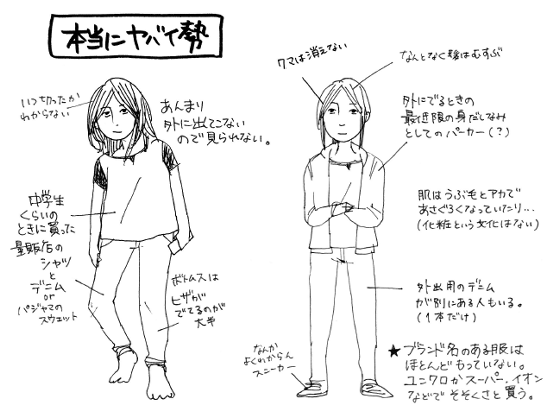 Although I'm floating on my own route because I'm too enthusiastic about fashion, what I don't really care about is 'in a different sense, it's dangerous.' My favorite brands are
ANNA SUI
. 'In otaku activities, I tend to feel sick because I don't care about the reactions around me,' said the person in question, who also wrote a painful comment.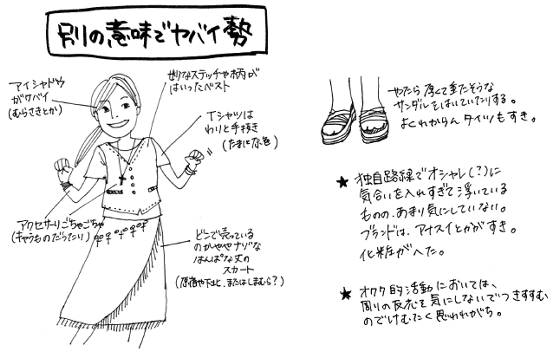 'Not so many nerdy women' were lined up with 'face plasterer-type crunchy gals,' 'beautiful Nee-san,' and 'gachi fashionable seniors.' 'Face plastering gals' and 'fashionable seniors' have not been explained in detail so much, but for beautiful Nee-san, 'bad posture, strange cat voice, claws' There is a high probability that a person who has some cracks, such as poor care and dry hair, and who is trying to mess with his clothes, has a different face. ' I did.



Since it is classified in a fairly detailed manner, it is no wonder that people who saw the illustration commented that it was like a fashion classification of an ordinary lady, and rather there are few girls who do not fit into this classification. Then ... I feel like, but it seems that there are many people who are stabbed by the harsh comments written in the illustrations.

in Note, Posted by logq_fa