"Ground record" which can investigate the disaster risk of a place living for free in one minute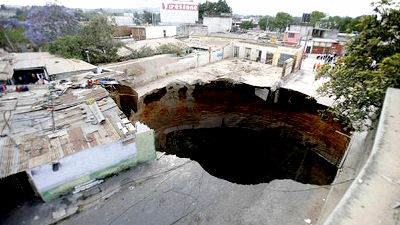 ByHorslips 5

A net service that evaluates the safety score of the land where the address is entered 100 points out of 5 points from "viewpoint of improvement work rate", "flooding risk", "ease of shaking by earthquake", "land risk disaster risk risk" and "liquefaction risk" But"Ground record"is. It is easy to operate and you can check the risk of the land in less than 1 minute, so you can check what dangers are lurking in the place you live and help people who are looking for new houses decide the place of the house .

Ground chart / personal customer | ground net
http://jibannet.co.jp/karte/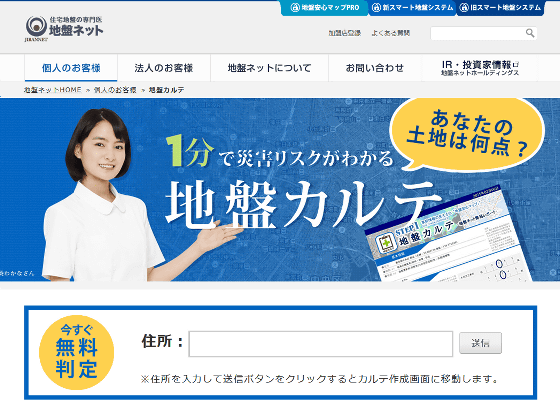 To investigate the risk of land disaster, first enter the address of the place you want to look up in the text field of "Address" on the top page and click "Send". This time I looked up at the address of the new National Stadium where the Tokyo Olympic Games will be held in 2020.




As the chart creation form is displayed, select "Personal", enter name / mail address, select "Other" for the use of the ground chart, "agree with the terms of service, and create a ground chart" Please check and click "Send".



Then the following PDF file will be displayed. Since the PDF file is also sent to the input mail address, it is also possible to check from there.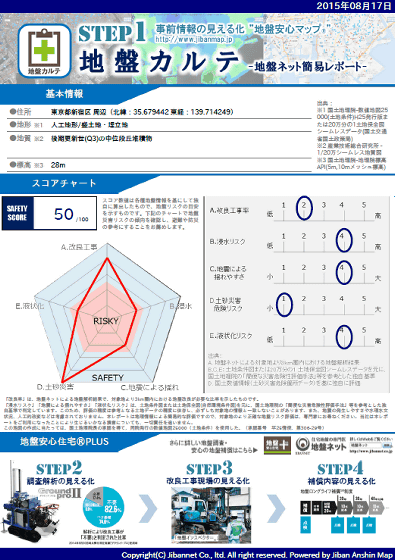 10-1 Kasumigaoka cho, Shinjuku Ward, Tokyo, where the new national stadium is located, has a topography of "artificial topography / sheng land / landfill site", the geology is "middle latitude sediments of late Pleistocene (Q3)", the altitude is " It is 28 m.




The average score of the whole country is 63 points, the safety score is 50 points, which is slightly lower than the average. "Schedule improvement rate", "Immersion risk" "Ease of swinging by earthquake", Graduate School of Geographical Survey of Hokkaido Government "Liquefaction risk" that the risk classification and each score are calculated from the topography classification with reference to the risk category created to create the map and each is evaluated in 5 stages, and the distance between the sediment-related disaster hazard area and the target area , "Risk of landslide disasters" that evaluates risks in three stages of 1, 3, and 5. The new National Stadium had a slightly higher risk of flooding, liquefaction risk, and easiness to swing due to the earthquake of 4 out of 5.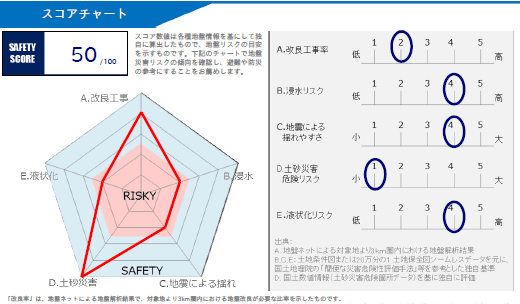 There is a map at the bottom of the medical record creation form. If you place a mark on the map and press "send", you can easily search for places other than the one you originally entered. Can you examine other than Japan? I was worried that I put a mark on North Korea and pressed "send".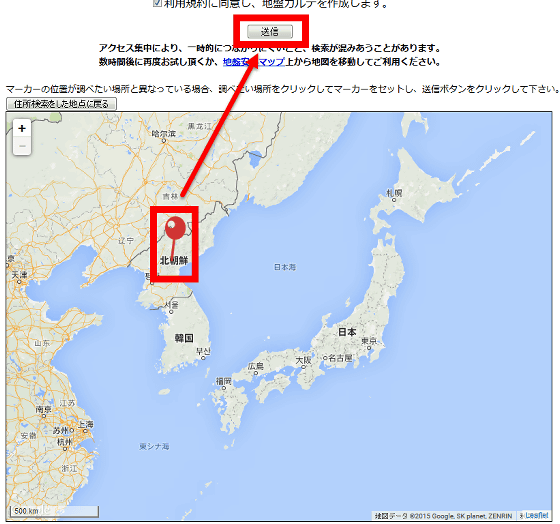 Then, the basic information shows only north latitude and east longitude, the safety score is 30. I think that it is not a safe land ... ...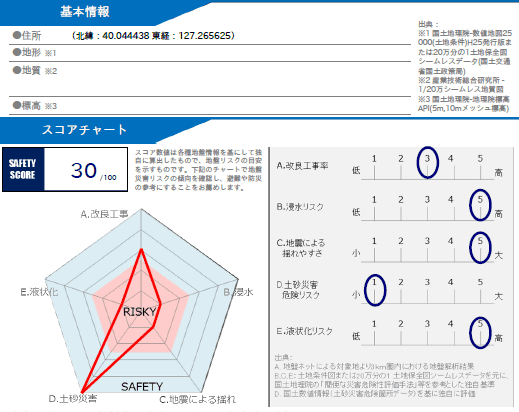 Even though I did it in Mongolia, the same value came out, so it seems that it does not correspond to anything other than Japan.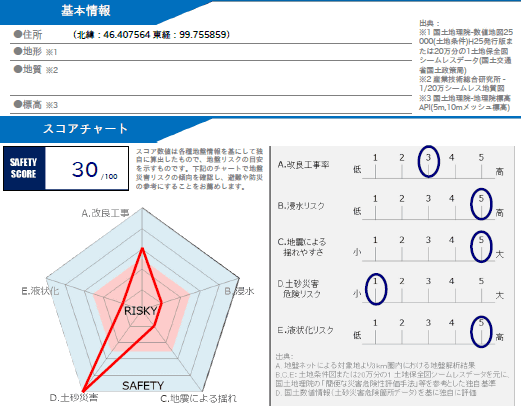 There are also 100 perfect grounds out of 100 perfect in some places, so people looking for new houses from now on became a tool to try.