Amazon suggested "Drone Highway", flying at an altitude of 61 m to 122 m at a speed of 111 km / h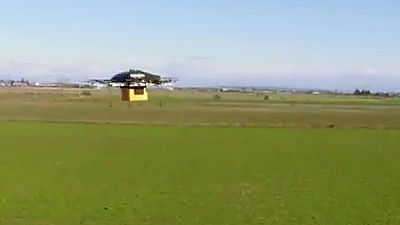 Amazon aiming to realize baggage delivery service "Amazon Prime Air" by drone, in order to operate drone more safely "Drone HighwayWe propose to set a flight airspace / air route exclusively for drone, which can be expressed even.

Amazon proposes drones-only airspace to facilitate high-speed delivery | Technology | The Guardian
http://www.theguardian.com/technology/2015/jul/28/amazon-autonomous-drones-only-airspace-package-delivery

Amazon details its plan for how drones can fly safely over U.S. skies - The Washington Post
http://www.washingtonpost.com/news/innovations/wp/2015/07/28/amazon-details-its-plan-for-how-drones-can-fly-safely-over-u-s-skies/

Amazon offer new details on its plan for a drone superhighway in the sky | The Verge
http://www.theverge.com/2015/7/28/9058211/amazon-new-details-plan-delivery-drone

This is an event related to unmanned aerial vehicles "NASA UTM 2015What was announced in.

Currently, there are 85,000 flights a day in the USA together with passenger aircraft, freight aircraft and military aircraft, but as the drones come to fly in the next ten years the number of flights has increased to such an extent that this number is small and drone Amazon itself expects that it will increase to hundreds of thousands by entering not only Amazon but also large and small contractors.

Amazon's suggestion as necessary for such a period is the designation and division of drones' flight airspace. I am in charge of drone related business such as Amazon Prime AirGur KimchiThe image that Mr. showed is like this.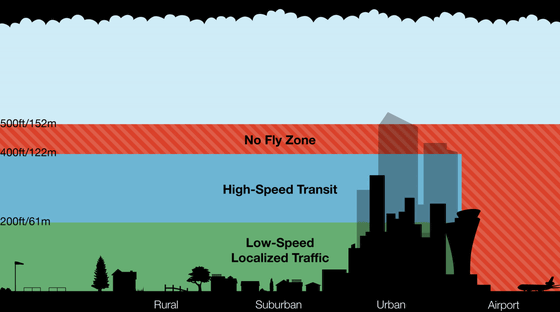 Less than 200 feet (about 61 m) is a flying airspace of drones that fly at low speed, such as aerial photography, surveying and field survey. In addition, "Drone Highway" where airspace of 200 feet to 400 feet can fly autonomously flying drones at 60 knots (111 km / h). 400 ft. (About 122 m) to 500 ft (about 154 m) is a buffer zone for separating the dragon's flight airspace from the conventional aircraft airspace, and it is planned to prohibit flying.

In realizing this "drone highway", the state-of-the-art GPS tracking capable of grasping the position of the drones that are flying at present · a communication device capable of recognizing information of other drones and obstacles by transmitting and receiving the GPS data Kimchi says that there are some necessary things such as the connection environment to the Internet, an online flight plan to convey the flight path of Drone in advance, Kimchi said in a drone with such state-of-the-art capabilities If there is, it is thought that each other's existence is noticed and avoided without hitting, even if there are obstacles such as birds, buildings and electric wires, there is no worry of collision.

Already in VirginiaStartup · Flirtey starts drone courierI feel that it is necessary to establish these rules before the "Drone Traffic Accident" occurs.

In Japan, the government "In addition to the altitude where there are many people and houses gathered, altitude which may affect the safety of airports and airplanes, places where many people temporarily gather at festivals and events, the flight is generally prohibited"The Cabinet decided a draft amendment to the aeronautical law, which is aiming at the formation of the current Diet session. On the municipal level, cases are banning the use of drone in controlled parks due to the nuisance prevention ordinance and urban park regulations.Demonstration experiment to carry baggage to remote island using droneAlthough it is done, it seems difficult to deploy "drone courier service" like Amazon Prime Air on a nationwide scale in Japan for the time being.
in Note, Posted by logc_nt