STUDIO 4 ° C to create a new animation "Red Ash - Magicicada-" that will increase adventure stage if it supports it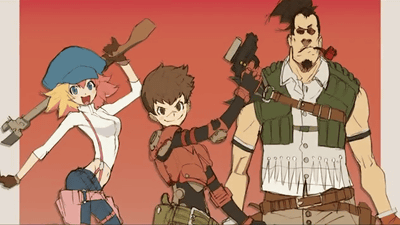 Movie scheduled to be released on December 4, 2015harmony"Mind · Game" released in 2004, "Iron Conk Cleats" published in 2006 Known for production such asSTUDIO 4 ° C, A planning and development company headed by Mr. Keiji InamuneComceptTogether with the project, the project "Kickstarter" at the Cloud Funding Platform "RED ASH"Is deployed. Based on the concept of the same character draft and "Treasure hunting", each creator freely creates a work with its own interpretation, and at the STUDIO 4 ° C aiming at the world theatrical release with all staff at all staff It is planned to produce.

【Red Ash - Magicicada -】 kickstarter Japanese comment page
http://fun-and.studio4c.jp/index.php?page=project&mode=red_ash_jp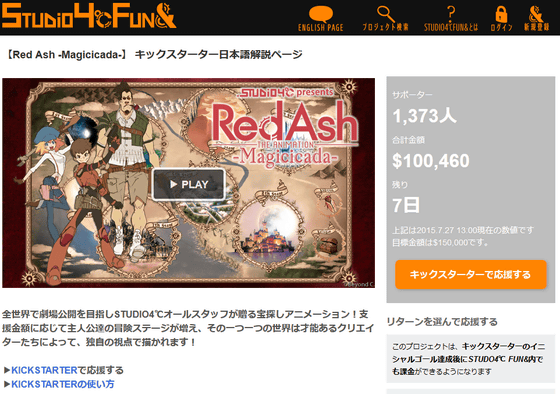 The project introduction movie is like this.

Red Ash - Magicicada - kickstarter project introduction (Japanese ver) - YouTube


Three characters are drawn in the main visual.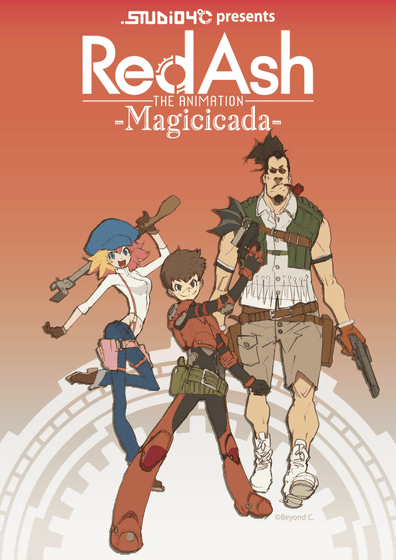 Beck is an attractive treasure hunter with knowledge and execution ability, "Ally of justice" not to be concerned about the desire for private interest. However, an analog human who can not master the machine at all.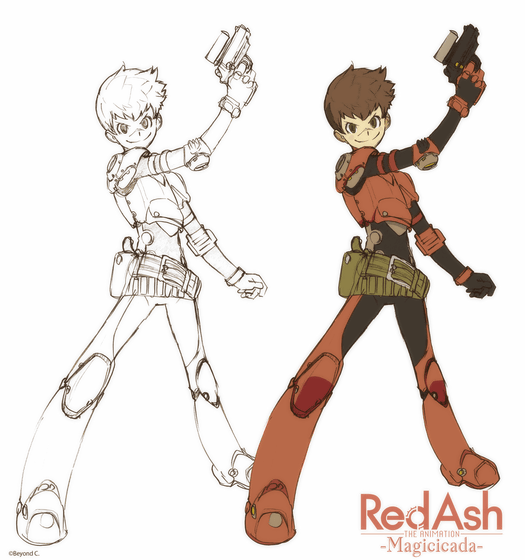 Beck's role is "Killing Advance Giant" Hiroki Kaji who is active in the role of Ellen Jaeger, "Yakai Watch" Huyunyan, "Magi" Ali Baba, "Seven Deadly" Maryiodas.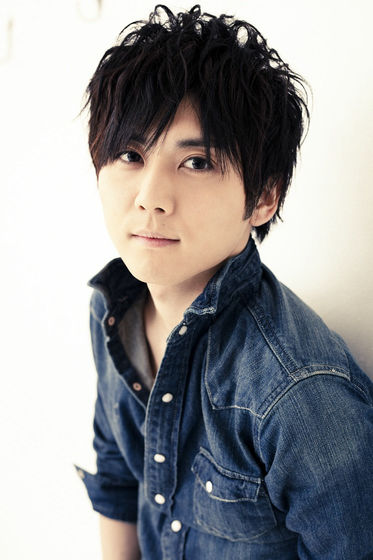 The newly released image board is drawn where Beck is in a messy room together with a strong fellow Tiger.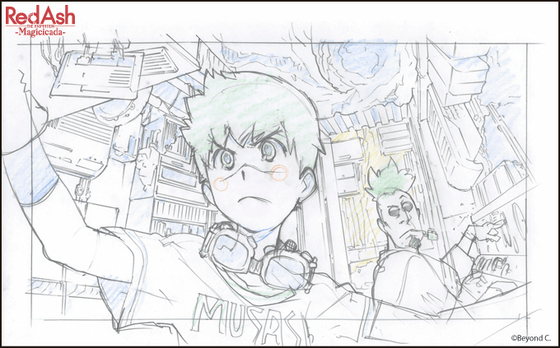 Call is an intellectual and active character, Beck's partner in the story. By the way, the voice actor of the call and the voice actor of the role of the tiger are undecided, and it is supposed that the casting voting right is given to the person who contributed more than 14 dollars (about 1720 yen).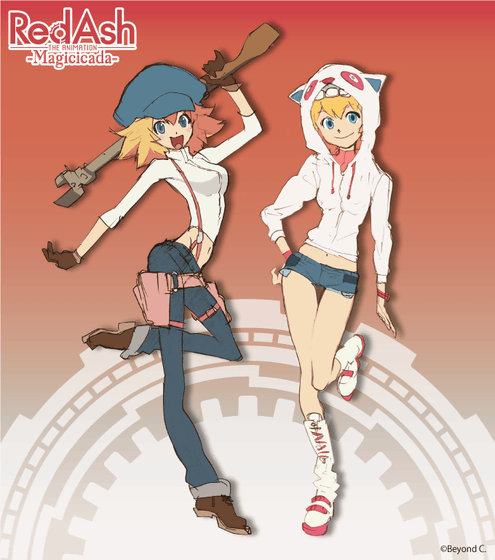 In the Kickstarter project, the first goal is to achieve 150,000 dollars (about 18.5 million yen), animation production of the beginning episode (12 minutes) and ending (6 minutes), and making image, creator commentary Decided to produce Blu-ray that recorded more than 50 minutes total including Secret Award images.

In addition, every time we achieve a stretch goal, we will decide on the creation of a new stage Beck's adventure. The stage is that each talented creators will make their own world view settings · characters · mechanical design · weapons · props · props · music · more mysterious designs etc, so the creator will decide the schedule's convenience Although it is still in the future, we are also accepting requests for who I want you to join.

The director who makes up the whole work is Yuta Sano who was active as a main CG animator in the trilogy of the film "Berserk Golden Age". The character is made in full 3D, and it is said that cell shading is not used to express fun as a picture while making use of the stereoscopic effect, and an illustration style model is being developed.

What you get when you contribute (Reward) is
· 4 dollars (about 500 yen):Special thanks message from production team + high quality wallpaper
· $ 14 (about 1720 yen):Contents of 4 dollars + Call and vote actor casting voting rights of Tiger
· $ 24 (about 3000 yen):Contents of $ 14 + Main volume (HD size) Download
· $ 40 (about 5000 yen):Contents of 24 dollars + Download of the teaser image + Download of the original soundtrack + Main character design image (pencil drawing) Download
· $ 74 (about 9100 yen):Contents of $ 40 + Backer limited special poster image download + picture story download + V contour data download
· 94 dollars (about 11,600 yen):Contents of 74 dollars + original T shirt + name written on end roll + main volume Blu-ray (limited package · main part video + making image and creator commentary)
· $ 104 (about 12,800 yen):Contents of 74 dollars + Name listed on endrol + Downloading of making book (Approx 50P, B5 horizontal size, character setting, art setting, 3D model, world view setting etc)
· 114 dollars (approx. 14,000 yen):Content of 94 dollars + Download of making book
· $ 144 (about 17,700 yen):Contents of 114 dollars + Book version Making Book
· $ 244 (about 30,000 yen):Contents of 114 dollars + signed book version art book
· $ 344 (approx. 42,400 yen):Contents of $ 144 + STUDIO 4 ° C × JHA & amp; Co. Handmade clock
· $ 1004 (approx. 124,000 yen):Contents of 344 dollars + 3D print figure (only 5 in the world)
· $ 1444 (about 178,000 yen):Contents of 344 dollars + As a silver sponsor to endrol name stated
· $ 2444 (about 300,000 yen):Contents of 344 dollars + "Naming rights of Tiger's beloved weapon"
· $ 3444 (about 424,000 yen):Contents of 344 dollars + "Naming rights of place names appearing on stage" or "Naming rights of enemy mechanics" or "stage original character naming rights"
· $ 5000 (about 616,000 yen):Contents of 344 dollars + "STUDIO 4 ° C Studio Tour & Screening of STUDIO 4 ° C universally unpublished in the company (about 20 min · with pizza)" or "Q & amp; A Skype conference participation with producer · supervisor of STUDIO 4 ° C" "Or" STUDIO 4 ° C study meeting 2016 participation right "
· $ 10,000 (about 1,230,000 yen):Contents of 344 dollars + "Platinum Sponsor" to Endrol Name + $ 2444 / $ 3444 $ · 5 thousand dollars of reward content excluding "Studio Tour & In-house Screening" Except for one from favorite reward

The contribution deadline is 3:30 am on Tuesday, August 4. About 100,000 dollars (about 12.8 million yen) gathers for the target of 150,000 dollars (about 18.5 million yen) at the moment.

Red Ash - Magicicada - by STUDIO 4 ° C by comcept USA, LLC - Kickstarter
https://www.kickstarter.com/projects/mightyno9/red-ash-magicicada-by-studio4c/description

The Kickstarter page of "RED ASH - The Indelible Legend" produced by comcept is as follows. This is set as the goal for more than 800,000 dollars (about 98.5 million yen) than animation, and about 470,000 dollars (about 5836 million yen) are gathered at the present time.

RED ASH - The Indelible Legend by comcept USA, LLC - Kickstarter
https://www.kickstarter.com/projects/mightyno9/red-ash-the-indelible-legend
in Anime, Posted by logc_nt