How to kill Apple Music for free for 3 months without automatically updating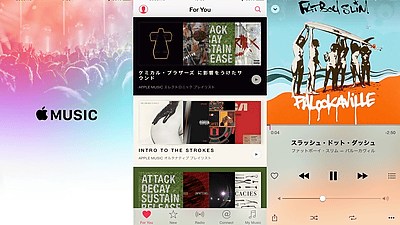 From July 1, 2015 (Japan time) Apple's music streaming service "Apple MusicHas been started. The price is 980 yen per month for the individual plan and 1480 yen per month for the family plan, and a free trial period of 3 months from the first registration is applied. The monthly fee will be automatically charged from 3 months later.I'd like to try it for free for the time being!For those who say "turning off automatic updating, I tried summarizing how to use Apple Music.

Apple - Music
https://www.apple.com/jp/music/

◆ How to turn off auto-renewal by registering free with Apple Music
Since Apple Music can start using it by updating to the latest version "iOS 8.4" which is being provided at the same time, first update iOS first.



When the update is over, you can tap and launch the music application with a new icon design.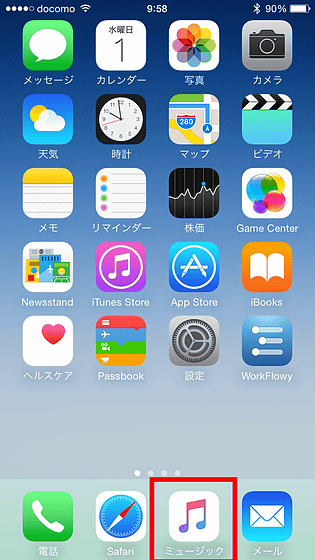 Tap "Start 3 month free trial membership".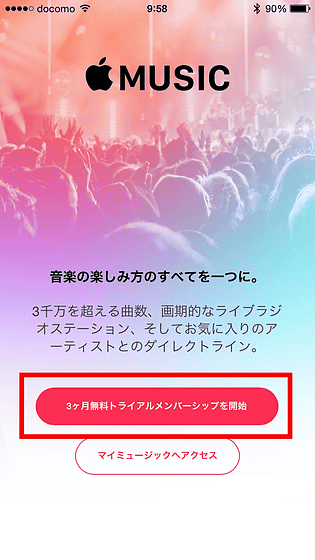 For Apple Music, "Monthly Membership" of 980 yen per month for one person and iCloud's monthly charge of 1480 yenFamily sharingThere are "Family Membership" that can be used by up to six members who have set up. This time we will register with individual membership.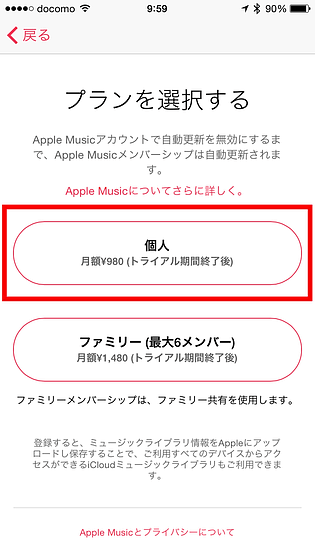 Since the Apple ID is displayed, enter the password and tap "OK".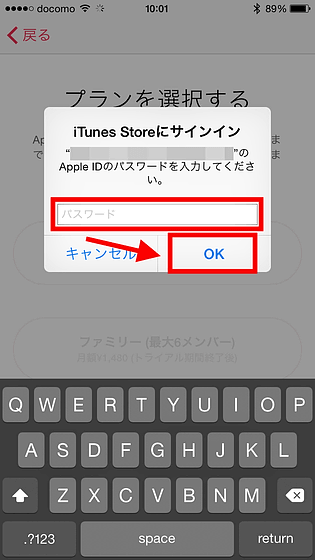 Since consent of the terms of service is necessary, tap "OK".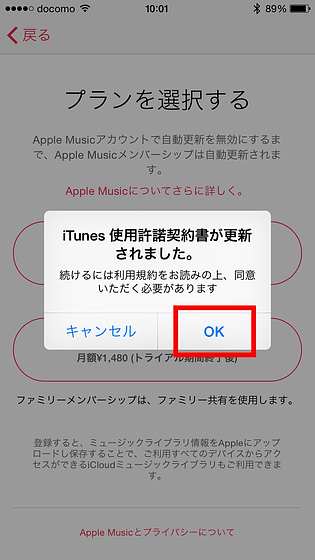 Tap "I agree".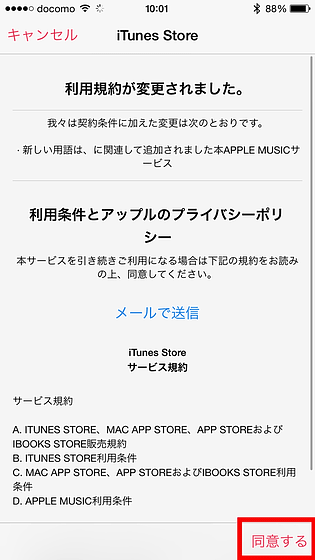 Tap "Agree" further.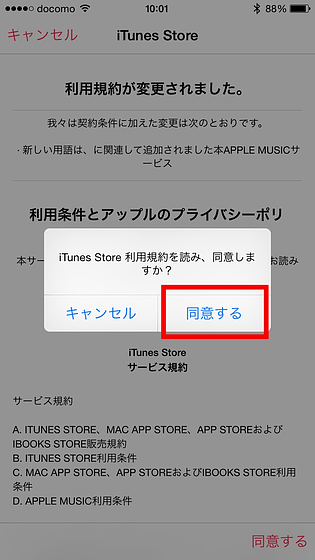 Tap "Buy". Although it says "Do you want to purchase?", Since trial membership is applied for the first time, 980 yen will not be charged even if you tap.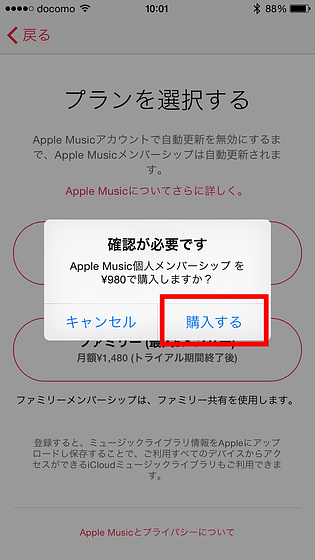 This completes trial membership registration. I listened to music with Apple Music, but first, to keep automatic updating off, tap the account icon on the top left.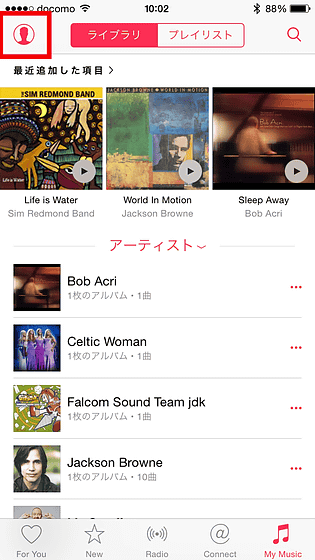 Tap "Show Apple ID".



Again, enter the password for Apple ID and tap "OK".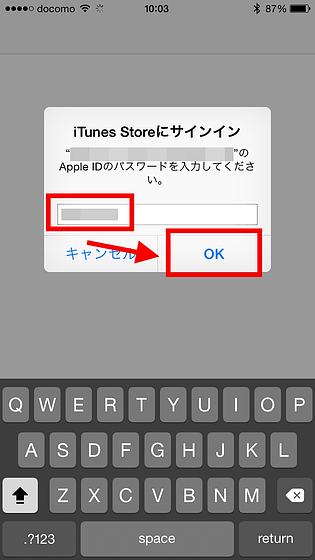 Tap "Management".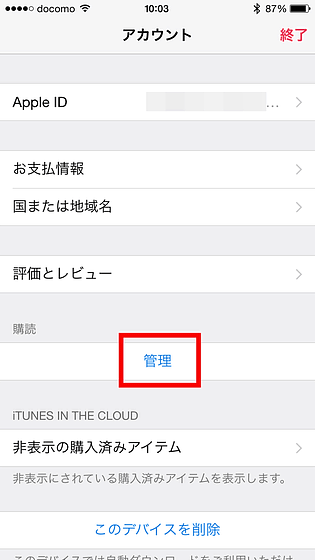 Tap "Your membership".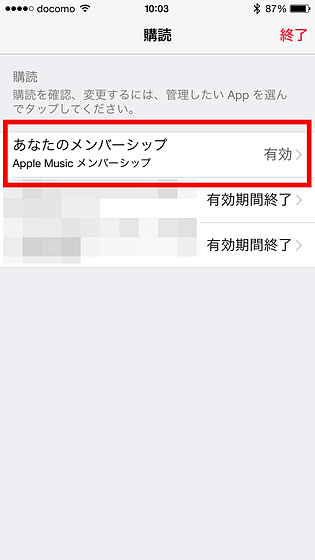 Tap the toggle button next to 'Automatic update', or slide it to the left.



Tap "Turn off".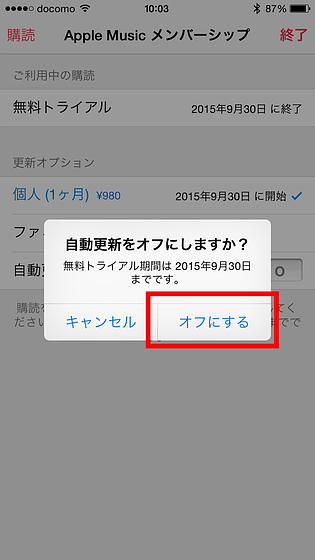 If "Automatic renewal" is missing, OK is OK, and even if the free trial period expires in 3 months, the monthly fee will not be automatically collected. It became possible to listen to music with confidence. Tap "Finish" to return to the music app and enjoy Apple Music.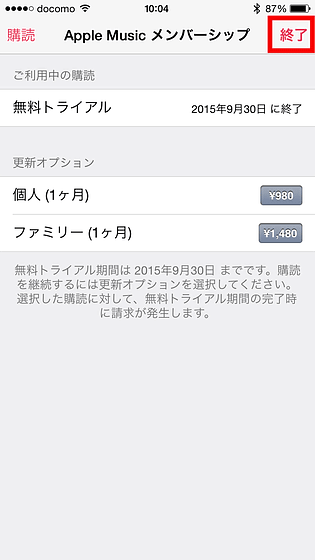 · Additional notes July 1, 2015 13:23
◆ "For You" that learns user preferences and suggests music
By teaching Apple Music of your favorite music genres and artists, you can select songs, artists, albums, and play lists that match the user's preferences from the Apple Music library and display them. All the music you like can be added to your library.

When you open the "For You" tab, you will be prompted to enter your favorite music only for the first time. First of all, various genres of music are written in the red circle, so tap the genre you care about once and the favorite genre twice. If you do not care about the genre you do not recommend, it will not be recommended.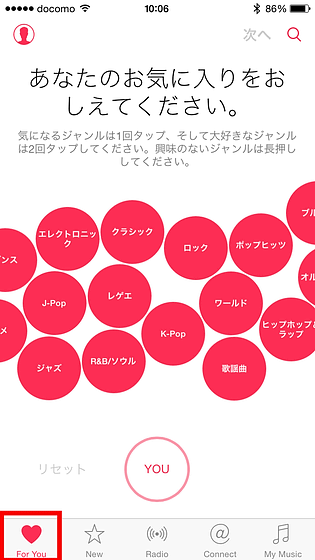 Tap "Next" when you have finished selecting your favorite genre.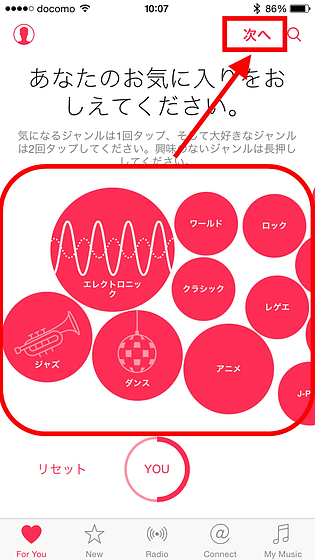 Next, I will pick up my favorite artists. If you do not have a favorite artist in the displayed list, you can update the list by tapping "other artists" at the bottom of the screen.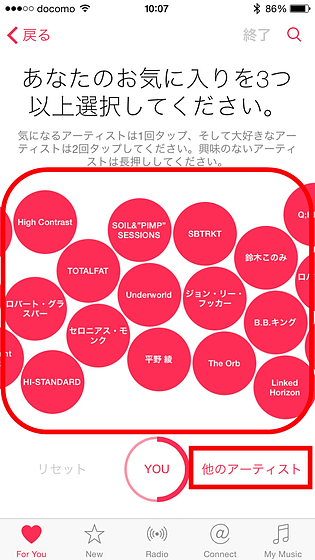 Although the number of artists to select is at least three, since it relates to the music suggested by For You in the future, if you select as much as you can choose, music closer to your favorite will be displayed. When finished, tap "Finish" to complete the initial setting.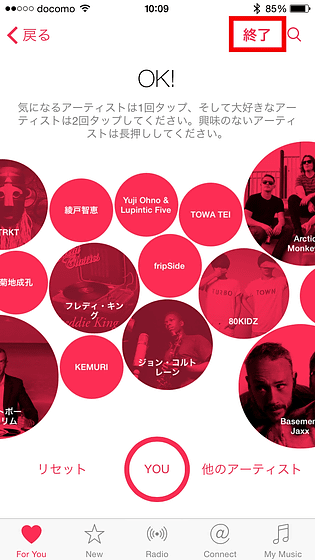 When the top page of For You opens, music and playlists that suit your taste are now displayed based on what you chose earlier. Swipe down on the screen ......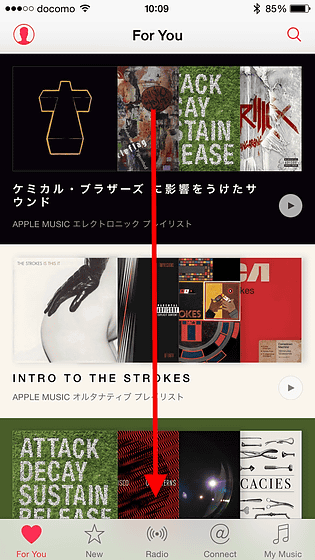 You can update the recommended content. Apple Music also learns the music that users will learn from now to search for recommended music, but even the first genre and artist of the first choice, enough of your favorite music has been selected, The accuracy was a high impression.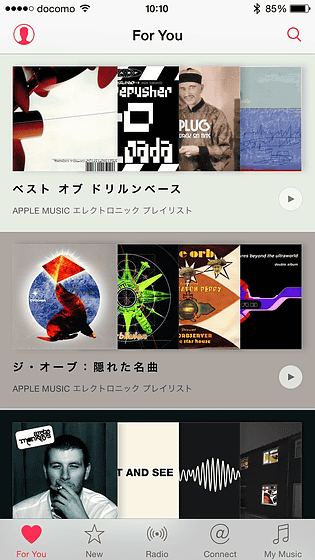 In the For You, a playlist that collects songs of artists that match your taste ... ...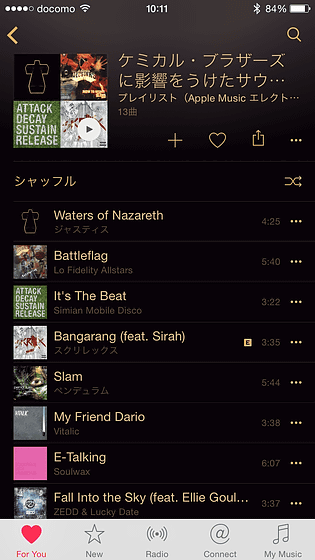 Artist's album etc. are recommended. Tap the play button under the icon to start music.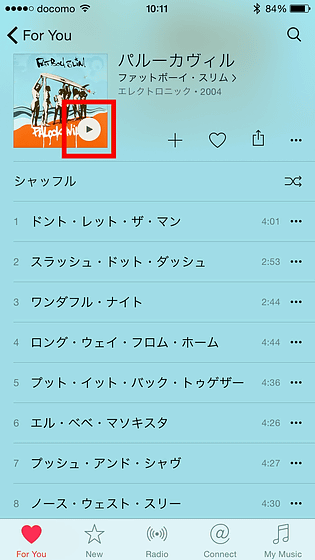 When you find a favorite album or playlist, tap "+" ......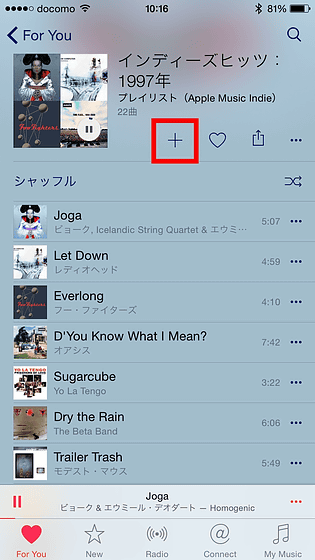 You can add it to your library "My Music" and you can listen to it at any time later.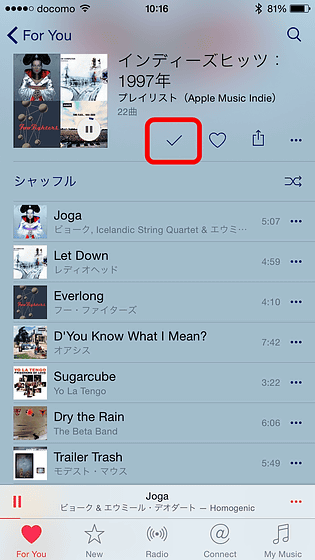 To add songs individually to My Music, tap "..." on the right side of the song title ... ...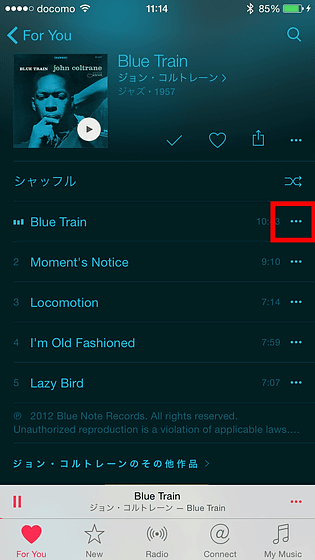 Tap "Add to My Music" and OK. Considering adding music from CD etc., library is enriched very easily easily.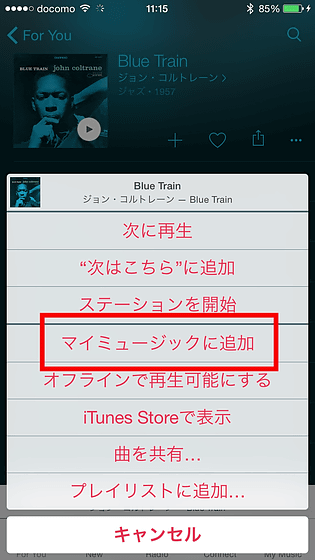 ◆ New information and Apple recommended music "New"
The music newly added to Apple Music can be confirmed here, listening to recommended music by the staff and carefully selected play list, "Outdoor", "Party", "Blue Feelings", etc You can search for music.

When I open "New"I declared to withdrawYou can see that Taylor Swift '1989' is also added firmly.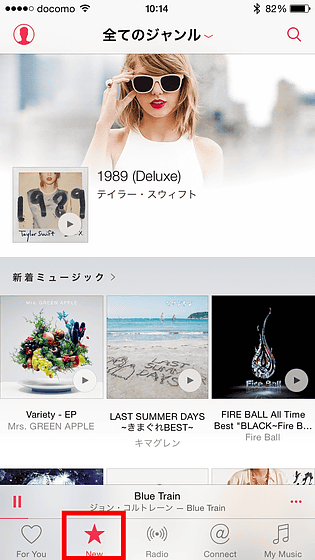 As you scroll down, you will find "APPLE MUSIC EDITOR" which summarizes music and playlists recommended by Apple's specialized team, "Activity" which grouped BGM according to each situation, recommendations by external curators such as Rolling Stone magazine It is also possible to search for music from items such as "CURATOR" selection.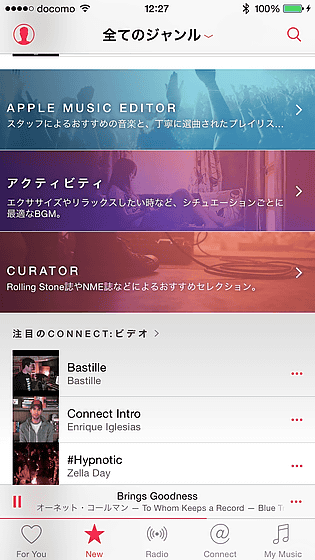 ◆ Radio which DJ can listen to the Internet radio on air for 24 hours
In "Radio" which is a characteristic function of Apple Music, the latest music from the studio of Los Angeles, New York, London is on air for 24 hours "Beats 1"And" Western music hit chart "" 2000's Hits "radio channels are broadcasted. If you are unsure what to listen to, open Radio OK.

When opening "Radio", "Daily Beats 1" which the different DJ broadcasts music continuously every 24 hours, ... ...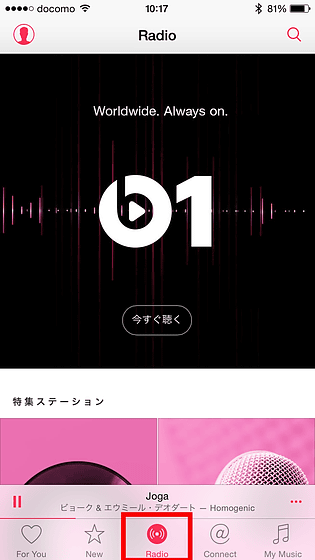 You can listen to music from numerous radio channels such as "Disco Sound" "Pop Hits". Since the song being played is displayed at the bottom of the screen, tap "..." when a favorite song has flowed.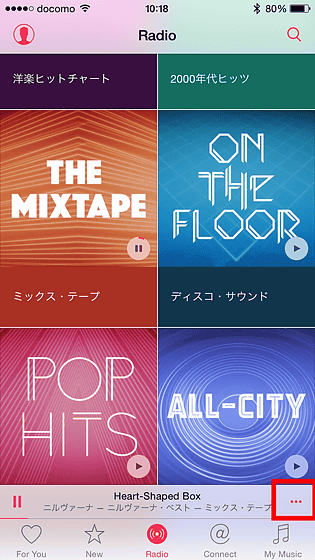 With "Add to My Music", you can now play back many times later.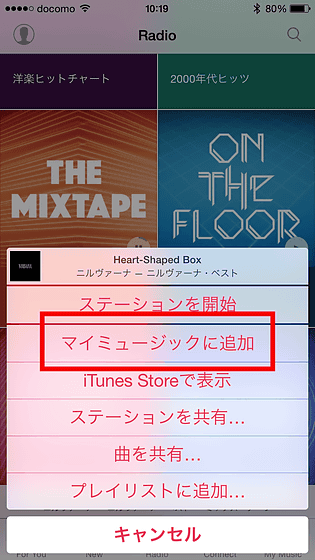 ◆ "Connect" to receive Apple Music limited content from artists
"Connect" means that if you follow your favorite artists, artists will send special information to Apple Music users. You can get information on favorite artists you care about, such as photos taken by the artist on the back stage and lyrics you are writing.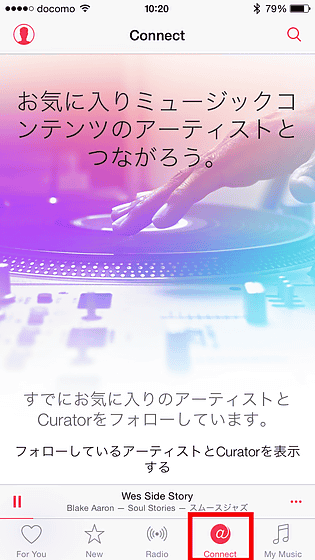 As you scroll the screen, some artists are displayed, so follow the artist you like and tap "Exit" to see the artist's content. Since the follow button is also set on the page displayed by tapping the name of the artist being played, it is good to follow your favorite artists more and more.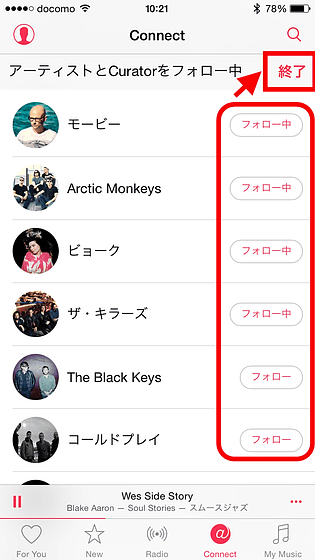 Then, the update information of the artist is displayed in a lime line format, and with Maroon 5, "Movie has been made only for Apple Music users celebrating a European tour!" And the movie has been released, It is also possible to write. As the number of users increases, posts from artists are likely to increase, so it is quite valuable to see limited content of your favorite artists.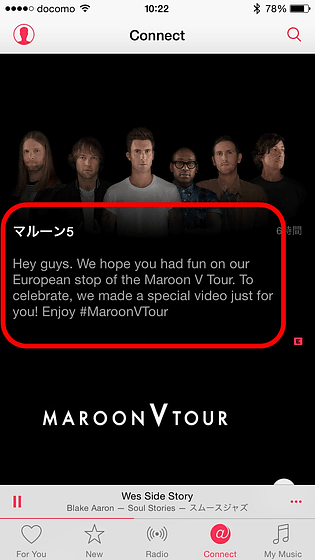 ◆ "My Music" that you can add and play music that you found on Apple Music
A library that allows you to add and play songs found in "For You," "New," "Radio," etc. Songs purchased and downloaded in the past and existing songs added from CD can also be played here.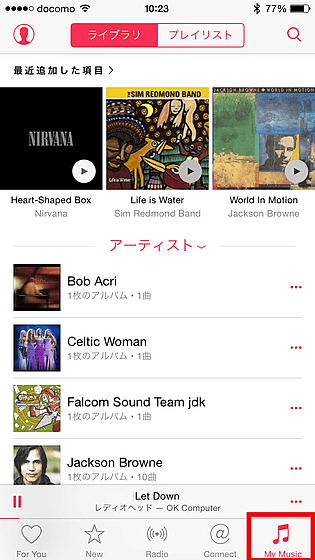 "Library" and "playlist" can be switched by tapping on the screen.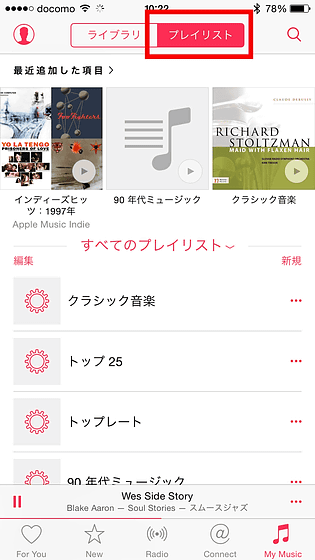 Although the layout has changed quite a bit compared to the previous "music" application, tap "artists" to sort and display the music of the library.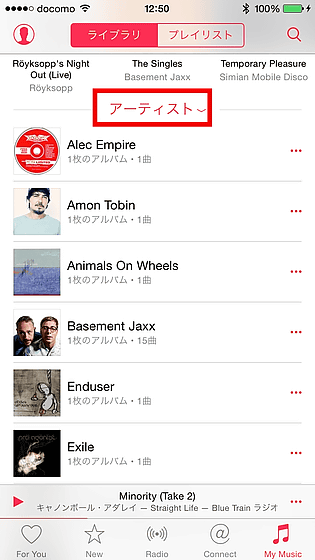 For example, tap "Song" ...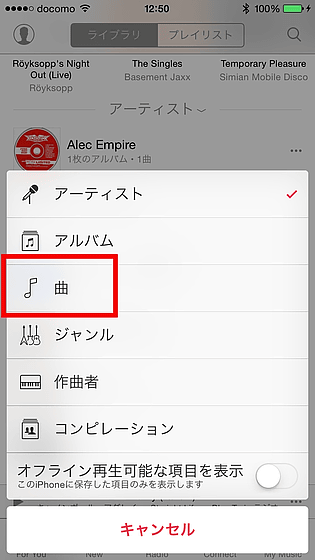 We were able to display the list of all songs in the library. Tap a song to play it.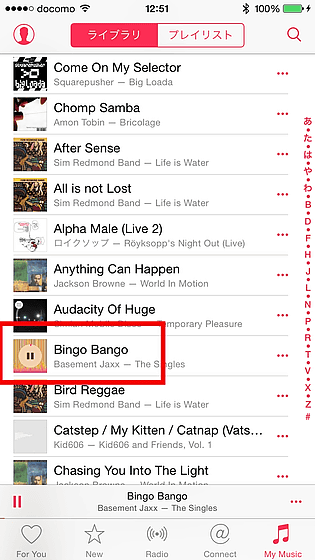 In addition, music added from "For You" and "Radio" so far can not be played offline in the initial setting as follows. Tap "..." to make it possible to play this anytime and anywhere. This menu is in all of albums, artists, playlists and songs.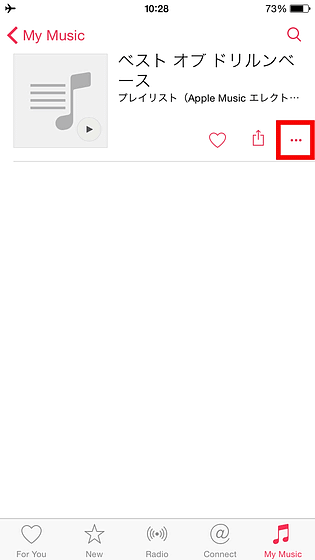 When the menu opens, tap "Make it available offline".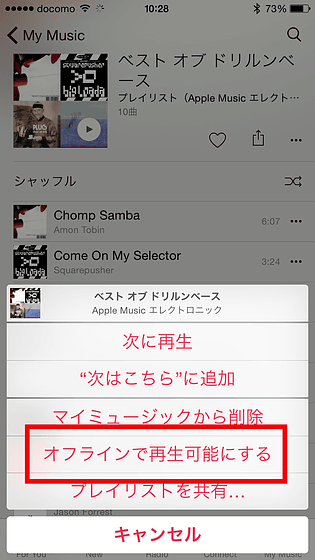 Then the download starts to the library.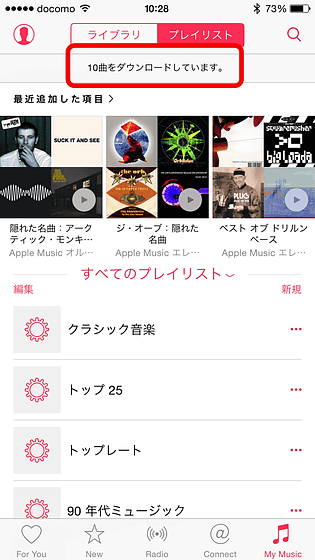 After downloading, music can be played even without the Internet. There are often capacity restrictions per month for mobile communications, and if you play online streaming, you will end up with capacity, but if you download your favorite songs on Wi-Fi, you can listen to music anytime and anywhere at any time is. However, paying attention is necessary because downloading from one end occupies the storage capacity of iPhone.