McDonald's Indian McDonald's not using beef and pork 100 yen Mac style "Happy Price Menu" All nine reviews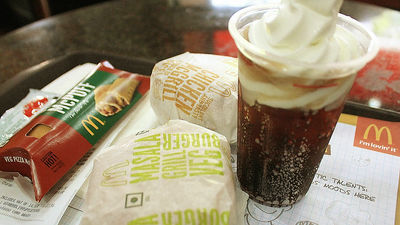 "Our shop does not use beef"In India stores like denying the root of McDonald's, we do not handle beef and pork, too. On the contrary, customers who line up at the counterparts say "I am vegetarian, so I will not tell me any meat." Nevertheless, McDonald's, the world's fast food leader, was unable to keep 1.2 million stomachs and was challenging the curry table only with products tailored to Indian circumstances.

Hello,Takuya Sudo @ circle around the world bicycle @ Charridermanis. McDonald's around the world also has a great menu like 100 yen Mac."1 dollar mack" in McDonald's in the USAAlthough it was full of american-like volume-rich products, McDonald's in India also found a low price menu called "Happy Price Menu", so we ordered and eat all 9 kinds of products that are provided Saw.

◆ McDonald's in India
There are not so many stores, but when entering a big city the stores are dotted with a popcorn. In McDonald's in Japan, it is located in the fast food area, but in India it has a style as a restaurant. Oasis which makes us forget the noisy everyday in India, where the interior where the air conditioning is also effective and the cleaning is perfect, which is distinctive from the mass eatery, is perfect. I needed a local mobile phone number, but I can also use Wi-Fi free of charge.

The appearance of the store in Mumbai, which was also a fancy feeling.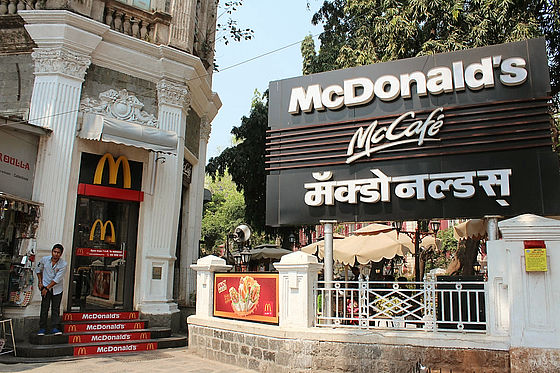 Donald sitting on the bench in front of the store, too, the atmosphere is Indian somewhere.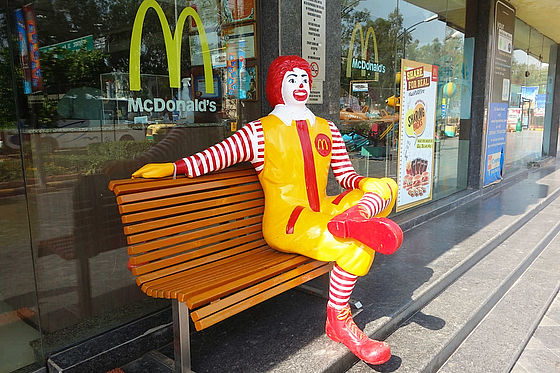 As worshiped as Hindu holy existence, there are no products using beef like Big Mac. Also, many Muslims live, so there are no products using pork. And because there are many people who are vegetarian (vegetarian) for religious reasons, it is also a characteristic of McDonald's in India that they have menus that respect them.

The red color on the left side is non-vegetable mark, the green side on the right side is vegemark.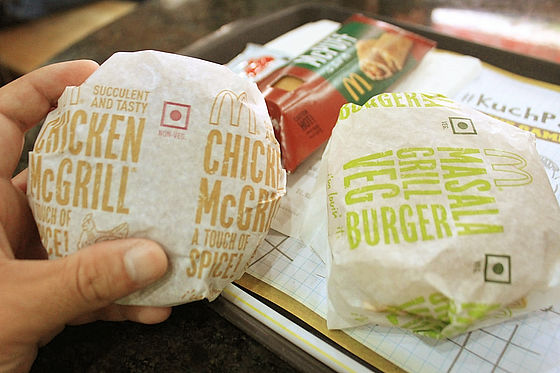 Although it is slightly different from the information on the official site, three types of non-vege menu, three types of vege menus, and three kinds of beverages and desserts were introduced as a happy price menu at the store. It rests neatly above the counter.

◆ Non Beji Menu
"Masala Grill Chicken", 59 rupees (about 118 yen).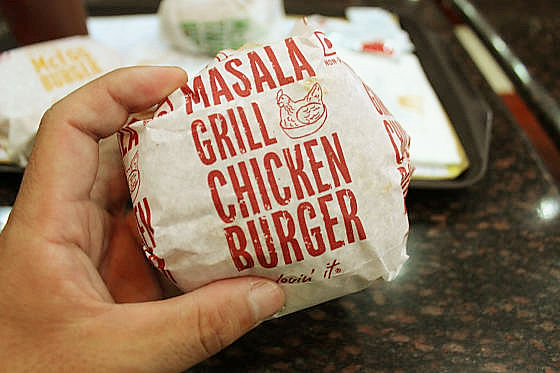 A hamburger sandwiched between crisp chicken patties. The sauce of spicy spices combined with many spices tasted in India.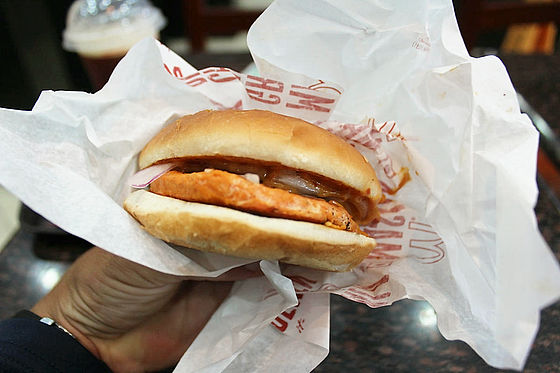 "Chicken McGril", 45 rupees (about 90 yen).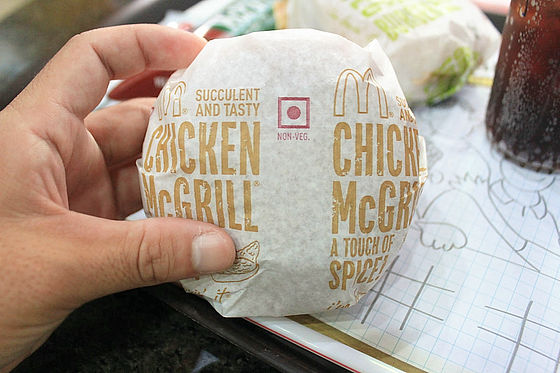 Here also, chicken 's patty is the leading character. Spicy is modest, a juicy tomato, a fresh burger called sharp onions.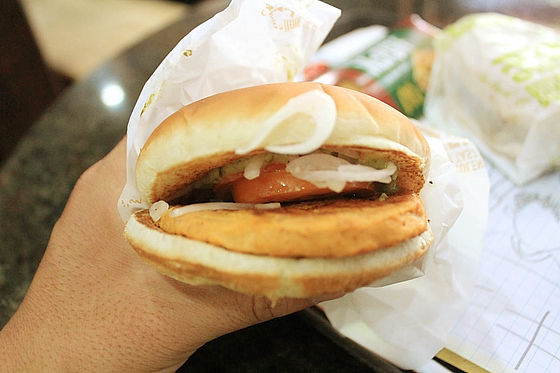 "Mc Egg", 25 rupees (about 50 yen).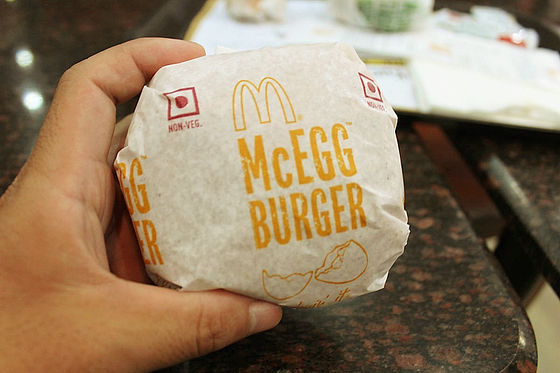 A hamburger with fried egg sandwiched inside. To the creamy mayonnaise sauce, the stimulation of spice added for a while is irresistible.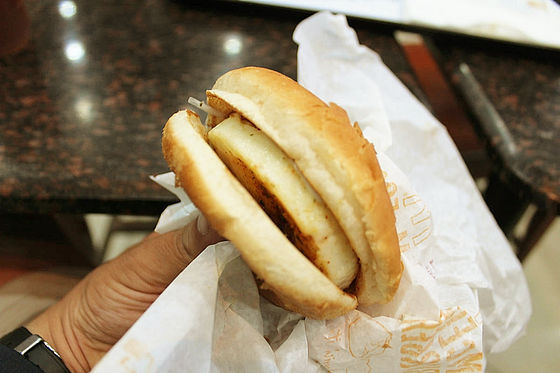 ◆ Bee Menu
"Masala Grill Veg", 49 rupees (about 98 yen).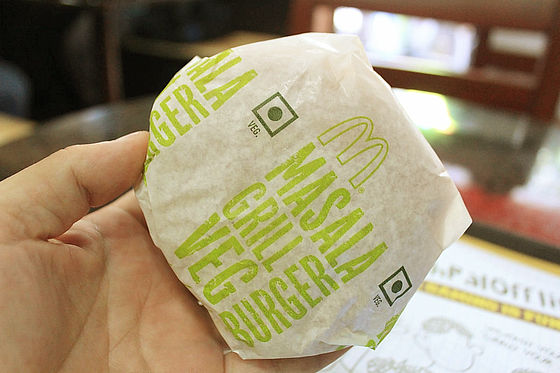 A hamburger sandwiched between potato croquettes. It's croquette, but the clothing is thin, as if it is as thought of eating meat. Again the seasoning was painful, so it ended up being tingling when I finished eating.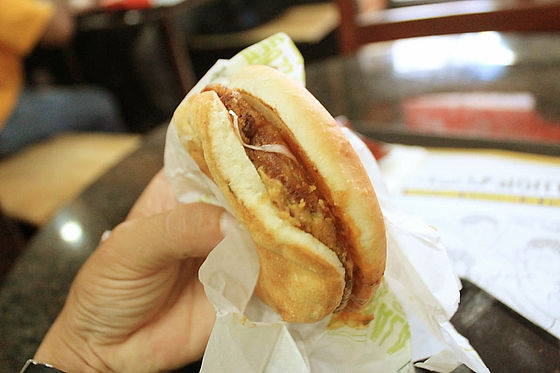 "McAloo Tikki", 29 rupees (about 58 yen).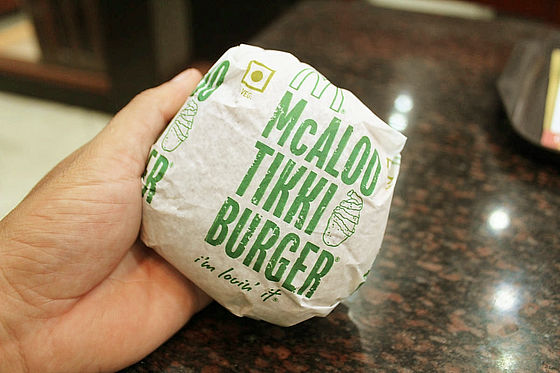 Again, the leading role is croquettes, but clothes are attached exactly. Spicy was modest, with tomato sandwiched, it was a healthy hamburger.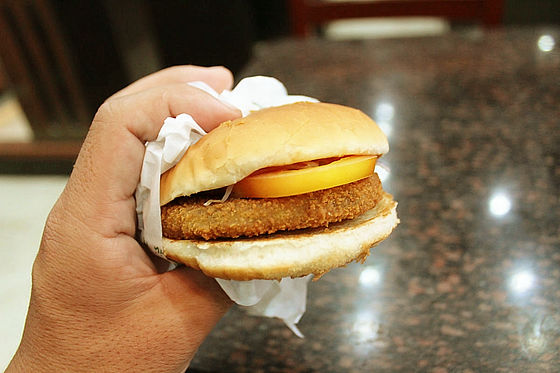 "Veg. Pizza McPuff", 25 rupees (about 50 yen).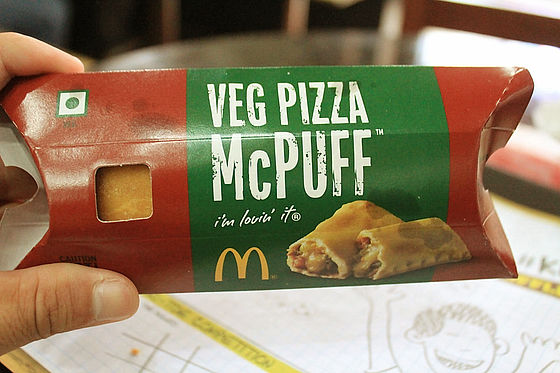 A pie shaped like a pillow.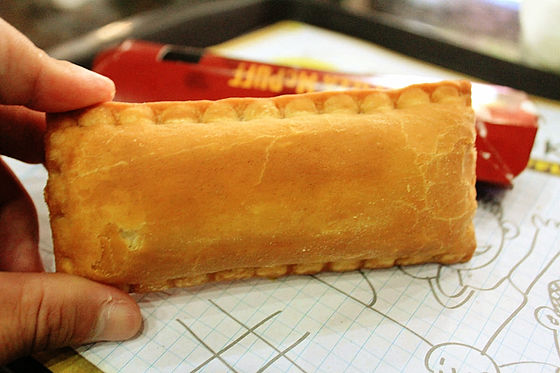 The sauce of tomato flavored with plenty of vegetables such as carrots, onions and green peas. It seems that mozzarella cheese was also included, but I did not notice at all. The thick pie fabric is heavy, pushing it forcefully and finish eating. It was impeccable now.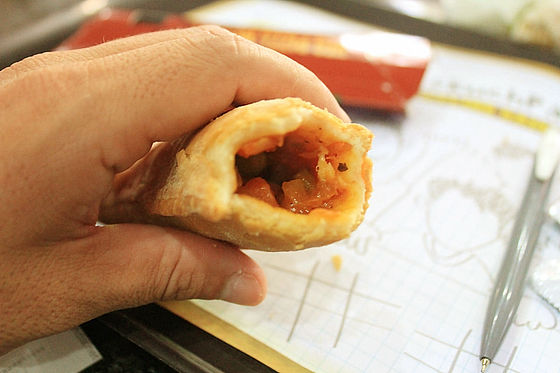 ◆ Beverage · Dessert
"Ice Tea", 39 rupees (about 78 yen). It is a pity that it is sweet ice tea with hinyari, but the ingredients of the beverage are not completely melted or powdery remains.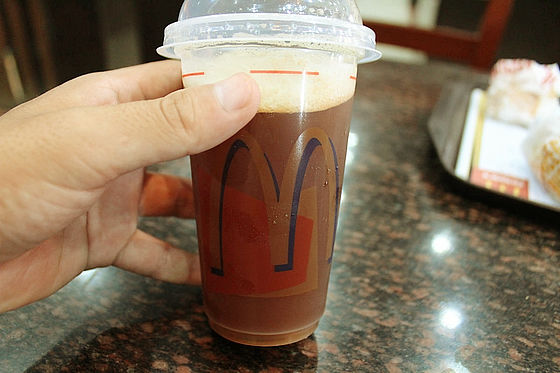 "Soft Serve Strawberry", Rs. 29 (about 58 yen). Sweet sweet soft cream, sweet and sour strawberry sauce exquisitely matches. Chocolate flavor can also be ordered.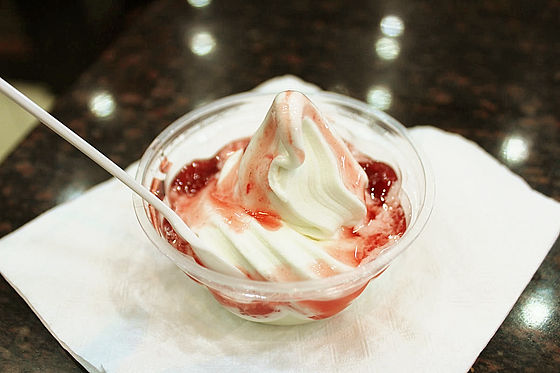 "Coke McFloat", 39 rupees (about 78 yen). A soft cream with a smooth texture and a collaboration between Schwarz and Coca-Cola that carbonates, the gem that can taste two at once. Juice can also be Fanta, Sprite.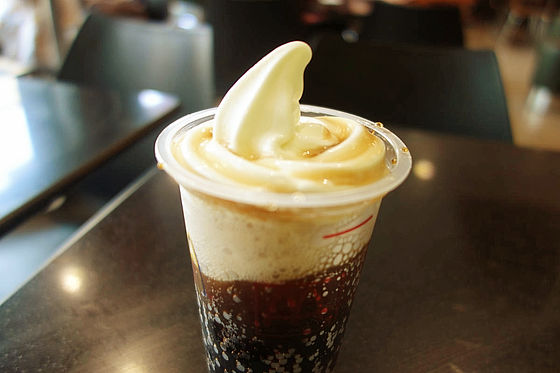 ◆ Happy Price Menu
This will total 182 rupees (about 364 yen).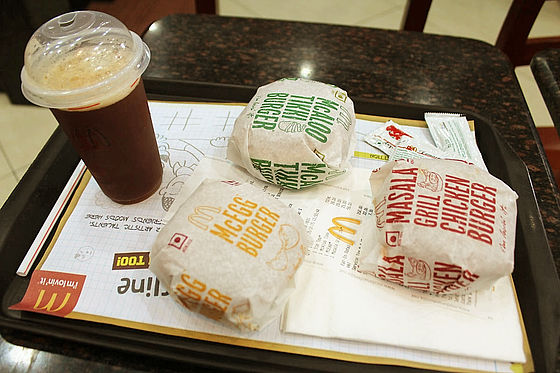 Here it is 190 rupees in total (about 380 yen).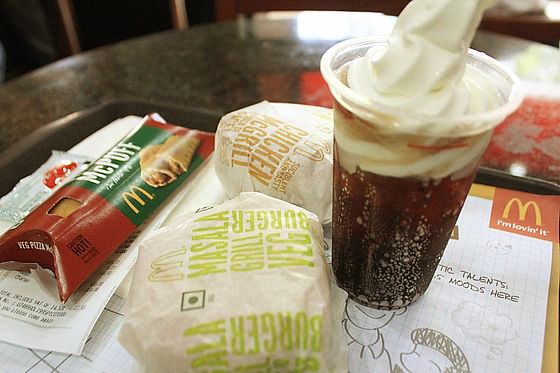 In McDonald's in India, it was necessary to pay the price plus the tax and service charge to the price displayed. The Happy Price Menu also posted the price that was displayed, but we pay the amount of about 20% tax plus there.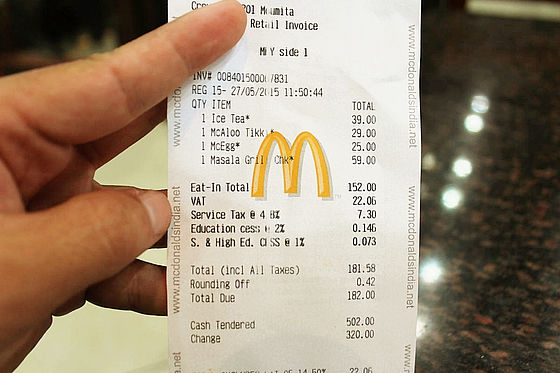 Menu guide on the official siteIt is like this.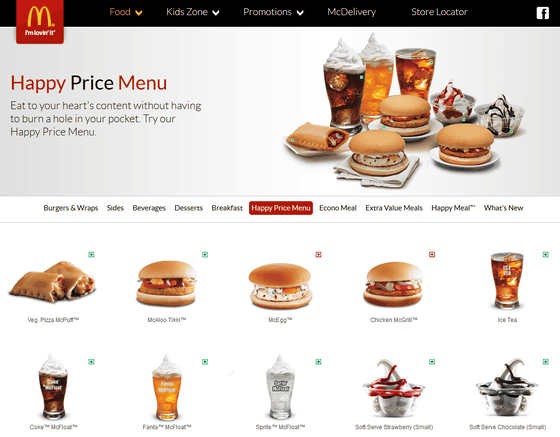 And TV commercials too.

McDonald's Happy Price Menu TVC - 15 secs - YouTube


If you are a hamburger, you can also order this Happy Price menu with potatoes and drinks. Indian curry which mixes various spices and creates one taste is subject to shock, but it will get bored if it continues every day, so sometimes such fast food may be okay.

In addition to McDonald's in India, "Maharaja Mak" which changed Big Mac's hamburger steak to chicken patty,PanireThere is also a local menu such as 'Mac Spicy Panil' which is the main character of cheese called so, if you have a chance to visit India, why do not you go see it.

(Sentence / photo: Takuya S. Narou Charriderman
Cycling around the world for a bicyclehttp://shuutak.com
Twitter@ Shuutak)