Krispy · cream · donut with waffles and cream puffs donuts I ate a new menu in early summer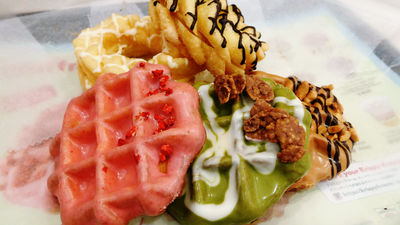 From Wednesday 10th June 2015 (Wednesday), a new menu with waffle as a donut "Wafflets"Three species and a donut like a cream puff"Shu nuts"2 kinds, fresh micro carbonic acid perfect for early summer"Litchi & Salt Pop"When"Watermelon Pop"And cold ice on top of the warm donut in fluffy"Donut Ice Double Blueberry & Yogurt"Was released from Krispy Cream · Donut. I actually tried to eat what kind of new product appeared suddenly in large quantities.

Krispy Kreme Donuts | Waffle nut x Shu nuts
http://krispykreme.jp/campaign/waffnutschounuts/

Krispy Kreme Donuts | POP
http://krispykreme.jp/campaign/pop/

Krispy Kreme Donuts | Donut Ice
http://krispykreme.jp/campaign/doughnutice/

Arrived at Crispy Cream · Donut.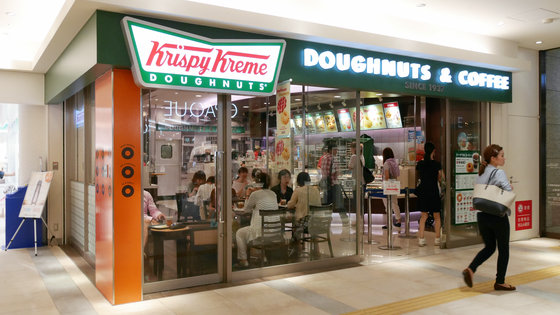 When waiting for orders side by side, I got a menu with a newly arranged menu large.



A new menu is also slurred above the order counter.



Wafnuts and shu nuts can receive goods right away, but drinks and donut ice seems to take a little time to provide, so it was a style to go to receive after the product was finished.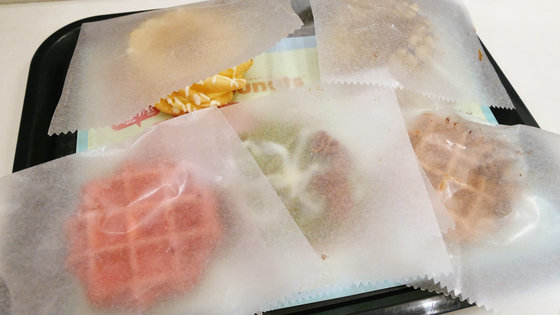 That's why one of the new menus is "Waffle nut strawberry(240 yen including tax) ". Belgian waffle made with donut, strawberry-flavored glaze chocolate and freeze-dried strawberry topped with dish.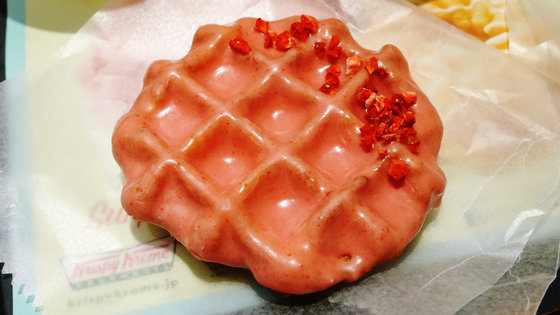 This is a little freeze-dried strawberry.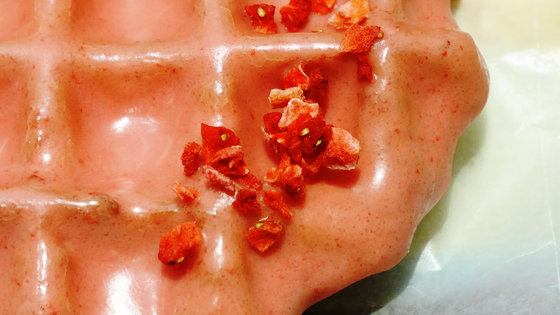 The back side of the waffle nut is like this. Gray's chocolate is painted only on the surface.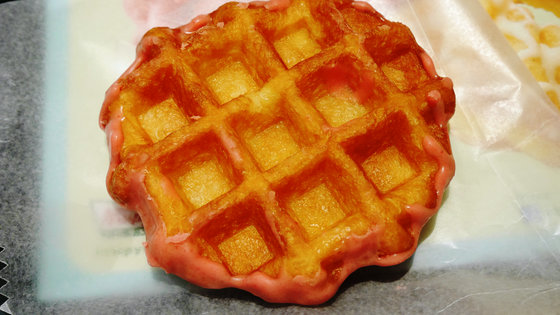 With a hand like this, it's a very average waffle size.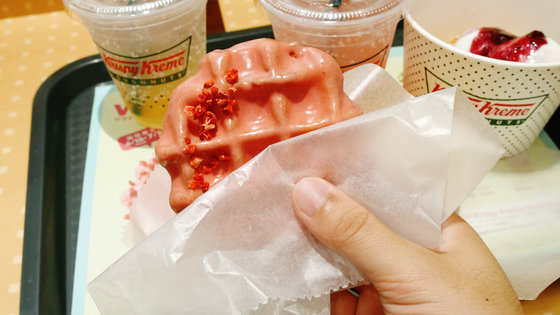 When eating with pakuri, a very rich flavor of glaze chocolate full of strawberry feeling with little sour taste. Freeze dried strawberry which is more acidic than chocolate is also good accent. However, from the wafnut itself it is impossible to feel the flavor of the butter flavor peculiar to waffle and the crispy texture. It is not too sweet, but it does not mean that it is unsatisfactory, but the balance of the whole is a very good impression.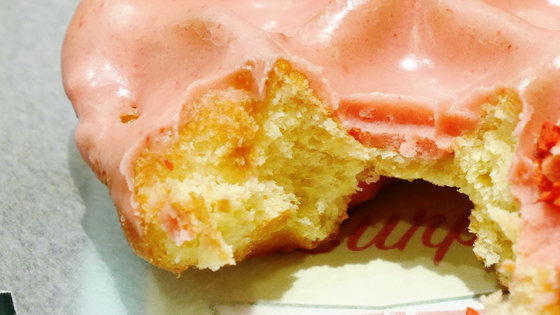 next"Waffle nuts Uji Matcha(240 yen including tax) ".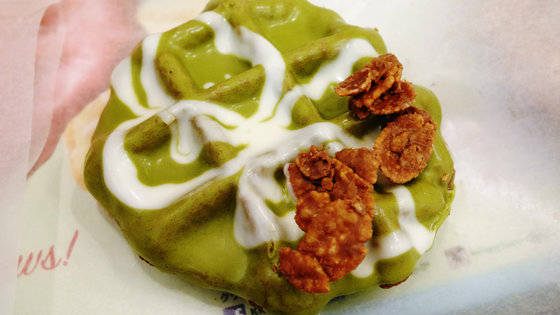 White chocolate and chocolate flakes are topped in glaze chocolate using Uji green tea.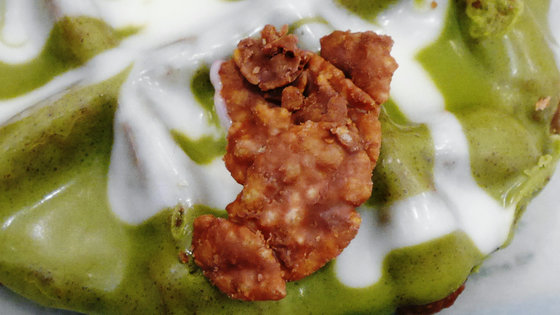 Looking at the upper side, Wafnutz Uji Matcha (right) is different in color from Waffinut Strawberry (left) and it seems that the Uji Tea is also kneaded in the fabric.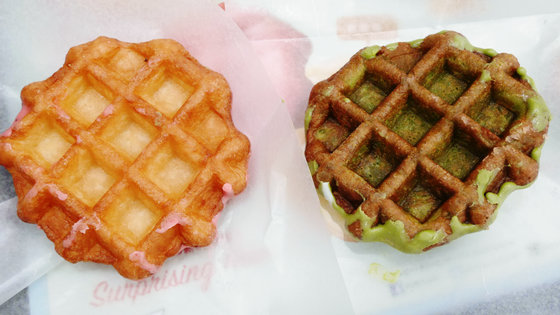 When eating with pakuri, the flavor of Matcha is more solid than you might imagine, and you can feel astringent well. The chocolate part using Uji green tea is pretty sweet modestly, but when white chocolate and chocolate flakes are combined, it is reasonable that you can feel a little sweetness in the astringent. In addition, Wafnutz Uji Green Tea is also moist with the dough, hardly feeling crispy texture.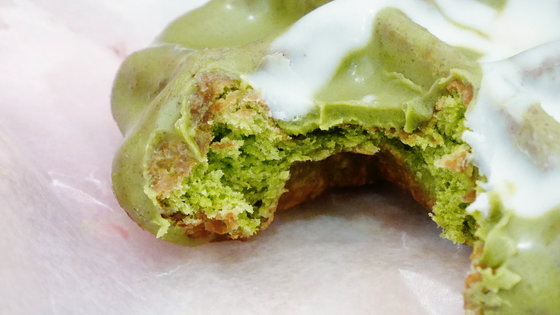 The third type of wafnut is "Waffle nut almond(240 yen including tax) ".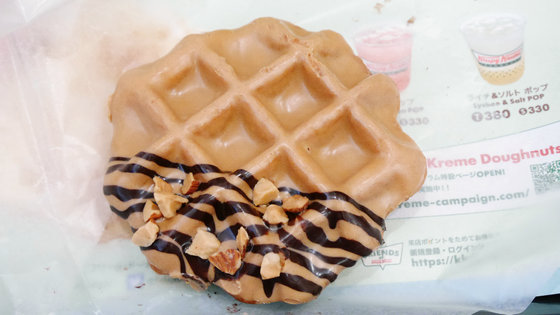 Wafnut almond (right) seems to be using the same plain fabric as waffle strawberry (left).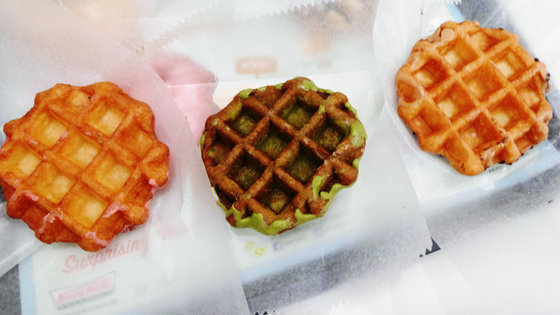 When eating with pakuri, glaze chocolate with plenty of almond paste is fragrant, and when eating together with slightly almonds it is a luxurious dish that is luxurious. It is the sweetest and royal flavor of waffle nuts.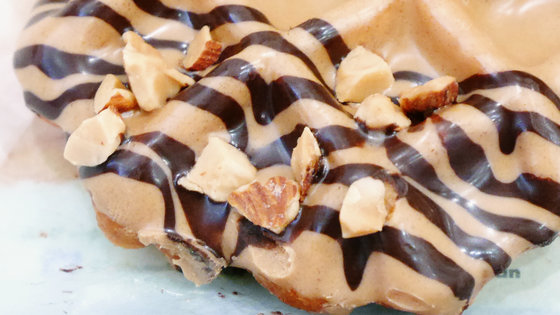 this is"Shu nut lemon cheese(210 yen including tax) ". Fluffy fabrics are fluffy like puffs.



White chocolate on the surface.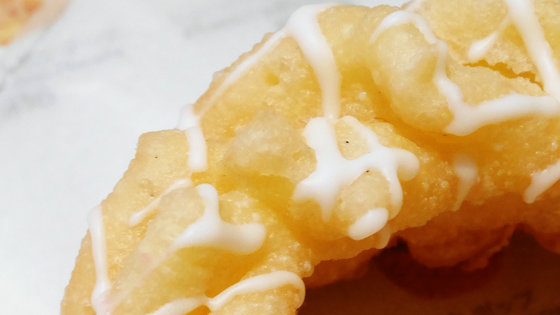 From the gap between the fabric and the dough, cheese cake sauce using cheese cream with Seto Inland lemon peel is trolley.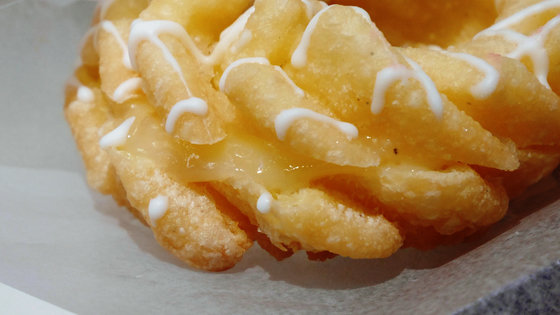 As sho nuts seems to be imaginable from the appearance, with a texture like Mr. Donut 's French kriller, it is fluffy and light in texture though it is a donut. The lemon peeled cheese cream and cheesecake sauce have a refreshing lemon flavor. Despite slightly feeling cheese, it is characterized by a refreshing feeling of lemon and a very comfortable eating feeling due to the fluffy feeling of sho nut dough.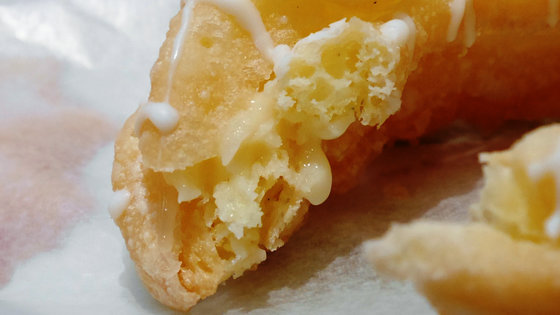 From the top the chocolate broke the net "Shu nut double caramel(210 yen including tax) ".



Cream and salt caramel sauce flavored with raw caramel flavor from between the dough.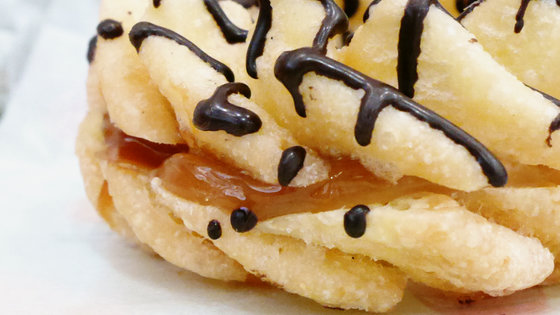 Exquisitely matches exquisitely sweet caramel sauce with sweet nut dough that fluffy with pakuri. Shun nuts If you make sho nuts easy to eat lemon cheese, this is sho nuts for sweet tooth.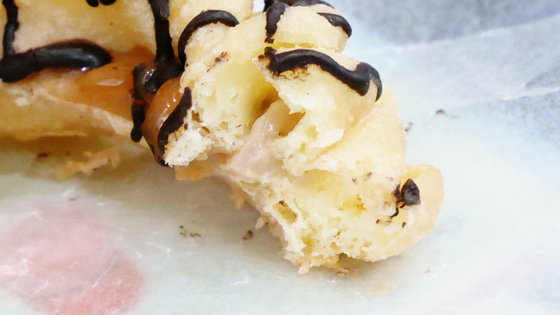 A new menu of donut ice that was completed in minutes from the order "Donut Ice Double Blueberry & Yogurt(450 yen including tax) ".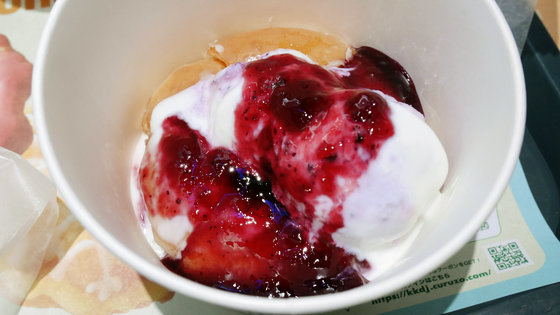 When you have it in hand it is about this size.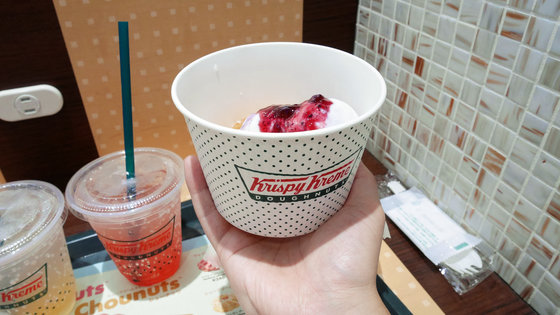 Some of them are warmed original · glazed and cream cheese ice, cheesecake ice mixed with blueberry sauce and cookies richly, plain yogurt and blueberry flesh filled sauce is lavishly served.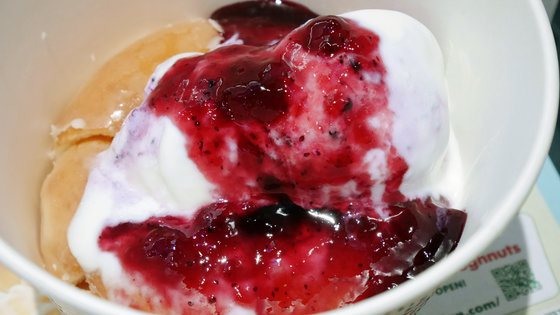 The original · glazed had been cut to size easy to eat six cuts.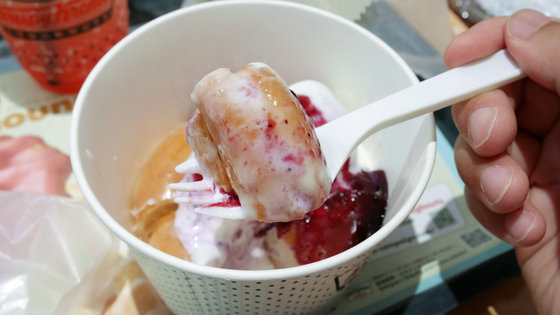 Blueberry sauce is very fresh, slightly felt acidity is very refreshing taste.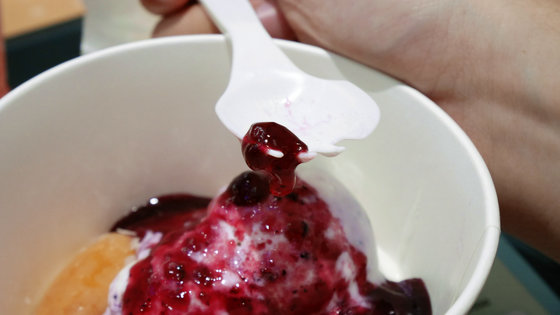 Because the original · glazed inside is warmed, it gets it before the ice melts. Blueberry sauce and cheese cake style ice are just good sweetness when eating alone, summer-like taste that everything was refreshed, but when you eat with original · glazed, all the sweetness is condensed "This crispy cream · donut It is finished in a sweet and sick condition such as!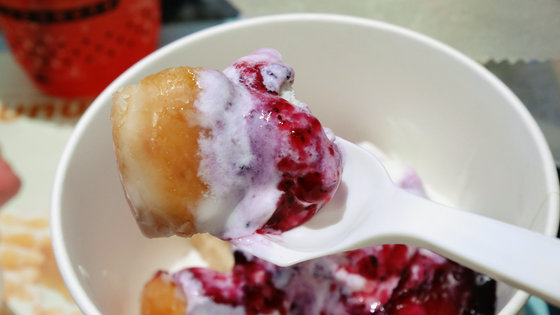 The inside donut uses something with a white sugar coating.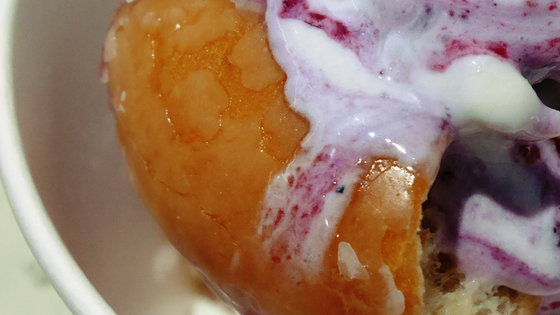 The combination of cold ice cream and warm donuts will provide a moment of bliss.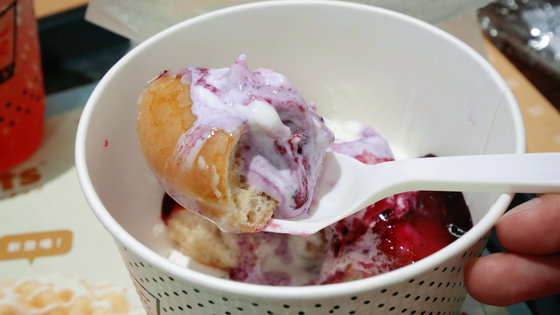 In addition, Donut Ice is a cubic plaza Shin-Yokohama store, Maihama Ikspiari shop, Aeon Mall Otaka store, Shin Osaka station shop, JR Kawasaki station premises shop, Atre Omori shop, J.Ar. Nagoya Takashimaya shop, Atle Kameido store, Tokyu plaza Kamata shop, Tamagawa Takashimaya S · C Main Building Store, Namba CITY Main Branch Northern shops and fair stores do not handle it, so be careful.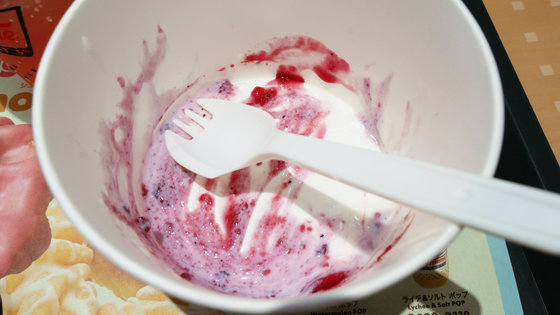 Finally the drink "Litchi & Salt Pop(Left) "and"Watermelon Pop(Right) to try to drink. Two are S size 330 yen including tax, T size 380 yen including tax. This time I ordered both S size.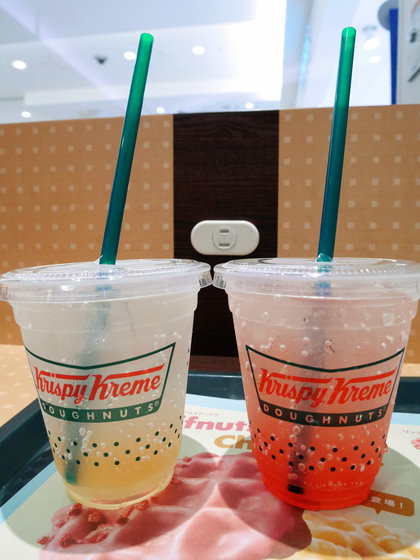 Since the syrup is accumulated at the bottom of the cup, I will stir it with a straw and then I will drink goobugi.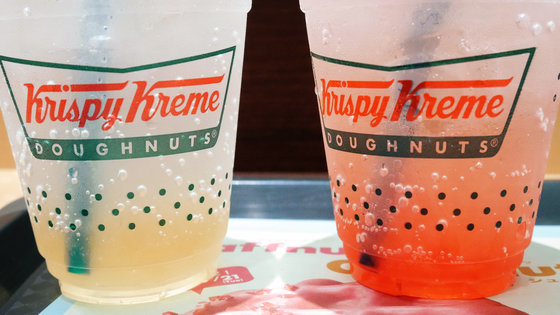 Litchi & Salt Pop is a dish that the flavor of lychee and fine carbonate match well. Because the lychee jelly is contained in it, the texture is also very good.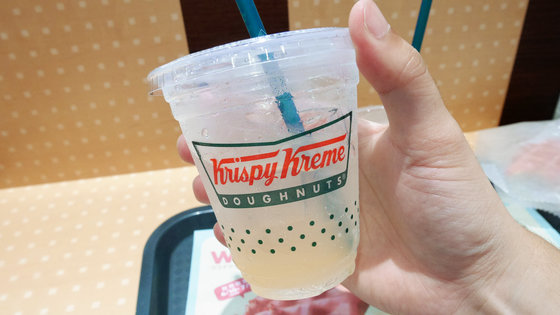 Watermelon Pop is a drink like "sweets of sweet watermelon" as if you are drinking a drink of a watermelon. However, this was a very good match with micro carbonic acid, it was a very pleasant drinking feeling coupled with the tingling sensation of micro carbonic acid and the feeling of jelly.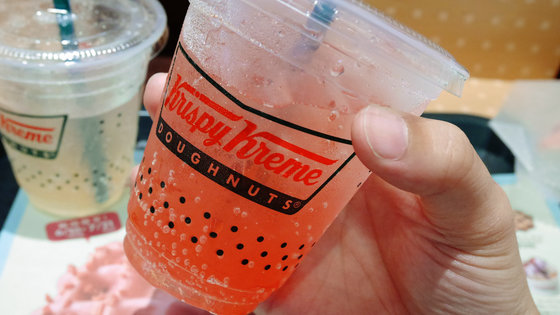 Wafnuts is a limited-time sale from June 10, 2015 to July 21, shu nuts are also on sale from June 10, but the sale end date is undecided, plus "Lychee & Salt Pop" "Watermelon Pop "" Donut Ice Double Blueberry & Yogurt "are scheduled to be on sale for a limited period from June 10 to September 15.