Evora virus clearly evolves during infection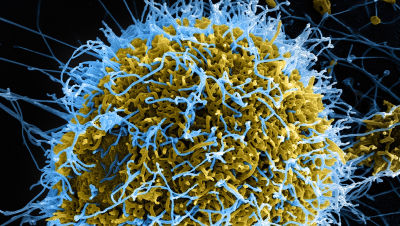 ByNIAID

In 2014 he dominated the AfricaEbola fever heatHas been declared in Liberia on May 17, 2015, the number of infected people has decreased. However, considering the characteristics of the Ebola virus, it is clear that conditions remain unpredictable.

Genetic diversity and evolutionary dynamics of Ebola virus in Sierra Leone: Nature: Nature Publishing Group
http://www.nature.com/nature/journal/vaop/ncurrent/full/nature14490.html

Latest Ebola data rule out rapid mutation: Nature News & amp; Comment
http://www.nature.com/news/latest-ebola-data-rule-out-rapid-mutation-1.17554

Chinese Scientists Reveal Genetic Diversity and Evolutionary Dynamics of Ebola Virus in Sierra Leone --- Chinese Academy of Sciences
http://english.cas.cn/newsroom/research_news/201505/t20150515_147342.shtml

Ebola not mutating beyond 'normal' rate, scientists say - MyFoxAL.com - FOX 6 WBRC Birmingham, AL
http://www.myfoxal.com/story/29055961/ebola-not-mutating-beyond-normal-rate-scientists-say

Ebola hemorrhagic fever, which has become the largest infectious scale in the past in 2014 and has killed more than 10,000 people, gradually decreased the number of people infected,WHOIs declaring the end of the Ebola hemorrhagic fever epidemic in Liberia, which is the first in West Africa, the situation is being calmed down. In addition, a termination declaration will be issued with no new infection in 42 days of twice the 21 days which is the incubation period of Ebola hemorrhagic fever.

Analysis of genetic sequence data has been conducted for the Ebola virus of the 2014 pandemic, which was published on May 13, 2015paperThen, it is clarified how much the genetic variation of Ebola virus in this Ebola outbreak outbreak great epidemic was. We conducted research on the DNA sequence of more than 3000 Ebola viruses collected in Sierra Leone from September 28, 2014 to November 11, 2014 at the China Mobile Laboratory Testing Team, a research institute operated by the Chinese government By doing so we determined 175 gene sequences, and as a result we found that Ebola virus was mutating at the same pace as before.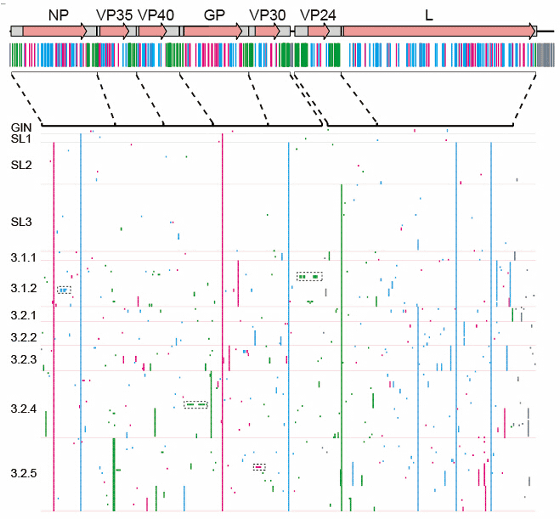 In some cases, the virus changes its genetic structure slightly as the infection spreads, and in some cases the nature of the virus varies greatly, the Ebola virus mutation is still "steady evolution" even in this pandemic, and some scientists I was worried about that, I have not seen any significant alteration. Although it is known that Ebola hemorrhagic fever is not infected with air at this time, if there is a large mutation in the virus, there is a possibility that something infected with air may appear.

The research team not only notes that the mutation pace is usual, but also a single Ebola virusnucleotideThe total number of 440 has been replaced, and we will continue to investigate the genetic diversity of the virus and we hope to lead to the development of the vaccine by locating the fundamental mechanism of the mutation. Regarding the development of vaccine against Ebola hemorrhagic fever,The effect of the monkey is confirmedIn the future, clinical trials for people will also be expected to proceed rapidly.

Although Ebola hemorrhagic fever is being calmed globally, in Guinea and Sierra Leone no end declaration has been issued and the threat has not completely exited. Also,Ebola There is a possibility of infection by sexual intercourse for a certain period even after recovering from hemorrhagic feverSometimes,Ebola virus sometimes survives in the eye several months after it is no longer detected from bloodSince the life force of Ebola virus is not common, it is not appropriate to conclude that the epidemic has ended immediately, and it seems necessary to carefully watch over the situation in the future.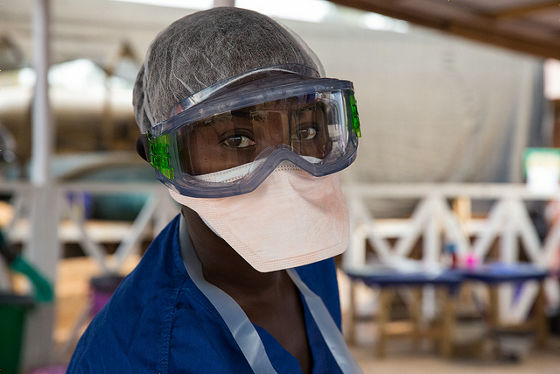 ByNIAID