I have eaten a new product of Moss vegetable burger "Natsuke" and a volume full scale "honorable hamburger sand"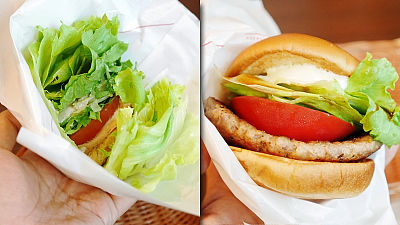 In Mos Burger, from May 19th (Tuesday) 2015 Lettuce will be a new menu of hamburgers "Natsumi (Natsumi)" with ingredients put between themMoss's vegetables moss vegetables Aurora sauce tailoring"And 1.5 times the domestically produced cattle patty was used"Exquisite Hamburger Sand Tomato & LettuceSales have begun. "Rapa fish" is a new menu, "honorable hamburger sand" was a long-awaited revival, so I decided to eat what it is finished in taste.

Moss's Natsumi (Natsumi) Moss vegetables Aurora sauce tailoring | period, season, limited quantity menu | Moss burger official website
http://mos.jp/menu/detail/010718/26/

Exquisite Hamburger Sand "Tomato & Lettuce" | Period / Season / Mass Limited Menu | Moss Burger Official Site
http://mos.jp/menu/detail/011420/26/

That's why I arrived at a Mos Burger shop.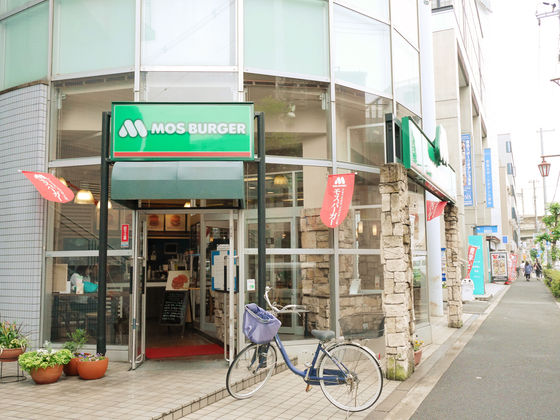 I tried entering the shop, but because I visited early in the morning, posters etc of the new menu were not listed.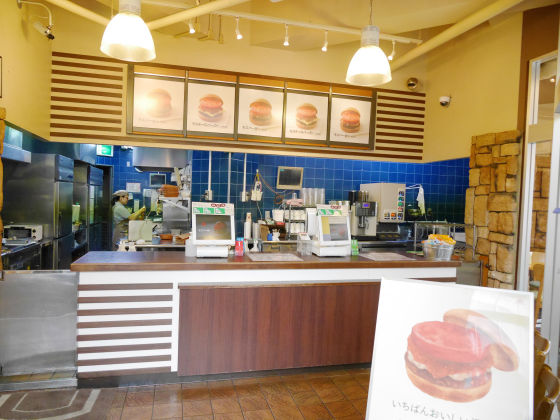 But of course I ordered the order without problems. Approximately 5 minutes from the order, "Moss' s vegetables moss vegetable aurora sauce tailoring" and "honorable hamburger sand" tomato & lettuce "were delivered in a fresh state.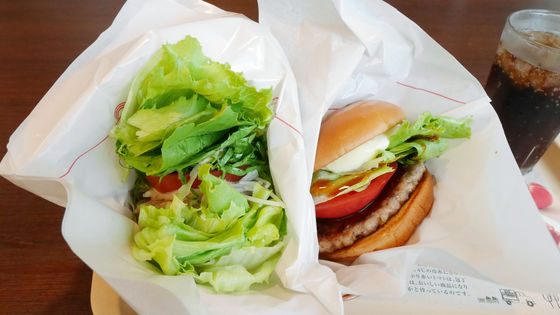 "Rapesed moss moss vegetables" is a piece of vegetable preparation literally literally from top to bottom just because it was tailored to "vegetables" that wraps a vegetable full hamburger "moss vegetables" with lettuce.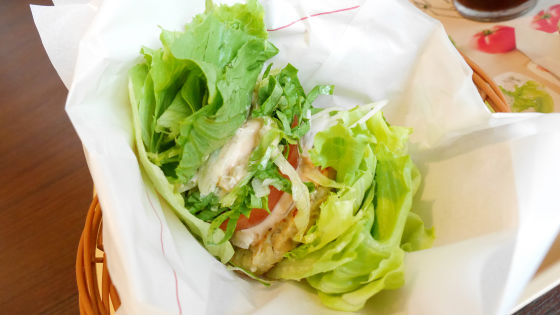 Below the lettuce instead of the buns you can see a sliced ​​lettuce with aurora sauce, you can see the onion sauce and soy pasta following a thickly sliced ​​tomato, aurora sauce. Since soy pastry does not contain meat, it is a genuine "vegetable burger".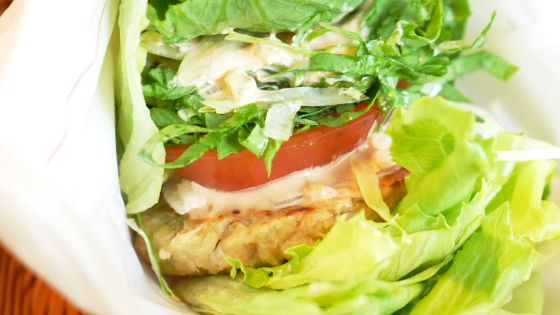 By the way, the structure of a hamburger is like this.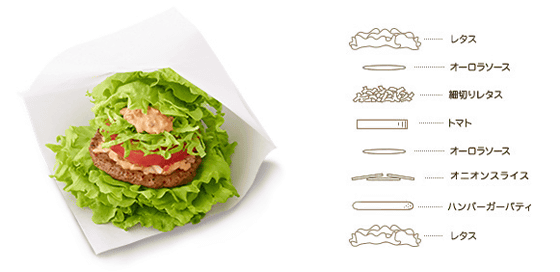 I will eat it at once. As introduced in the site of Moss, this hamburger has many vegetables and it is easy to spill, so it is essential to take it as a paper bag as it is.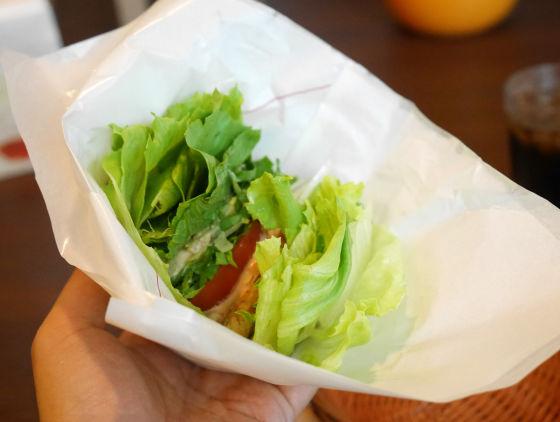 Gabri and a mouth. From top to bottom, no matter where you eat, you can taste the texture of fresh lettuce, the aurora sauce, tomatoes and the soy pasta flavor are exquisitely mixed. The lettuce which was shakijaki was comfortable to crunch and it was a very impressive aftertaste which made the refreshing feeling very refreshing though it felt volume. It should have been eating a hamburger, but it seemed like a sort of salad eating as it is becoming a mysterious hamburger gradually rising.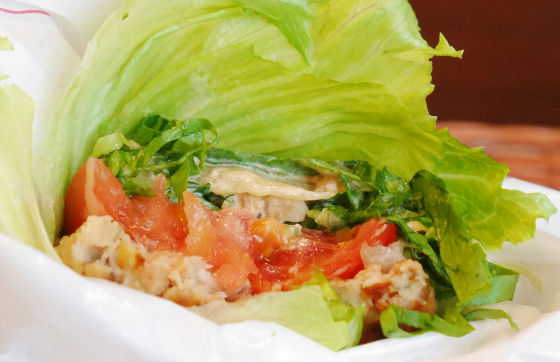 Next, I will eat 'Hamburger Sand "Tomato & Lettuce".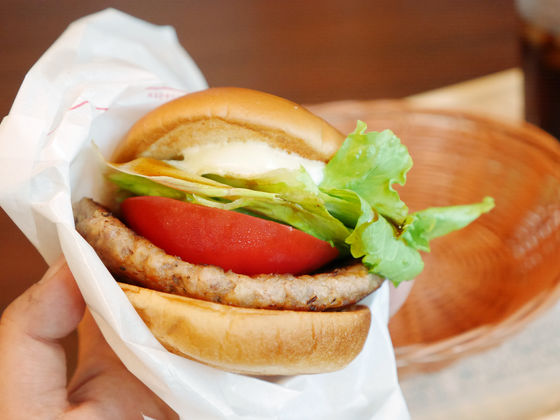 It is a different dish like "hamburger" indeed as it is "rape" the previous day. Under the buns, mayonnaise, lettuce, thick cut tomatoes are piled up, and the domestic beef patty which is 1.5 times the normal size is loaded with tomato vinegar sauce. It seems that it can be said that it is finished in a good contrast with "Rapeseed" when the hands are picked up and the feeling of warmth and warmth is comfortable.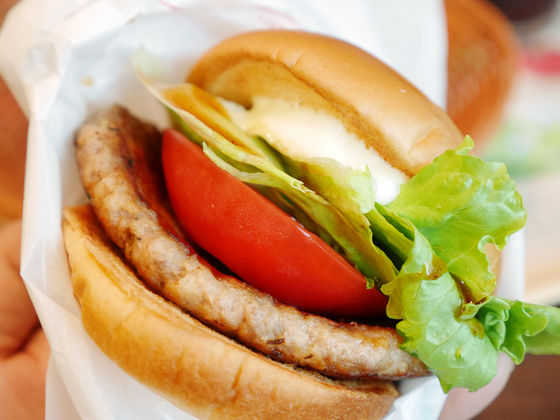 I called Gabri. A sense of texture comes in order of fluffy buns, mayonnaise made with cotteli, lettuce of shakijaki, juicy tomatoes, and patties of rice cake, which is indeed an eating response that is said to be "Mos Burger". Thanks to the moderately juicy patty and tomato vinegar sauce, it was also impressive that the aftertaste was unexpectedly fresh. After eating after cool cool "Rapae", it was finished to enjoy a slightly different warm umami that was different from vegetables.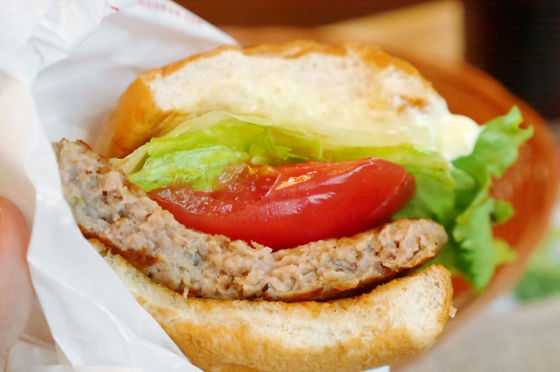 Both items were finished in a hamburger full of features like Moss. "Moss Letter Vegetable Moss Vegetable Aurora Sauce Tailoring" is a 360 yen tax-inclusive price, "Exquisite Hamburger Sand" Tomato & Lettuce "is a 460 yen tax-included price, and it is limited for a limited period until early September.