Puzzle game "Zop" to erase all the same same colors built with HTML 5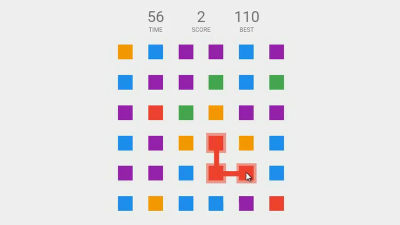 Built in HTML5, a free puzzle game that you can easily play from web browsers such as smartphones, tablets, PCs is "Zop"is. Since there is no need to install a dedicated application or register a member, it is said that you can play with haste if you open the page, so I tried to play it.

Zop - Clay Games Mobile HTML 5
http://zop.clay.io/game/zop

By seeing the following movies, you can see what kind of game Zop is in one shot.

I tried playing the puzzle game "Zop" to connect the same color and erase it - YouTube


Zop's official websiteWhen you move to, the game of one game 60 seconds will start immediately. There is no BGM etc in Zop.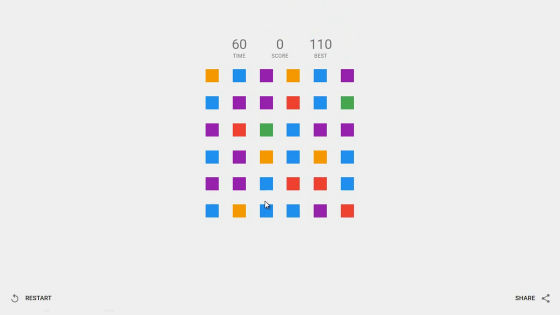 It's easy to play, just dragging and dropping the same color next to each other OK. The connected colors will disappear and new colors will be randomly added from the top.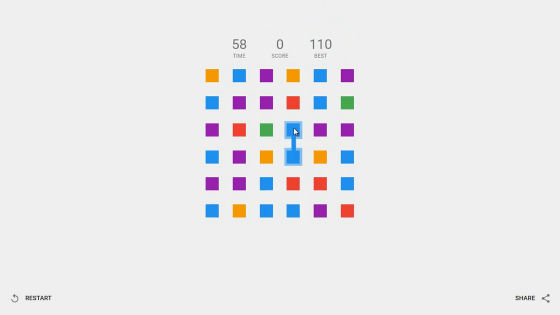 The same color can not be connected diagonally.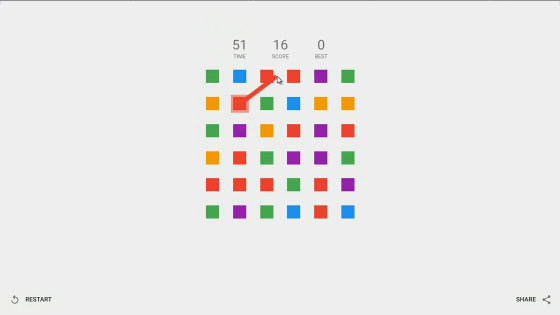 The upper center score increases by the number connected and disconnected.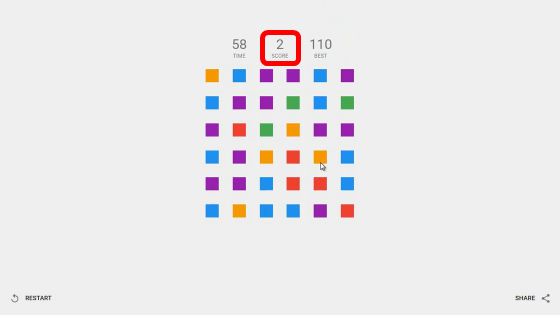 Of course it is also possible to connect more than three and erase them if they are next to each other.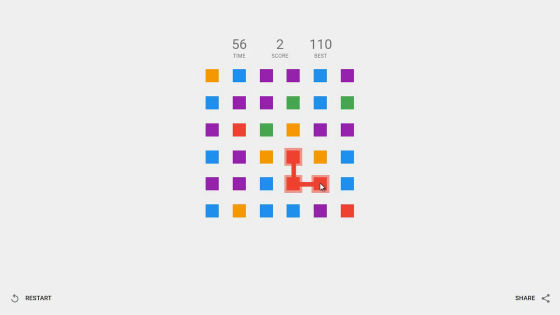 Even if three or more are connected and erased, there will not be any special increase in the score, only the number of scores will not increase.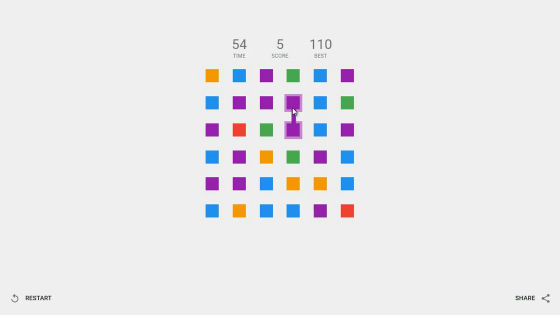 There was not a tutorial etc., but if we connect the same color with a square ......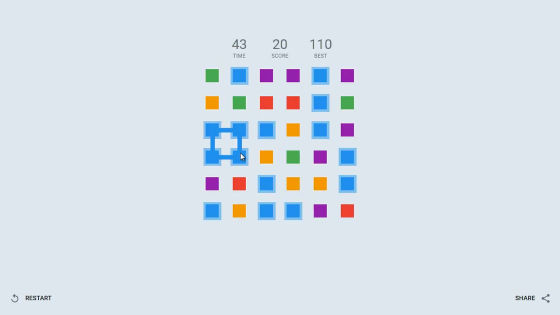 All the same color as the one connected by the square will disappear. Connecting the same color with a square as much as possible seems to lead to a high score.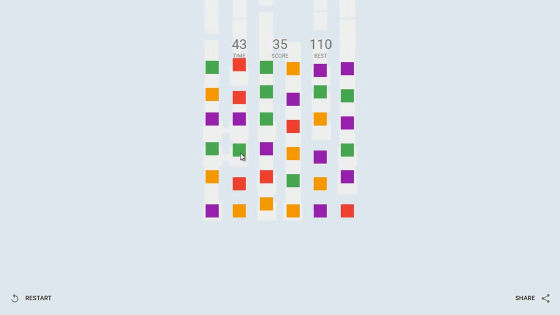 Even if you are approaching the end of the game, it is important whether you can earn more points calmly without being impatient.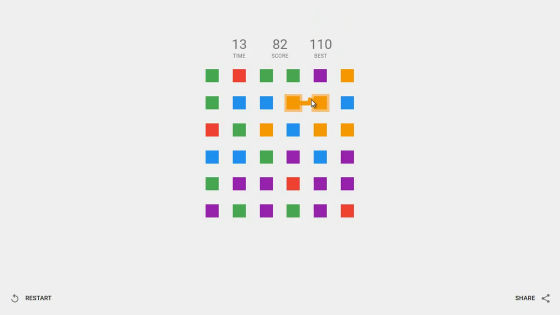 When the game of 60 seconds ends, the score after playing is displayed at the top. The second from the top is the highest score ever.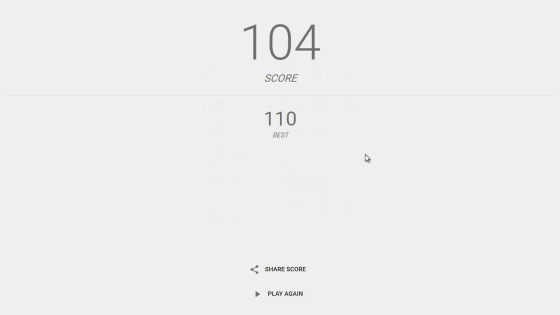 If you want to start the game again, please click "PLAY AGAIN" OK.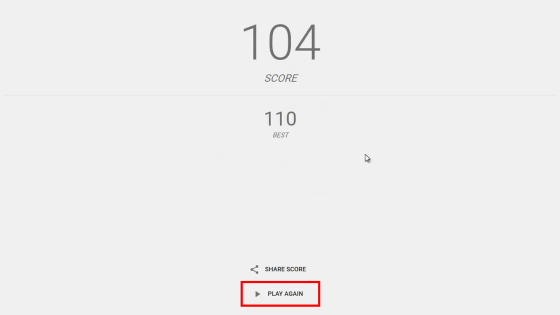 If you want to share the score on Facebook or Twitter, click "SHARE SCORE" to share the score.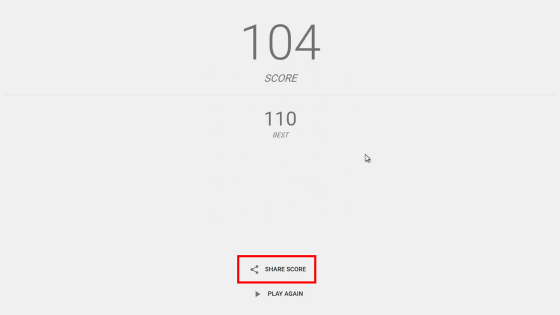 Also, Zop is a game built with HTML5, so you can easily play with smartphone browser. When I actually played it, the touch screen of the smartphone is more intuitive and easier to play than the operation of connecting colors with PC mouse.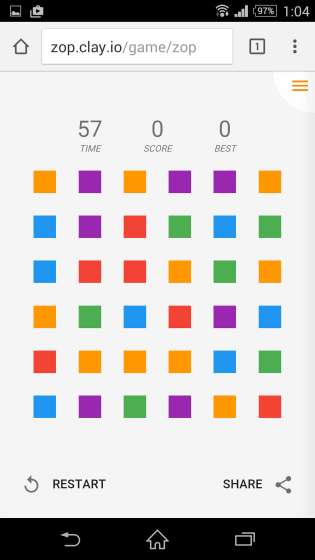 However, depending on the browser used, there was something that was incorrect.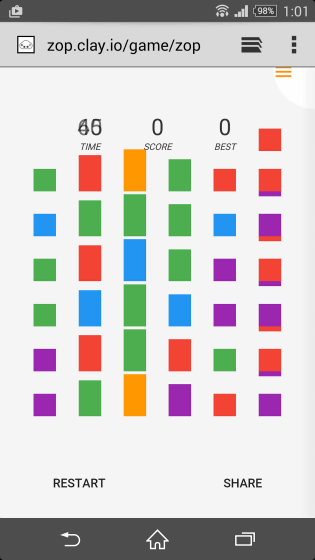 Zop was a simple puzzle game suitable for playing for a little bit of time as it can be played easily from the browser without installing applications etc. There is also a game called "Dots" that looks exactly like Zop (?).

Dots - Home