Light weight body less than 300 g & 8 inch tablet for waterproof / dust protection "Qua tab 01"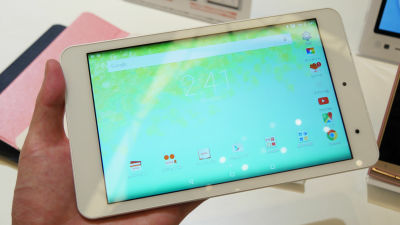 "May 14, 2015 held"Au presentation 2015 SUMMER"Announced in"Qua tab 01"Is a lightweight body of about 298 g, it is an 8 inch tablet that also supports waterproofing and dust protection. A convenient cooperative application with "smartphone and tablet" called "au share link" is installed, and you can watch the website you watched on the smartphone on a big screen of the tablet, or receive incoming calls and e-mails sent to your smartphone on your tablet You can also let us know.

Qua tab (Cure Tab) | 2015 | KDDI CORPORATION
http://www.kddi.com/corporate/newsrelease/2015/0512-9/

Arrived at "Qua tab 01" booth.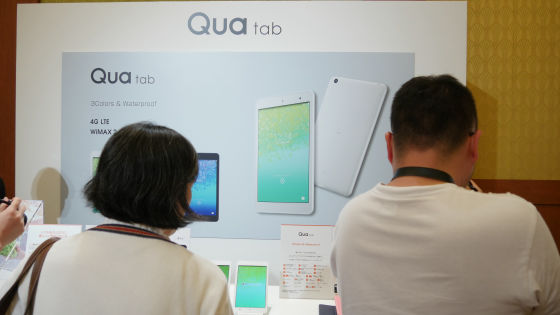 This is "Qua tab 01".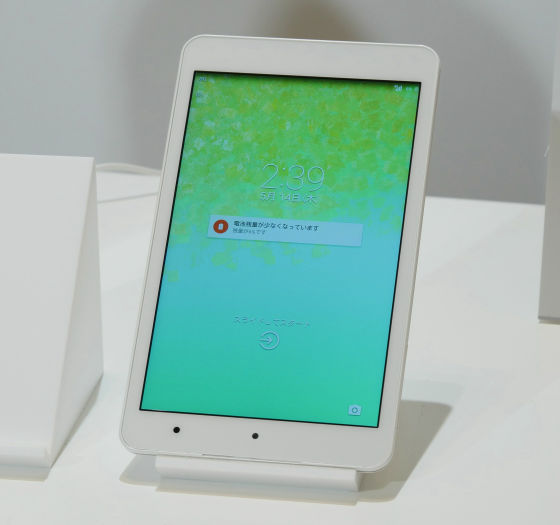 The main specifications are as follows.

·display: About 8.0 inches
· Battery capacity: 4000 mAh
·resolution: WUXGA (1920 × 1200)
·RAM: 2 GB
Storage (ROM): 16 GB
·size: About 125 mm x 214 mm x 7.9 mm
·weight: Approximately 298 g.
Battery capacity: 4000 mAh
·CPU: 1.5 GHz / 4 + 1.0 GHz / 4
· OS: Android 5.1
· External memory maximum capacity: 128 GB
· Wi-Fi standard: 11a / b / g / n / ac
· Others: Waterproof, dustproof



There are three kinds of color variations: white, pink, and navy.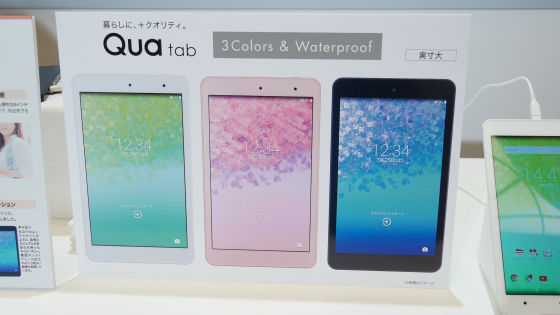 Body size is about 125 × width 214 × 7.9 mm thin, weighs about 298 g. White looks like a slightly cream color rather than pure white.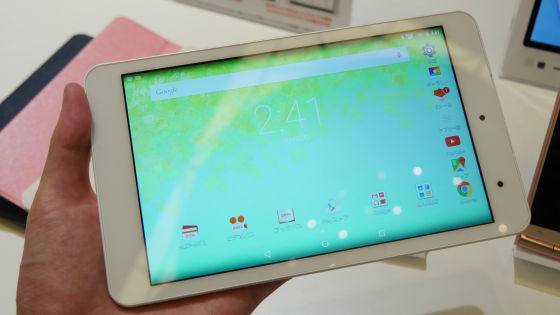 2 million pixel in camera at the top.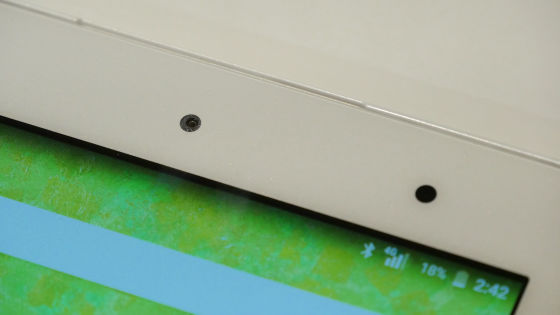 back. It is a plastic slippery touch.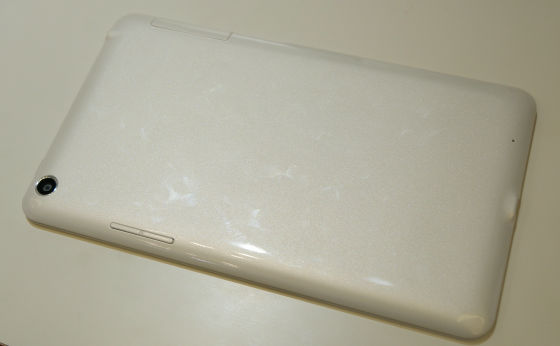 The main camera is 5 million pixels, and in addition to the main camera, a volume adjustment button and a microSD card slot are mounted on the back.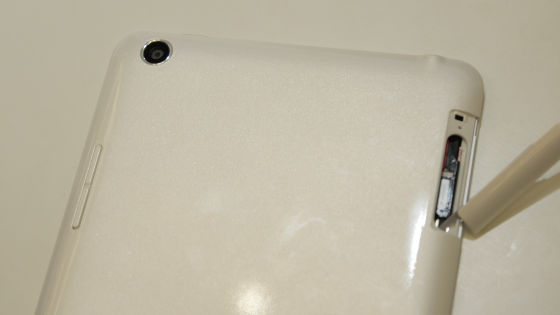 Power button and earphone jack on the top.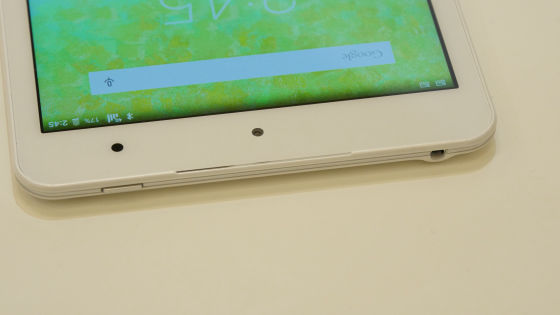 Micro-USB port on the bottom.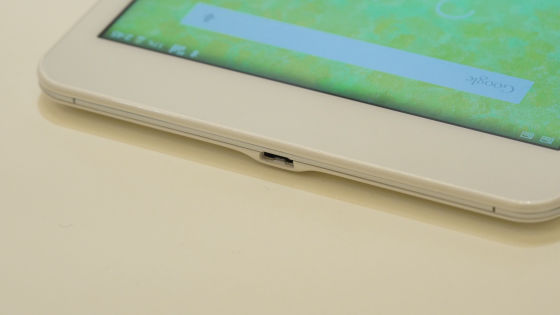 Left side.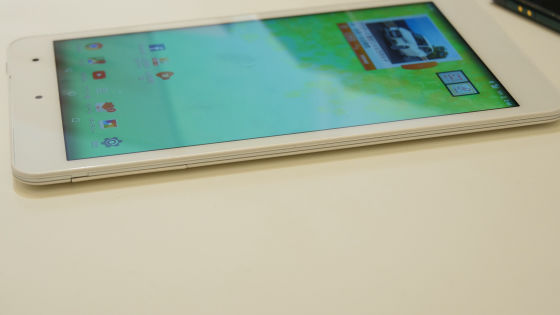 Nothing is attached to the right side.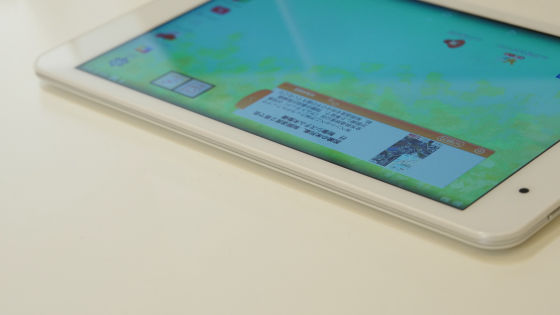 "Au share link" available on "Qua tab 01" is a function to link smartphone and tablet. I wanted to use it on "Qua tab 01", but in the demonstration, demonstration of "au share link" was done with Xperia Z4 Tablet, AQUOS SERIE or Xperia Z4.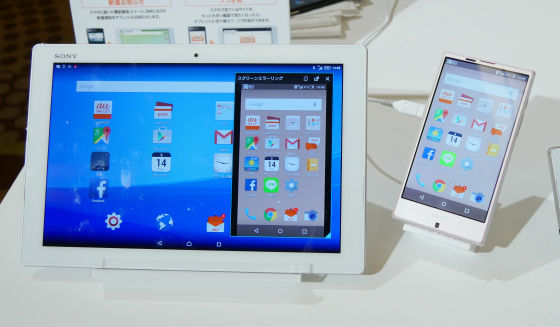 For example, using "au share link" it is possible to create mails to be sent on smartphones on the tablet screen.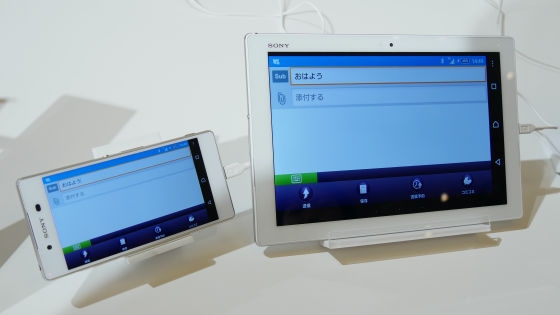 It is possible to temporarily hide the screen of the smartphone when you want to do another operation on the tablet. If you want to display the screen of the smartphone again, tap the icon at the bottom of the tablet screen ......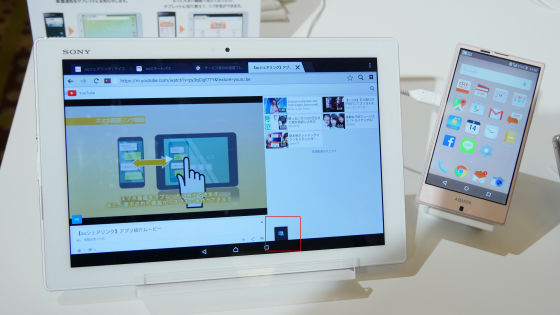 The smartphone screen will be displayed.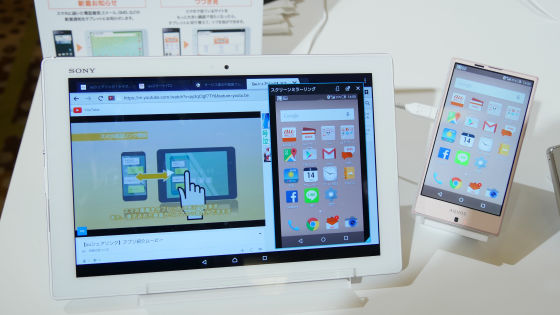 The screen of the smartphone can be set aside.



Further enlarged display is OK.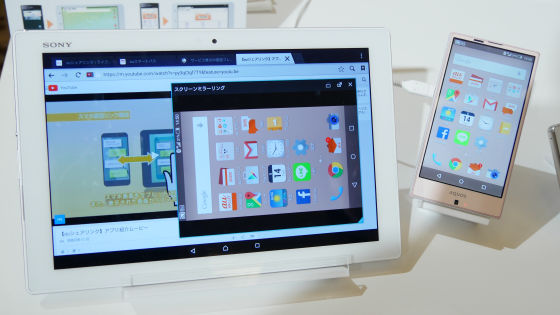 If there is a notification on the smartphone, the notice will be sent to the tablet notification bar on a bang bang like this



It is also possible to operate the shutter of the camera of the smartphone with a tablet.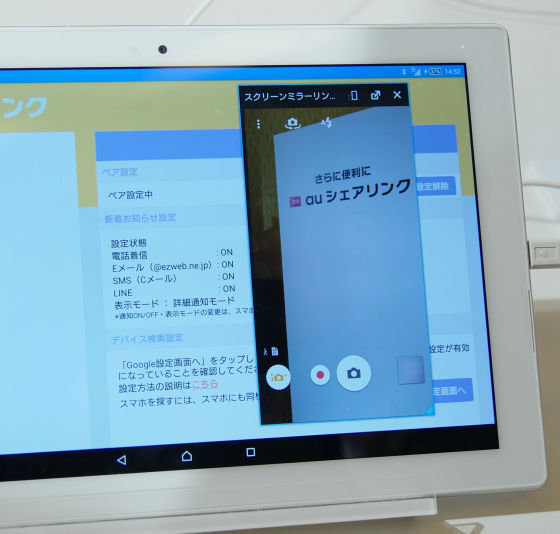 A detailed explanation of "au share link" can be confirmed in the following movie.

【Au Share Link】 App introduction movie - YouTube


In addition, "Qua tab 01" will be released late July 2015.